Your new movie Rumination - in a few words, what is it about?
Rumination is about a heartbroken man who travels into the past for a second chance at a failed relationship.
With Rumination being a time travel movie, did you do any research on the subject, and what drew you to the concept in the first place?
Time travel is my favorite subgenre of science fiction. Much of my research was simply tapping into my memory of a long list of my favorite time travel films. However, for my story, instead of having a physical time machine, one that, like in most time travel movies, makes use of some form of mechanical engineering and an expert understanding of quantum physics, my film suggests the idea of consciousness being the vehicle for time travel. This idea came from conversations with my father (Jonathan Renard Bey) about the power of meditation and the potential mental ability to time travel. I researched topics like the special theory of relativity, the philosophy of time known as eternalism, the neuroscience of consciousness and psychedelic drugs. There is even a theory out there that suggests that the mind exist in another dimension and behaves similar to a black hole.
(Other) sources of inspiration when writing Rumination?
Rumination was inspired by my own experience with grief following a breakup a few years ago.
To what extent could you identify with your lead character, actually, and to what length would you go/have you gone to win back a lost love?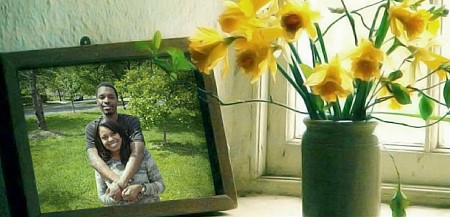 The lead character is essentially a representation of me circa 2015. During a visit with a therapist at the time, I came across the word "rumination" while reading a pamphlet about anxiety and depression. The word, which was unfamiliar, struck me as being a great title for a movie. I looked up the word and saw that it was defined by Susan Nolen-Hoeksema, the late professor of psychology at Yale University, as "compulsively focused attention on the symptoms of one's distress, and on its possible causes and consequences, as opposed to its solutions". So, I began the script based on that idea, writing a character who was constantly thinking about his ex. My method consisted of treating the script like a journal, having the main character, Elliott, experience and say things that were personally true at the time I wrote it. Travelling back in time to make better and/or different choices sounds like a cool idea but at the end of the day, whatever will be, will be. If time travel were possible, one might be able to change their actions but not necessarily change another person's heart or mind. I've pleaded, expressed remorse and poured my heart out in an attempt to win back a lost love, to no avail. However, I like to think that I gained more as a result.
What can you tell us about your directorial approach to your story at hand?
As a director, I was influenced by the look and feel of the British television series Black Mirror and the Christopher Nolan movie Inception. Visually, we shot the film using natural lighting (except for when the main character was in the bathroom and kitchen). Musically, I had my father, the film's composer, create a score that had binaural beats and isochronic tones, similar to meditation music. Since I was telling a story that involved the topic of consciousness, I thought it would be cool to have a score that included subtle auditory illusions. I wanted to subtly play with the audience's eyes, ears and everything in between, in order for them to be immersed into Elliott's world.
Do talk about your cast, and why exactly these people?
I came across actor Kelvin Drama on Facebook. I saw a video of him doing a monologue and was impressed with his sincerity. I reached out to him over a year ago to gauge his interest in playing Elliott and he jumped at the opportunity. Angus Whinfield played Elliott's girlfriend and Danny Gavigan played the quirky neuroscientist, Renard. Both were serendipitously cast in the film. Back in March of this year, I participated in a table read for a film that Danny and I both starred in called The Meek. I knew Danny was an excellent actor and, as I watched him, it dawned on me that he'd be perfect for my film because of his wide range. I pitched the idea to him and he enthusiastically agreed to play the role of Renard. Suddenly, while at the same table read, I saw Angus outside the glass door. She was in the same building for a totally different reason. She and I had worked together in an indie film years ago. Running into Angus was amazing timing. I emailed her the script and she came on board soon after reading it.
A few words about the shoot as such, and the on-set atmosphere?
We shot Rumination over the course of 3 days in multiple locations: my sister's townhouse, the National Harbor in Oxon Hill, Maryland, just south of Washington, D.C., and a carry-out restaurant called the DC Diner. The set was fun and lighthearted and the crew worked efficiently, in large thanks to my cinematographer Andy Evans, my assistant director Torrell Shavone and my associate producer Rhonda Mendoza.
The $64-question of course, where can your movie be seen?
Rumination has been submitted to close to 20 film festivals throughout the United States and Canada. My fingers are crossed, hoping many folks will get to watch it in theaters at festivals all over. After the film festival circuit, it will either be available to audiences online or through some other means of distribution.
Anything you can tell us to audience and critical reception of Rumination yet?
So far, the film has had just 2 public screenings in the Washington, DC area and the response has been incredible. People really received it well and the applause was thunderous. Critics have enjoyed it a great deal, too. The Rogers Revue - http://therogersrevue.com/rumination-unique-film-need/ - gave Rumination an "A+", saying the film was "thought out and visually captivating". DecayMag.com called the film's plot "invigorating" and "fresh".
Any future projects you'd like to share?
I have a short screenplay that I wrote a while ago that I may produce in 2018 and a few other ideas in the early stage of conceptualization. That's all I'll say for now.
What got you into making movies in the first place, and did you receive any formal training on the subject?
I've been an actor since I began performing on the stage in 2004 at the University of Pittsburgh at Greensburg. Though my Bachelor of Science degree was in psychology, I took several acting classes and performed in several stage plays. When I transitioned to film acting, I began branding myself as a character actor. In 2014, I co-wrote and starred in my directorial film debut, the short comedy Dark Therapy - https://www.facebook.com/DarkTherapyUP/videos/
413714102167561/ - in which I played a vampire with an irrational fear of blood who seeks psychiatric help. That first experience with directing made me interested in doing it again. However, with Rumination, I decided to be solely behind the camera.
Do talk about your filmwork prior to Rumination?
Most of my film work has been as an actor in front of the camera. However, the first film I directed, Dark Therapy, received critical acclaim at several film festivals nationwide. It screened at the famous Grauman's Chinese Theatre on the historic Hollywood Walk of Fame and I received the Gold Peer Award in the "Acting on Camera – Fiction Male" category from the Television, Internet & Video Association of DC (TIVA-DC).
How would you describe yourself as a director?
I really see myself foremost as an actor. So, I guess I describe myself as an "actor's director". I can empathize with my actors in a way that non-actor directors often can't. I think I'm good at explaining to my actors what I want from them without micromanaging their performance and I understand how important mutual trust is.
Filmmakers who inspire you?
A few of my favorite directors are Robert Zemeckis, Christopher Nolan, David Fincher, Steven Spielberg, Michael Mann & Antoine Fuqua.
Your favourite movies?
A few of my favorite films: Forrest Gump, the Back To The Future Trilogy, Flight, Inception, Interstellar, Se7en, Minority Report, Heat, Training Day & Frequency.
... and of course, films you really deplore?
Hmmm, "deplore" is such a strong word. I think I'm pretty good at avoiding watching films I suspect I won't enjoy.

Feeling lucky ?
Want to
search
any of my partnershops yourself
for more, better results ?

The links below
will take you
just there!!!


Your/your movie's website, Facebook, whatever else?
My artist fanpage: www.facebook.com/ActorChadEricSmith
Instagram: @IamChadEricSmith
Rumination fanpage: www.facebook.com/RuminationShortFilm
Anything else you're dying to mention and I have merely forgotten to ask?
The audience will have to discern whether or not the protagonist of my film grieves in a manner that is healthy and advantageous. However, what I take pride in is knowing that the process of making this film was a constructive example of how one can cathartically turn pain into art. French visual artist Annette Messager once said, "Being an artist means forever healing your own wounds and at the same time endlessly exposing them." That is exactly what I did with the making of this film and I hope audiences are both entertained and inspired.
Thanks for the interview!