Your new movie High Moon - in a few words, what is it about, and what can you tell us about your character in it?
Action. Horror. Western. Cowboy, werewolves, custom choppers. That sums it up! But to elaborate, High Moon is the story of 'Colt', an old West gunslinger-werewolf hunter who mysteriously finds himself - and the vicious gang of lycanthrope outlaws he hunted - very much alive and in the present day, so he begins his hunt all over again while trying to navigate a strange new world. I play 'Colt', and he's what you'd expect from a 150+ year-old cowboy - he's at once both a gentleman and a hard-charger; he's dated and out of touch with the modern age, and he can be a bit blunt and insensitive in his one-track seek-and-destroy mindset. But he certainly has his redeeming qualities as well.
What did you draw upon to bring your character to life, and how much Chad Michael Collins can we find in Colt?
I grew up a country boy in upstate New York, so there's an element of 'Colt' that I inherently understood. He's a do-it-yourself-er, he's got dirt under his fingernails, and he's not afraid of hard work. I also revisited some really fun, classic western movies to study the stoic, manly-man nature of characters from that era. It was a great excuse to watch Wyatt Earp and some Sergio Leone spaghetti westerns again.
How did you get involved with the project in the first place?
The writer/director, Josh Ridgway, and I were introduced via mutual friend. I loved his script because it was so fun, combining action and supernatural elements in a way that felt like an 80s John Carpenter movie, the type of stuff I grew up on. Luckily, he had seen a couple of my Sony Sniper military action films, so he was already a fan, so coming aboard was relatively seamless and exciting.
High Moon appears to be a rather eccentric genre mash-up - so what were your first thoughts when you read it?
Personally... I loved it. I mean the western feel to it alone got my interest peaked. But then throw in werewolves, a hot rod, and custom high-end motorcycles? In my mind, that just equaled "fun". And boy was it ever!
Do talk about your director Josh Ridgway, and what was your collaboration like?
Josh was a pleasure to work with, and he was very open to collaboration. We'd figure out a way to tweak dialogue and action, punch up some lines and scenes for comedic effect together. He always took my ideas in stride and trusted me with the part, so I was very grateful. Not that much needed to be tweaked; I loved the script from the start.
What can you tell us about the shoot as such, and the on-set atmosphere?
We shot in and around the Dallas, Texas area, which I enjoyed immensely. I loved the environment, the people - they were all very welcoming and gracious. A lot of it was shot outdoors, on location, so we got to take in the Texas landscape and weather in all of its fickle glory. On-set, it was a blast - I thought everyone in the cast did a tremendous job, from my beautiful co-star Chelsea Edmundson, to the co-lead Matthew Tompkins, to Sean Patrick Flanery playing the corrupt town mayor to hilarious effect. The supporting cast, which was mostly local to Texas, impressed me as well. We all had a lot of fun working together.
Any future projects you'd like to share?
I've got a few that are a bit top-secret for now, but we hope to do another Sniper film this summer. I'll also be popping onto a Lifetime original movie very soon here as well. Details forthcoming!
What got you into acting in the first place, and did you receive any formal training on the subject?
When it comes to my acting career, I've had a bit of a unique journey. I was a journalism major who landed a gig doing entertainment publicity for a boutique firm out in LA. Being in the industry eventually introduced me to my first acting class, and for years I juggled both careers. I've been fortunate to be able to have most of my acting education come from being on set, and being a sponge since the beginning. There was no better way for me to learn than by being baptized by fire early and often.
What can you tell us about your film and TV-work prior to High Moon?
I've been fortunate to appear in a lot of TV, and to have the ongoing Sniper franchise. It's nice to pop on a show here, there, and take in the variety. One gig you're a soldier, another a cop, sometimes a lawyer. I'm curious by nature, so acting has allowed me to scratch my jack-of-all-trades but a master-of-none itch for learning and exploring. All of my roles are my babies, so it's hard to pick favorites!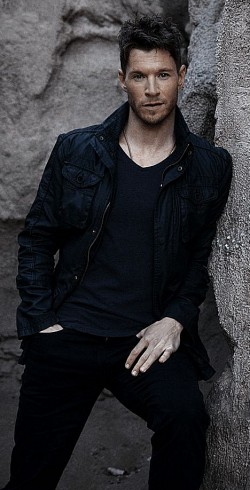 photo by Sonalii Castillo
Having worked both on feature films and TV shows, what are the main differences between shooting one and the other? And do you prefer either?
Oh yeah, there's a big difference. TV is usually a well-oiled machine, on a tight schedule, with very fast, dialed-in turnarounds. Oftentimes, you are hired a day or two out, you show up for X amount of days, you do your job and you split. With films, it's a labor of love from the beginning, especially at the low-budget, indie level. You bond quickly, it feels like a family. But I love the experience of both mediums, as they each have unique and wonderful things to offer.
How would you describe yourself as an actor, and some of your techniques to bring your characters to life?
I don't know how I'd describe myself, but I've had people tell me that I'm very natural. Which, I suppose, is a great compliment. I try to keep it real, grounded, because that's how people act in real life. Obviously if I'm running from an alien warship or a 25-ft long prehistoric alligator, that changes things. But I'm a detective, I love reading scripts and reading between the lines to create something interesting and unique that also works within the confines of storytelling.
Actors (and indeed actresses) who inspire you?
Oh boy. Lots. I've always loved Brad Pitt's work. So varied, so interesting and fun. I grew up on movies like Road House and other 80s and 90s action films, so I have much appreciation for the Patrick Swayzes and Sam Elliotts of the world. I'm a fan of actors in general, because every one is a unique individual snowflake and they each bring something special to every role. There is always much to learn and appreciate about my fellow actors.
Your favourite movies?
Braveheart, hands-down number one. I also love Fight Club. The Lord of the Rings trilogy still resonates to this day. I'm a big comic book nerd, so I love getting to watch my heroes on screens both big and small so often these days.
... and of course, films you really deplore?
Ah, that's a tricky question - and I'll plead the fifth! What I will say on this matter is that no one ever really intends to make a bad film, but sometimes it happens to turn out that way, either in execution or response. And it's sad to see that happen, because I believe everyone has the best intentions with the Herculean endeavor that is making a film.

Feeling lucky ?
Want to
search
any of my partnershops yourself
for more, better results ?

The links below
will take you
just there!!!


Your website, Facebook, whatever else?

www.Facebook.com/chadmichaelcollins

www.Instagram.com/collinschadm

High Moon website: www.HIGHMOONtheMovie.com. Anyone curious can go there to see everything, and sign up via email to get notifications and where to buy!

Anything else you're dying to mention and I have merely forgotten to ask?

I think I've talked about myself enough for one day, ha!

Thanks for the interview!

A pleasure! And catch High Moon on digital 5/14 and on DVD/Blu-ray 7/2!