I would categorize the film as docu-fiction. Here is a synopsis…
How did the project get off the ground in the first place?
I had been aware of the location as a great place to shoot a horror film for some time and knew the owners. We started working on screenplay ideas and shooting tests, and then found out just how haunted the building actually is - very - and decided to collect real stories. These became the taking off point for the "enhanced" portions of the film.
How can you relate to the film's supernatural subject matter?
I will quote from my production notes, which are also on our website g-stringhorror.com:
In 1985 I was shooting in an exercise chamber at the Northern Shaolin Temple in China that had never been photographed before. The monks allowed me and two other cameramen to shoot for a few minutes only. We kept shooting, I suppose, longer than the unseen "inhabitants" of the chamber thought acceptable.
Although all indications were that we were recording, there was nothing recorded on any of our tape beyond the first couple of minutes that the monks had originally designated. A similar thing happened while I was shooting a sub basement "tour" with a dancer/"witch" at the Market Street Cinema. We encountered several of her "friends" who did not like what I was doing. From that point on, nothing was recorded even though, by all indications, the camera was functioning properly.
That was just the beginning. Much of the strange tale told in the film actually happened in a slightly different form. Shots were moved around in the edit…not my doing. At times the movie DID change each time it was viewed, not just for me, others also. And none of us were "smoking" or drinking. The actors were "not themselves" at times. On several occasions when an actress was playing a fictional version of one of the ghosts, it seemed that the "real" ghost took over and enjoyed being "exercised" by a human host.
The dancer whose ghostly "friends" we disturbed on the basement tour told me that there were four ghosts who made the building "home" when we began shooting and only three by the time we finished. Somehow, she claimed, our actions in the theater had helped one of the spirits - the ghost of a stripper who was rumored to have been murdered in the basement - to "move on"…
Maybe a stupid question: Why a strip club, and how could you relate to that aspect of The G-String Horror?
The location really is a huge, 100 year old movie palace. The strip club occupies only part of it. The balcony, projection booth, basements, etc. are unused and very spooky. I have known the owners of this club and other gentlemen's clubs for years and have directed adult films as well as national TV commercials, music videos, etc. since the 1970s. I am very comfortable in this milieu.
How did you approach your story from a directorial point of view?
For the documentary parts, I just let things happen… be in the right place at the right time talking to the right person. Much of the "non-documentary" material was improvised - except for the effects. I also shoot most of my films, so that gives me an edge, no communication gap. In a way shooting IS directing (let the arguments start).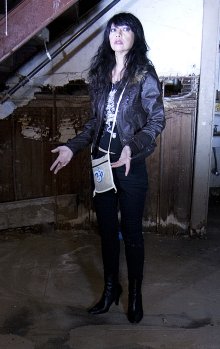 Debra Lamb
What can you tell us about The G-String Horror's special effects work, and your collaboration with your special effects director Ed Martinez?
Ed is an effects make-up and practical effects master. I told him what I wanted to see in the frame and let him do his thing.
Your cast is headlighted by genre veteran Debra Lamb [Debra Lamb interview - click here] - why her, how did you get her, and what was your collaboration like?
Ed Martinez actually suggested I contact Debra. I was looking for a real psychic and Debra is a practicing psychic. My first conversation with her was about doing an actual psychic reading of the theater, not acting in the film. And then we came up with the fictitious character she plays in the film, Lady Zee. Lady Zee is a made up character but a real psychic. Her scenes are scripted but her readings are real - another spin on docu-fiction. Debra is great to collaborate with - great instinct for the genre.
What can you tell us about the rest of your principal cast, and what made them perfect for their roles?
Natasha Talonz, of Black Devil Doll-fame plays Baby Doll, the lead "ghost/demon stripper" in the story. To quote from an interview with her…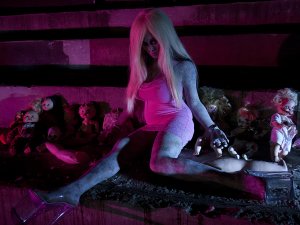 Natasha Talonz
Q: What do you look for when picking projects?
A: That I get to be naked and covered in blood! But I guess it just needs to be something that seems unique and original, something that is way out there. I really love over-the-top stuff and I want the roles that most actresses won't touch with a 10 foot pole, roles that really stand out. The crazier the better.
Natasha also works at Larry Flynt's Hustler Club in San Francisco.
Genna Darling, Mike Gleason, Trevor O'Donnell and Ed Bowers (who said not a word but was one of the scariest things in the movie) also all did a great job with their roles.
A few words about The G-String Horror's actual location, and why this exact building?
I think I more or less answered this question above… but… the building turns 100 this year and is packed with memorabilia (junk in the basement?), old costumes, rotting theater seats, movie posters, dark tunnels, etc.
What can you tell us about the shoot as such, and the on-set atmosphere?
Relaxed…small cast…small crew…check out this article about the making of the film for more…
http://www.examiner.com/article/a-cimematic-haunting-the-market-street-cinema
As far as I know, The G-String Horror has so far only been seen by a few select critics - so what can you tell us about critical reception so far?
The film has not yet been formally reviewed. Informally, the reception has been great.
As the film is about to premiere soon - when and where will it be released onto the general public?
The world premiere is going to be at the Another Hole in the Head Film Festival at 9:00pm on December 5th at the Roxie Theater in San Francisco. It will be released widely after the first of the year.
Let's go back to the beginnings of your career: What got you into filmmaking in the first place, and did you receive any formal training on the subject?
I was in a Ph.D. program in psychobiology in the 1960s and was using a movie camera in my perception research. I took the camera home and made a short film with it based on a Kafka short story. I left graduate school after the Masters and never looked back. I was asked to join a commercial production company in Washington D.C. as production manager. That was my film school. I moved to San Francisco in 1970 and have been based here ever since. In brief, from there…
… Charles Webb operates a film, video and digital media production company in San Francisco. He has written, produced, directed, photographed and edited projects in the United States, Europe and China, that encompass diverse genres, including national TV commercials (Miller Beer, Buick, Wishbone, national political candidates, etc.); documentaries (The Black Panthers/George Jackson Lives, The Grateful Dead Movie, martial artists in the People's Republic of China - Kung Fu Diplomacy, China's Living Treasures, etc.); nationally released independent features (Honky-Tonk Nights, Extreme Close-up, The Seven Seductions); and behind the scenes promotional and music videos (e.g. Disney, FCA Artists, "Wild Bill" Weiss). His latest production is The G-string Horror.
What can you tell us about your movies prior to The G-String Horror, and how would you describe your evolution as a director?
Maybe another time when I have more time to do written answers. In the meantime…
"A film is a petrified fountain of thought." - Jean Cocteau
"Cinema is the most beautiful fraud in the world. " - Jean-Luc Godard
"I also have always liked the monster within idea. I like the zombies being us. Zombies are the blue-collar monsters." - George A. Romero
Any future projects you'd like to share?
Several horror projects and one documentary are in development.
Besides feature films, you have also done countless commercials, music videos and the like. How does working on those compare to working on an actual movie?
A movie I have written and am directing is coming from inside.
How would you describe yourself as a director?

Feeling lucky ?
Want to
search
any of my partnershops yourself
for more, better results ?

The links below
will take you
just there!!!

Find Charles Webb
at the amazons ...

amazon.com

amazon.co.uk

amazon.de
Looking for imports ?
Find Charles Webb here ...
Something naughty ?
(Must be over 18 to go there !)

I use John Huston as one role model. (He picked the right people on both sides of the camera, said "action", then just sat and watched.) Stanley Kubrick is another, since he also shot his films. Albert Maysles (with whom I have worked) is yet another.
Filmmakers who inspire you?
See above. Also Quentin Tarantino, Robert Rodriguez, David Lynch, John Waters.
Your favourite movies?
Those made by the film makers mentioned above.
... and of course, films you really deplore?
Modern studio comedies.
Your/your movie's website, Facebook, whatever else?
www.g-stringhorror.com, http://www.facebook.com/TheGStringHorror.
Anything else you are dying to mention and I have merely forgotten to ask?
Not at the moment. Thanks for the interview!
Thanks for the interview!