Your new movie The Night Monica Came Back - in a few words, what is it about?
The Night Monica Came Back is about an exchange student (Monica) and a boy called Thurston. On one day they wander off and leave the camp to find themselves by a river. On their journey out they find a book of magic spells and they read from the book which puts Monica in DANGER! This isn't any old danger but danger that you wouldn't want to find yourself in.
How did you get involved with the project?
I go to Eirian Cohen's acting classes [Eirian Cohen interview - click here] on a Wednesday, this meant I heard a lot about this trip so when the opportunity came I was the first one to say yes! I was a little hesitant at first as I am not great with horror movies as I believe them too much and can't get any sleep for the next few weeks, but I am so glad I went as it was the best acting experience I have ever had.
Do talk about your character for a bit, and how did you prepare for her?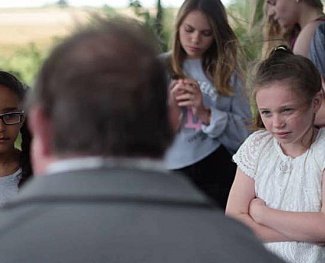 My character is called Christine and she is a very mysterious, bitchy and flirty character. She only cares about her own self importance and always puts people down. Whenever something bad had happened in the film she would always wander in five minutes late and ask what has just happened but never actually cared and tried to act like it was nothing because she always wanted the drama and attention on herself. I have played a few characters before like Christine and the way I get myself into this sort of character, is to think of their past and what has made them become so snobby and bitchy, it could be as simple as that she has always been spoilt and has grown up with easy money around her or that she has grown up with not much money and was bullied for the way she was, so she acts like the bully so no one can bully her about not having much money or that she likes to act like she has got all the money when she really doesn't. Knowing their past can make it easier to know how they will react to different situations.
The Night Monica Came Back features horror icon Laurence Harvey from Human Centipede 2 and 3 - so what was it like acting opposite him?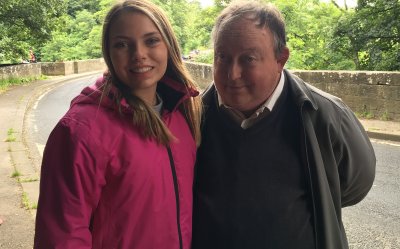 with Laurence Harvey
I found acting with Laurence Harvey really fun and enjoyable, I have only had a few experiences where I have acted with an adult, so it was different acting with someone who wasn't my age. I also found it strangely easier to act with him because he seemed so believable that I didn't feel as though I was acting but I was actually in that real life situation. That morning of the day we started to film and Laurence wasn't in any of the scenes that we were filming, so he sat in his room for about 3 hours and took that time to get into to character which I found amazing.
From what I know (and I was there), you didn't only shoot a movie but this was part of a "horror camp" - so do talk about some of the other activities and workshops you did at the camp!
When we first got to the camp we did a few warm ups as we were sat in a stuffy bus for a couple of hours, some of the warm ups/activities we did was ninja warriors (my favourite game, which I am the champion of). We also did some murder mystery games and then we did some reaction games such as splat and the name game. After lunch we all sat down and went over our scripts before Laurence came. When Laurence arrived we did a workshop with him, which was really fun as we learnt a lot acting techniques he uses and then right at the end we got to ask him questions which I found really interesting because you where asking someone who has actually made it in the acting world so you were getting acting techniques that actually worked for someone.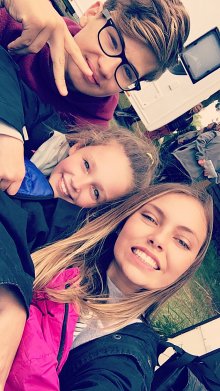 Dylan Furness, Kayla Leigh Holdsworth, Charlotte
So talk about the shoot as such for a bit, and the on-set atmosphere!
The day we were filming was really cold and windy which to be honest added to the mysterious atmosphere of the movie but it was so cold. So when you weren't in the shot or not needed for a close up you would run to the side where sleeping bags were left on the floor and all huddle up together to keep warm. Then towards lunch time it became really warm and sunny and it was so nice because we were all sat outside in the sun near some horses just having such a good laugh and getting to know people and making new friends. Just before we were about to leave we needed to do one more scene and it started to chuck it down with rain and everyone got soaked but a few people had umbrellas but the people who were in the scene had to act in the pouring down rain!
(photo on the left was taken with some of the cast when we were covering ourselves with sleeping bags to keep warm)
If there was another horror camp or whatever-else camp again next year, would you at all want to join again?
Yes of course, I had so much fun and met so many nice people and met so many new friends and learnt so much from loads of different people, not only about acting but also about what camera lenses you should have on in some scenew and how you should act when you are in those types of scenes. The fact that I got to meet, act and learn from Laurence Harvey just blows my mind and I appreciate every moment.
Anything else you're dying to mention and I have merely forgotten to ask?

Feeling lucky ?
Want to
search
any of my partnershops yourself
for more, better results ?

The links below
will take you
just there!!!


I have just been asked by an American radio station to send in some of my recordings of me singing so they can then send them to their parent company and be spread through loads of different American radio stations to be played across to country. I love singing, dancing and acting and attending the horror camp just confirmed to me this is what I want to do in life. I have just recently done a workshop with Lee Mountjoy in Manchester, it was really instructing and fun because I met a dance choreographer who has choreographed famous singers' music videos. We also got to meet a women called Roxanne.
The movie's website, Facebook, whatever else?
If you would like follow me on this journey please make sure you like and follow me on:
- Showreel: https://vimeo.com/165866016
- Facebook page: https://www.facebook.com/CharliOfficial
- Kids Can profile page: http://www.kidsccp.com/uk/actor/profile/charlotte-jones-1-2-3-4-5
Thanks for the interview!