Your new movie Silent Retreat - in a few words, what is it about, and what can you tell us about your character in it?
In a few words… Psycho Doctor, Creepy Creature, and Strong Women!
Silent Retreat follows the adventure of Janey Andrews who is being imprisoned and brainwashed in a silent rehabilitation camp. With the help of the other girls she tries to fight against the elements that are silencing her, and let the world know she's still alive.
Janey Andrews comes across as a girl who is closed off, someone who has given up and very stubborn towards the rules. But as you get to know her, she develops to become this extremely powerful character who is fighting to survive. When she was fourteen she was in a brutal car crash. She lost her mom and dad and no matter how much she tried she couldn't save them. It took a lot for her to overcome the loss of her family but she was never really the same. After a little help from her new friend Alexis, she overcomes her fear of speaking up and has just a few words to say to turn this "Silent Retreat" into something not so silent.
What did you draw upon to bring your character to life, and how much of Chelsea Jenish can we find in Janey?
There was a lot of myself in Janey Andrews. All the emotion and relationships built throughout the film came directly from the experiences of working on set with the other actors. Because there was so little dialogue in the film at times I forgot I was "acting" and it just became so natural to react to the situations happening in the film. For example, the thought of me losing my family, like Janey had, was absolutely devastating. In the end of the film after looking at the photo of my family it just brought me to this dark place of loneliness and caused the breakdown you see at the final scene. The camera crew just kept filming until I was done so they could get every last moment. Just like Janey, I come across as a quiet and low key girl, but once something triggers an emotion or I feel the comfort that someone's got my back, Like Alexis did, it's full force no holding back whether its sadness, anger, passion, or laughter.
How did you get involved with the project in the first place?
At the time I was working with the Characters Talent Agency. They sent me the script for the audition and I became so interested in the project. I went to the audition and met with director Tricia Lee [Tricia Lee interview - click here] and casting director Jonathan Oliveira (http://www.imdb.com/name/nm3835788/). The audition piece was my monologue from the film. From there I got a call back and met with them again to work through a few of the more gruesome scenes and I got the role.
To what extent could you identify with Silent Retreat's horror theme, and is horror a genre at all dear to you, and why (not)?
Until filming Silent Retreat I had no real interest in horror because it scared the living daylights out of me! Watching a trailer on the TV with my eyes open and ears unplugged was a huge accomplishment. But after watching what goes into making a horror flick, I have more interest in trying to make it through a full film with my eyes open. I definitely have a love for filming a horror movie. All the blood, guts and screaming was a lot of fun.
Do talk about your director Tricia Lee [Tricia Lee interview - click here] for a bit, and what was your collaboration like?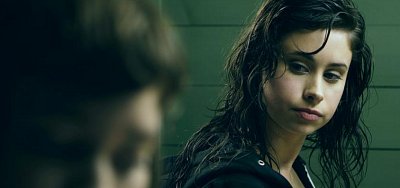 The collaboration with Tricia was an amazing experience. Until Silent Retreat I had only worked with male directors, so I was interested to see how she worked differently. I could see right from the start she loved the project she wanted the best for all of her cast and crew. Prior to being on set, myself, Robert Nolan [Robert Nolan interview - click here] and Sofia Banzhaf met for rehearsals at her apartment. We read through the script and put a lot of work into walking through some of the more important scenes, discussing our ideas. I think because Tricia was so close to the writing process, with Corey Brown, she was very interested in hearing her cast's opinion on the script, and was very open to changes in dialogue to make it feel natural. On set, she would meet with us in hair and makeup, discuss the scene with us, and help get us in the zone. She was very hands-on and gave us a lot of feedback on the scenes. She was a trooper out in the cold, working non-stop with us for 15 hours a day always full of enthusiasm. It was great working with Tricia, I would do it again in a heartbeat.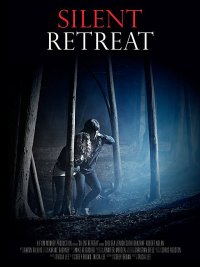 What can you tell us about the shoot as such, and the on-set atmosphere?
For the shoot we were lucky enough to have stayed on set for two weeks up in King City, at Kettleby Valley Summer Camp. All the bunks in the film and the dining hall you saw was our new home. I say we were "lucky" because it brought so much realism to the experience and it really allowed me to stay in character for the majority of those two weeks. It helped to build a relationship with the other actors, especially Sofia Banzhaf (Alexis), which made our connection on screen all natural. Staying on set was also a little bit… ok maybe very terrifying. The bunks were located deep into the woods, we could hear coyotes at night when we were shooting and when we were sleeping, the cold air and the fog made my mind wander and it really freaked me out at times. But other than the cold and the possibility of a creature actually lurking in the woods, it was one of the best experiences I have ever had. The cast was so helpful to one and other, the crew and cast worked so well together really forming one big Silent Retreat family.
Any future projects you'd like to share?
I just recently filmed a short film called M.A.D. with up and coming director Curtis Larade. Little hint… it involves zombies. It's in post-production right now and will hopefully be doing the horror festival run in the fall.
What got you into acting in the first place, and did you receive any formal education on the subject?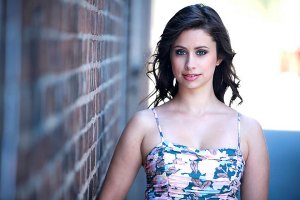 It's actually a funny story how this all began. I have always been a ballet dancer who was too afraid to get up and speak in front of people. I could dance in a room full of people but God forbid I had to say a few words without going red in the face or tearing up. It wasn't until my second year at Ryerson University that I overcame this fear. I was in the Performance Dance Program, in the Theatre School and it was mandatory to take a monologue class. I got up there my first time and completely froze. That was until my teacher, Marianne McIsaac told me to "pull the stick out of my ass and get mad!" She made me throw shoes at people every time I said a verb. Believe it or not… whatever it was, it worked. McIsaac helped me get through monologue class and also recommended that I audition for Theatre Ontario. From there I signed with The Characters Talent agency and it all just kind of happened. Since then I've trained more with the Ryerson Theatre program as well as classes and audition preparation with Rosemary Dunsmore and The Walter Alza Acting School.
What can you tell us about your filmwork prior to Silent Retreat?
Silent Retreat was actually my first film. I had done some guest spots on Cold Blood: Motive and Murders with Cineflix Productions but nothing close to Silent Retreat. It was such a great experience for me and I was very lucky to be working with such a talented cast and crew.
How would you describe yourself as an actress, and some of your techniques to bring your characters to life?
I'd describe myself as fresh, energetic, determined. I haven't been acting for very long but I like to take every character like they're another part of myself. I take every part of their life and in some way relate it my own life, so that it feels and comes across as natural as possible.
Actresses (and indeed actors) who inspire you?
Some actresses that inspire me are Cate Blanchett, Sandra Bullock, and Jennifer Lawrence. Some actors are Ryan Gosling, and Bradley Cooper. I like actors that are versatile and can pull at my heart strings but have a goofy side to them as well.
Your favourite movies?

Feeling lucky ?
Want to
search
any of my partnershops yourself
for more, better results ?

The links below
will take you
just there!!!

Find Chelsea Jenish
at the amazons ...

amazon.com

amazon.co.uk

amazon.de
Looking for imports ?
Find Chelsea Jenish here ...
Something naughty ?
(Must be over 18 to go there !)

This is a difficult one… it changes daily but right now some of my favourite movies are Silver Linings Playbook, Blue Jasmine, RED and Chicago and Black Swan (that's the dancer coming out).
... and of course, films you really deplore?
Movies I deplore are pretty much anything that is super cheesy and predictable. I can't name any films off the top of my head but anything else I'm usually ok to watch, I can always find something interesting in a film.
Your website, Facebook, whatever else?
Here is my website http://chelseajenish.wix.com/chelseaj
And my Facebook https://www.facebook.com/chelsea.jenish
Thanks for the interview!