Your new movie Imposter - in a few words, what is it about?
Imposter is a silent drama that serves as a visual representation of the struggles one deals with having anxiety.
What were your sources of inspiration when writing Imposter?
Personal experience played a huge role. Right from the get-go, I knew I wanted to make a personal film about the subject. There have been plenty of films about anxiety and what it is like to have it, but I put a different spin on it by showing it as to how I view it. When I think of anxiety, I think of it as being like a personified being that's always reminding you of your negative thoughts or planting negative seeds. For me, it is only something you feel, and no one else can understand it just like how we don't know what others may feel. Therefore, we suffer in silence and anxiety is very much a silent disorder. These were the main inspirations for the film, including why I chose to have no dialogue.
To what extent can you identify with any of your movie's characters, actually?
I think I can identify with almost every character in the film. The main character played by Tom Mariano is a lot like me in that I don't always feel like I am the right person for a job or that I'm fooling someone when I say I'm capable of doing something. I'm also a lot like the artist played by Sheetal Kelkar because, as a filmmaker, I find myself in situations where I end up comparing myself, or I feel exposed to the public about what flaws my work may present.
Imposter is rather metaphorical in its storytelling - so do talk about your unique approach to your subject matter for a bit!
Again, anxiety and the idea of the Imposter Syndrome was something that fascinated me. How I view it versus how others perceive it is very different I'm sure. For me, your mind has an amazing ability to paint pictures that seem real, but they are not. With this film, I wanted to touch on that and how our inner demons are just that. It's all vapor, but it feels so real to us because of how we can feed into it. I wanted to show the tragic and dark side of this while also giving a small sense of hope. As I mentioned above, I find anxiety to be a silent, but deadly, disorder that can strike hard which is why I chose to make this a silent film. The visuals were crucial for me and the sound, I felt, should represent the noise we hear that anxiety can produce.
A few words about your overall directorial approach to your story at hand?
I worked with each group of actors in the bus scene and developed backstories for each one. I was also very adamant about keeping a subtle approach throughout while bringing out the human aspects of the characters. More importantly, this is a highly visual piece, and I wanted to make sure each camera shot dictated what I wanted to get across.
What can you tell us about your key cast, and why exactly these people?#
The cast includes Tom Mariano, Brendan Meehan, Sheetal Kelkar, Jamie Braddy, William DeCoff, and Adam Masynk. My producer, Lisa Wynn, and I spent hours looking through headshots and looking at different actors. We didn't hold auditions for this particular project, but instead we hand-picked actors. Tom Mariano came recommended to me by Lisa. I had known about him for a while before that, but never met him or seen his acting. I worked with him on set where I was a production assistant, and he and Lisa were producing together. I liked his attitude, and we got along quickly that it just felt right immediately. He brought a great realism to the role that was important to make it relatable.
When casting Brendan Meehan, we needed someone who merely looked like Tom as a young man. Brendan not only looked like he could pass for a young Tom, but he also carried a lot of talent to bring it to life. One of my biggest concerns with his role of the jester was that it would come off as funny given what the character would be wearing and do, so it was important to me to cast someone who can bring the reality and tragedy in which I was aiming. Brendan did an excellent job of working with Tom to create a unified vision and character. By the time we got to the set, they were very much in sync with each other.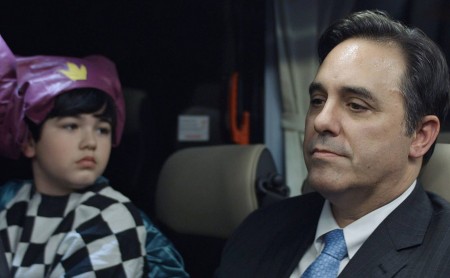 Sheetal Kelkar is someone I met when I was doing her demo reel. She was new to film acting and was looking to get clips made. She had reached out to me and inquired about my services. I directed two scenes for her reel which proved to be an incredible collaboration. Originally someone else was going to play the role but wasn't able to commit, so I then remembered Sheetal after having just worked with her, and she was perfect for the role. When we did her scene in the gallery on set, she had a number of us in tears. It was a beautifully powerful moment.
Jamie Braddy, I had been aware of for a while, and I always enjoyed her personality and thought she was a very talented individual. Like with Brendan, we needed someone who not only bared a similar resemblance to Sheetal but can also portray the vulnerability the role required. Jamie nailed it. As written and as seen in the film, the character covers her exposed body with a painting to symbolize how the character feels naked or exposed when showing her work to the public. Jamie was an amazing trooper given this factor as she spent the whole shoot in her swimsuit while holding up this heavy painting. We even had a scene that took place at a bus stop during the bitter cold of January. Jamie never complained once and always did every take with grace and professionalism. We had blankets on stand up and warm cars nearby between takes as well. Unfortunately, because the lighting conditions changed so drastically, the scene had to be cut, and we opted for a similar scene on the bus.
William DeCoff is an actor who I have known for a long time in passing, but we never actually worked together. Lisa and I both wanted to work with him, so it was a no-brainer to cast him. He is a true consummate professional from his preparation of the role to the shooting. He was incredible.
Finally, Adam Masynk is someone I knew since high school. He was a year ahead of me. The funny thing is we didn't talk a ton during that time. We just knew each other in passing. After we both graduated college, we later discovered that both of us were in film production. Lisa happened to be good friends with him and had worked with him on another project, too. It was just a natural fit that we both agreed to. Adam, like William, is a true pro when preparing for the role and very detailed in his character description.
Do talk about the shoot as such, and the on-set atmosphere?
The shoot was probably one of my favorite experiences I ever had as a director. It was like a smooth well-oiled machine. Everyone knew what was needed and required, did their jobs, and always pitched in whenever it was needed. Everyone on the set was a true professional from cast to crew. The crew consisted of members of On Edge Productions which Lisa and Tom both run. I came to them with this idea and felt that their crew would be great and I finally wanted to get a chance to work with them. Typically, I have smaller crews on my shoots, and this had the most people I ever had on a set. They made it super easy for me to focus on directing and crafting the story.
As mentioned above, when we did a scene at the bus stop, it was difficult because of how cold it was and how the lighting was drastically changing. Doing the bus scene, for me, was very tricky because of the number of people we had and the amount of coverage we needed to get. When we shot that scene, the whole cast was incredibly patient.
It was also somewhat of an emotional shoot, especially when it came to the art gallery scene. We all had tears in our eyes from Sheetal's and Jamie's performances. It was at that moment that I knew we had something special happening here.
The $64-question of course, where can Imposter be seen?
As of right now, we are just submitting to film festivals and awaiting our first selection. We plan on touring, not only the festival circuit but also schools and other events that relate to anxiety and depression as I think it can raise awareness.
Anything you can tell us about audience and critical reception of Imposter yet?
The critical reception, thus far, has more than exceeded my expectations. It has easily been my best-reviewed film to date with many seemingly enjoying the metaphorical imagery, the fact that it is a silent film and the ending.
Any future projects you'd like to share?
I have an upcoming short film currently in post-production called Bent. It is a crime drama about corrupt cops. It was written by Kris Salvi, who had co-starred in my previous film, The Deja Vuers. Unlike my other films which carry some surreal elements, this is a very grounded and gritty film which I was very excited to take on because of my love for the genre and as well as film noirs.
The feature in which I co-produced and was also the 1st assistant director, Higher Methods (directed by Nathan Suher [Nathan Suher interview - click here]), is having its first public screening in September. From there, it will be hitting the festival circuit.

Feeling lucky ?
Want to
search
any of my partnershops yourself
for more, better results ?

The links below
will take you
just there!!!


I also always have different projects in the works from shorts to features and a few book projects, including a follow-up to my previous book, The Filmmaker's Journey.
Your/your movie's website, Facebook, whatever else?
Website: http://storiesmotion.com/imposter
Facebook: https://www.facebook.com/ImposterShortFilm/
IMDb: https://www.imdb.com/title/tt7717758/
Thanks for the interview!
Thank you as always, Michael, for supporting the work of others and promoting them!