Your upcoming movie Hypnotica The Nightmarist - in a few words, what is it about?
Hypnotism as a pursuit to perfectionism goes very wrong and unleashes pure evil: THE NIGHTMARIST.
What were your inspirations for dreaming up Hypnotica The Nightmarist - and especially since the film seems a tad surreal in approach, was any of this based on real life experience?
I've always been interested in ALTERED STATES OF MIND since I quit doing LSD at age 18. I was an early starter. Hypnotism is real and has a bad rep. I've walked on fire with the master, Tony Robbins, best cult EVERRRRRRR ... and bowed to the mind expansion of Frank Zappa. One of my therapists hypnotized me. Hypnotism works, but the psychological cure is still pending :)
What can you tell us about your movie's approach to horror?
As an animator it's strange to animate the visceral unrestrained violence of evil acts in the subconscious. The "other world of nightmares" can be a NASTY and IMAGINATIVE revenge scape. The real horror comes from Laird, the writer gaining absolute godlike power in Hypnotica The Nightmarist. He behaves with impunity inflicting himself into other people's private nightmares. The approach seems freaky even to me. WHEN HELL BREAKS LOOSE, WE CUT TO ANIMATION. WHAT? THE MOST EXPLICIT VISCERAL IMAGES CAN BE MORE REAL IN CARTOON FORM. Dreams are stylized IN MOVIES ... but also in your head. Your dreams are a big FILTER on reality. ANIMATION enhances that perception.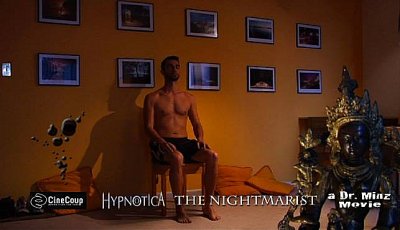 Self-improvement corrupts Laird as he is transformed into THE NIGHTMARIST. Without any spoilers, Laird believes he is seeking enlightenment but consumed with the opposite. THE HORROR becomes a total abandonment of human values of kindness, friendship and explodes into visceral extreme rampage. You don't want this guy in your head. Laird is infected with unscrupulous revenge and mysterious gut level animal rage.
Your film combines animation and live action - how will you handle this, both technically and visually?
I do this all the time, sometimes for breakfast. The best example might be my Trey Gunn music video "The Magnificent Jinn". Everything is now possible. REALLY, it's organic for me. THE GUIDING SCRIPT or idea says "The head separates magically from its body." Ok... there are ten ways to deal with that. I will make it up as I execute it (based on my worst prison experiences) or hand it over to a trained animator with severe emotional problems and/or excellent academic art skills. RESULTS MAY VARY but its always some kind of incredible art that results.
What can you tell us about your movie's overall look and feel?
I think of it as "what would Miyazaki do if he animated The Cell?" Then I try to execute that with 200 BUCKS. Hee hee. I've done well with small budgets because as a director, I literally try to learn every person's job I work with. THS IS A PROBLEM when shooting softcore porn. Then I leave that responsibility to the experts, the actors :)
Do talk about your key cast, and why exactly these people?
For me it's simple: AUDITION PEEPS, see what they do , then build on that.
Paul Joseph had an insane zest for the script and instigated that crazy enthusiasm. He got the material, as did Timothy Paul McCarthy. With Tim, he would always redo dialogue and offer different approaches. That's when the magic happens. When I'm directing, I like it when the actor takes over. You can't really instruct the nuance of an actor "in the moment". You get them in the place and pray to the little baby Jesus that the cam caught it when it goes very right.
Hypnotica The Nightmarist is part of the current CineCoup challenge - so do explain the challenge quite quickly, and what do you think makes your movie stick out of the crowd?
THE ANIMATION is a part of it, for sure... oddly enough, I'm a seasoned artist with a unique auteur style developed over decades. When CineCoup says, BE BRAVE... well, that's not only in my DNA but that's what this movie is: THE COURAGE TO REALLY GO INTO SCARY MENTAL AND ARTISTIC DARING TERRITORY. I am not afraid. My recently finished film The Amorphous Mind Police Factor was pure bravery. ON A TIGHTROPE with no script, 12 actors and the desire to shoot as many WTF scenes as possible. We tried shooting everything except my 3 rules, NO UNDERWATER SCENES, NO SNUFF, no animal or child actors. ADULTS are strange enough to manage on a set. HA HA HAAAAAAAAAAAAAAAAAAAA. Otherwise, we went there. As far as shooting now is concerned, nothing phases me. I'm unshockable and I love DARING actors. LOVE IT when the boundaries are wide open.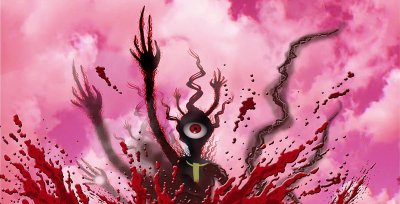 I have 3 or 4 more SMALL scenes to shoot for The Very Imaginary Friend-feature shot in 2014 / in post/postponement now) - the scenes are WAYYYYYY THE FUCK OUT THERE... and I hope the actors can take it. I'm breaking my own rules: the scenes will involve my young excellent actors getting nasty and nekid with underwater creatures, if they don't moxie up the balls to go for it, I'll animate it. HAHA, JUST TRY TO STOP ME. Hee heee.
Once the budget is in place, what's the schedule, and any idea when and where the film might be released onto the general public yet?
Cineplex in Canada.
Any future projects beyond Hypnotica The Nightmarist?
Yes, one movie in post now, The Very Imaginary Friend, an extremely neurotic performance artist losing his mind in Toronto's Gladstone Hotel. Shot it all last year. It's not a tad surreal, its FULL ON. However it's a surprisingly human story in the overall picture. Featuring Jeff Leard ,a rising force in the Toronto theatre scene - a MEGA TALENT I was very lucky to cast.
Witnesses, a thriller, live action, about cults and what harm they do to people. The script is 84% there. 2 years in development. It's truly diabolical ... and should SCAR people
My ultimate dream project I can't even say the name of it online, I genuinely believe it would create a freak out large "ARE YOU KIDDING ME?" reaction from a large dedicated group. THAT is big, big big. I don't want to deal with it AT THIS MOMENT. Hypnotica The Nightmarist and CineCoup is all-consuming and I'm loving it. Next year ... more.
http://www.cinecoup.com/hypnotica-the-nightmarist
You initially entered the filmworld via animation, right? So what got you into animation, and did you receive any formal education on the subject?
Sheridan College, say no more. IT WAS THE BEST. And I've worked on 398 children's series cartoons. MAKE IT STOPPPPP... MAKE IT STOPPPPP. Kid shows are truly hell for me. Some were great. Beetlejuice amd Sons of Butcher were the best.
What got you into directing movies eventually, and how would you describe yourself as a director?
I AM RESOURCEFUL and UNINHIBITED as a director. If I can write it I can get it done on the screen somehow. KEEP IN MIND, last summer, the entire film of The Very Imaginary Friend was shot with NO CREW. Me and actors in boutique hotels. I SHOOT, RECORD, WRITE, DIRECT and feed people. Some costume design. Only once did we bring in SPECIAL MAKE UP PERSON. It's not easy but I design for what is POSSIBLE.

The Very Imaginary Friend
What can you tell us about your filmwork prior to Hypnotica The Nightmarist, in whatever position?
Plain and simple: I've done every job in the biz since school. Storyboards, art direction, animation, camera operating, acting, set design, editing, sound recording, publicity, location scouting, dolphin wrangling, craft service, directing, producing, scoring music, I don't do "make up"... but I would do body painting. I'm a terrible actor. Oh well. HENCE, I have a pretty good idea how to plan stuff.
Besides all that, you're also a musician, right? So do talk about your music and your musical influences for a bit!
Mike Patton is currently the most interesting musician alive for me. I keep wanting to do music, and I will. Chronic Harmnonic was a band hard to maintain when I lived in Asia for a few years. I do bits and pieces of music for the movies ... I have a few Minz music videos unreleased, all in good time. Sound editing is something I really enjoy ... I totally draw from my music video directing and animation skills for that.
Directors, artists, animators, whoever else who inspire you?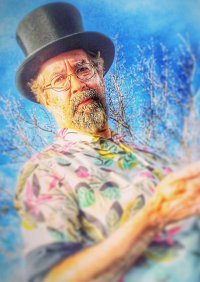 Feeling lucky ?
Want to
search
any of my partnershops yourself
for more, better results ?

The links below
will take you
just there!!!

Find Chris Minz
at the amazons ...

amazon.com

amazon.co.uk

amazon.de
Looking for imports ?
Find Chris Minz here ...
Something naughty ?
(Must be over 18 to go there !)

Mike Patton is currently the most interesting musician alive for me. There is no debate on his GREATNESS. Kevin Breit and the Sisters Euclid have been my favourite band for over 15 years. They play down the street and it seriously affected where my wife and I bought real estate. I've seen them live about 123 times. No exaggeration. And I get bored in bars, they are always ASTONISHING. Otherwise ... Bill Maher is important and too funny. I would like to be reincarnated as him.
Your favourite movies?
Network, Fight Club, Alien, The Meaning of Life, Educating Rita.
... and of course, films you really deplore?
I've really found a disgust for most Disney movies that think the God of America was Little Bo-Peep, gimme a fucking break. There ain't no Prince Charming, you delusional idiots.
Your website, Facebook, CineCoup page, whatever else?
http://www.cinecoup.com/hypnotica-the-nightmarist
The CineCoup page is tricky for most people. THE MAIN THING IS: actions of rating, sharing and commenting is gathering points for ACTUAL VOTING. It's fun when you figure it out. I spend inordinate amounts of time explaining the COUNTERINTUITIVE aspect of the site. WHAT IT REALLY DOES, is provide the CineCoup peeps with A TON OF INFORMATION on what film will do well. That's gold for them. For me, I get to REALLY see what the fans reactions are. Lots of people I know, sure, but lots I've never met. That's fun.
Thanks for the interview!
Is that all? I JUST DRANK 3 COFFEES. LET'S KEEP GOING!!!!