Your new series DC Perspective Films - what can you tell us about its underlying concept?
The underlying concept to my DC Perspective Films series is to not only reinforce the mythos of Batman, Superman, Flash and Wonder Woman, but to positively affect my audience. I want people to remember what these heroes actually mean, as well as feel empowered from tales of overcoming very relatable adversities, such as drug addiction, suicide, xenophobia and depression. These heroes arenít saving the world from a global threat. They are helping every day people with every day problems. And I think telling these stories through the eyes of the people these heroes are saving makes it all the more special. None of my heroes are doing anything clichť. There are no witty oneliners, no heroic posing for the camera, no supervillains to battle. They are just there, helping an individual. And I think itís that angle, that ďperspectiveĒ that makes these stories stand out from your typical fan film.
Why exactly DC Comics characters?
Iíve always been a DC fan, and I think that (if done right) DC superheroes represent the purest forms of what it means to be a hero. Marvel heroes are fantastic, but none of them represent cut and dry themes like hope, justice, truth and courage. Marvel superheroes are thematically more complex. And when you are trying to tell a simple story with a basic theme, sometimes you need a more basic hero. DCís A listers are just that.
What were your inspirations to make these films, and are any of the topics you touch based on personal experience?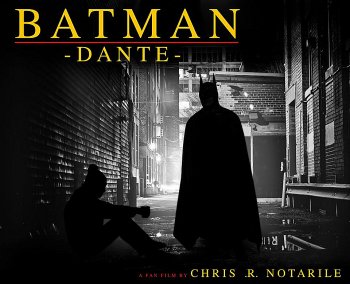 The inspirations for Batman - Dante, Superman - Sylvia, The Flash: Wallace and Wonder Woman: Jacqueline are in no way based on any of my personal experiences. If you havenít guessed by now, all the subtitles in these shorts are named after famous writers and poets. The most obvious, Dante, is named after Dante Alighieri, author of the 14th century hit Inferno. Danteís Inferno deals with traveling through the various circles of Hell. When I originally wrote Batman - Dante, I knew I wanted to focus on a character overcoming his own personal Hell. And as an homage, I named my Dante after the author that inspired the story. Sylvia is named for Sylvia Plath, a famous 20th century writer who would ultimately commit suicide. I knew I wanted to center a story based off the All Star Superman comic scene where he stops a jumper, and keeping in line with my authorís motif, I settled on naming her Sylvia. As for Wallace and Jacqueline, if you want to know who they are named after, youíre going to have to wait till their respective shorts are released.
Two of your DC Perspective Films have already be filmed, Batman - Dante and Superman - Sylvia - so do talk about them and their respective shoots for a bit!
Batman - Dante was made the summer of 2016, though the script was originally written in 2010. The only reason why I never shot it back then was my lack of access to a Batsuit. I had all but forgotten about the script, assuming I would never make it till my friend sent me a photo of him in the Keaton Batsuit. As soon as I learned he had unlimited access to it, I scrambled to make Batman - Dante happen as I knew I could not allow myself to miss an opportunity to shoot a Batman short with a legit Batsuit. Superman - Sylvia was kind of the same way. After I released Batman - Dante, I knew I wanted to follow up with a Reeve Superman movie, now that I had set the thematic tone. But replica costumes were waaaay too expensive. I spent about a year searching for a suit that I could afford, as well as a Christopher Reeve lookalike, but with no luck. I even went as far as to email Chrisí son Matt, asking if he wanted to do the part, but he never responded. It wasnít until I was filming Spider-Man: The Ballad of Mary Jane that I revisited Superman - Sylvia. My friend Tom Proprofsky mentioned he owned a Reeve suit. And immediately upon showing it to me, I begged him to let me borrow it. He agreed and from that moment, I was hardcore determined to cast and shoot Superman - Sylvia. And wouldnít you know it, after a year of trying to find the perfect Sylvia and Superman, I found both within a week. Sometimes things just happen when they are ready to happen.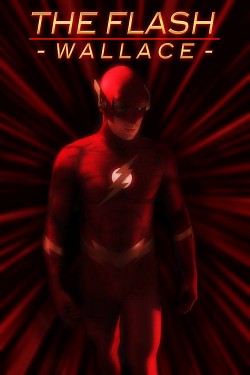 So what do you have in store for The Flash: Wallace and Wonder Woman: Jacqueline?
The Flash: Wallace will deal with xenophobia, and how a single moment can change someoneís life - namely Wallace's, who, by the way, IS NOT WALLY WEST! Wonder Woman: Jacqueline will deal with self worth and finding the confidence you need to be the best version of yourself.
Since superheroes in comicbooks seem to change their looks and sometimes even identities rather often of late, which incarnations of the respective DC Comics characters do you base the heroes of your films on?
Well with these DC Perspective Films, I am using the MOST iconic versions of each character. Sure Bale and Affleck have great Batsuits, and everybody loves Adam West, but when you think of the definitive movie Batman, you think of Michael Keaton. Same with Superman. Christopher Reeve is and always will be the best Man of Steel. Lynda Carterís Wonder Woman and John Wesley Shippís Flash are in the same boat as well. I feel that using these versions of those characters will allow for people to not get wrapped up in the smaller details of the film. For example, at no point is anyone going to make a neck snapping joke in my Sylvia film, because thatís not what Christopher Reeveís Superman is about. Now donít get me wrong, Iíve done other versions of most of these characters, and in no way am I married to any one particular iteration. The direction and message of my story will always determine the heroís look or ďversionĒ.
Superhero movies demand a lot of action almost by definition - so what can you tell us about that aspect of your story?
The best stories are told from the heart. Spectacle is great, but if it is empty, if there is no heart, you are left with a forgettable film that will vanish into obscurity. I donít have the money to blow up a city block if the mood fits me, so many times I am left with having to find other creative solutions to entertaining my viewers. This of course is where the challenge comes in - writing a good and entertaining story that is still within my means to pull off. Itís for these reasons mainly that I stay away from larger scale heroes like Superman. Usually in these instances when I have to use an overpowered hero, I tend to strip them of their powers, or put them in a situation where their powers mean nothing. That way the audience still gets the thrill of seeing their favorite characters in a scene, but at the same time, I donít rob their favorite characters of what makes them cool. For example, in 2010 I had Superman appear in Die Laughing, in which he interrogates the Joker. We all know if Superman wanted to, he could vaporize the Joker with the blink of an eye. But we also know that he wonít. Ever. The Joker knows this too, and there-in creates the fun scene. Joker is just pushing all his buttons and there is virtually nothing Superman can say or do to shut him up.
Do talk about your directorial approach to your series, and will it have an overall look and feel or will that change from story to story?
The approach is, as Iíve said, about making people feel good, while at the same time shining light on real problems in our world. The overall look for each film will be the same. All four films will open with some variation of a confessional from the sub-titular character, briefly explaining their backstory, and leading into their life changing encounter with the titular superhero. There will never be any sound of dialog in the flashbacks, only action, coupled with music and narration. And at the end of each film, hopefully you, the viewer, will be feeling something deep and meaningful.
Anything you can tell us about your cast/projected cast, and why exactly these people?
I try to cast people who embody and or look like their Hollywood counterparts. I think nailing the visual is incredibly important to me, when it comes to casting superheroes. My Batman looked like Keaton. My Superman felt like Reeve. My Flash looks like Shipp. And when I find my Wonder Woman, she too will feel like Carter.
As far as I know, you're currently running a fundraiser for the rest of the episodes of DC Perspective Films - so do talk about your campaign!
I am trying to raise a few extra bucks for costumes and props. Fan films arenít cheap to make, especially if you want them to be good.
If you would like to help, please go to www.gofundme.com/classicdc
Once the funds are raised, what's the schedule, and any idea when the films might be released yet?
They will be released within days after being shot and edited. I work really fast.
After this quartet of movies, might there be any more DC Perspective Films in the future, and/or other future projects you'd like to share?

Feeling lucky ?
Want to
search
any of my partnershops yourself
for more, better results ?

The links below
will take you
just there!!!


I donít know about any other DC Perspective Films films just yet. I think there is only so much you can do before it gets redundant. I am however working on a sequel to John Carpenterís They Live, which films this month. Not sure what I will do after that. I guess weíll find out together.
Your/your series' website, Facebook, GoFundMe, whatever else?
You can learn more about me at
Anything else you're dying to mention and I have merely forgotten to ask?
I hope you all took notes. There will be a quiz on this!
Thanks for the interview!