Your upcoming film Terror Vortex - in a few words, what is it about?
It is dark noir psychological thriller about a detective on a serial killer case that horrifically strikes close to home.
What were your inspirations when writing Terror Vortex?
Oh, noir films and psychological action thrillers like Seven, Shutter Island, Inception, Darkman, and my own short film Catastrophic Denouement. I love exploring puzzle mystery movies and those narratives of the unknown and unexplained phenomenas.
Terror Vortex sounds like a quite ambitious project. What convinced you you could achieve what you wanted on the very modest budget at your disposal?
Well, ha ha. I think, with technology right now, story tellers like myself can do more with less. We can easily create a world with in a computer and make it believable. Plus, the power of collaborating with people is a big one. Thank God for my friends and family for their support and knowledge and willingness.
Also, Terror Vortex seems to demand quite a bit of effects work. Now how was all that achieved?
Oh, yes it has a lot of effects in this film. I'm still doing my duct tape makeup effects ha ha. And, in this movie, because of my last movie, Wisconsin Project X people have been giving me props - that has helped a lot. I've done a lot of digital matte effects work to create a New York downtown city feel in the Missoula, Montana downtown area. It is working out well. Plus, we use green screen effects when needed, but mostly matte effects. I've been playing around a lot with the basic digital special effects since my last couple of films like Midst. In Midst we made it look like we were in England, I digitally put the Westminster Big Ben Clock Tower behind one of my actors with the use of motion tracking digital effects. We didn't even use a green screen for that shot and it turned out great. So, I'm putting what I've learned effects-wise from those films in this film.
What can you tell us about your directorial approach to your material?
I'm really letting the actors bring to the plate what they want to see in their character. I want to guide them and not box them in creatively. I believe that is making a big difference on this film. I love keeping everyone comfortable on set. So, there is lots of laughs, but we stay on task and get things done.
You also play the lead in Terror Vortex. What can you tell us about your character, and why did you pick yourself to play him?
Yes, ha ha, I do play the lead. My character is struggling with his marriage, loss, and identity. Everything is against him and he wants to figure out why. I picked myself because I love movies and being in them. Normally I never get the lead in anything and this is my one chance to give it a try. In my next film I won't be a lead, but will be in it. It is hard to direct and act at the same time, for sure. But, man it is fun acting. Plus, this character I play goes through a huge emotional arc and I wanted the challenge. In these type of films sometimes it is silly to see so much emotion with actors that are not professional. I admit, I'm not a top actor, but I at least can still try try try. Maybe, just maybe in this movie we will achieve that good emotional tone. Hopefully you won't just see acting or actors acting and trying too hard at overacting; but hopefully you will see true characters.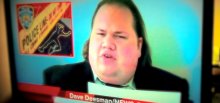 As far as I know, actors Trevor Graciano, Jack Runyon, Shawn C. Phillips [Shawn C.Phillips interview - click here] and Chad Ackerman were never actually on set with you during the filming of Terror Vortex but sent their performances in. Now how did that work, and why did you do it?
Well, it started with Shawn. Him and I had been talking about working together on a project. I told him about Terror Vortex and told him I would love for him to be in it. The problem was that Shawn lives in California and I live in Montana. And, being a no budget film and didn't have the necessary funds to get him up here to film. So, his idea was to have him shoot himself in a small role and he would send it to me via the web to cut into the film up here. I said that that would be great. Then, I though, if I did that with him, why couldn't I do it with others. So, I contacted my brother, Chad, and my friend Trevor to do the same thing. I was glad to hear they wanted to do it. Chad filmed himself. Trevor got his friend Jack and shot a scene with the two of them. Trevor and Chad sent up their footage and now they are a part of the film. It has been working out wonderfully.
A few words about the rest of your cast?
The rest of the cast, for those familiar with Wisconsin Project X will recognize a lot of the same actors like Jesse Head, Tyler Wittenberg, Jack Kolberg, Scott Ranf, Danielle Ackerman, Tim Kolberg, April Depee, Joel Baird, and myself. They are best described as friends, family, and Danielle is my wife. We also have a newcomer, Josh Meny. Josh is playing a lead bad guy. He plays our evil Doctor in the film. It was funny. Josh's first day on set, I told him that he had to put duct tape makeup effects on his face. He seemed surprised, but totally jumped into it. That's how I welcome all my new actors ha ha. It is my initiation to being in my films ha ha.
The $64-question of course: When and where will the film be released, tentatively?
Tentatively if all goes well it should come out sometime in September or October. I've showed it to Brain Damage Films and they were interested in it, but no deal has been made as of now. I'll have to keep you posted on that.
Any future projects beyond Terror Vortex you'd like to talk about?

Feeling lucky ?
Want to
search
any of my partnershops yourself
for more, better results ?

The links below
will take you
just there!!!

Find Christian Ackerman
at the amazons ...

amazon.com

amazon.co.uk

amazon.de
Looking for imports ?
Find Christian Ackerman here ...
Something naughty ?
(Must be over 18 to go there !)

Sure, my friends and I are planning to make a medieval film, which is in development right now. And, I plan this summer to start shooting my film (working title) Zombies of the Living Dead.
Your/your film's website, Facebook, whatever else?
You can find out more info at http://www.fastcoastproductions.com, its IMDB http://www.imdb.com/title/tt2187099/ , and Facebook http://www.facebook.com/pages/Terror-Vortex/131209196997099?sk=wall - and watch the teaser at http://www.youtube.com/user/TerrorVortexFilm/featured.
Anything else you are dying to mention and I have merely forgotten to ask?
Check out my film Midst, too at http://www.youtube.com/watch?v=l_10f8yWkpY.
I just want to say thank you to my pals at MAPS Media Institute http://www.mapsmediainstitute.com/ and MCAT http://www.mcat.org - I've used people that I've met and received help through both these organizations. They are awesome places! And, check out my actors and crew by googleing them on the web because they make films or do other amazing things as well. I'm always looking for funding too ha ha to fund my next projects!
Thanks for the interview!
No problem anytime, thanks for the coverage.