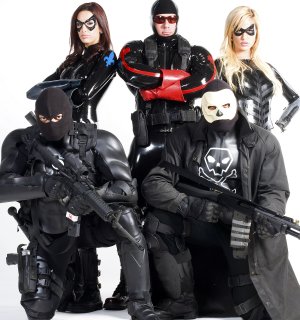 Back: Fleur-de-Lys, the Canadian, Nordik
Front: 8 Ball, Black Terror
You are currently in the middle of releasing your webseries Heroes of the North. In a few words, what is it about?
It is a transmedia experiments that uses different mediums to tell a complex story: webisodes, a novella, comic books, video games, facebook pages and other websites directly related to the HOTN-universe.
A few words about your lead characters?
For the first season, we have five main hero characters we are following: The Canadian, the de facto leader and a man who believes in his mission, Nordik, a superhero assigned to the Arctic, who loves solitude, is uncomfortable in the big city but follows orders, 8 Ball, an accomplished martial arts expert and pool player with an off-beat attitude and vigilante yearnings, Black Terror, a super strong animal of a man, hard to control, harder to predict, and Fleur-de-Lys, the only officially sanctioned provincial superhero that is independent of the federally appointed other heroes.
Quite obviously, your series was inspired by superhero-comics. Is this a genre you are also fond of in your private life?
I love comics. Been reading them most of my life.
Your favourite superhero comicbooks and superhero movies?
I am more of a Marvel fan, although I do read some DC and indie books. I like The Punisher, Deadpool, She-Hulk, Spider-Man, Daredevil and Howard the Duck! Movie wise, I really enjoyed Batman Begins, the first Iron Man, Spider-Man 2, and Kick Ass!
Other inspirations for the series?
Canadian politics and History, with a healthy dose of artistic license in regards to both. :-)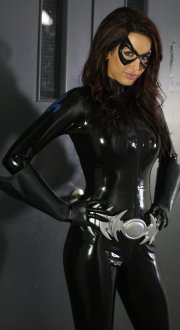 Edith Labelle as Fleur-de-Lys
A few words about your cast and crew?
We are a very small crew - a number that varies between two and ten at best on the big days. Very dedicated, passionate people, which definitely helps get things done quickly, efficiently and as best as humanly possible considering our limited means. Our cast is not only full of beautiful people, they are also dedicated and passionate about the project. It was a tremendously fun group to work with!
There is an (online-)comicbook, Canadian Shield, tied in with the first episode of Heroes of the North. A few words about the comic and its writers and artist?
Every five episodes of video will come with a comic book. There is another comic book out with the Black Terror: Origins Episode. All the comics are written by Yann & Michel Brouillette, two brothers who are also writers on the webisodes and huge comic book fans. The Heroes of the North comics are their first comic book work but they are doing a nice job if I may say so myself. The illustrator and colorist is Marcus Smith, an artist that also worked on the Halloweeen comic book adaptations amongst other things and Keiren T. Smith does the lettering. Keiren is the wife of Canadian artist and writer Ty Templeton and does a lot of work, for DC amongst others, as a colourist and letterer.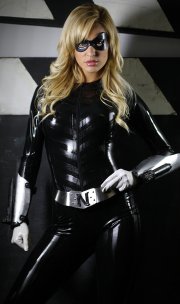 Vanessa Blouin as Nordik
The series' website?
Let's leave the present behind for the moment and head forward into your past: What got you into filmmaking in the first place?
Oooh Boy! Hard question. I always loved movies. Been trying to make films since I was 8 years old. Finally managed to pull it off when I was around 12. Never stopped since.
What can you tell us about your debut feature Lignes de Vie from 1992?
It was self-financed and shot in French for about $50,000. It was the story of a Montreal maverick policeman uncovering corruption within the police, city official and religious authority and the difficulties he encountered trying to expose the mess. It had limited appeal because of the language.
After Lignes de Vie, you seem to have taken quite a long time off from filmmaking. Why, and what can you tell us about your comeback as filmmaker?
After Lignes de Vie, I started doing lots of music videos, which led to meeting with real producers which led to a long and lengthy development phase on various projects, not a single one of which ever got made... I did not stop shooting - I shot over 50 shorts, most of them self financed during that period, but no features because I was trying to get them made the normal way - and of course, nothing came out of it.
Your horror movie Evil Breed: The Legend of Samhain had a rather unfortunate history, and as far as I know, you are not too happy with the results. Would you like to elaborate on this?
This project had a troubled history from day one, with too many cooks involved, and ended up being some sort of tax credit scam that benefited only the producer, leaving all the others to hold the bag. I was hired to do the goriest film possible and in the end, they ended up cutting most of it for the release and it was so poorly done that the film barely makes any sense at all. After waiting almost 10 years to get my first feature made the normal way, let's just say that it was quite a disappointing experience to say the least!
What can you tell us about theRecon-series?
After the disaster that was Evil Breed, I decided that would do my films, my way, and produce them by hook or by crook. We initially shot half an hour of what would become Recon 2020 with $5000 to illustrate what we could do with an action sci-fi with virtually no money in the hopes to sell the concept as a TV series to Space Channel in Canada (equivalent of SyFy) but it never panned out. It caught the interest of Critical Mass, who gave us $45K to take what we had shot and complete it as a feature. It sold well internationally, especially in Asia, so we ended up producing three of them for the DVD market.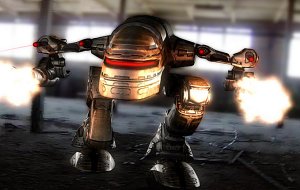 Recon 2020
As being science fiction/action flicks, the Recon-movies seem to demand quite some funding, yet you always work on rather low budgets. How do you manage?
Over the years, we developed quite a few tricks to make things look bigger than they are. We also prep a lot - that is the only true luxury of indie filmmakers: Time. So we always end up with something that looks much more expensive than what it really costs. And I also do a lot of the jobs myself so I cut a lot of expensive crew members off my payroll! LOL!
A few words about your revenge flick Deaden?
That was our answer to the Punisher movie with Thomas Jane. I was so mad after watching that stupidly lame movie, I thought we should do our own version of The Punisher. Since it made no sense for various legal reasons, we decided to do our own revenge flick. It is to this date my most critically acclaimed film yet the one that generated the least money. At least we got better reviews than all three Punisher films combined!
As far as I know you are currently in the pre-prodduction phase of you next movie Death Row? Anything you can already tell us about that one?
It is a zombie flick set in a prison with a very cool twist towards the end and hilarious gore gags. I love gore gags.
Any other films I have forgotten to mention you'd like to talk about, any other future projects?
I am re-teaming with John Fallon for another action flick called Trigger about an Irish mob assassin that has to turn against his own boss when he gets crossed doing a job. A lot of people wanted us to do a sequel to Deaden (impossible! The dude is dead) or a prequel, which we thought quite a bit about, but we decided to do something brand new instead.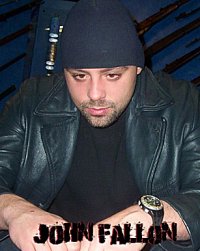 Deaden
Actor John Fallon seems to be in pretty much all of your more recent productions, sometimes also in a writing capacity. What can you tell us about him?
John is a lifelong film buff and trained actor who became a movie critic by ricochet. He has a fresh writing style and a charismatic presence on screen. We enjoy working together quite a lot. So we do...
A few words about your production company Movie Seals, and how did it come into being? And could you explain your motto "Making Films We'd like to See" (which might be a stupid question)?
As mentioned above, it got created out of frustration - I needed a corporation to be able to produce films properly and legally. So we got one. There was really nothing very special about that. And yeah, we set out to do movies we would like to see. I love B movies and odd films. For example, I am very fond of the Canadian/German TV series Lexx - oddball sci-fi but very cool - not perfect by any stretch of the imagination but it tries hard and it is fun. I feel a lot of what we get to watch these days is predigested and packaged. I miss the free-for-all of the 80's where there was a multitude of genres and experiments within those. Now they serve us sequels, prequels, rehash, reimaginings. It's a product first and foremost now, and it has lost its soul as a populist art form. I am sick of that. Our movies are sometimes derivative, but nobody can deny that they are made with lots of fun an passion and it shows in the film.
Speaking of "Films We'd Like to See": Your favourite movies?
I have a huge fondness for almost anything made by Paul Veroheven. My favourites are: Robocop, Total Recall, Starship Troopers, of course, and Basic Instinct. Love some of Michael Bay's effort, especially The Rock and The Island. Armaggedon is a guilty pleasure. Stupid movie but so stylish - the man is on top of his art in that film - I just wish he had a better script. The first two Aliens. I like Rodriguez as well, specifically Planet Terror, From Dusk Till Dawn, and Machete. Early Joe Dante stuff, especially Gremlins. Early John Carpenter (Big Trouble in Little China, They Live), with the exception of Halloween - never got the fascination for that movie. The Crank movies by Neveldine/Taylor. David Fincher, especially The Game, Fight Club and Seven. Die Hard. Early Sam Raimi (Evil Dead trilogy), The westerns of Sergio Leone, almost anything directed by Clint Eastwood, Braveheart, early John Woo.

Feeling lucky ?
Want to
search
any of my partnershops yourself
for more, better results ?

The links below
will take you
just there!!!

Find Christian Viel
at the amazons ...

amazon.com

amazon.co.uk

amazon.de
Looking for imports ?
Find Christian Viel here ...
Something naughty ?
(Must be over 18 to go there !)

And of course, films you really deplored?
The Punisher by Jonathan Hensleigh - I don't understand why they can't make that movie right. Of all the Marvel characters, it should be the easiest to adapt to the screen, yet somehow they always screw it up! I point this one out more than the other fiascos because I had such high hopes for that film when I saw the teaser for it. But overall, I hate disparaging movies. It takes so much efforts and hard work to get one made, even a bad one. There is always a redeeming element in a film. Even that version of the Punisher had a few good moments in it.
When it comes to filmmaking, you've pretty much done it all: producing, directing, screenwriting and editing. What do you enjoy the most, what could you do without?
As you get older, you wish your workload was smaller but the trend is going towards doing more with less. Every year it gets worse. I think I like editing the most. Producing is hard - your main job is to deal with problems - it makes it not a very pleasant job.
Writers and directors who have influenced you in whatever way?
Stephen King - I love is writing style. Simple and to the point, yet gripping. Paul Veroheven - love his satirical viewpoint and his grandiloquent depiction of physical violence. Sam Raimi for his physical humour. Robert Rodriguez, for his DIY mentality. Michael Bay for his visual qualities.
Your website, Facebook, MySpace, whatever else?
Anything else you are dying to mention and I have merely forgotten to ask?
To my knowledge, I think I am the only director to make cameos in his films on fire. I did it on Recon 2020 and again in Heroes of the North. It is my third outing as a burning man. I enjoy it tremendously.
Thanks for the interview!