With Night of the Living Dead Live, you are bringing one of modern horror's most beloved classics Night of the Living Dead to the stage as - now how did that project come into being, and whose idea was it originally to turn the film into a stageplay?
A year ago, I was approached by Christopher Harrison [Christopher Harrison interview - click here] and Phil Pattison [Phil Pattison interview - click here] from Nictophobia Films and they pitched me the idea for the show. They already had the rights from George & company and were keen on making it into something special. We tossed around ideas for how the show could work. I gave them my input and blammo... weíre doing a show.
What can you tell us about the writing process of Night of the Living Dead Live and about your co-writers Trevor Martin and Dale Boyer, and about your collaboration with them?
Any time you are re-adapting a previous work, you want to breathe new life into it by creating a new perspective. Trevor, Dale and I felt strongly that Georgeís works always carry a rooted political message amongst all the terror and fun. With that in mind, we wanted to turn the work on its ear and do something completely new, while at the same time maintaining the integrity of the material that has garnered so much cult appeal. No pressure on us, eh?
How close does Night of the Living Dead Live stick to its cinematic source, and have you taken any major liberties? And were there any sequences in the film you just couldn't bring to the stage for whatever reasons?
Itís a fine line, maintaining that material and keeping the fans satisfied, while at the same time, re-inventing the wheel. Liberties will be taken and fans will get to see their favorite story in a whole new way. As far as limitations goes, naturally there are things that we canít do on the stage, but that just challenges us to find ways to make theatrical magic.
How do you plan to tackle your story special effects-wise?
A magician never shows his tricks. Come on out and see the fun for yourself.
As far as I know, you want to bring your play to the stage in black and white, just like the original movie? Why, how do you plan to do it, and what are the major challenges?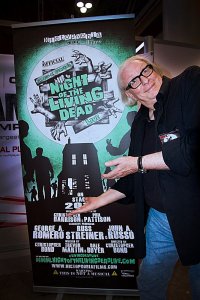 Russ Streiner
Our version of the show will play in the time of the filmís story. A lot was happening in the late 60ís, not just zombies. So we want to work in that time and be real to the circumstances and thought processes of the day when it comes to our characters. The black and white optics, underline the time scope. It will be a challenge to create this black and white universe, but thatís what designers get paid for.
From what I know, George A.Romero, John A.Russo and Russell Streiner, the creators of the original Night of the Living Dead, are on board of your show as executive producers. How hands-on or hands-off are they when it comes to bringing their creation to the stage?
The three of them have been very supportive from the start. We initially discussed our concept for how it would play out on the stage and they loved it. Itís fresh and fun, yet maintains their work, whilst spinning a whole new thread of the journey. We continue to update them with our progress and they will be pivotal contributors as the play continues to be workshopped.
What can you tell us about your collaboration with Night of the Living Dead Live's production company Nictophobia Films?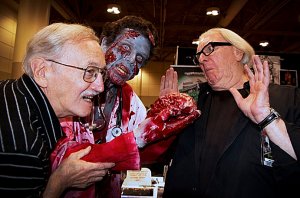 John Russo and Russ Streiner with a zombie
First of all, Chris and Phil are huge horror fans and Night of the Living Dead is a part of the reason why they are even in this business altogether. They were the group that spearheaded the campaign with George, Russ and John and sought after me and the writing team to make something special. They are stoked to be making this project a reality and have been supportive and trusting throughout development. They are passionate about the genre and will make sure that this thing kicks ass.
Anything you can tell us about your cast yet?
Nope. Except that itís going to be packed with hilarious talent.
You also want to make Night of the Living Dead Live a bit of an interactive experience, right? Would you care to elaborate?
When you are creating a mysterious or uneasy environment for an audience, you have to create a world for the audience to live in. Once they are inside, they are yours.
While the original Night of the Living Dead has pretty much set the rules for modern zombie cinema as such, you have recently co-written the script for A Little Bit Zombie, a film that deconstructs many of Romero's rules. So what can you tell us about that film?
A Little Bit Zombie flips the zombie into the protagonist. As the hero, he has his own journey. He has goals, fears and conflicts. Many of the principals are the same, we only swapped the position and the outcome is hilarious. We try to stick with the understood zombie protocol, but loosely make a few new rules. Like what happens when you get bit by a zombie mosquito? Well, you become a little bit zombie.
What were your inspirations for writing A Little Bit Zombie?
The idea for the movie simply came from Trevor when he asked the question ďwhat would happen if you were bit by a zombie mosquito?Ē The rest was just gore and ball jokes wrapped around a romantic comedy. Having been a part of the Evil Dead the Musical process and being such a huge fan of the films, it wasnít hard to find the countless homages embedded in our flick. Trevor, who co-wrote the film with me, and myself also recently got married. Not to each other. Both of us where able to draw upon some of the ups and downs of the final moments before walking down the aisle.
As far as I know, another movie you have co-written with Trevor Martin, the musical Boy Toy, is currently in preproduction. You just have to talk about that movie for a bit!
Boy Toy is another project that Trevor and I are working on. It is the feature length version of Patch Town, a short film that debuted at TIFF in 2011 and spent all of 2012 on the festival circuit. Itís a dark family movie, kind of like an old time Disney flick, with a splash of original music. Weíre shooting it in early 2013. Look for it in 2013-2014.
Any other future projects you'd like to talk about?
Nah.
Your first main claim to fame was of course another stage adaptation of a classic horror movie, Evil Dead the Musical. You just have to talk about that project for a bit, and how did it get off the ground in the first place?
Evil Dead the Musical was the first thing I did coming out of university. Nobody would hire me to direct shows so I had to make my own and hire myself. Evil Dead the Musical ended up blowing up and has been performed all over the world. There are always new productions popping up and bleeding on people. Currently we have shows running in Spain and on the strip in Las Vegas.
After your experiences with both Evil Dead the Musical and Night of the Living Dead Live - do you think you can ever be persuaded to bring yet another classic horror movie to the stage?
Probably not. Unless you got a lot of cash.
What got you into the showbusiness in the first place, and what can you tell us about your early days?
I started acting in high school. Mostly performing in musicals. I did a lot the same in university until my last year when I started to direct. I enjoyed that much more and found myself making Evil Dead the Musical to give myself that start. That show launched me into the horror genre and led to developing A Little Bit Zombie with Trevor. I enjoy writing and directing and hope to continue to develop commercial film awesomeness
Writers and directors who inspire you?

Feeling lucky ?
Want to
search
any of my partnershops yourself
for more, better results ?

The links below
will take you
just there!!!

Find Christopher Bond
at the amazons ...

amazon.com

amazon.co.uk

amazon.de
Looking for imports ?
Find Christopher Bond here ...
Something naughty ?
(Must be over 18 to go there !)

Hmm. Stephen Sondheim, Mel Brooks & Sam Raimi.
Your favourite movies?
A Little Bit Zombie is the greatest piece of film art to grace Canadian HMV racks ever. I also enjoy Spaceballs, South Park The Movie & Evil Dead 2.
... and of course, films you really deplore?
Anything with Anne Hathaway. I really donít know what the fuss is all about.
Your/your play's website, Facebook, whatever else?
www.nightofthelivingdeadlive.com
Anything else you are dying to mention and I have merely forgotten to ask?
Yes. We are encouraging fans to help us make the show with our IndieGoGo campaign.
http://www.indiegogo.com/notldl
Thanks for the interview!