Your upcoming movie Crazy Lake - what's it going to be about?
Christopher Leto- The film is basically about a group of 20 something guys and girls, that go to a cabin by a lake for a vacation. The lake was part of a government secret where they used to kill un-treatable psychotics by drowning them in the lake. Well one of the psychotics got away, he is still at large and you can probably guess where this is going.
How did the project fall together in the first place?
Chris- Jason Henne and myself were at a party for another film called 10 Seconds To Run, also written by Jason. We started talking about projects we wanted to do and I said I wanted to make a "cabin by a lake" slasher film. Jason said he had an idea for that type of film and here we are getting ready to make it a few months later.
Jason Henne- The reason we liked this idea was that we could shoot a majority of it in one location, a cabin on a lake. By keeping so much of it in one location it allows us to create a film on a smaller budget and also lets us shoot the movie faster. I still love 10 Seconds to Run and think it could be an awesome horror franchise (Crazy Lake could be too), unfortunately it would just take more to make than we have access to right now. Chris and I both don't like to wait so Crazy Lake feels like the right project at the right time and everything has been falling into place to make something better than we thought it would be from our first conversation.
What can you tell us about Crazy Lake's writer Jason Henne and your collaboration with him?
Chris- Jason is a super talented guy, he writes, directs, shoots and is most known for his sound work. He makes a living as a sound mixer and editor. We have been working together about 2 years and we did a lot of projects together over that time. We did mostly short films for our anthology Phobophobia, which we are finishing up for an early 2015 release.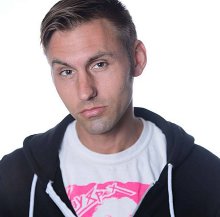 Jason Henne
Jason- Jason Henne... I never met him and I'm not really a fan of his work. Chris thinks he's good, so we'll use the script, but I heard he used to be big into kitten fighting. It's like dog fights, but with kittens. They put little gloves on their paws so it's cute, but I'm still not okay with it. That kid needs help.
[editor's note: This questions were conceived and sent before anyone here at (re)Search my Trash (that being just me anyways) knew Jason Henne would participate in the interview]
With Crazy Lake being a slasher movie, is that a genre at all dear to you, and some of your genre faves? And what do you think will make Crazy Lake stick out of the crowd?
Chris- I have been a horror movie lover since I was 5 years old. I tend to gravitate to the slasher stuff because you can mix all kinds of things in to it. This one we are describing it as "American Pie" meets Friday the 13th. Its going to be a fun, sexy, comedy with an 80's and 90's blend of horror. We have beautiful girls and guys, boobs, blood, lots of laughs and scares.
Jason- My favorite horror franchise is Friday the 13th. I used to watch them as a kid and I loved the cheesy campy nature of the ones from the 80s as well as movies like Sleepaway Camp 2 and 3. When I was in middle school movies like Scream and I Know What You Did Last Summer were coming out and it was a new way of looking at slasher films. The scripts were smarter and twists were added to keep you guessing. Those films and the 80s classics had a lot of influence on the type of horror I like to write and the type of films that, for me, are fun to make. I'm fairly confident that there are a lot of horror fans like me who just enjoy the fun they had watching slasher films and want to experience something modern with a lot of the things they loved from the 80s and 90s.
How would you describe your movie's approach to horror (as in suspense vs sudden shocks, atmosphere vs all-out gore and the like)?
Chris- I've never been a gorehound. I like my films to have a solid story line, with good acting and attractive people. I don't mind the gore mixed in as long as the film hits on all those other things. I'm more into psychological fare - movies like Seven really do it for me. So I like building atmosphere with pop out scares and a little gore.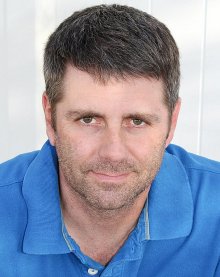 Christopher Leto
Jason- I do think we owe it to fans of slasher movies, especially 80s slashers, to have cool kills in the film. This movie was written with horror fans in mind so we definitely deliver. However it's usually impossible for me to write a script without some element of comedy, so there is a lot to laugh about in this film. If people don't find Crazy Lake necessarily scary hopefully they have fun watching it, because there are a lot of horror movies, especially from the 80s, that I don't find scary at all but they are so much fun to watch that I will often watch them several times.
Do talk about your film's intended overall look and feel for a bit?
Chris- I think at first we will have this bright fun party atmosphere going on ,then it's going to turn into a scare-filled massacre as these people fight for their lives against a psychopath. We are shooting on RED with an amazing DP so we want a nice clean look with top notch lighting to fit the mood changes of the film.
Jason- My goal is to make the project look like we had a much bigger budget than we do. Cameras and technology have come so far, even in the last few years, that it has allowed talented people to do things that look and sound like the films that used to cost so much more to make. It's a good time to be a filmmaker but it's also important to remember that talent will always be a key component in making something look and sound good.
Anything you can tell us about your key cast yet, and why exactly these people?
Chris- At this point, we are having auditions on December 28th to fill most of the roles. We did however go after Rebecca Wapner from North Carolina. Rebecca is stunning and talented. She won best actress in a short film called Red Handed at the Innovative Film Festival. Jason and myself believe she is the next Megan Fox. We have had some interest from actresses in LA (some names you have heard of), but we are going to see what exactly we can get from the talent pool in Florida before we go out of state.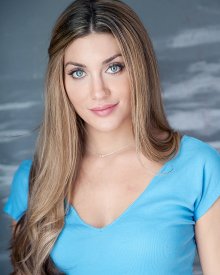 Jason- She looks a little like Megan Fox and Angelina Jolie, so she is stunning, and I was really surprised when I saw her in Red Handed because she was also a phenomenal actress. You rarely get both. I don't want to say she's the next Megan Fox or anyone else because I think she'll make her own path and hopefully being a lead in Crazy Lake can show that she belongs in more movies. I had some Tampa Bay actors in mind when I wrote other characters in the script, but nothing else has been cast. This is 8 college kids at a cabin, so the ensemble has to be a group that works well together and has chemistry. I'm hoping the people I want to do well at the casting are the right fit, but if not, then it has to go to the best person for the role and the group.
As far as I know, your film's still in pre-production as we speak. So what's the schedule? And any idea, however tentative, when and where the film might be released yet?
Chris- We are casting at the early part of January, We are looking to shoot March 6th for 10 straight days at a cabin in Florida where the cast and crew will live also. Then depending on post we are hoping to have it released in mid 2015. We pretty much have distribution lined up already and we will look into a limited theater release also.
Any future projects beyond Crazy Lake?
Chris- I am always looking into new projects, but my main focus is Crazy Lake and getting Phobophobia out to the world. Jason and I have been talking about 2 features this year so we will see what comes up in the second part of the year.
What got you into filmmaking in the first place, and did you receive any formal training on the subject?
Chris- Like I said before I have been a horror fan since 5 years old. I have always been fascinated with the film process. I always watched the behind the scenes stuff. I had written some scripts over the years and at 40 years old I decided to give it a shot. My film school has been learning on set, learning from my mistakes and learning from people way more talented than me. I believe Crazy Lake will be my coming out party to show the world what I can do directing a great team.
Jason- I was an actor in my younger years and after being in a film a couple of years ago I helped out with the post audio, which led to doing production sound, which led to writing, and now co-directing. Filmmaking is so intriguing to me because it has so many parts and it's only as good as its weakest link.
What can you tell us about your filmwork prior to Crazy Lake?
Chris- Crazy Lake will be my 5th feature as producer/director. If I Can't Have You was my first effort, and although it's a mess I learned so much from putting that film together I will never forget it. My 2nd feature The Housewife Slasher has distribution through Wild Eye Releasing, my 3rd film Rough Cut is in post hell at the moment and we are trying to clean it up and trim it down so we can release it. My 4th Die Die Delta Pi, which I co directed with Sean Donohue has done really well for us with private sales and is set to release into stores January 13th. I did a bunch of shorts this past year to be part of a phobia anthology called Phobophobia and we are hoping to finish that up and release it early 2015.
Jason- I've been going really hard for the last 3 years working on as many projects as possible and I'm very happy to get to call it my job now, although mostly getting paid in commercial work. Chris and I met almost 2 years ago and I've been working in some way on almost every project he's done since then.
How would you describe yourself as directors?
Chris- I would say I am not the typical director. I take a democratic approach when I direct. I get others' opinions on shots, script matters and dealing with talent. I work closely with my DP and now that I have gotten really comfortable with Jason and my 1st AD Jennifer Lander we really collaborate to get what we feel is the best way to go about a scene. So far it has been working, A lot of directors have an ego and a "my way or the highway"-mentality I don't have that, I know there are more talented people out there and I have no problem learning from them to make myself a better director.
Jason- I am with Chris on a lot of his directing style. I have a big influence from being an actor and sound mixer. I want to push actors the way I would want to be pushed and I hold sound at an equal importance as camera.
Filmmakers who inspire you?
Chris- No question, Quentin Tarantino, Kevin Smith are both inspirational because they were nobodies that built a career with little money but used their resources to get where they are today. John Carpenter is my favorite director for horror.
Jason- I love Tarantino as well. I'm also a big fan of Scorsese and Christopher Nolan's work, but I worry saying any of those big names to build any kind of expectations... Nah, I'll say it, Crazy Lake will be The Departed mixed with Inception and a hint of Reservoir Dogs.
Your favourite movies?
Chris- Pulp Fiction is my all time favorite film, the dialogue and characters blow me away. Halloween still my favorite horror film although Friday the 13th is my favorite series.
Jason- Really Chris? I thought Halloween was your favorite series. I didn't know you liked Friday the 13th as much as I did. I just learned something new about you. Favorite movies are the ones you can put on and watch over and over. For me that usually comes with nostalgia from my younger years so I still love watching movies like The Goonies and Back to the Future.
... and of course, films you really deplore?

Feeling lucky ?
Want to
search
any of my partnershops yourself
for more, better results ?

The links below
will take you
just there!!!

Find Crazy Lake
at the amazons ...

amazon.com

amazon.co.uk

amazon.de
Looking for imports ?
Find Crazy Lake here ...
Something naughty ?
(Must be over 18 to go there !)

Chris- I am really tired of found footage and really over the zombie craze.
Jason- Chris and I don't agree on this because I like both of those. I'm going to write him a zombie found footage film. I get more frustrated when sequels get made to films as a way to squeeze more money out of an audience by getting them to watch a lesser quality product. Chris that's a note to you and Sean... Delta Pi 2 better be amazing.
Your/your movie's website, Facebook, whatever else?
We have a Facebook page that we are trying to get horror fans to like and share https://www.facebook.com/pages/Crazy-Lake/1735741669984305?ref=bookmarks
Anything else you are dying to mention and I have merely forgotten to ask?
Chris- We are really excited to get started on this film. If you want a really fun, scary and sexy film to watch be on the lookout for Crazy Lake in mid 2015.
Thanks for the interview!