Your upcoming movie Walk of Fame - in a few words, what is it about?
Walk of Fame is about a filmmaker named Jake Taylor who grows frustrated with Hollywood and his means of trying to make it, so he decides to plunge into his dark side, his addictions - and he ends up making pornography. Of course, this means that he'll lose any chance at a real filmmaking career. It's what I like to refer to as 'a dark look at Hollywood's sunny side'. The one strange aspect of the piece is that there is a character referred to as the MC who is the personification of Jake's conscience. This character appears and disappears through the movie, and when he's onscreen, he berates Jake for the choices he's made. He's like an angry Jiminy Cricket in a strange way.
It's going to end up as a short film and will complete what I call my Hollywood trilogy that I started with Hollywood and continued with Cahuenga Pass.
I bet Hollywood is full of true-life-stories about someone's descent into pornography. Is any of your film based on actual events (at least consciously)?
Walk of Fame is entirely fiction - I came up with the idea based on my experiences in Los Angeles. None of this idea is based on anyone in particular. It's just a mix of feelings, stories I've heard, and fiction.
(Other) sources of inspiration when writing Walk of Fame? And from the idea on paper, how did the project come into being?
I would say that most of the inspiration actually came from real life - at least the frustration angle. The other angle - the falling into porn - was actually based on some 'seedy' people that I've encountered during my time in Los Angeles.
As for the idea for the script, (spoiler alert!) the idea of a man falling from grace and ending up sleeping on the streets was fascinating. Pretty much this was an easy shoot - write it and shoot it. I knew I was dealing with a non-existent budget so I wrote what was within I could afford, and that wasn't much.
You have tackled the subject of pornography before in Cahuenga Pass. How does Walk of Fame differ from this earlier film?
Cahuenga Pass was about a woman who worked in the porn industry and was involved in an abusive relationship with someone who wasn't in that world. Walk of Fame is slightly different in that we're dealing with pretty much one character, Jake Taylor, and much of what occurs in the porn world has already occurred. Thus a majority of the people portrayed in that world are in flashbacks. Walk of Fame focuses on a filmmaker within the world rather than an actor, although the character of Jake did act and make the porn. If you look at the two movies you can easily tell they're related and from the same 'world' that I have created for them. Thematically there isn't much difference.
What can you tell us about your lead Nathan Yoder, and what was your collaboration like? And a few words about the rest of the cast?
Nathan Yoder and I first met about 4 and a half years ago in LA. We were both in a filmmaking program at NYFA and we hit it off immediately. Between our love of sports, good movies, and old WWF wrestling, we got along great and we've been friends ever since. He had a bit part in Knock 'Em Dead, Kid, and he's very easy to work with. We had a blast filming on the streets of Hollywood late at night - it was fun and scary at the same time.
The character of the MC was portrayed by Les Mahoney (who played a drunk father in Knock 'Em Dead, Kid), and he played it to the hilt. He gets into it and he really creates a showcase for his character.
As for the actresses in the movie - the girls are the eye candy, they are the T&A to show what the porn world has to offer, the sirens of this fable. Even though there are some scenes that show their characters don't like their treatment at Jake's hands.
Could you elaborate on shooting on the streets of Los Angeles?
Shooting on the streets of Los Angeles was a good time. We shot guerilla style with just a camera and the talent - this allowed us to go by virtually unnoticed.
We shot on Hollywood Boulevard after dark and let me tell you, when the tourists leave and it's eleven at night - things change. The street people really come out and it starts to look like a scene out of Taxi Driver. But no one bothered us, it looked like I was some crazy filming a homeless guy (we were shooting a scene with Nathan lying on Hollywood Boulevard). There was a time when Nathan was prone on the boulevard and a person walked by, stepping over him - they thought he really belonged there. And what's sad is the way we step over the homeless in our society. We as a people really don't care - but that's a subject for another day.
I also shot some good footage up at Griffith Park and most of the interiors in Toluca Lake.
In your previous work, you have time and again returned to Hollywood as a sort of narrative catalyst. How will Walk of Fame fit in with your other Hollywood-movies?
Hollywood as a city provides so many possible stories and Walk of Fame is the final part in my Hollywood trilogy. It is my third story from the naked city. Jimmy Breslin once said about New York that he both loved and hated the city and after making these movies in LA, that's how I feel about Los Angeles.
I think the real Hollywood and the reel Hollywood need to be discussed more. Most people who have never been there look at what is portrayed on TV and in the movies and think that Hollywood is this mythical place where everyone has opportunity and anyone can be discovered. This isn't the reality of the closed door society that it really is and how hard it is to get your script looked at, score an audition, etc. Think of it in terms of Ghostbusters with the key master and the gate keeper - I'm speaking in jest but I'm sure you get my analogy.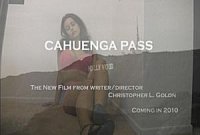 I try and show how it is utilizing locations and plotlines that are real life. All three of these stories that take place in Hollywood, Cahuenga Pass and Walk of Fame are real and probably happening somewhere in the city of LA as we speak. Walk of Fame as a story fits right in with the other two and is a fitting end to the trilogy, which I add, actually happened by accident. When I made Hollywood in 2007 I had no intention of making a Hollywood trilogy, it just sort of happened over time.
I realize it might be way too early to ask, but any idea when and where Walk of Fame might be released?
I'm looking to be done editing by mid-spring and hitting the festival circuit shortly thereafter. Watch my website www.christopherlgolon.com for more details.
Before you decided to make Walk of Fame, you were planning on making a movie called (and about) The Final Days of John Belushi, which to my understanding fell apart due to legal issues and the like. Would you like to elaborate on that for a little?
Talk about highs and lows, what a nightmare that was. The script took place between March 1-5, 1982 and detailed Belushi's last few days. Most of the script took place in the Chateau Marmont, and it was an interesting study of the comic genius and his addictions.
So, the script was done, the characters were being cast, and I was actually going to be the writer/producer. A director was coming aboard and things were moving along well until someone associated with the project mentioned a possible legal issue. I didn't think much of it considering titles like Goodbye, Norma Jean and Star 80. These films had used real characters as their basis and taken certain liberties. But alas, the rules had changed...
Looking into the legal aspects of making a movie about a deceased celebrity, I found out that you do need to get approval from the estate of the deceased in order to proceed. You could go ahead without an approval and do it - but you face either legal action down the road or an injunction in which you can't show your project in a public forum.
I did speak to a lawyer and it seemed that in the long run, without approval, that looking at being sued for punitive damages or libel just wasn't worth it. I mean, why would I want to take the time to shoot the movie if in the end, we can't show it anywhere? And the main reason you need the approval from the estate is due to how the character would be portrayed - if the family thinks you are being libelous they'll never approve the script.
The odd thing was that the Belushi project was being cast around the time of Whitney Houston's death. Very eerie, you know? So, the Belushi project did have the option of being tweaked. The names and places could be changed ... but to me you end up with a guy in a room doing drugs - that's been done before. I wanted it to be about Belushi, and when you lose him as a character you lose the movie.
After that, I was involved with a horror script and a detective idea, and both were stalled. Walk of Fame had been in the can for a while but there were structural problems and I actually considered shelving it. It was during the Belushi project that I met with Les Mahoney and we talked downtown at the Bonaventure hotel and he told me to 'just finish it.' We had a nice three hour conversation and Walk of Fame was one of the main topics of discussion. And that's what brought me to where I am right now. I'm editing and getting it ready for people to see.

Feeling lucky ?
Want to
search
any of my partnershops yourself
for more, better results ?

The links below
will take you
just there!!!

Find Christopher L. Golon
at the amazons ...

amazon.com

amazon.co.uk

amazon.de
Looking for imports ?
Find Christopher L. Golon here ...
Something naughty ?
(Must be over 18 to go there !)

Any future projects beyond Walk of Fame you'd like to talk about?
Round and round we go and once again, I can't stress Teenage Kicks enough. I have been trying for a while now to get this coming-of-age script funded. I have talent attached and actors really love the script. A producer was attached but he dropped out as he couldn't secure funding - but the talent remains. People believe in this project as much as I do or they too would have disappeared. This can be shot anywhere - LA, NY, Florida, the themes/plots are universal to anywhere USA.
My other project, which is down the line, is a short documentary about the events of January 28, 1986. That was a sad day for the US space program as the space shuttle Challenger exploded 73 seconds after liftoff. The doc would be what I call voices of America and it will be everyday Americans reflecting on that sad day. It was a seminal moment in my life and was a huge where were you?-moment for my generation up until 9/11.
Thanks for the interview!
Once again, thank you for taking the time to interview me, I appreciate it. Keep up the good work with your site!