Your film Rage - in a few words, what is it about?
Rage is the story of a suburban man, Dennis Twist, who on his day off from work, heads into town, where he unintentionally provokes the wrath of a mysterious helmet wearing, black leather clad motorcyclist, called "The Biker", and must fight for his very life just to survive through the day.
The killer in the black helmet - how did you come up with this positively creepy concept?
Before writing the script I spent a lot of time thinking about The Biker character and how to make him as scary as possible.The two ideas that struck me as great conduits of fears were those of the "silent antagonist" i.e. Michael Myers and the idea of an "unknown antagonist" i.e. the truck driver in Duel. It was those ideas that brought about the creation of The Biker character.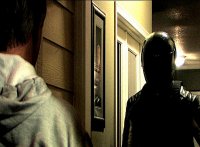 The "unknown aspect" of The Biker plays on the fact that we as human beings are always wanting to know the "who, what, when and where" of things so that we can better understand the situations that we find ourselves in and not knowing any of these things is very unsettling. The "silent aspect" of The Biker is very effective because to know that you are being pursued by something or someone that is virtually silent is extremely concerning because you never really know when it is going to strike and this causes a person to be constantly on edge. Those two elements combine to make a pretty scary villain. In fact, in some ways, I believe that The Biker is even more of a threat than the truck in Duel because he is not limited to the road and is capable of pursuing his victims any- and everywhere they might try to hide.
The extended carchase scenes of Rage look as if they were rather difficult to shoot. What can you tell us about shooting these scenes, your stunt team - and was there ever a point where you wished you could just drop these scenes altogether?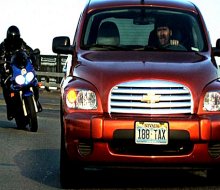 Actually the scenes were not all that difficult to shoot. There was no stunt team involved in any of the chase scenes. Rick Crawford did 99% of his character's driving and I did 95% of The Biker's stuff. The only thing that I didn't do was the burnout for the auto repair shop scene. All of the chase scenes where "stolen" as they say in "indie filmmaking lingo" which means that we did not have permits - but I have to say this because I don't want somebody to run out and try to shoot some crazy scenes on the highway and somebody gets hurt: No one was ever in any real danger during the filming of any of the chase scenes. We never broke any laws either. The scenes were accomplished, for the most part, through the use of certain camera angles, a change in shutter speeds, some CGI and great sound effects.
You don't make a secret out of the fact that the first half of Rage was in part inspired by Steven Spielberg's classic Duel. What do you find so fascinating about that movie's concept?
Well to me, when I first saw Duel, I was blown away at how much bigger it seemed than the other made for television movies. It had such a theatrical quality to it, so much so that it was actually released in theaters in Europe. I was so impressed at how Spielberg was able to give life to the truck, an inanimate object brought to life through his amazing directing talents.H e was able to humanize it to the point where the viewers feared it as they would a person, with an almost supernatural Christine-like quality. It was such a great cat and mouse, David and Goliath, man vs nature bit of storytelling that was done so well that everyone who watches it finds himselves totally invested.
Other sources of inspiration for Rage?
Well, obviously Duel, which I mentioned already but there are others… Halloween was a pretty big inspiration as it relates to The Biker character. Considering that he has no dialogue, looking to the Michael Myers character seemed a good place to steal from. I actually met John Carpenter last year in Kentucky and told him that I ripped off his Myer's character and he just laughed and said, "Great, brother, have at it." That blew me away. He was just so very cool. I totally understand how he was able to write the Snake Plissken character. Wes Craven's Last House on the Left and of course Alfred Hitchcock were huge inspirations as well, not so much story-wise but more stylistically.
How would you describe your directorial approach to the subject at hand?
First of all after I defined what kind of film Rage was, which is a hybrid… a horror-suspense-thriller. Knowing that I then turned to the films and filmmakers who where very successful in those genre, I re-watched Duel, Halloween, Last House on the Left, Psycho and a few other films. Then it was simple, I just selected what I wanted to steal… just kidding (sort of). After casting was completed I had extended conversations with the cast regarding their characters background history, etc. I think that this is an important period because it saves time when you are filming. One of the last things that a director needs is to have endless conversations on set with an actor who keeps asking, "What is my motivation?"
Rage sees quite a few outbursts of brutality. Was there ever a (conscious) line you refused to cross concerning violence and the like?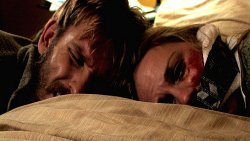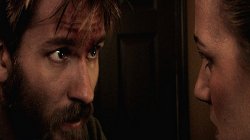 both pictures above:
Rick Crawford, Aubrey Walker
Yes of course there is a line that I refuse to cross. I believe that there are many filmmakers today that go way over the line and do it just for shock and for no other reason. I really believe that I was very conservative during the scenes in question… visually that is. In Rage the visuals are only part of what makes these scenes effective. In these scenes I only showed just enough to suggest something but it is through the use of sounds, i.e. voices, effects and music, that really make things work. Less can be more if done right.
What can you tell us about Rage's leads Rick Crawford and Audrey Walker, and how did you find them?
Rick is great. I met Rick at an open casting call in California. He had to play the very difficult part of a character who isn't a very good person and at the same time Rick had to be able to solicit some measure of sympathy from the audience, even though he really doesn't deserve any. I think that he did a fantastic job. Audrey was cast here in Portland along with a few other local actors. She had a very tough part that had a couple of scenes that weren't just physically hard but emotionally tough as well. She was amazing and I was very happy with both of their performances.
A few words about the rest of your cast and crew?
What most people don't know is that Rage was made by a crew of only 10 people. Also, that the real budget was only 47K and not the 100K as stated on the IMDB site. If you look at the film's end credits you'll find the names of a lot of people that I found in old school yearbooks and some inside jokes like John Holmes (the infamous, deceased porn legend) is listed as the "crane operator". Making movies is a very hard thing and it usually takes an army to make it happen so considering we only had a few people I have nothing be praise for them. Everyone worked extremely hard, especially my co-producers Darrell Smith, Suzanne Mitchell and Shawn Smith. Without them the film would not have gotten made. I give a lot of credit to the entire cast and crew for tuning out a film that we are all very proud of.
On Rage, you've pretty much done it all, writing, directing, acting, editing and whatnot. Which are your favourite parts of the filmmaking process, which could you do without?
Actually, I love writing, directing and editing equally and I find them all incredibly hard to do… "do well". I want to become a first class filmmaker and for me doing all three functions are part of making that happen. I believe that all films go thru three major phases of development, as it relates to the ultimate finished product. Those phases are when it is scripted, when it is directed and when it is edited. So for me it is important that I control these elements of my productions. I know that there are those who might think that I'm a bit of a "control freak", well I say, "so what?" to that. The areas that I can do without are cinematography and acting. The reason is, there are so many people out there that are so much better at it than I am and I don't have the same passion to do them either.
What can you tell us about audience and critical reaction to Rage so far?
So far the reaction has been fantastic. Most people seem to really like Rage. At the festivals where it has played, both here in American and abroad, audience members are very engaged when watching it, which is a very good thing. Also, after the screenings, they come up to me and give compliments about the film. They also ask a lot of great questions. Rage has won numerous awards and was given a special showcase screening by the Portland Art Museum, which was a big honor even though I thought it was strange for a "Museum" to screen a film like Rage. When they first contacted me I thought someone was playing a joke, but they were serious. Someone involved with the museum happened to see it at a festival and thought that Rage was deserving of a special screening. I'm still amazed that it happened and everyone had a great time! Also, critically, Rage has received overwhelmingly positive reviews, which I am extremely happy about.
The $64-question of course: When will Rage receive a widespread release, tentatively?
We are currently in talks with different distributors and I believe that we are very close to announcing something and as soon as that happens Search My Trash will be one of the first to know.
Let's go back to the beginnings of your career: What got you into filmmaking in the first place, and did you receive any formal education on the subject?
Watching Star Wars for the first time pretty much did it for me.After seeing it I wanted to tell stories through movies that could make people feel the same way that it made me feel. As far as a formal education, I attended a few film schools that I was"kind of" asked to leave. I won't name the schools because I don't want to get sued or anything. And as far as the reasons that I was asked to leave, I'll just say this, I had a conflict of opinion with several professors regarding a variety of issues. Most of what I know about film comes from self-education from studying directors, movies and reading a lot of books and other materials.
Your debut feature as a director was called Middle Man I believe. What can you tell us about that movie?
It was a lot of fun to make. This was back in 2004 that I made that film with a bunch of friends. It was shot on 16mm and was guerrilla filmmaking 101. The end product wasn't very polished but it was a great learning experience that I think about very fondly. It screened in a few film festivals here in America and in Europe but I wasn't very passionate about the project or really happy with the results so I shelved it and that's where it still sits today. I don't feel too bad about that because I funded the film myself so there wasn't anybody money at stake except my own.
Any other movies of yours you'd like to talk about? Any future projects?
Yes, I would like to talk about my next project, The Twilight Hotel. It's a horror anthology composed of 4 episodes with a connecting story. I originally wanted to make this film before Rage, but it would have cost more money to make than I had access to. The idea for this film is this:There is an old 1920's rundown art deco hotel called the Twilight where people who are not very nice people, check in, and must deal with their personal demons… literally. I've always been a big fan of Rod Serling's Twilight Zone and I've always wondered what would've happened if Alfred Hitchcock had directed a few episodes? The film will embody all the trademark qualities the suspense and mystery of Hitchcock and the surprise twist endings and supernatural aspects of the Twilight Zone. Oh, and it's going to be one gory ride! I hope to have funding in place as soon as possible and look to start production by the end of this year.
Directors who inspire you?
My idea of a great director is someone who is a great storyteller. You can give 5 people the same story to tell and some will tell it better than others. Master Directors, which I hope one day to become, can tell a story better than all other directors.

Feeling lucky ?
Want to
search
any of my partnershops yourself
for more, better results ?

The links below
will take you
just there!!!

Find Christopher R. Witherspoon
at the amazons ...

amazon.com

amazon.co.uk

amazon.de
Looking for imports ?
Find Christopher R. Witherspoon here ...
Something naughty ?
(Must be over 18 to go there !)

My all time favorite director is Alfred Hitchcock and others that I am a huge fan of are Stanley Kubrick, Steven Spielberg, Ridley Scott, Woody Allen, Martin Scorsese, John Carpenter, Wes Craven David Cronenberg and Quentin Tarantino. Oh, I almost forgot Joel and Ethan Coen.
Your favourite movies?
Psycho, Jaws, Star Wars, 2001: A Space Odyssey, Alien, Aliens, THX1138, Fahrenheit 451, Planet of the Apes, Rear Window, Friday The 13th, Blood Simple, Halloween, The Thing, The Empire Strikes Back, Nightmare On Elm Street, Jurassic Park, Blade Runner. These are just a few.
... and of course, films you really deplore?
I don't want to mention any films by name but I will say this: The films that I don't really care for are the ones that don't engage the audience or challenge them to think.
Your website, Facebook, whatever else?
The Rage site is: http://www.ragethemovie.net and for anyone wanting to contact me can hit me up on my Facebook page at: http://www.facebook.com/#!/profile.php?id=100002075071282.
Anything else you are dying to mention and I have merely forgotten to ask?
No, thank you for taking the time to talk with me about Rage!
Thanks for the interview!