Your new movie April Flowers - in a few words, what is it about?
It's about a woman that finds an anonymous diary on the subway. She uses clues within the journal in an attempt to track down the author. But, as is usually the case, things get complicated.
Your sources of inspiration when writing April Flowers, and is any of this based on personal experience/people you know?
The plot isn't based on any personal experience per se, I was riding on the subway one night a few years back and for whatever reason the idea of finding someone's journal popped into my mind. That was the initial seed. But you could say the themes of love and commitment were based on personal experience. For instance, the conversation about Midnight Train to Georgia actually happened.
To what extent can you actually identify with April and her philosophy - or with any of the other protagonists, actually?
This is the question I receive the most. "Are you April?" I can identify with all the major characters in some way. I think each character represents a different angle of the idea "what is love" and when I write I typically try to argue with my preconceived notion in an attempt to either confirm or change my opinion in some way, and hopefully, to minimally, empathize. Personally, I can relate to April's idealism and hope, Laura's practicality, Jared's insecurity, and Mr. X's nostalgia and optimism.
Do talk about April Flowers' brand of humour for a bit!
Haha, it's dry. I remember having a reading of it in NYC a few years back and thinking, "why didn't that get a laugh?" I'm often the one laughing loudest at my "jokes". I guess I would call the humor "subtle". Comedy is tough.
April Flowers is mostly set in Astoria, Queens - why, and what was it like filming there?
I've lived in Astoria for 15 years, originally from the Detroit-area. But thematically it made sense to film there because April is the type of character that kind of hides in the big city. Queens seemed appropriate. And it's much easier to film in Queens, and even Brooklyn, than Manhattan. We actually only shot one scene in Manhattan and even that was an adventure. The only issue we had in Astoria was dealing with the bridge noise while filming in Astoria Park. But we had an amazing sound mixer so we were able to work it out.
What can you tell us about your overall directorial approach to your story at hand?
It was... evolving. Haha. I learned so much from this production, and my directorial approach evolved along the way. I had never worked with such experienced actors so it really wasn't until half-way through the shoot that I realized I didn't need to tip-toe around my vision. I was absolutely intimidated, but they were all such good people that they never showed any frustration or impatience with me. In a way I suppose I was under their tutelage. In the same respect, our amazing cinematographer, Eugene Koh, guided me as well. And it was pure, they literally helped me realize my vision, not theirs. It was a thoroughly enjoyable experience.
April Flowers features Keir Dullea from the legendary 2001: A Space Odyssey - now what was it like filming with him, and how did you get him even?
So I mentioned I was intimidated, right? Wow, I was literally shaking when Keir and his wife Mia, she plays Mrs. Moore in the film and gives the most emotional monologue, anyhow, they met me at a coffee shop to discuss coming aboard. We had mutual friends but had never met, and it was those friends that reached out to them and sent the script. They genuinely liked the script and the first meeting was very comfortable. We got along well. As for working with Keir, he is such a gentle industry giant. The day we filmed with him it was outside and quite cold. We were an ultra-low budget so there were NO comforts on set. He acted as though it was expected, and maybe it was, but still... he has a way of making those around him comfortable. And he was prepared, of course. I mean, he asked questions about every single detail, it was a master class in character study, and I imagine that comes from this theatre background.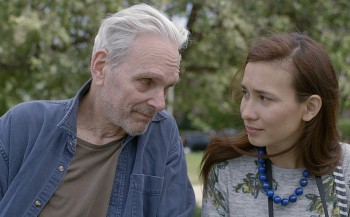 The titular character of April Flowers is played by Celina Jade, who has so far actually been better known for her action roles - so do talk about the idea behind that choice, and about working with her?
Again, because we were an ultra-low budget we knew we'd need to find the right angle to attract talent. When I took a step back I realized the lead could be of any race, and since it's well documented that minority actors don't exactly get a lot of lead roles, especially female minority actors, I began putting a list together. Celina was at the top of the list and it was our hope that a cross-over role would appeal to her. It did. She loved the character and related to April in a number of ways, some that I found quite surprising, like an introverted nature, which you'd never know from meeting her. Her manager and agent were naturally skeptical of me being a first time filmmaker, but they really liked the script and worked with me to make it happen.
Do talk about the rest of your cast, and why exactly these people?
Well, Jon Fletcher has been a friend for a number of years. My cousin, Chuck Gale, is a director, and had Jon in his acting class. I've always respected Jon's talent, and after Jon earned the lead role in CW's The Messengers, it was a no-brainer. He was the first one onboard. And talk about someone that prepares, Jon worked his butt off. Kate Middleton was recommended by one of our other producers, Montserrat Mendez. As soon as he read the script he said that he knew an actress that WAS Laura, and soon after we met with Kate. She is lovely, and talented and, I think, related to the character in an honest way. I couldn't imagine anyone else in that role, and I'm grateful she accepted it. I had worked with Sean Cullen on a short film that Jon Fletcher produced, and had him in mind from the beginning or pre-production. I was so happy he agreed, and he recommended Gannon McHale join the cast as well, which was perfect for the Irish Bartender.
What can you tell us about the shoot as such, and the on-set atmosphere?
It was better than I ever could have anticipated. It was relaxed, and fun, I mean, I'm not the type of person to enjoy "the moment" so-to-speak. Too stressed, so usually it's in retrospect, but I jumped out of bed every morning, excited to get to set. One of the best compliments we received was from our AD Jesse Tender. At the wrap-up-party he said the shoot "renewed his faith in indie film." It really was that good, and the pessimist in me wonders if it's something that could ever be replicated. I hope to find out.
The $64-question of course, when and where will the film be released onto the general public?
That's easier to answer for international viewers. We signed with Summerside International and they're screening the film at this year's European Film Market and selling to all foreign territories. Domestically, in the US, we'll have an official announcement in the next two weeks. But it'll be around Valentine's Day and most likely on VOD platforms like Amazon and on Apple TV and Roku through Vimeo. There's a chance we still get theatrical, which would be a Valentine's weekend release and would push back our VOD release, but that's looking more and more unlikely.
Anything you can tell us about audience and critical reception of April Flowers yet?
So far only the cast and crew, my family, and reviewers have seen the film. It's been really well received although most of those are biased, hahaha! But so far our reviews have been solid, and even interest from distributors has been excellent, but they don't love the genre and there's not much we can do about that.
Any future projects you'd like to share?
I'm involved in helping produce S.M. Kerstein's next feature film, and I have another feature screenplay entitled Covet that I'm seeking financing for at the moment. It's very different from April Flowers though, more of a surrealistic adventure that has been referenced as being "Blue Velvet meets Princess Bride." I don't completely agree with that but I like it.
What got you into filmmaking in the first place, and did you receive any formal education on the subject?
No formal education, I started writing screenplays in college and just kept teaching myself. After moving to New York City I began producing my own short films, and also produced some commercial work through my career in marketing. I left my career five years ago to write and develop screenplays and produce shorts and features. I'm having the time of my life.
What can you tell us about your filmwork prior to April Flowers?
I've produced a number of short films, co-directed a few, and also produced commercial videos. I've really only had one short film "success." It was a film entitled That's Life and it won some awards on the festival circuit. We had a really talented cast culled from the theatre out here in Michael Malizia and Kersti Bryan. And it was directed by my cousin, Chuck Gale. That short still inspires me.
How would you describe yourself as a director?
I suppose I'd say I'm curious. I have a very particular vision but I'm also constantly exploring to gain other viewpoints and see if it's better, no, not better, more interesting. I'm a collaborator in that respect.
Filmmakers who inspire you?
David Lean, Orson Wells, David Lynch, Hitchcock... and indie filmmakers. I love seeing first-time works, they typically have a voice you don't see in current film.
Your favourite movies?

Feeling lucky ?
Want to
search
any of my partnershops yourself
for more, better results ?

The links below
will take you
just there!!!


I'm a classics guy. Citizen Kane, Godfather, Amadeus... it's a long list.
... and of course, films you really deplore?
Also a long list, hahaha! I must have been in a really bad mood when I saw the film Elephant. It's the only bad review I felt compelled to log into IMDb to post about.
Your/your movie's website, Facebook, whatever else?
www.facebook.com/aprilflowersthefilm
Anything else you're trying to mention and I have merely forgotten to ask?
I think we covered everything. Great interview. Thank you for letting me talk about myself, hahaha!
Thanks for the interview!