First of all, why don't you introduce yourself to those of us who don't already know you?
Hi... my name is Christopher Torretto I am an actor from Northern Ireland living in the UK and moving to LA soon. I grew up in a small town in Northern Ireland that was quite rough but to be honest my home life was a lot worse. I didn't have the average upbringing. I was abused for years as a child which led me to become very quiet and secluded. As I got older the abuse got worse until I was old enough and ran away from home and began living on the streets. I spent years couch surfing between friends and sleeping rough. When I finally got on my feet and got myself a home and work in I was brutally attacked and robbed and left for dead. This was a severe physical attack but effected me more mentally than physically. It took years to overcome but then sixteen months ago I took up acting and I've now completed twenty six films and been cast in a major TV drama series in LA and also a lead role in a horror there too that is hoping to be shown in cinemas worldwide.
You are set to star in the Hollywood TV series Emergency: LA - now what can you tell us about your character, and how do you prepare for this?
My character is officer Daniel Flynn of the LAPD and I have to say that it's an honour to play the role of an LAPD officer. Preparing for the film I am training five days a week at the gym to keep in shape and just watching a lot of similar shows and police shows to get that feeling.
How did you get the role in Emergency: LA even?
To be honest I was sending my showreel to a lot of directors everyday and it happened to get in front of Len Davies, the director of Emergency: LA. He said he appreciated my work ethic and could see how determined I was to succeed in the industry and wanted me as a part of the show.
Other present and future projects you'd like to share?
Right now am getting ready to play lead role in a war film as tribute to fallen heroes. This is a true honour and I can't wait to bring the script to life.
Going back to your beginnings, your story is literally one of "from homeless to Hollywood" - so let's go way back: How did you get homeless in the first place, and how did you keep your head over water then?
I left home because of the abuse and way of life I honestly thought I'd be better on my own and I was right. I kept my head over water due to finding the gym. It literally saved me, and friends I had round me gave me placed to stay when they could. I even got a job the odd day at a car wash to help me eat. A lot of my friends never knew how bad off I was as when I could no longer stay with them I always said I had somewhere else to go even if I didn't. I coach-surfed and slept where I could until I finally met someone who helped me get a home and a job. Sometimes when you're so alone it only takes one person to notice you.
So could you at all walk us through it, how did you go from there to wanting to become an actor? And did you receive any formal training on the subject?
I never dreamed that I'd be an actor. I loved film growing up, they were my escape. But it was only after I met the late Richard Hatch who told me he could see great talent in me and pushed me to do what I do now. He told me I should take up acting and just go for it so I did. My wife said to me if you're going to do it, take it the whole way. I wasn't lucky enough for training or qualifications so I ran on something else - pure raw talent and an extreme work ethic that was unmatched. I pushed myself harder than anyone I know and harder than I believed anyone else was pushing, I knew I had to work hard to prove myself. I travelled from top to bottom of Britain and slept in my car for weeks just to get roles. Washing at the gym and doing clothes at a launderette. I done what it took to get credits and show my passion and determination and it paid off.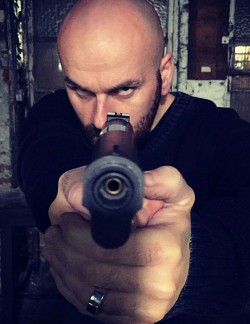 So how did you get your first acting gig, and can you still remember your first time in front of a camera? And what was that experience like?
Lol, funny story. I seen a post on Facebook casting for a gangster. I applied and the director asked for a self tape. I agreed straight away ... not having a clue what a self tape was, lol. But I looked up online and sent the tape and got lead role. I was overwhelmed. I remember my first day on set, it was a feeling I've never experienced. It was amazing, the chance of escape and bring a character to life. Take someone's idea and make it real. I always thought the gym was my thing in life as no matter how hard life got after coming off the streets I always went to the gym and it was my way of release, and acting gave me more than that. So from that moment I knew this is what I'm supposed to be doing, this is my calling in life, and from that moment I applied for every job that suited and just worked constantly.
Other past movies of yours you'd like to talk about?
Up to now I have done twenty six films in sixteen months so Iíve had a lot of amazing projects. Itís difficult to find one specific role as Iíve played a soldier in which the entire dialogue of the film was improvisation, and this can be seen at the start of my showreel. But Iíve also played and ex-UDR officer which fitted perfect with my accent and the fact I'm from Northern Ireland. Also in this role I got to show a range of emotions and action. But I still have so much more to show. Honestly Iíve loved every role Iíve done as I get to make the character my own and thatís what I love about my job.
How would you describe yourself as an actor, and some of your techniques to bring your characters to life?
A director once said I have a certain quality. When I walk into the room I command attention and just like Johnny Depp, I was told I just have IT. I honestly think my best quality is the fact I have more of a drive and ambition than anyone Iíve ever met. I have a fear that drives me to succeed, the fear of going back to my old life and being lost in society. So I am always first on set and last to leave. I have been told I bring a whole new level to every set I'm on which is honestly the best thing I could ever ask for. I can connect with characters I play on a different level and use my past experiences to bring out my emotions. Iíve turned my negative past into a positive. My most recent compliment came from the last director I worked with who told me I have unbelievable screen presence and brought a different kind of action to the film.
Actors (and indeed actresses) who inspire you?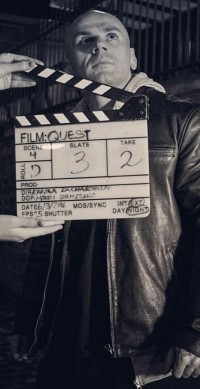 Feeling lucky ?
Want to
search
any of my partnershops yourself
for more, better results ?

The links below
will take you
just there!!!


Oh that could be a list lol. Starting with Dwayne The Rock Johnson. We definitely share work ethic. Sylvester Stallone - we both had a tough life so can relate to that. Sir Ian McKellen is powerful, I love his performances, he brings every character to life. Tom Hanks, he's so humble and hardworking. Michael Jai White for his amazing abilities. There's so many I'd be here listing all day, lol
Your favourite movies?
Lord of the Rings, Predator, The Hobbit, honestly The 'Burbs - it's a older film but it's a happy memory from my childhood and I don't have many. Anything starring Dwayne Johnson, lol.
... and of course, films you really deplore?
That's hard as being an actor I find it hard to find faults in movies as I know the extreme hard work that goes into making them.
Your website, Facebook, whatever else?
imdb.me/christorretto (please hit the like button for me)
Instagram and Twitter: @actingirish2014
Anything else you're dying to mention and I have merely forgotten to ask?
Never give up. There will be hard times but those times are what test us those times are the tests that separate the successful to the not. Those times test your heart, your mind and willpower. If you can overcome these situation then thatís when you will succeed for you already have. Youíve just become the best version of yourself and that is the best you can be. Enjoy your journey and just go for it. Never fear that jump. Just leap and let the wind of success keep you floating.
Lastly I'd like to thank my wife Claire and my kids for always being there. My friend Jeff Maxwell that has honestly helped me through so much these last few years and has been like a father figure to me. Andrew Blanckley for his sponsor and support when I needed it most. This guy's heart is huge.
Thanks for the interview!