Your company Icon Film Studios - how did it come into being, and what's the philosophy behind it? And what can you tell us about its The Sleaze Box-brand?
Well, Icon Film Studios in some shape or form (under many different company names) has been around for twenty-two years. It was originally created by myself and long-time friend Simon Lynx back in Upstate New York. I wanted to make horror movies since I was 14 years old and tried to figure out how I was going to do that at such a young age. It wasn't until I was in my early twenties is when I started making shot-on-video movies in my backyard in New York and later made them when I was a college student in Tampa, FL. Throughout the 90's and into the 2000's I made several short films and a few feature length movies with Lynx under the Icon banner. Towards the end of that decade I was mostly a film editor for hire and working on a few short films here and there. In the 2010's I teamed up with friend, John Miller and together we started The Sleaze Box in 2012, which started off as a web series where we counted down Top 5 lists on horror or exploitation topics. When we decided to make Amerikan Holokaust later that year, we wanted The Sleaze Box to be the new brand for the film and future films that we were going to producer and release.
From what I know, the first feature film released under the Sleaze Box banner was Amerikan Holokaust - so what is it about, what was the idea behind it, and what can you tell us about your approach to the story at hand?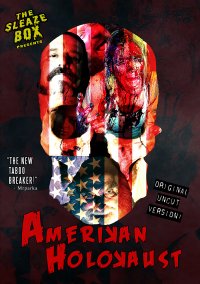 There was a lot in the origin of Amerikan Holokaustt. Both myself and John were doing the web series and making short films, but wanted to make a feature film. We figured it would cost tons of money to make a feature film, so we had no idea when we would make a feature and what it would be about. I remember being at a baseball game in the summer of 2012 with John and friend and filmmaker Shelby McIntyre and we were talking about movies. Shelby had said that found footage movies were the hot thing at the time and were cheap to make. After that I and John decide to try to make a found footage movie, but what would it be about? After watching a documentary on serial killers Leonard Lake and Charles Ng where they showed footage of their victims being videotaped, I got an idea to do a found footage movie on a serial killer. We loosely based it on Lake and Ng, but changed the names and characters. We also made the film our own type of found footage movie without following the rules of that sub-genre and making it more a surreal video journal of these killers.
What can you tell us about critical and audience reception of Amerikan Holokaust?
The film has gotten an awesome reception since its release in August 2013 from both critics and fans. We self-distribute the movie on our own website and when we first released the DVD it sold very well in its first month and continues to be our best seller almost two years later. The movie came out at a perfect time when the underground cinema scene was really becoming hot. It has become very popular all over the world. Being played in several festivals and even being featured in a full article in Fangoria's Gorezone magazine. Amerikan Holokaust has become a benchmark film in the underground cinema scene.
A few words about the anthology Make Them Die Sleazy!, and were the segments all shot specifically for the movie or is it a collection of separate shorts?
It was a collection of separate short films that we made into an anthology feature. It was after the release of Amerikan Holokaust that we wanted to release another film. So, we decided to take some of our short films we made and make them into an anthology. We did shoot wraparound segments for the film and I just edited it all together and there you have it, Make Them Die Sleazy!
Your latest film Naughty Dirty Nasty - now what's that one about?
That one started as just an idea to shoot something fun and sexy. I wanted to do something that was a mix of the Playboy Centerfold videos that were done in the 90's, the Misty Mundae films of the 2000's [Misty Mundae bio - click here] and the nudie cuties of the 50's and 60's with a touch of Bettie Page stag films. The idea was just going to be different segments featuring beautiful women in sexy situations. At the time when I was thinking of making the movie I met Krystal "Pixie" Adams and Ashley Lynn Caputo, who later became stars of the film. It was pretty much a two day shoot in one or two locations with a cast of five, so it was very easy to make. Then I just took some music and started editing it making it a sleazy masterpiece.
Naughty Dirty Nasty features its fair share of nudity and sex - now how far does the film actually go, and is there a line you refuse to cross?
Naughty Dirty Nasty only goes as far as a softcore porn you would see on Skinemax. Tons of nudity and girl-on-girl action and simulated sex. We try to push the envelope as much as we can as far as nudity, sex and gore is concerned. I think the only line I wouldn't cross is I would never want to put any of the cast or crew in any dangerous situations where they would get hurt and I wouldn't want anyone to feel uncomfortable about what they were doing in the film. Also, I would never harm any animals in a film. Most of the actors we worked with have been very fearless and willing to go the extra mile in the role as far as nudity and sexual situations is concerned. In our latest film $kumbagz, we have a girl-on-girl scene that trumps the ones in Naughty Dirty Nasty as far as being more hardcore than softcore.
Naughty Dirty Nasty stars Krystal Pixie Adams, who seems to have become some kind of a fixture in the Sleaze Box universe - so what can you tell us about her, what makes her perfect for your movies, and what's it like working with her?
Krystal is wonderful to work with and we are very lucky we found her. I think she is perfect for our films because she is very fearless and is not afraid to be nude or be in our films whatever subject matter they are. She also has the right look and style for our films. She knows how to act in front of a camera and the camera loves her. She is also willing to go the extra mile in her performances. She is also a very good person and very talented not only as an actress, but as a model and an artist. She is a very talented painter in which we included some of her portraits and art pieces in an extra feature on the Naughty Dirty Nasty DVD.
Any future projects you'd like to talk about?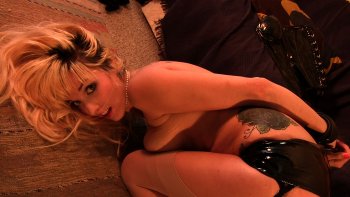 Well, our latest release came out this past February called $kumbagz, which is a modern day exploitation film about a young woman, played by Krystal "Pixie" Adams, who falls into the world of prostitution and you see the rise and fall of her in that world. The film is written and directed by John Miller and features many staples of The Sleaze Box such as Ashley Lynn Caputo, Joe Makowski, Bob Glazier, Jules Sceiro, and Joel D. Wynkoop [Joel D. Wynkoop interview - click here]. We also have a slasher film coming out later this summer called Death-scort Service, which is kind of a throwback to the classic slasher films of the 80s, but set to modern day times and is about a killer targeting call girls in Las Vegas. The film is a collaboration with Sean Donohue of Gatorblade Films. Sean directed the film and both of us wrote and produced it. It also stars Krystal and Ashley plus many other beautiful and talented actresses. I am also working on a screenplay right now for the next film I want to direct which is called Chaos A.D. and hopefully I'll be shooting that one in early 2016.
Please do talk about your partners-in-crime at Icon Film Studios for a bit, and what does each of them bring to the table?
Our company is very small and throughout the years there has only been two people as major players. In the pre-Sleaze Box days it was Simon Lynx and I. Now it is myself and John Miller. Both of us write, produce and direct films. Throughout the years both Simon and John brought a lot to the table as far as coming up with ideas and writing scripts. A supporting player I would like to mention is Zach Short, who has scored a lot of our music to our films throughout the years. I would also like to mention people that I have collaborated through the years on different projects. Special make-up effects artist and filmmaker Marcus Koch [Marcus Koch interview - click here] who I worked with many times and has done the effects on Amerikan Holokaust. Shelby McIntyre, who directed the documentary Strip Club King, which I co-produced with him. I also at times worked with Shelby and Andrew Allan who both run Cult Movie Mania, where I done some editing for them on projects and also Cult Movie Mania has released Amerikan Holokaust and Naughty Dirty Nasty both on VHS. I've also been working with Sean Donohue on Death-scort Service and Sean was also a producer on Naughty Dirty Nasty.
Apart from films you produced yourselves, Icon Film Studios also distributes movies by other producers these days - so do talk about some of the movies you carry for a bit, and what are some of the requirements to be released by Icon Film Studios?
We wanted to make The Sleaze Box our brand to release hard-to-find out there movies. I think the only requirements is that it fits in our genre which is horror, sci-fi or exploitation and it has to be somehow weird and sleazy in some type of way. Some of the films we released are some classic shot-on-video movies from the 1990's like Phil Herman's Burglar From Hell and Tales Till The End [Phil Herman interview - click here]. We will also be releasing another gem from him called Jacker and Jacker 2, both will be in a double disc set. Phil is a great filmmaker from that age of shot-on-video gems and his films are just great entertainment and fun to watch. The shot-on-video films of the 80's, 90's and 2000's are our version of the B-movies of the 50's, 60's and 70's. Other films that we released are Terence Muncy's zombie epic Hell Walks The Earth and Joel D. Wynkoop's Slasher Weekend [Joel D. Wynkoop interview - click here]. Slasher Weekend will be out this July and is actually a brand new release. Joel originally shot half the movie ten years ago but finished the film this past year.
How did you get into filmmaking in the first place, and did you recieve any formal training on the subject?
I got into filmmaking as a teenager. Night of the Living Dead was an inspiration to me. Once I saw that film I was hooked on horror. As I mentioned before, I shot some films with my friends at home in New York in my backyard. I pretty much had no training at that time and just used two VCRs to edit my films. When I went away to college in the mid-90's to Tampa, FL is when I learned film and television production. There I got to actually edit on real video equipment and I got to shoot on 16mm film and edit on a flatbed. Also they had some of the first non-linear computer editing equipment there, so I got to learn that too. After college, I was able to get my hands on a copy of Final Cut Pro, which was brand new at the time and mastered that program.
What can you tell us about your filmwork prior to Amerikan Holokaust?
Well, when I was in college I had a show called Creeping Death, which was basically a cross between The Twilight Zone and Tales From The Crypt. It was broadcast on our campus TV station and on public access. My first, I'll call it, mini-feature was called Chameleon, which was about a creature that can transform into anything that it touches. I shot and produced that as my senior project in college and it actually got released on VHS from a small company for a brief time. After that I made my first full feature film called Bleed which I self-distributed in 2002. Then throughout the 2000s I made several short films, mostly horror related. I coproduced and edited the documentary Strip Club King: The Story of Joe Redner about the life and times of strip club owner Redner who owns the world famous strip club Mons Venus. I also edited a few feature films including Herschell Gordon Lewis's The Uh-Oh! Show [Herschell Gordon Lewis bio - click here].
Going through your filmography, you seem to never stray too far from the horror genre - so is horror a genre at all dear to you, and why (not)?
Yes, horror is my all-time favorite genre and I've been a fan of horror films since I was a teenager. My favorite horror films come from the 60's, 70's and 80's. With the horror genre you always get something new, different and unpredictable at times. I do like other film genres, but with horror you can go in different directions as far as storytelling. Watching horror films is like going on a roller coaster or entering a haunted house at a theme park. It is one big thrill ride. Horror is also a universal language. It doesn't matter where you come from and what side of the world you live on, we all get scared and jump at the same things in movies.
Having made indie movies for quite some time now - how did the independent filmworld change/evolve over the years?
It has changed dramatically throughout the years and mostly in the last decade. In the 90's when I was finished with college and ready to make movies it really wasn't accepted to just shoot a film on a VHS camcorder. You had to use film, which a production on film would cost thousands of dollars and even in the low millions for just a low budget film. Now with affordable HD cameras that shoot in 24p to give it that film look and editing software that you can have on any desktop or laptop computer you can make an affordable film. Plus also with the software they have out now you can self-distribute your own films and sell them on your own web site. And with the help of social media like Facebook and Twitter you can reach people from all over the world and that helps you get the word out about your films.
How would you describe yourself as a director?
I would describe myself as a hands-on director and what I mean by that is when I direct a film and the actors in it I try to describe to them exactly what I want and what I envision. I often act out the scene myself before we roll to show the actors what I want from them. I also work with the actors a lot and give them back story to their characters and tell them what emotion their character is dealing with at the time. I also try to give my films a unique style and look from the camera angles, to the editing style, to the lighting set up and even the set design and wardrobe. I want my films to stick out whether it is in story or style.
Filmmakers who inspire you?
The filmmakers that inspire me are Alfred Hitchcock, George A. Romero, Dario Argento, Herschell Gordon Lewis [Herschell Gordon Lewis bio - click here], John Carpenter, Martin Scorsese just to name a few. All of them are different types of directors, but all have a style and vision that I admire. I have watched all of them for years and have adapted some of their style into my way of filmmaking.
Your favourite movies?
My all-time favorite film is Star Wars. I was four years old when it came out and was in love with it ever since. Those films were my childhood. Other films that our my favorite starting with the horror genre are Night of the Living Dead (1968), Dawn of the Dead (1978), Psycho (1960), The Texas Chainsaw Massacre (1974), The Shining (1980), Halloween (1978), Tenebre, Two Thousand Maniacs, Dementia 13 and the nonhorror ones would be Empire Strikes Back, Raiders of the Lost Ark, Goodfellas, Memento, Taxi Driver, Shawshank Redemption, Boogie Nights, Goonies, Back to the Future, 12 Angry Men - just to name a few.
... and of course, films you really deplore?

Feeling lucky ?
Want to
search
any of my partnershops yourself
for more, better results ?

The links below
will take you
just there!!!

Find Chris Woods
at the amazons ...

amazon.com

amazon.co.uk

amazon.de
Looking for imports ?
Find Chris Woods here ...
Something naughty ?
(Must be over 18 to go there !)

The Blair Witch Project, Boondock Saints, Twilight and the awful remake to Psycho. Lots of the films that I hate I try to block out because they're so bad.
Your/your company's website, Facebook, whatever else?
Check us out at www.thesleazebox.com, on Facebook www.facebook.com/sleazeboxfilms, on YouTube www.youtube/thesleazebox.com, and on Twitter @sleazebox
Anything else you're dying to mention and I have merely forgotten to ask?
Just wanted to thank (re)Search my Trash for interviewing me and just want to thank all the fans out there that support us and keep checking out The Sleaze Box for more insane, terrifying and sleazy films coming your way in the near future.
Thanks for the interview!