Your upcoming movie A Hundred Looks of Love - in a few words, what's it going to be about?
In essence, the entire movie is a total of a hundred looks of love displayed through six film genres - animation, comedy, drama, silent, black and white, and film noir. It is all about the emotion we show towards people, places, pets and personal tokens. Love is being shown as more than one expression or emotion. Love is everywhere, in everyone and in everything. Life is LOVE.
How did this project fall together in the first place, and what was your drive to make it?
I had written a screenplay called Love's Two Way Mirror. I was encouraged by a fellow indie filmmaker to approach commercial businesses for distribution early on, i.e. airlines, businesses, etc. Well, I did - and I got interest from a cruise line. Because their demographic is ages 55-70, I did not want to show a feature that depicts love at times as being tumultuous or tragic, hence, I sat down and documented A Hundred Looks of Love. It was literally an outline of the first 100 hundred words that said love to me.
What were your sources of inspiration when writing A Hundred Looks of Love - and is any of the movie based on personal experiences?
Anything or anyone that speaks love to me. In this instance, I would say my primary inspirations are my children, my closest friends, and the places I feel most at home in my heart, such as NYC. Much of this is based on personal experience, as I have felt great love from a good number of sources that I elaborate on within the outline.
What are the challenges of getting A Hundred Looks of Love made from a producer's point of view, and how hands-on or hands-off a producer are you actually?
Well, first I will address the latter question. As with any project, I am 100 percent hands on. That is not because I can not trust my cast and crew, but rather because I am intrigued to learn as I go through this lengthy process. I want to know more about casting, shot creation, editing, and post production. That will allow me to better assist the filmmaker friends I have and happen to make down the line. If I understand their work, I am more able to provide resources to make their path more pleasurable. Producer challenges can be endless - cast coming and going, dealing with SAG, raising funds for filming, securing locations, etc. You really have to be ready for a remarkable amount of disappointment and discouragement paired with great pleasure, however, the end result will bring much more elation if you stick it out.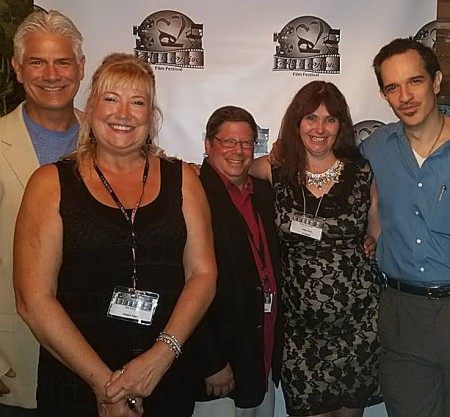 part of the cast of A Hundred Looks of Love
Do talk about your director Michele Frantzeskos, and what makes her perfect for the job? And what's your collaboration been like so far? And as writer and producer, do you demand any say in the actual filmmaking process?
Michele Frantzeskos is a director, producer, writer, actress and editor that I have known for several years. The first time I met her years ago, I knew there was this chemistry that could not be duplicated. She is just like a real sister, and she shares my same passion for producing great cinema. She knows how my mind and heart thinks, and I trust her 150%. That is huge when you are working together on this type of project. We collaborate well together because neither of us is afraid to speak or say what we think. Because it is my concept and I am clearly the main producer, of course I wish to be involved with all aspects. However, we have clear lines in that she handles all matters pertaining to the directing, our cinematographer handles all shooting scenarios and so on. This way, there is no confusion on who handles what role.
Do talk about A Hundred Looks of Love's key cast and crew, and why exactly these people?
When I made the choice to make a film of this type (as in one with a meaningful message), I felt strongly about thinking outside of the box as to what types to cast because love is experienced and expressed by everyone in a different way. If I want to offer a full overview of what love means to many others, I must use a number of different and dynamic personalities to portray these types of passions on screen. My cast and crew consist of some of the best and brightest individuals in the business. They embody energy and enthusiasm for cinema and are limitless in their creativity. They are hugely humble and hard working; as well as fun, funny and full of focus. Each and every one was chosen by me because they move me - in my mind or hugely in my heart, and sometimes both. So, if they can constructively convince me to feel, imagine what they can do for dozens of strangers sitting in a room watching them work?
From what I know, you're only days away from the shoot - so what's the schedule?
Sadly, we had a bit of a snag relative to the start of shooting due to a SAG issue. So, we anticipate being cleared to start shooting in December, and should be finished by January 10th. We had hoped to do a premiere in NYC on Valentine's Day, but we have to wait and see what magic my editor can do to make that happen!
It's probably way too early to ask, but any idea when and where A Hundred Looks of Love might be released yet, however tentatively?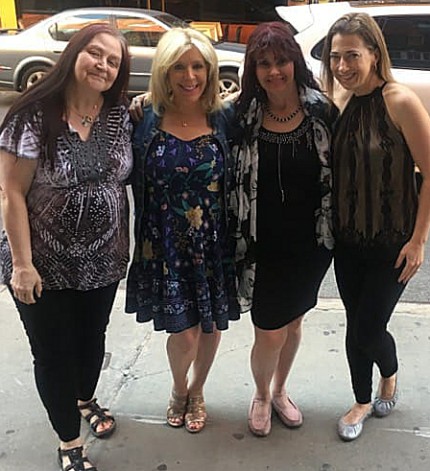 part of the cast of A Hundred Looks of Love
As stated above, I had the target date of Valentine's Day due to the designated subject matter. However, a back up date would be March 20th, as that is considered National Proposal Day. Just as fitting.
Any future projects you'd like to share?
Well, my independent TV channel, Cin TV, is set to launch in January of 2019. My NYC based film festival, Art is Alive, will take place in mid June of 2019. I am normally on air with my internet based radio show, Cin's Chat Corner, two to three times a week. My articles are published monthly, and I plan to start doing more teaching soon in the private sector relative to film distribution/product placement, creative writing and broadcasting. I have also started doing PR for indie artists, and of course, I operate my own writing/editing business.
What got you into the filmworld in the first place, and what can you tell us about your filmwork prior to A Hundred Looks of Love?
When I first started doing my radio show, I found myself interviewing some actors and directors. However, it was when I was asked to screen films for Studio City Film Festival that I became more incorporated into the industry. That was my first exposure to doing formal judging of any kind of films. Thereafter, I keep doing more judging; then writing film reviews; then being invited to cover film festivals and do formal interviews. It seemed almost expected that eventually, I would do a film. My first real screenplay was not written until three years ago, and this will be my first formal film.
Besides making movies, you also run the Art is Alive Film Festival - so do talk about the fest for a bit, and the philosophy behind it!
My intent with this festival is simple: bring art alive again. I spent a span of three years covering film festivals as a member of the media, I began to discover that the main motivation for many of these events was not the movies. Because I am a leader and not one who lags, I took it upon myself to produce a platform whereby art would once again come alive. Less celebrity and red carpets; more about honoring the czars of independent cinema. Give filmmakers and fans a chance to mesh and make dreams happen. Show worthy work by astounding artisans. Lastly, help them to create more film through offering them more exposure and the essential - money. We are now in the third year, and it has taken off tremendously. More films, pertinent panels and networking between filmmakers!
You of course also have to talk about the radioshows you're hosting!
I have been hosting my shows for almost eight years now, and must admit that I never would have expected them to be heard by such an enormous audience. One show is entitled Sons Spotlight, and I was originally approached by someone who worked closely with the stars of the hit FX show Sons of Anarchy to do interviews of this type. I started to interview some of the actors from said show, then it spiraled into biker related organizations, events, charities, public figures, etc. My primary show is called Cin's Chat Corner, and this is my main platform. This finds me interviewing artists of all kinds: authors, artists, musicians, actors, directors and producers. I also host celebrities of all kinds, including reality TV stars. I also like to spotlight non-profits, business owners, and anything or anyone that speaks to me personally. At present, I hold 91,000 listeners in twenty states with a 10% international following.
Any other talents of yours you'd like to share?
I have been told by many big hearted individuals that I help to inspire them. For me, that is an amazing accomplishment. However, nothing tops that I have raised four children to be the beautiful beings that they are at present.
How do you see yourself as a writer and producer?
Truth be told, I see myself as a professional author, period. Anything that has stemmed from my career is all based around my ability to write, and apparently, some think I do that well.
Writers, filmmakers, whoever else who inspire you?
My first major writing influence was Judy Blume. She moved me as an adolescent and I believed that I could create a magical world as magnificent as she had built in her books. Later years, of course, Stephen King, as well as Jackie Collins and John Grisham. As to filmmakers, every single one that has allowed me to screen or share their work. I presently embody the mentality that I am inspired by every person who crosses my path.
Your favourite movies?
Honestly, most of the movies I love are usually classics or black and white. It's a Wonderful Life, any Chaplin movie, His Girl Friday or The Philadelphia Story. As for more modern, Gone with the Wind, The Notebook, and PS I Love You.
... and of course, films you really deplore?
There are few films I really hate, because all have some sort of viable value. However, it was painful for me to watch Nocturnal Animals.
Your/your movie's website, Facebook, whatever else?
Cindy Mich
Facebook: www.facebook.com/cindy.mich.1
Instagram: www.instagram.com/mich.cindy/
Twitter: twitter.com/CinsAccount
LinkedIn: www.linkedin.com/in/cindy-mich-6328552b/
Film - A Hundred Looks of Love:
Website: cin4251.wixsite.com/ahundredlooksoflove
Facbook: www.facebook.com/ahundredlooksoflove/
Instagram: www.instagram.com/ahundredlooksoflove/
Writing business website - Cin's Sweet Creations:
cinssweetcreations.yolasite.com/
Film festival - Art is Alive Film Festival:
filmfreeway.com/festival/ArtisAliveFilmFestival
artisalivefilmfestival.yolasite.com/

Feeling lucky ?
Want to
search
any of my partnershops yourself
for more, better results ?

The links below
will take you
just there!!!


Production company - Cin's Cinematic Productions:
www.facebook.com/cinscinemaproductions/
Show links: - Cin's Chat Corner/Sons Spotlight
blogtalkradio.com/cins-chat-corner
blogtalkradio.com/sonspotlight
Facebook pages:
www.facebook.com/pages/Cins-Chat-Corner/201721263255086
www.facebook.com/pages/Sons-Spotlight/279990638809204
Anything else you're dying to mention and I have merely forgotten to ask?
That the individual interviewing me, Michael Haberfelner, is an amazing and absolutely adorable person and professional filmmaker!
Thanks for the interview ... and for the compliment!