You have run the Cinema Wasteland festival in Cleveland for several years. How did it get started?
Honestly enough, it was because I set up at conventions around the country for about 15 years selling movies and collectibles before I started the Cinema Wasteland Movie and Memorabilia Expo and thought that the majority of conventions didnít offer their attending fans anything for their admission money except a few guests and a vendorís room.
As a fan, I wouldnít attend 99 out of 100 cons I set up at because I didnít think it was worth paying the price of admission. After bitching to the friends around me that also set up as vendors at various cons for so many years, I figured Iíd set out to run a weekend movie convention that I would actually pay to attend myself.
You have brought in several big names?
It depends on what you mean by ďbig namesĒ. When I started to think about running the Cinema Wasteland Show, I wanted to celebrate the films I grew up watching at the drive-ins around Cleveland and those were always B movies. Horror movies, spaghetti westerns, black cast movies or ďblaxploitationĒ movies as they are called, and exploitation films. The Cinema Wasteland Show is the only movie convention in the country that has stuck to its guns after 22 shows and has never wavered from its original vision. By choice, itís the only movie convention running in the U.S. today that celebrates the drive-in era of films made primarily between the mid-1950s and the mid-1980s when drive-in movies died off. Weíre primarily known as the movie convention that has held more first time movie reunions than a show that gives a shit about big name actors, but weíve had some big names in the B movie market and a few A listers who have made B movies during their career over the years.
Were any difficult to deal with?
Yes, there were a few, and itís never the people youíd expect to be a problem. Unfortunately for anyone reading this interview, I wonít name them. I donít hold a grudge or talk shit about anyone. They simply will never be invited back to another Cinema Wasteland Show, and thatís good enough for me.
What is the webpage for this event?
You can simply head to www.cinemawasteland.com and the convention pages are right there on our main page.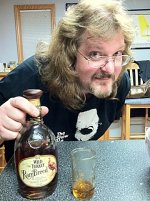 Cinema Wasteland's
Ken Kish
Do you still deal in film memorabilia yourself?
Absolutely. I just rounded out 25 years of buying and selling B movies, posters, autographs, and collectibles. I specialize in movie merchandise from the same B movies I celebrate at the Cinema Wasteland Show.
You also collected and sold wrestling memorabilia for years, but do not now?
Itís a business so I go with the flow. And wrestling is basically just a bad B movie with atrocious acting that Iíve watched off and on for my entire life, so when wrestling is popular, Iíll sell wrestling merchandise. When it sucks as much as it has the past few years, adults tend to quit watching it and kids donít work or have money their parents donít just hand them, so I donít carry it.
Why have, in this case, the demands for such material changed?
The current wrestling product sucks as much as 99.9% of the horror movie remakes that Hollywood is pumping out lately, and both are currently geared towards kids. Kids donít work like I did when I was delivering papers at nine years old or working in a greenhouse at thirteen, so demand to me is based on who will buy it. Nobody is buying wrestling stuff these days.
Have you ever been in any indie films yourself?
Yes, Iíve been the ďmonsterĒ and/or a ďheavyĒ due to my size in a few no budget productions over the years, and Iím in more little documentaries and DVD featurettes than I can count as myself, but Iíve done more work as an artist, editor and sound man.
What do you have planned for future festivals?
Your guess is as good as mine to tell the truth. Iíve pretty much done everything I could within the confinements of a convention setting that I ever set out to do and more. Itís not that new ideas donít pop into my head, and Iíve got a few great, creative people that are always there to help make sure the shows go off without a hitch, so Iím sure between us weíll think of something else new and exciting to present to our attending fans before long. Until then, Iíll go with the formula weíve been presenting for 12 years and 22 shows now and always offer fans more than any one person can do over the course of a three day weekend. I just posted the entire weekend schedule of films and events for our October 5-7, 2012 show and I jammed roughly 62 hours worth of movies, panels, guest talks, and live entertainment into three days. And it all comes with the price of admission with no hidden fees or extra charges to do or see anything we offer.
What advice would you give others for promoting similar festivals in other towns?
My advice to anyone would be youíll have to be different and set yourself apart from the pack or youíll just be another generic horror convention nobody will remember two hours after it shuts down on Sunday. The convention market is so incredibly saturated with horror movie conventions the past couple of years that there isnít a chance in Hell Iíd ever start one myself right now. When I started the Cinema Wasteland Show 12 years ago, there were maybe 6 or 8 horror movie conventions running around the country every year. Currently, thereís so many of them I canít keep up with them, and they all drag the exact same guest list from town to town and show to show with zero originality to tell any of them apart. The market is completely saturated with conventions I canít tell apart from one another right now.
What would be the most rewarding feature of running events like you do under the Cinema Wasteland banner?
Happy fans. To me, Cinema Wasteland is a brand and Iíve spent 25 years of my life creating that brand. You talk to Cinema Wasteland Show regulars, and to them, a Cinema Wasteland Show is like a family reunion twice a year. Like-minded movie fans all gathered together to have themselves a great time. We attract fans from not just all over the USA, but the world, and most of our attending fans attend other conventions in their areas of the country, but Cinema Wasteland will always be ďfamilyĒ to most of these people by what they tell me.
The most discouraging?
The long hours of trying to watch movie submissions, scheduling so much into the weekend, and promoting two shows takes its toll. Itís a full time job to run two movie shows a year, and I already run a full time business and do a dozen other movie conventions around the country as a vendor, so the long hours to get everything right is the hardest part for me. Still, I enjoy presenting my show to attending fans, so somehow Iím always ready to go come show time and look forward to having myself just as much fun as any attending fan through the doors, and that makes it all worth the effort to me.
Any other interesting stories to tell involving your promotional efforts?
I can tell a book full of stories about doing this for over 25 years, but promotional efforts are just that and promotion either works or you try something else.
On a personal level who would be your favorite actor of all time?

Feeling lucky ?
Want to
search
any of my partnershops yourself
for more, better results ?

The links below
will take you
just there!!!

Find Cinema Wasteland
at the amazons ...

amazon.com

amazon.co.uk

amazon.de
Looking for imports ?
Find Cinema Wasteland here ...
Something naughty ?
(Must be over 18 to go there !)

Hard to answer when Iíve watched over 20,000 films in my life, but as a kid I was always into Boris Karloff movies [Boris Karloff bio - click here], and still enjoy all of his films to this day. Iím a guy whoís never gotten onto lead or A list actors and always prefer the character actors, or unsung heros of film and television. My favorite stooge (from The Three Stooges) is Larry so what does that tell you? Currently Iíll watch anything guys like William Forsythe or Gary Oldman are in. They envelope a role no matter how small and make it their own, unlike actors like Keanu Reeves or Nicholas Cage, who suck in pretty much role they give him, but still command the big dollar for some reason Iíll never in my life fathom. I wonít watch anything those two guys are in because they suck in everything they are in and bring a movie down to me no matter how good the film is when they are not on the screen.
Favorite film?
Too many to count, but I could probably give you a list of fifty or so of my favorites as long as you donít want me to rank them from one to fifty in any kind of order.
Closing comments?
Iíd just like to thank all of the fans who make the Cinema Wasteland Show a regular weekend in their life once or twice a year. Without them, the show wouldnít happen and Iím eternally grateful for all of their input and support over the years. A Cinema Wasteland Show isnít my show at all. Itís the fans' show and as the promoter of their show, they deserve the best effort I can give them every time I run one.
Thanks for the interview!