Your new movie The Nothing - in a few words, what is it about?
The Nothing is about aspiring creatives and the lengths they'll go to seek out art. Every artist wants to create something unique, but in the background of the film the question is present… Are our relationships more important than our artistry?
Your lead character has a very radical approach to creating art - so to what degree does that reflect your own views on the subject?
I actually do feel very strongly that some of the best art is made during difficult times. To me, one film that asks this question perfectly is Whiplash. It all builds to the finale where Miles Teller's character reaches the seeming pinnacle of his talent… To me it makes this statement while also asking this question -- "Look at how amazing he's playing!... But is it worth it?" Yes, torture might lead to some amazing artistic findings, but if all your relationships and anything else that makes us human is sacrificed, is it worth it? To me, there's no definitive right or wrong answer, but it's a question to be asked.
(Other) sources of inspiration when writing The Nothing, and is any of it based on personal experience?
I'm very passionate about this question because it hits close to home for me and becomes a little meta… After I graduated college I was looking for a job as a PA but I didn't have a single connection to get one… After five months of pursuing that career I had absolutely zero leads, so I got desperate and inspired… If I couldn't get a job in the film industry, I was going to write the least expensive film possible and shoot it… I wrote the whole script of The Nothing in two weeks, low budget story telling being my main driving force. I even shot the first two scenes (with absolutely no understanding of what I was doing) but then I got a call to work on The Walking Dead. What started out as one-day gig turned into a staff position, and then I laid the film to bed for the next five years. I later picked the project back up with talented industry friends, Leon Wilson and Eric Dickinson, who I'd met along the way and realized I wanted to complete the story I had started… In desperation I wrote The Nothing, I wanted to be a writer, maybe a director, but I had no outlet. But just a few years later, meeting these passionately creative producers made me realize I wanted to complete the project - but it all started with a desperation to create something.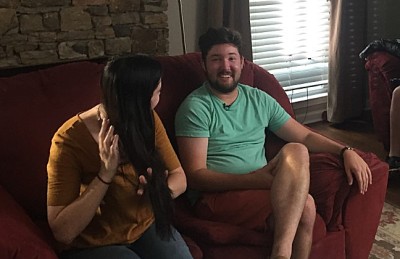 What can you tell us about The Nothing's approach to horror?
The Nothing's approach to horror is not exactly in the mainstream - while I love "earned" jump scares, the film doesn't double down on them. I would classify the film as atmospheric psychological horror. It's more of a feeling - how much the audience gets out of the film rests entirely on how much the audience buys into it. For me, I've always responded better to the unknown, so many mainstream horror films explain or expose too much. An analogy of horror films I often use is the director taking an egg on a journey. So many times the director takes the egg too far and it breaks along the way, à la exposing too much with bad CGI or extreme exposition. For me, once the egg is broken, all that whatever that horror film has worked for is lost. What my hope for with The Nothing is that the unknown is still unknown.
You've chosen the found footage approach for The Nothing - so why is that, and what were the advantages and challenges filming that way?
The Nothing was always written as a found footage movie, most likely due to the fact that I was making a pseudo-documentary about the frustrations of not being a film-maker. In the film I worked this into the character of "Clayton" being an aspiring novelist for the slight separation from reality, but the feelings were still there. I wanted to express them, and I also had a big love for found footage movies: There's something about seeing a frame illuminated by a flashlight in the woods and nothing else, because that's really what you'd see. No condors with giant lights illuminating the woods to a point where the character's seem to be able to run through the forest without a flashlight… The advantage of filming found footage was certainly working around budgetary restraints, but I don't think the movie would have ever worked without the pseudo-documentary approach. The challenges though would be of course finding a reason that the camera was still rolling and finding unique shots that "Clayton" would have been able to come up with. There are a lot of monologues and pontificating that Eric and I did our best to shoot uniquely. Without a doubt the blocking in the cabin scene was the most difficult. It took 40 minutes of rehearsing and blocking before we only had time for two takes before the sun came up. To get that scene in one shot, reading the old book, transferring the camera to a chair while I sat across the room in another chair, and sneaking in the fake vomit through a window while then having to dispose of the cup because I still had to hold the camera turned into a tedious task…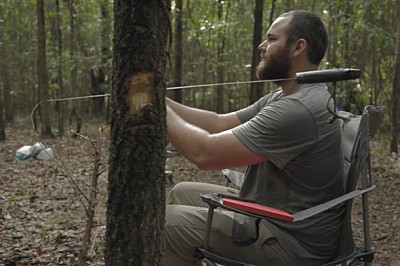 You also play the lead in The Nothing - so what did you draw upon to bring Clayton to life, how much of the real you can we find in the film's Clayton, and have you written him with yourself in mind from the get-go?
The character of "Clayton" in the film is definitely an exaggerated version of myself. But when the source material and character goals are this close to your own, writing an exaggerated version of yourself allows you to come up with one simple question: "What if I actually went out and did this?" The answer of writing myself in from the get-go was definitely the starting point of the film. I wanted that job I couldn't get yet on a set. "Well, what if I kickstarted my own creativity out in the woods." I don't think I was at "Film Clayton's" level of frustration, but we were definitely playing on the same play-ground.
Do talk about the rest of your cast, and why exactly these people?
Hunter Bagwell, who also happens to be one of my best friends, was an aspiring actor that graduated from AMDA in California. He then realized he didn't want to act anymore and became an elementary school teacher. I told him about this script and that I wrote a role for him. We read through it together and then he said "Yeah, I think I kind of have to do this with you." Nowadays he's one helluva teacher and hasn't looked back, but he said he'd love to act again when the next project comes along. Katy Adkins was a close family friend to my stepbrothers and we'd seen each other at different holiday gatherings. I knew she'd been in the Two Many Cooks viral video, and a few other roles here and there. She did a read through and we saw her range and knew we'd love to have her on board. Clayton's Father was played by Scott Keller, who is actually my stepfather. The reason I chose Scott was because I wanted to keep the conditions as close to my reality as possible while making this film. Scott is someone incredibly dear to me. Seriously you have to hear this dude's laugh. It's infectious. It makes the whole room warmer. Even though he'd never had any history on screen, I had to have him.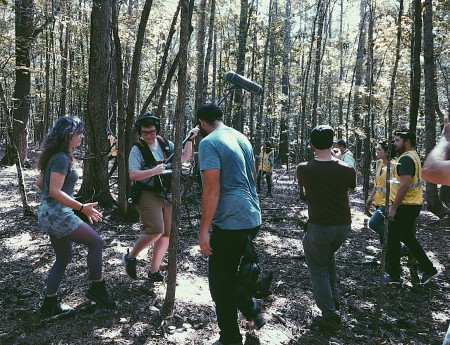 You of course also have to talk about your main location for a bit, and what was it like filming there?
We filmed in the woods out in Milner Georgia. We had to find a wooded area far enough away from streets, trains, or other establishments where lawn-mowing/weed-wacking/etc… wouldn't disrupt the take. But also, some place close enough that we could travel back to our car for video drops and battery recharges. We found that, but then came the summer heat, the summer rain, and lots of spiders… The whole crew ran into spider webs all day and night during the whole exterior shoot. The cabin was even more infested with spiders though. We cleaned out the cabin that was completely full of paraphernalia from the owners before we shot. I'd never seen more spiders. Everything we moved was covered with them. But it was a creepy setting that accomplished what we wanted it to. The other locations were all filmed at friend's houses/basements/cars/parks… just places without spiders.
A few words about the shoot as such, and the on-set atmosphere?
To be honest, I took on too much. I made The Nothing with very talented friends/co-workers of mine who made the shoot as painless as possible… but there was still lots of pain. I was directing/acting/craft service/hair & make-up/props/scripty. If you ask my amazing four-person crew they'd probably say I was very distracted and busy, but these were some of my best friends. They knew what this meant to me, and they just supported me in all of it… On day 3 of shooting, we thought we'd lost the previous day's work. I looked at two of my producers, Eric and Leon, and said "Hey guys, we're incredibly exhausted, we've probably lost a whole day's work, it's gonna rain all week, I completely understand if y'all want to call it off." They looked at each other, then back at me and said, "Absolutely not." That was a defining moment for the Film. "Okay, things suck… but we're seeing this through no matter what." That's why making this film was so special to me: Impossibly devoted friends who were going to work harder than ever to make it happen. You can't beat that feeling as a filmmaker -- making movies with your friends.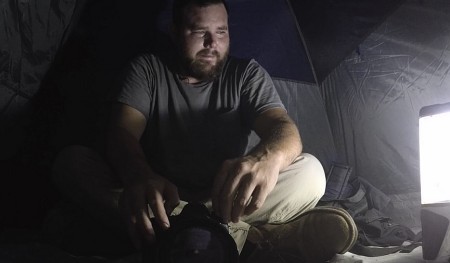 Anything you can tell us about audience and critical reception of The Nothing?
In the limited showings that The Nothing had, the reception was really uplifting. The audience laughed at what I intended to be funny for the most part. Also, there aren't a plethora of jump scares in the film, but the few that were seemed to really work. Also, to the previous also, the opening of the film is still incredibly hard for me to watch with people who have never seen the film. I've gotten to a point that I can painfully tolerate it, but that wasn't always the case. Once you watch the film, you'll know what I'm talking about.
Any future projects you'd like to share?
Well, I've written a total of 10 feature-length scripts but I'm currently only pursuing to direct two of them. One is a dramedy about four friends that escape to a lakehouse after the tragic death of their best friend, and one is a spiritual sequel to The Nothing (but not found footage) - really whichever one lands first I'd be excited for. Regardless, I'm storyboarding ideas for a new horror film (more in the slasher genre). Something fun and hopefully fresh. I'll be starting that script this summer.
What got you into filmmaking in the first place, and did you receive any formal education on the subject?
I graduated from Georgia State University with a Major in Film & Video and a Minor in Theatre. What actually got me into filmmaking though beforehand was the desire to write scripts. I purchased Final Draft back in 2007 and fell in love. It wasn't until my college made me have a Minor (because what hell would you do with a film degree?) that I realized I really enjoyed acting too.
Going through your filmography, you seem to have filled pretty much every position on a film set on both sides of the camera - so what do you actually enjoy the most, what could you do without?
What I without a doubt enjoy the most would be writing. I love thinking up stories. For me, it's the easiest way to make time disappear, just talking through and storyboarding different story ideas/scripts. And what I could do without?... Getting funding for films, I could definitely do without that. The hustling that goes along with it just doesn't come natural to me. It's not a pretty answer, but an honest one.
What can you tell us about your filmwork prior to The Nothing, in whatever position?
Well, I started in the industry by working as a PA on season 2 of The Walking Dead. From there I worked consistently as a PA for the next four years on different projects such as Stranger Things and Baby Driver before "getting my days" and joining the DGA. I've also worked professionally a grand total of four days as a stunt person.
How would you describe yourself as a director?
I think because of how long I wrote scripts before stepping onto a set I'm more passionate about talking about performance with actors and actresses. Because so many have my scripts have just lived in my own head and read throughs this always seems to be something I gravitate toward. I love the technical side of filmmaking, but I probably love more talking story and character motivations within a film more.
Filmmakers who inspire you?
Richard Linklater is an aspiring filmmaker I love. Just listening to his characters talk and interact is such a joy. As far as horror goes, I'm completely inspired by James Wan's career. He started the "torture porn" era with Saw and then he started the next generation of "haunted house" movies by making Insidious. In my opinion he kickstarted back-to-back decades of horror filmmaking.
Your favourite movies?
A preface, horror is my favorite genre of film, but it doesn't actually hold my favorite movies, which doesn't really make sense, but oh well... Before Sunrise, About Time, The Departed, The Dark Knight, Sing Street, La La Land, Almost Famous, Session 9, Prisoners, True Romance, Annie Hall… I'm kind of all over the place.
... and of course, films you really deplore?

Feeling lucky ?
Want to
search
any of my partnershops yourself
for more, better results ?

The links below
will take you
just there!!!


Ahh, films I deplore? I really don't deplore a lot of films… but I'll say this as far as horror goes -- films that blow the perfectly set up, unsettling atmosphere out of nowhere with bad CGI is when I get the most upset with movies… So yes, I do deplore some films, but you'll have to let the reader guess for themselves what those are.
Your/your movie's website, Facebook, whatever else?
https://www.thenothingthefilm.com/
Anything else you're dying to mention and I have merely forgotten to ask?
I wanted to give a shout out to the one and only song in the film. It's called "Where Were You?" One of my closest friends, Jared Jones, had previously written the song, just as a hobby. I listened to it while looking for one song that would fit the scene while the characters were driving to the drop-off point… needless to say, if you watch the whole movie, and then read the lyrics of the song playing in the film, you might get chills the same way that I did… and it was written years before I had made the movie. Just a little accidental/creepy Easter egg.
Thanks for the interview!