Your movie Witchfinder - in a few words, what is it about?
Witchfinder is an atmospheric tale in which a love-struck villager (Travis Worthey) seeks the help of a forest witch (Valerie Meachum) to help him cast a love spell on an unsuspecting village girl. All of that goes south with the arrival of William Thatcher Blake (Dave Juehring), a witchfinder hired by the local townsfolk to rid their lands of the witchís evil. Things go from bad to worse, as thereís witch-burnings, hangings, blood vomiting, eyeball impalement, face stakings, suffocations, and ghosts!
What immediately struck me about Witchfinder was its great resemblance to 1960's period horror cinema - a coincidence, or do you have a fondness for these movies of old?
I do Ė especially since you seized on the Hammer influence Ė Iím a big fan of Hammer Studios output from that period, and Italian horror films from the same era Ė especially Mario Bavaís Black Sunday and Black Sabbath [Mario Bava bio - click here]. Thereís something I love about the gothic flavor of those movies; I feel as if I would be at home if I could live within them, like I was born out of time.
(Other) sources of inspiration when writing Witchfinder?
Witchfinder came about after my film Ravenís Hollow had done the festival rounds. Iíve been a horror fan all my life but realized that within the 10 years Iíd spent making animated shorts, I had never actually made an honest-to-God horror movie. So Ravenís Hollow was my first shot at that, albeit in an animated form. Witchfinder was an evolution of that in some ways, because my thinking was that you can never maybe be truly frightening in animation and Iíd need to step outside that, into live-action, to see if I could do it there. So, I tried to come up with a catalog of things that I thought were scary Ė and I immediately seized on Black Sabbath, The Drop of Water, where that creepy old hag is coming after her in the end. That was basically the starting point. I figured if she was a witch, and I wanted to do something period (in ode to Hammer), then weíre going to have to burn the witch at the stake at some point, so this would be her ghost. And sheíd be coming back to haunt Vincent Price [Vincent Price bio - click here] from the Witchfinder General, right? Heíd be the guy who had her burned alive. And, when I think witch, I think Pumpkinhead, so the opening cabin scenes kind of came out of having that in mind.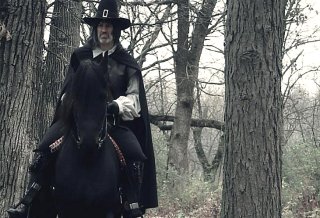 David Juehring
Why shoot a period shocker in the first place, and what are the challenges but maybe also advantages that come with it?
Itís a challenge only because you pretty much have to generate everything from scratch, in terms of costumes and props, to convey the illusion that youíre not shooting your film in 2013, right? But thatís kind of what made it appealing as well, because I see so few period short films Ė everything tends to be more modern or futuristic. I thought that would make it stand out.
Do talk about the look and feel of your movie for a bit?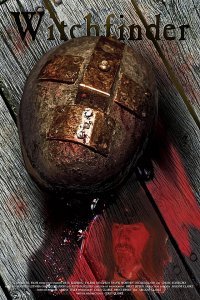 We looked at a lot of stuff in pre-production; the director of photography, Brent Jepsen, and myself. We would look at things like Black Sunday, Black Sabbath, Pumpkinhead, Warlock, Witchfinder General, The Assassination of Jesse JamesÖ and even episodes of Game of Thrones! We were trying to reverse-engineer the lighting schemes that youíd see in those movies. We learned that you really need to fog your set - even when it isnít supposed to look like thereís fog on your set Ė just to give the photography an added sense of depth. We spent many Monday nights testing different lighting setups. Weíd be burning torches in my backyard trying to measure F-stops and determine the best ISO settings; we actually built and burned a test dummy in a buddyís back yard just so weíd know what it would look like, to learn how fast it would burn, and how big it would burn. We did tests in my house by shining lights in windows and all that. And we ended up lighting the movie with a bunch of different temperature CFL bulbs. At one point our ďmoonĒ in the woods scene was an extension ladder with a cluster of six-to-eight clip lights that youíd get at the hardware store, each with 5600k CFLs in them. I had storyboarded the whole movie, so knowing what the final image was supposed to look like, weíd draw maps of the locations and determine where all the lights should be, where the camera would be. It was a bit like an engineering project, in a way. In the end, I had a book of schematics and drawings that I could almost pass off to anyone and they could have directed the movie.
What can you tell us about your cast, and why exactly these people?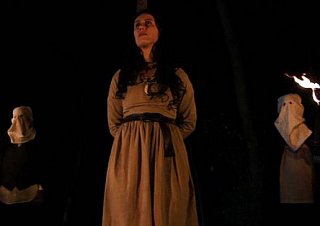 Valerie Meachum
I think theyíre all phenomenal. The quality of acting on screen to me, in addition to the photography, is one of the first giveaways that your film is not a legitimate movie movie, you know what Iím saying? If it lacks that type of professionalism that youíve become accustomed to seeing on the movies that you see in the theater or on TV. And we were aiming to camouflage that, you know Ė we wanted to do something that would look legit. That if someone we didnít know saw it, they might mistake it for a real Hollywood movie. I knew that the period dialogue could either help us or hurt us in that regard, because what modern-day person hears olde English on a conversational basis to have anything to compare it to? So we had a casting call in a conference room and a bunch of people came out, and that was an eye-opening experience. There are a lot of very talented people out there.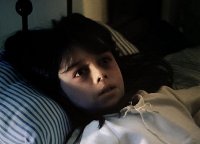 Chloe Konieczki
We cast Dave Juehring partially based on his physical resemblance to Vincent Price [Vincent Price bio - click here] in The Witchfinder General, but also because heís a true professional Ė a very prepared, thoughtful guy who brings a lot to the part. I remember we were sitting around the monitors during some of that stuff at the end and we could just feel that we were getting it, you know?
Valerie Meachum has been in a bunch of stuff, both films and on-stage, and this just felt like it was something that was in her wheelhouse. The witch has to be a bit larger than life so youíll buy her as a legitimate threat, and I think with Valerieís theatrical background she could just bring that part of it out.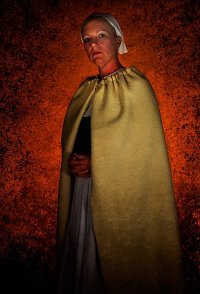 Nicole Kilmer
Travis Worthey, who plays John Hawthorne, isnít an actor by trade Ė heís actually a really great artist and writer Ė but I know the guy and just knew he was perfect for this part. Travis is a guy who grew up on a steady diet of horror movies, and he internalizes them in a way that he could bring out this performance when the cameras were on.
I donít think Chloe Konieczki, who plays the witchfinderís daughter, had done a lot of film work before but she was in a bunch of pageants and is cute as a button, and when she does what she does at the end of the movie, it just looked creepy as all hell Ė even in the audition Ė that we cast her and she was just great.
Nicole Kilmer (the witchfinderís wife) and I have been friends for years and I knew that she had an interest in acting, since she had a couple of credits already. She was just perfect in the part, even though we realized later on that there just wasnít a whole lot of screen time to it. I owe her one for that, because I thought she was fantastic. Overall, I was surprised by how much better the end result turned out that I had initially expected it was going to at the beginning of the process. Of course now, theyíve spoiled me.
What can you tell us about the shoot as such and the on-set atmosphere?
We shot the whole movie over a six day period that consisted of four shooting days and two company moving days, in which weíd pack all the gear up into our van, come home, unload it, resort and repack it, and be ready to go for the next dayís shoot. We shot the cabin scenes in a historical cabin in Cherry Valley, IL, which looks like itís in the woods but itís actually right on the main strip that goes into town. So that was a challenge, trying to block the light from street lights and car headlights as we shot that stuff. We shot the scenes with the horse and the stuff at the witchfinderís house on the grounds of a historical museum in Rockton, IL; I remember we got tied up a little bit there trying to get the choreography to match between the horse and the camera jib that we had for the day. You can actually see footage from some of this stuff by visiting our YouTube channel, where weíve been posting some behind the scenes vignettes (and have more to come!). And we did the witch-burning scenes at a private residence in Oregon, IL, where we had to clear the area with chainsaws the week beforehand so that we could have a large area to burn in. That was a bit tricky, because we had a generator and a large cast at that point, fire and makeup effects and yards and yards of cable. I wouldnít call the overall shoot relaxed, because I can only speak of my perspective of it Ė and as a director thereís a thousand things to keep your eye on all at once, but I would say it was one of the most fun and satisfying experiences Iíve ever had in my life.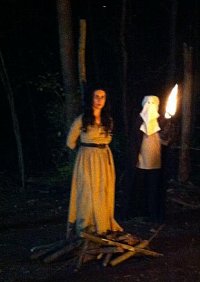 What can you tell us about crtitical and audience reception of your movie so far, and when and where will it be released onto the general public?
Iíve been really happy with the critical response, not only because itís been pretty positive so far, but because everyone seems to be getting out of it exactly what we put into it, all of the themes and subtlety, all the references. Youíre never quite sure what will translate and what wonít when youíre planning the film, and even when itís complete because when you watch it you see all of that. You just donít know what the viewer will see in it, having a different life experience. But Iíve been really happy with how itís gone. Weíve shown it at a couple of film festivals so far (more this October), but weíve only been able to attend a couple of them. We had a great screening in Rockford, IL at the Mosaic World Film Festival (at which we won Best Narrative Film) where I could actually sit back and watch people cover their eyes during the mask bit, and cringe at some of the later moments. Thereís nothing better. Unless something unforeseen happens, we plan on releasing it into the wild once itís completed its initial festival run, which could be as early as November 2013.
Any future projects you'd like to talk about?
Iím actually developing two projects simultaneously at the moment. One is a lighter, kind of fun horror movie that Iím working on with Travis Worthey, with lots of blood and makeup and halloween. The other is more ambitious in terms of scope, something Lovecraftian Ė which is something Iíve always wanted to do Ė but it hinges so strongly on a location that weíve been scouring all the neighboring cities and towns for the appropriate place. That would also require animatronics or something to bring parts of it to life, so that one is probably a ways down the line.
What got you into filmmaking in the first place, and did you receive any formal training on the subject?
Iíve always been a rabid film consumer. I watch five to six movies a week. Iíve always wanted to make movies, so I think I study them. Iíve internalized them. More so than having any formal training, which I donít. A lot of it comes from a practical standpoint Ė how do you make this happen. Itís all reverse engineering. You clearly illustrate what the final image, sequence or result is going to be, and then you work backward to try and figure out how to build it. In a lot of ways, filmmaking seems like a series of magicianís tricks: youíre trying to create an believable illusion.
What can you tell us about your filmwork prior to Witchfinder, and your evolution as a director?
I had a Super 8mm film camera when I was a kid that I would recruit the neighborhood kids act in. I never really graduated to video, because I always hated the ďsoap-operaĒ look of video, especially 90ís VHS video cameras. Now that things have all gone digital, you can make stuff with a DSLR and a computer that, I think, can fool most watchers into thinking that the end result is a legitimate movie. In the 2000ís I got into animation, mostly because I could do things there in terms of image control that would have been unaffordable to do live-action. I made a Spawn-ish superhero movie called Raven, then made the sequel, Raven 2, a kind of Se7en-ish detective movie; then I tried to exorcise my love of 3-D movies and Universal horror movies with Frankenstein vs the Wolfman (and this was just at the dawn of the return of 3D to theaters with Avatar); and finally, I made the rural spook show Ravenís Hollow, which still in some ways may be my favorite of the things Iíve done. You can find all of them on YouTube or elsewhere on the web.
Also, you never seem to stray too far from the horror genre - a genre at all dear to you, and why (not)?
Horror has always been a warm place for me; I think my first favorite TV show as a kid was The Incredible Hulk, and heís a monster Ė basically Dr. Jekyll & Mr. Hyde. Like a werewolf, sort of. I think it went from there. Universal monsters, vampires, mummies, zombies, you name it. I consumed it all. I was ravenous. Of course I was also a product of the 80ís when that type of fantastic cinema was having a resurgence, propelled by the advent of new technologies. As an adult I still love it, because as my tastes have developed, so has the genre. Even as I delve deeper into what makes these stories tick, I keep on being rewarded. Iím not really a fan of true-life horror, the hardcore vivisection movies that followed in the wake of Saw and Hostel for instance (although I think those two movies are brilliant). My taste leans more toward the fantastic. Thatís the stuff thatís cool to me.
How would you describe yourself as a director?
Well, Iíve only really done it once so Iíd say Iím still learning how to do it better. What Iíve got is a very strong visual sense of what the end goal is, so I think Iím able to communicate that in a way to marshal all of the people and all the elements toward that goal. I wouldnít call myself a great actorís director yet, though. I realize that thereís a very sensitive thing going on there, when youíre asking people to pretend to be this thing in front of a camera, with everyone watching. Thatís something Iíd like to understand more and get better at.
Filmmakers who inspire you?
John Carpenter and Stanley Kubrick are the two guys whose material I keep returning to again and again in my life, for analysis and study. But, Mario Bava [Mario Bava bio - click here] & Dario Argento are favorites, Francis Ford Coppola, David Fincher, and now, James Wan.
Your favourite movies?
Iíve always thought that the Texas Chainsaw Massacre (í74) is the most brutally effective, most horrifying movie ever made. Apocalypse Now (the original version), for its scale and suffocating sense of madness; The Empire Strikes Back, as my favorite adventure movie; The Ring (or Ringu, theyíre interchangeable), I think, is a nightmare machine. Iím a big fan of all the old Universal monsters, love them to death. I love the Hammer versions from the 50ís & 60ís, in blood red color. I like the truly scary stuff that came out in the 1970ís, the Texas Chainsaw Massacre, The Exorcist, The Hills Have Eyes. I love the 80ís slashers (Jasonís my favorite, but Halloweenís a better movie), and the vampires, zombies, werewolves and what have you that came out of that era. I really dug the horror resurgence of the early to mid 2000ís: Saw, Hostel , Ju-on: The Grudge, High Tension, The Descent. I really liked Insidious and Sinister, recently.
... and of course, films you really deplore?

Feeling lucky ?
Want to
search
any of my partnershops yourself
for more, better results ?

The links below
will take you
just there!!!

Find Colin Clarke
at the amazons ...

amazon.com

amazon.co.uk

amazon.de
Looking for imports ?
Find Colin Clarke here ...
Something naughty ?
(Must be over 18 to go there !)

Comedies. Thatís not true. I laugh. People have seen it happen. But Iím just not a fan of these films in which youíre just watching comedians goof off for an hour and a half. Thatís not a movie. Thatís a skit.
Your/your movie's website, Facebook, whatever else?
If you want to keep up with upcoming screenings, get info on when itíll be released online, or get the behind the scenes vignettes that are still coming out, go to http://facebook.com/witchfindermovie. You can get links to all my other films on http://daredevilfilms.net. Or google us. Weíre everywhere.
Anything else you are dying to mention and I have merely forgotten to ask?
Thatís all Iíve got. Thank you for this opportunity!
Thanks for the interview!