Your new movie Rottentail - in a few words, what is it about, and what can you tell us about your character in it?
Rottentail is really a story about a scientist who was bullied throughout his life, and in a freakish accident of fate he is bit by a mutant bunny while holding his secret fertility serum; this deadly occurence causes Peter Cotton to metamorphose into his alter ego, a half man/half rabbit called Rottentail.
What did you draw upon to bring your character to life, and how much Corin Nemec can we find in Peter - both before and after the transformation?
You won't find a lot of Corin in either character but you will find my passion to give these two diametrically opposed personalities a very vivid and individualistic identity.
You spent a considerable time of Rottentail under heavy makeup - now in what way did that influence your performance?
The makeup really is what created the character no doubt. It was not until I was fully made up in the prosthetics that Rottentail manifested in all his twisted and hilarious glory.
Before making Rottentail, were you at all aware of the graphic novel the film's based on?
I was aware of the graphic novel previous to taking on the role, which made me even more excited to play the role!!
How did you get involved with the project in the first place, and how did you end up on the producing side of things as well?
Well... Brian Skiba, our captain of the ship, had me in mind because of previous films I had done playing Richard Speck and Ted Bundy, so he saw something in me that made sense to him, especially my having a strong comedic background as well. I ended up as a producer on it as well because I wanted to do anything I could to make certain the film turned out as great as we could make it.
What were the challenges of bringing Rottentail to the screen from a producer's point of view?
The greatest challenge we had to face was a very limiting budget and extremely tight shooting schedule. These two factors would have broken this film had it not been for Brian Skiba and the team he put together.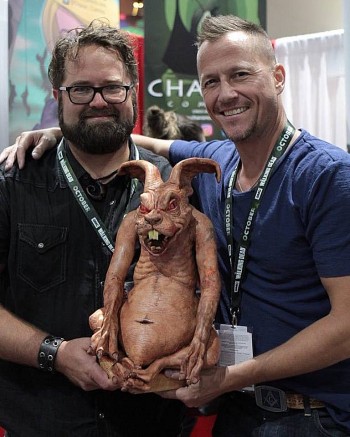 with director Brian Skiba
What can you tell us about Rottentail's director Brian Skiba, and what was your collaboration like?
Brian Skiba is a very giving director. He knows what he wants but also is willing to try scenes in different ways that may deliver a performance that may enhance a scene in ways unexpected. He is also a great director from a technical perspective in that he knows what he wants and needs to tell a story through the lens of the camera.
Do talk about the shoot as such, and the on-set atmosphere?
Overall the on set vibes were really good, the shoot was very tough and exhausting but we managed to keep up the laughs in spite of the gruelling schedule.
Any future projects you'd like to share?
I have another film coming out this year called Sleeping in Plastic which is written and directed by the well known photographer Van Dithong, who made a great first film and gave me the chance to play a hilarious redneck drug dealer who is cold as a 7th inning beer.
You started acting in your teens - now can you still remember your first time on set, and what made you want to become an actor in the first place?
The movie The Goonies inspired me to become an actor. My father was the art director on The Goonies and I was so excited by this film I decided I had to become an actor immediately.
Over the years you've starred in many a successful TV series, but the two that probably stick out the most are Parker Lewis Can't Lose and Stargate SG-1 - and while I'm sure you must have grown tired talking about those, I wouldn't do my job properly didn't I ask you to say a few words about each ...
Both Parker Lewis Can't Lose and Stargate SG-1 were amazing shows to be a part of for very different reasons yet similar. Both were extremely well done and well executed and had a great cast and crew. The obvious difference is the fact that one was a 1/2 hr comedy and other a 1 hr action adventure.
Other past films and TV shows you'd like to talk about?
If you haven't watched Stephen King's The Stand in a while, check it out. Playing Harold Lauder was one of the best times I've ever had on a set before.
How would you describe yourself as an actor, and some of your techniques to bring your characters to life?
I just take what is on the page and make sense out of the character by defining the needs and wants, goals and spine, and doing my best to give a multidimensional performance.
Actors (and indeed actresses) who inspire you?
All of them. Seriously. Anyone who can make even the slightest semblance of a living in the crazy business deserves the utmost respect, whether good or bad at what they do. It is a very tough career path and is not for the fainthearted.
Your favourite movies?
Rosemary's Baby and Harold and Maude.
... and of course, films you really deplore?

Feeling lucky ?
Want to
search
any of my partnershops yourself
for more, better results ?

The links below
will take you
just there!!!


Honestly I cannot think of one right off hand but I am sure there are many.
Your website, Facebook, whatever else?
Twitter: @imcorinnemec
Instagram: @imcorinnemec
Anything else you're dying to mention and I have merely forgotten to ask?
Go to lulu.com and search for Venice High if you want to buy my first scripted novel!!
Thanks for the interview!