Your new movie Tracking Issues - in a few words, what is it about?
Before we start, I just want to say thank you Mike for all your kind words about the film! It means the world to me to know that the film is being received in such a positive manner, as it is by far my most personal documentary thus far. Iím sincerely happy you enjoyed it!
So about the film - Itís an extremely personal documentary, shot in almost a video diary form (entirely on disposable cameras), that revolves around how my childhood best friends and I used to make horror and comedy films in our backyards. However, as hilarious and silly as the documentary gets at times, it gradually dives deeper into the idea of how we were constantly rolling the camera on our lives (it was shot over the course of more than 26 or so years) during both the ups and downs of life - and eventually becomes a very intimate portrait of us all. Not to mention - of my fatherís life.
(I apologize is that was ďtoo many wordsĒ!)
What inspired you to make a movie about your early days as a filmmaker?
In respect to you and this interview, Iím going to get completely honest - especially how the film is so revealing and personal. So let's have at it! - Two years back, I sincerely considered quitting filmmaking for good. I even penned a rather, how shall you say, ďbrutally honestĒ piece about my lifetime of severe depression, intense struggles with addiction, loss of inspiration, bad relationships and thoughts of giving up entirely. This was for Filmmaker Magazine and was received with much horrible backlash. Guess it wasnít really a good fit for the publication - I donít hold any bad feelings and understand how it could have come off unsettling, but it was pure truth and sometimes that can be unsettling - though I stand by it to this day! I had lost my drive after a lifetime of making movies & video diaries. 46 states in less than 7 years making no budget films - the struggle was becoming intense (more films than I can even keep track of at this point). I felt like the passion had run its course and I should just give it all up. The interesting thing is I never made films for money, nor have any of my films generated much money, but the process, well, it is something I NEED to do. I donít care how clichť that sounds. I sometimes wonder if Iím constantly documenting life in the case I lose my memory of something and will always have something to see in order to remember. Who knows. Itís just my obsession - and has been since I was four or so. So when they seemed to vanish, it was frightening to put it lightly.
I decided to leave New York City in the spring of 2015 and visit my family and friends in my hometown - a small coastal New England town and rethink everything in my life. On the train, I began thinking about how I got to where I was. I was simply a drunk on the Amtrak, who only, years before, was running around the country in pure insanity, glee and inspiration making films, music videos, experimental films, music, you name it. What had happened to my drive?
I watched out the window in a whiskey haze as the landscape passed by and remembered how fun and wonderful it was to make films with my friends, how passionate we were and realized I still had all the footage in my old bedroom closet. I took some time to figure everything out, reconnect with my oldest friends, see what they've been up to since we all parted ways, and just become happily nostalgic for a bit. Little did I know, it would turn into a full length project that became a super intense production - but in the best possible way. I often think that if someone was ever to make my life story (not that it would ever happen - but just ďifĒ) it could just be a narrative of Tracking Issues. Itís as real as I could get and almost too revealing. I know that my dear mother still hasnít watched it, but knows all about it and is so proud of it, but just understands how personal it gets and sometimes those memories as beautiful as they are, can be painful to some. Especially regarding my father's struggle. You just have to be respectful. She was my partner in crime in the making of this - and was the first to push me to start documenting everything. Like My Dying Day, which weíll talk about in a second - Tracking Issues was a wonderful bonding moment between my mom and I. Weíre best friends. She's incredibly proud that the film was made.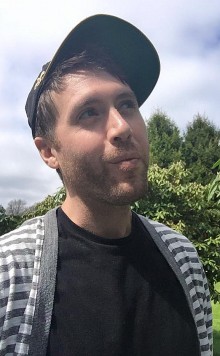 Do talk about your directorial approach to your subject at hand?
Well, I am rather neurotic and at times shy, so I usually go about my documentaries in a fly-on-the-wall manner, however this was with my family and closest friends. I never wanted to direct them - just let the camera roll. I only shot with flip cams and other small cameras, so sometimes they didnít even realize I was filming. When they saw the final film, they got a kick out of it. But then again, they always knew I always had a camera rolling.
In making my documentaries, I just like to collect as much footage as possible and then try to make sense of it in post production. I very much can find heart and soul in sequences, pieced together in a certain way, without inventing lies. The film was basically me with a flip cam, hanging with friends - reminding them of stories, getting them to share their memories and filming our old films off the TV - basically, my normal everyday life! Remember, they probably know me better than I know myself, so it was pretty much ďLet Courtney be Courtney and heíll be happy and we can go home and finally get some sleep.Ē I have such wonderful family and friends. My immediate family, my mother and brother have been the ultimate strength in my life and basically the only critics I care to even listen too. I am blessed beyond belief. I do want to say that one of my other closest friends and amazing artist John Haverty was a HUGE part of those early films too - my frequent collaborator. But he wasnít in town during the time I was recording, but he is a very big part of my films and those films. It would hurt me to not mention him - cause John is such a large part of these early works. We made dozens of films together, but unlike Andrew and Mike, I couldn't get him in front of the camera to talk about the work due to long distance. He's now a super super incredible surrealistic painter whom we are all inspired by and proud of!
As Tracking Issues shows, you have been a filmmaker since a very early age - so can you still remember what made you want to make movies in the first place, and when you were still making your backyard movies, did it ever occur to you you'd actually stick to filmmaking for quite many years to come?
Actually I canít remember any moment like that. My grandfather used to educate me on early Universal Horror films, Cary Grant movies and the Bowery Boys. I knew about Jimmy Stewart, Clark Gable, Brando, Crawford and Huntz Hall before I entered the third grade. I knew who Fredric March was before I knew who Nolan Ryan was in the second grade! He (my grandfather) grew up in that generation and seeing I was always interested in movies, he was essentially my first film school. No lie, by the time I was in fourth grade, I could recite most of Leonard Maltonís 94í Movie Guide. I loved Vincent Price [Vincent Price bio - click here] - still do. My hero. I remember a very interesting moment where, I think it was around second grade, I was at my older brother's soccer game and I saw a man, presumably a dad with a big mullet, pink tank top and a big wonky videocamera. I remember thinking, ďall I need is one of those and I can film anything and make movies!Ē. This may all sound like bullshit, but I assure you that was my earliest memory. Andrew and I began making our movies in his basement by the end of 3rd grade. His father was our cinematographer. We tried to make a sci-fi film that took place in Antarctica in his basement but his dog kept walking past the camera. A big poodle named "Rosie". We went into hiatus after that - until Mike and I launched our production company Selbo Films in the summer of 95í. Then we were in the big leagues! Ha!
Sure - I always knew I would be making films, videos, diaries - whatever. Was I sure I could make a living off of it? Sure - but I was young and naive! It didnít matter. I was wrong most of the time! That said, you could put me in a desolate landscape with no one, no material, just some food and alcohol and a camera, and I would be as happy as a pig in the mud. Believe me, it's happened before. I am never happier than while I am editing my footage. Itís honestly in my blood. Itís weird growing up though (32 now). Around 21, I began getting nervous that I would forever be that guy whose constantly struggling and becoming a delusional daydreamer and now, I am happier than ever being just those things. I don't fuckin' beg or crowdsource. I just make my films. No matter what. The day you don't see a new film by me, is the day I probably died. I have a camera and my life is constantly insane - so why not just roll? When it comes down to scripted projects, I obviously have to reign it in a bit. Either way - as long as I have a camera and a way to edit, I require NOTHING else in life.
What were your sources of inspiration back in the day?
Horror films from mom and pop video stores - especially Show Video, my local store, which is where I got my production company from. I was too young to rent most videos from the horror section so I would just stare at the box art and imagine the film. Usually my imagination was better than the actual film when I finally got around to seeing it! Even when I was homeless and living in Washington Square Park in the summer of 04í, I would go to Kimís Video on St. Marks (now unfortunately gone) and without money or a home, just spend hours looking at the box art, taking it all in, and really letting my imagination run wild. I should be clear though, I was already well educated on obscure, foreign and rare cinema - but some films were so rare that Kimís was the only place I could find them! After reading about them so much. But with no home, means no DVD or VHS player - so I could just hold the box and dream!
Regarding filmmakers though, The Kuchars, Jack Smith, Brakhage, William Castle, Frank Capra, Herzog whom I believe to be a magical being sent from another planet to basically teach us everything about humanity, courage and creativity, Bergman and Soavi who made Dellamorte Dellamore, my favorite ďhorrorĒ film of all time. I once met Harmony Korine in Kimís during those days and he gave me a copy of Lovers on the Bridge by Leos Carax and that quickly became a favorite. I think he used Jean Yves Escoffier from that film to shoot Gummo - so thatís cool! As of now - inspirations: Giuseppe Andrews is probably the greatest living filmmaker at the moment. My dear friend Ondi Timoner, whom I believe to be the best documentary filmmaker and who has taught me everything I know about making docs. Also, Iíve always been obsessed with Sam Raimi, no matter what. That guy is just so insanely inspiring to me.
Looking through your old material, how much of the director you are nowadays can we already see in your films of old? And how would you describe your evolution as a filmmaker?
Oh man - I hate directing. Seriously. Hate it! I have to do it though to make films in order to be able to edit which is my love, so it's a vicious circle. But no one is making the films I want to make, so I guess it's up to me! (This is in no way saying no one is making good films, but simply not the ones I imagine up in my own insane brain!)
Hell, I guess I'll learn more about myself due to this whole debacle! Ha!
I find it embarrassing. So with the early work, that was just us having fun with Andrew and Mike - I would sound full of myself if I tried to make it sound like anything of those early films was ďdirectedĒ. Now, as far as documentaries go, I just know to always be polite, respectful and extremely patient. I am EXTREMELY sensitive with my subjects - which I guess comes from documenting my fatherís last days and everything else in between. If there is an evolution, it is not cinematic but just that of my soul.
Do talk about some of your collaborators from back in the day for a bit, and did any of them pursue filmmaking as a career like you did?
We all wanted to make films growing up. We all had the passion, but I think when the reality sinks in around the high school era - that everyone is seeking out colleges, that girls donít really seem interested in weirdos making horror films in their backyards every weekend, that you are constantly told you will struggle until the very end, it weeds out the truly passionate and the ones who may see another light down another tunnel. Both ways are completely fine. If I ever become a father, and my child was passionate about an art, whatever medium and by the time they reached their senior year in high school, got cold feet, Iíd understand entirely - I'd just let them know that no matter what, they should keep up with their art - whatever medium that may be - always. Even if it simply turns into a hobby. There is a lot of pressure on aspiring artists - I still consider myself that - and most of it is unnecessary. Keep the flame alive no matter what, donít be afraid to go crazy, go outside the comfort zone and always, no matter what, cherish and respect your friends and family. Also, try your best to remember your favorite things of your childhood! Smells, sounds, songs, places, images - anything! It's good to get the brain and soul into a nostalgic sense to encourage inspiration. In my darker days, I burnt many bridges and that is the only thing I regret today. A lot of it can be misdirected anger and pure passion.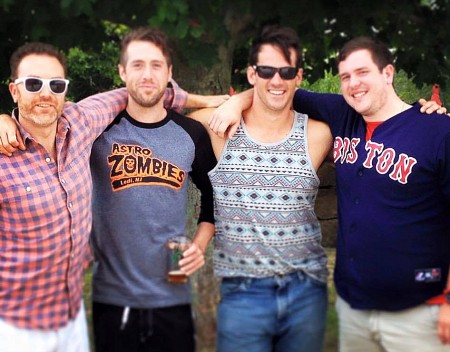 Andrew continues to be my Bruce Campbell - as weíve always have a fun friendship while making films that would have him doing stunts and me making the situation all the more grueling for my own humor. We were so inspired by Evil Dead of course. We get a kick out of it all now - looking back at it. We never got into fights or arguments when we made these things. Andrew is an amazing friend and human - one of the best people Iíve ever had the pleasure of knowing and heís always been by my side no matter what. 31 years a friend. Heís even acted in a few of my recent budgeted films including Donít Let the Devil in. One day, we gotta get that guy an agent! He owes me a couple bucks.
Mike is a wonderful elementary school teacher now who hopefully will one day teach his students the beautiful art of DIY horror filmmaking! The kids adore him. They should! They have quite an amazing person teaching them! They are very lucky!
You of course have to talk about My Dying Day, a film that differs quite a bit from the genre fare you used to make back when!
Yes! I hope, sincerely and not for vanity reasons obviously, but that film will continue to grow even after I am long gone. I mean, like LONG dead and gone. It is a powerful and important message. My father asked me to document his struggle with an aggressive form of prostate cancer during his last months of life. Hesitant at first for obvious reasons, I was only 21or 22. I said no. Another filmmaker, some professor from Brown University tried to do the portrait for NOVA I believe but it fell apart. I decided to take it on after that much to my dismay. Hey guys - get your PSA checked - like do it now! Early detection can and will save lives!
I had recently wrapped my first documentary feature No Place Like Home about the aftermath of Katrina in the Gulf and was still trying to work the film out in post when my father initially asked me. Needless to say, I already had enough emotions on my plate. We didnít have a good relationship back then, later in his life. We disagreed on politics, religion and everything else basically. But my father was an amazing, incredible, loving, funny and warm person and I am so glad I finally agreed to make the film. During all those moments filming him choosing his coffin, his burial spot, him saying prayers over others who have passed away, believe it or not, but it was quite a bonding experience. it may sound grim but it wasn't. When we would get in his car afterward, he'd say a joke from The Simpsons or something to lighten the mood and he really knew how to make someone smile and feel happy. I wish I could be talking to him about Tracking Issues right now! Damn!
I feel so proud about My Dying Day. My father saw a rough cut before he passed away and loved it. It was 45 minutes at the time and called Heaven is my Last Resort. The last shot I filmed of him, as a portrait, was a few nights before he died. Though I changed the date in the description in the film to avoid anger from family who, at the time, were really, as we all were, dealing with the situation in different ways- though, he (dad) was so happy to do it. That is the most beautiful moment of the film. He looks so calm and gorgeous and at peace - and he was! A small smile on his face! After I filmed it, it was about 11:30 at night, we hugged and he went back to bed. I knew then, he just gave me his heart and soul. It was quite a moment.
That was in June. I edited the 10 minute final version weeks after he died. It needed to be more direct. I am so thrilled that his humor and love for life comes through so much in it. Most people hear that the film is about a man about to die from cancer and they think ďShit, not today! letís watch the Food Network instead!Ē - but itís honestly a beautifully warm portrait. My fatherís beautiful and positive soul shines through. Iíve sat with audiences during screenings of that film more times than I can count on two hands and never has it ended with people in tears other than me! Everyone seems so uplifted and happy to see that my father ended his life in the most dignified and glorious manner possible - with his family and in absolute happiness. All that said, I miss that guy! More and more every day! I look and laugh like him now! Blessed!
Some other films of yours touched in Tracking Issues you'd like to talk about?
Letís lighten it up. Hereís some fun trivia!
Ralph was shut down by the Mattapoisett Police Dept. as they considered the film to be of ďlewdĒ conduct and compared the production to be like ďpublic urinationĒ. This was a film I made as a senior in high school about a man who canít stop vomiting in public.
I once met Bruce Campbell at a book signing and gave him a VHS copy of Ghost Car, a film I made in high school that is basically a remake of Christine. I doubt he ever watched it. He made fun of my Evil Dead shirt.
I once held a personal film festival as a freshman in high school at a friend's house, in which we invited people over and I played my movies on VHS. Eventually someone busted into the parents liquor cabinet, we all got drunk and filmed yet another movie! It was taped over for a hockey game by my brother but some scenes exist in a film called TV Sucks and the Dogs are Mad.
Your film has been released on VHS only recently - so why exactly this format? And of course, where can your movie be purchased from?
Weird Life Films! They are great! They are one of the best groups Iíve ever worked with. They specialize in limited VHS releases for us VHS nerds and I am beyond thrilled to be working with them. It should be mentioned that each purchase comes a private screener link - so even if you donít have a VCR, you can still see the film! The VHS is great though - I am so proud of it. Ryan from Weird Life and I both are HUGE fans of VHS, old video stores, and saw eye to eye on this completely. He did the cover art and Iím eternally grateful!
http://www.weirdlifeltr.com/tracking-issues
Any future projects you'd like to share?

Feeling lucky ?
Want to
search
any of my partnershops yourself
for more, better results ?

The links below
will take you
just there!!!


My Satanic thriller Donít Let the Devil in, which was shot deep in the heart of Appalachia, comes out this summer! Stay tuned!
Currently in pre-production on two other horror films. One is being filmed overseas, so I am very excited!
Your/your movie's website, Facebook, whatever else?
I let my site expire, so I guess Instagram is where I am most active - @courtneyfathomsell - come say hi!
Anything else you're dying to mention and I have merely forgotten to ask?
You didnít forget to ask anything - but I just became an uncle for the first time to a beautiful baby girl! Couldnít be happier in this life right now! Mike, thank you! Keep up the great work yourself! Youíre doing such a good job! Thanks!
Thanks for the interview!