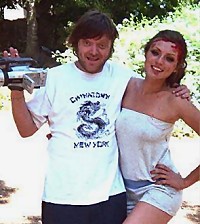 Craig McIntyre with Ava Rose
Your current movie is called A Few Screws Loose. In a few words, what's the film about?
The movies about a lonely awkward guy who falls in love with his favorite xxx porn star. He meets her and is thrown into a world of scumbags, drug addicts, porn stars and serial killers. There is a story to AFSL but it is a character study movie.
What were your inspirations for A Few Screws Loose?
Well the main inspiration was to make a movie with little money. Something realistic that I could shoot. Meaning no explosions, big stars, or cameras that have a whole crew to run them. It started as a faux documentary about serial killers. Kind of like a forensic file show or something like that. I was gonna do interviews with victims, friends of the killers, detectives, etc. Then there would be this actual footage the killers filmed themselves in the documentary. I also played around with the idea of just showing the movie from the killers cameras but I was more interested in making a movie not a faux snuff film. When I was putting it together it became more of a narrative exploitation movie. It sounded a lot more fun to me to shoot it that way.
In terms of violence, A Few Screws Loose almost goes over the top. Your take on the violence in your film?
I have been in the make-up fx business for over 10 years now so it's no surprise I like bloody movies. I always wanted more blood! So yeah its over the top and I think its still disturbing even though I didn't have much time and budget to make everything look ultra realistic. I figured I could shoot stuff just right and not show some of the bad fx but I figured that's what most horror fans love about low budget horror films in the first place so I'll show everything! And I knew it would bug the hell out of people who stick to all those Hollywood rules of film making.
The full-on gore effects in your film immediately reminded me of Herschell Gordon Lewis' gore films [Herschell Gordon Lewis bio - click here] in terms of bluntness. Are you happy with that comparison?
Of course. Herschell Gordon Lewis is a hero of mine. His films are works of art. People may laugh at that but one day his stuff will be in museums if it isn't already? I know The Texas Chainsaw Massacre and Night of The Living Dead are in modern art museums.
A few words about that girl gang featured in A Few Screws Loose and the girls' wonderful outfits?
The girl gang was a bigger part of the story but shooting the movie had difficulties that kinda pushed them to the back burner. There was more of a connection with the female lead Ember and the girl gang. It's a long story, I shot the female lead Ember twice! The first actress who did the part thought she was so awesome that she started making crazy demands and since she never finished shooting the scenes she was supposed to in the first place I just decided to re-shoot her whole character. I started from scratch and did it all over again with a new actress. It only set me back about six months. A huge pain in the ass but it was worth it so I didn't have to be held hostage by an artistic terrorist! (Ha ha) I designed the costumes with a friend, Ann Martella, and she sewed them for a really sweet deal!
Los Angeles' porn industry features heavily in A Few Screws Loose. Why, and your take on the local porn industry and porn as such?
The porno thing came along with the faux snuff thing. I wanted the killers to have a good reason for having their cameras rolling all the time. Porn was a good world to set a faux real footage movie in. Also pretty much everyone has seen one so I figured it would be a cool way to make the footage seem real. A lot of porn these days is the gonzo thing. They want the viewers to think this is real sex. No scripts. Just this scenario of some hot horny girl who loves sex but it's fake. Fake reality but there is a hand held camera look to it that makes it feel natural even though the girl is getting paid. The sex is real so you don't feel like your watching a movie, it's just people fucking. It's real!

As far as the porno industry? It's just like any other industry! All walks of life work in the industry. I have a few friends that have worked in porno. There are some creepy people and there are some good professional people. The characters in my movie are almost wanna-be porn stars. They are losers. I'm in no way knocking porn but if you have ever watched any there is no doubt that some of the dudes in porn are creepy bastards. I didn't do research on it but I'm willing to bet there are stories similar to mine out there!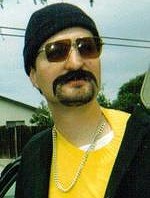 Jack Spralja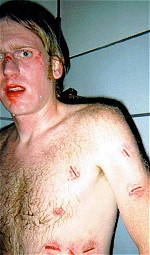 Randy Tobin
A few words about your main cast and crew?
Randy Tobin is an up and coming actor. He was in The American Poop Movie most recently and I predict he will be a big star soon! Randy is a pleasure to work with. He's always ready to make a movie! He understands the difficulties of shooting low budget films and never gave me a hard time with the crazy schedules that come with the filming. Jack Spralja sings for a well known punk band The Underground Railroad to Candyland. Chase Monroe has a part in a movie called Callback available now. Everyone in AFSL was great!
As far as the crew goes, it was usually really small. Some days I had an extra camera man, make-up artist and/or PAs here and there. Usually I was the crew.
How easy/difficult was it to get actors and especially actresses to appear in a film as based on sex and violence as yours?
It wasn't hard at all! I was upfront about the content and the type of movie I wanted to make. There is no actual pornography in AFSL so most of the actors were excited to act and make it feel real. The hard part comes on the fourth or fifth day of shooting on a weekend movie shoot: People loose momentum or realize how low budget the movie is! They might do some extra work on Melrose Place or something and consider you a joke after that. That's the downside of being an independent movie maker in Los Angeles. People want their bragging rights about how awesome it is being on set. So some of the LA actors are a big pain in the ass, they don't wanna work for anything. It's this attitude like I'm good looking, I should be famous!
When and where will A Few Screws Loose be released?
I'm releasing AFSL myself. It will be for sale on afewscrewsloosemovie.com early in the new year. I'm getting all the artwork and details taken care of as we speak. Hopefully some other websites will pick it up and sell it on their sites? It's coming early 2010 for sure!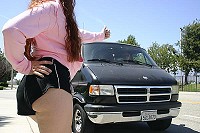 The Los Angeles Ripper
What can you tell us about your upcoming movie The Los Angeles Ripper?
The Los Angeles Ripper is in production and is near wrapping shooting. Editing is on the go! It should premiere early 2010! It's a brutal serial killer movie. It's not a masked guy like Jason or Michael Myers, it's much more like Maniac or Henry: Portrait of a Serial Killer.
Will The Los Angeles Ripper be as gory as A Few Screws Loose, or are you working on a different approach?
It will be as gory! Some of the kills are not as over-the-top and it's a lot more disturbing. There has already been 5 gallons of blood used so it's gonna be bloody!
Leaving the present behind for the moment: You have started out in the special makeup department. Would you like to talk about that aspect of your career, and some of your work you are really proud of?
I worked on Buffy the Vampire Slayer the TV show for about four years. It was non-stop crazy work so it took some stamina to get stuff done! I handled two features on my own, Killer Shrimps and Saint Francis. I was foam latex supervisor for Gabe Bartalos' shop on Mathew Barneys Cremaster 3. I have done work for artist Christian Jankowski. And I would have to mention the work for my current employers, artists Paul and Damon McCarthy - to be involved with their films and art is something I'm proud of!
What made you to go into directing, and did you take any filmmaking classes?
I have always wanted to make movies. In the eighties when camcorders came around my friends and I would rent them from the local video store and make movies on the weekends. When they became more accessible some friends parents had them and we started making all kinds of little movies. We made a trilogy of slasher films, a zombie film, a scarface film. We even ripped off Rolling Thunder! We changed it a bit but still had the garbage disposal scene but it was one of the bad guys. We didn't have any idea to make the hook arm. They are pretty crazy! A bunch of twelve year olds running around swearing like sailors with bags of sugar as cocaine. So I have kinda always been doing it!
A Few Screws Loose was your debut feature as a director. Did you direct anything before that?
I directed two short films. Nutcase, a zombie movie, and John's Reality, a Vietnam vet revenge story. They are about 15 minutes long each. They both showed at galleries around Los Angeles. Nutcase was even in a group art show with artist Jason Rhodes.
Directors who inspire you?
Lucio Fulci [Lucio Fulci bio - click here], Frank Henenlotter, Nicolas Winding Refn, Harmony Korine, Peter Jackson, Paul and Damon McCarthy, Dario Argento, Werner Herzog, William Girdler, Brian Trenchard Smith, Hershell Gordon Lewis [Herschell Gordon Lewis bio - click here], Miike Takashi, Sam Peckinpah and Umberto Lenzi [Umberto Lenzi bio - click here] to name a few!
Special (makeup) effects artists you look up to?
Well Tom Savini, Gabe Bartalos, and Screaming Mad George are guys who are responsible for me getting into the business and I look up to these guys for sure! As far as guys who taught me skills and put me under their wing so to speak I gotta give a shout out to Robert Lan, Gary Yee, Damien Fisher, Michael S. Pack, Gerry Gergely, and Mark Garbarino for being great guys and sharing their knowledge. These guys are major ass kickers in the FX world and I'm glad to have worked, learned and became friends with these guys!
Any future projects you'd like to talk about?
For now I'm focused on The Los Angeles Ripper. I have some ideas for my next movie but I can't say for sure until The Los Angeles Ripper is done! A Few Screws Loose and The Los Angeles Ripper are part of my serial killer trilogy. I would like to remake AFSL with a nice budget. I would like to tell the story of the gang girls and really show how the story was supposed to be told. Some of it got lost in low budget movie making craziness and I had to move on.

Feeling lucky ?
Want to
search
any of my partnershops yourself
for more, better results ?

The links below
will take you
just there!!!

Find Craig McIntyre
at the amazons ...

amazon.com

amazon.co.uk

amazon.de
Looking for imports ?
Find Craig McIntyre here ...
Something naughty ?
(Must be over 18 to go there !)

Your homepage, MySpace, whatever else?
http://afewscrewsloosemovie.com
http://profile.myspace.com/index.cfm?fuseaction=user.viewProfile&friendID=72462695
http://www.myspace.com/thelosangelesripper
Your favourite films?
There are so many! Lately The Pusher-trilogy blew me away! District 9 was great! The original Dawn of the Dead, Bring me the Head of Alfredo Garcia, Bad Taste, Slap Shot, The Boys Next Door, Bully, The Zebra Killer, Gummo, Ratcatcher, Chopper, The Warriors, Snuff Trap and A Clockwork Orange to name a few. I like all kinds of movies but I'm usually watching something disturbing or just really bad movies - maybe that's why my movies turn out the way they do!
And of course, films you really deplored?
Again there are so many! That Mummy movie with Brendan Fraser comes to mind! I didn't care for Behind the Mask: The Rise of Leslie Vernon. The Dead Hate the Living? Crap like that I don't care for. Some of the remakes are too easy to bash but some of them are okay.
Anything else I have forgotten to ask and you are just dying to mention?
Did we mention the AFSL dvd will be available early 2010? And stay tuned for The Los Angeles Ripper premiering early 2010 also!
Thanks for the interview!
You are very welcome! Thank you!