Your upcoming movie Paying Mr. McGetty - in a few words, what is it about, and what can you tell us about your character in it?
After a night of drinking and gambling, Tyrell (R. Marcos Taylor) is awakened by an angry call from his girlfriend, Meena (Anita Clay) and finds himself in bed with a strange woman, Cecelia (Alissa Schneider) -- a local mob boss' daughter. Once the local mob boss finds out, he hires Shota (Wilson) -- a relentless hitman. To make matters worse, the reward on Tyrell's head has dozens of others looking for him, too. Adding to Tyrell's troubles, the worst thing of all... Meena, the love of his life, is put in harm's way. Tyrell must make a stand by taking on the mob, taking on Shota, and finding the money to pay their landlord -- Mr. McGetty -- before the day ends.
My character is Talia, she is a mob assassin and owns one of the mob bars, she is one of the right hand men of of the mob boss and is a woman you do not cross.
What did you draw upon to bring your character to life, and how much Crystal Santos can we actually find in Talia?
That is an interesting question, I drew upon my personal life to play Talia as I grew up in rough neighborhoods with gangs and a very violent environment. Since I was raised a fighter I always had a certain advantage and confidence in protecting myself and others. I am very loyal to my family and friends, so I incorporated elements of that into the character as well.
How did you get involved with the project in the first place?
I worked for the producers and director Michael Baumgarten on The Martial Arts Kid, which is now on DVD and a fun family movie. Anyways, we all just clicked and they offered me the role of Talia in Paying Mr. McGetty.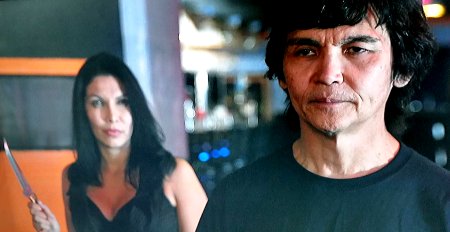 with Don "the Dragon" Wilson in Paying Mr. McGetty
In Paying Mr. McGetty, you act opposite action movie legend Don "the Dragon" Wilson - so what was that experience like?
Honestly, it was so much fun, we sat down and did detective work as to both of our characters motives and what brought each of them here, we mapped out each move with reason, he is funny in between takes, he has the ability of going in and out of character, which makes it fun for everyone. He is very talented and really great energy and a remarkably professional actor to work with. It was one of my best and most memorable experiences. It was funny too, Don and I received revisions to our script just prior to our scene and both of us have the ability to memorize lines quickly, so we did, discussed it, and off we went. Honestly, we had so much fun.
What can you tell us about the shoot as such, and the on-set atmosphere?
Everyone worked impressively fast and were very professional. Michael Baumgartenís team had it down to a science and there was not a lot of down time. The director, Michael Baumgarten, seemed to know exactly what he wanted and executed it with great precision. Also, his energy is warm and he generally has a happy disposition, so that the atmosphere that he creates is a happy one. I was fascinated how he can keep everyone on schedule without ever being rude about it, he is truly a gifted director. And why I am focused on the director in the question, is that you will see on set that the director sets the atmosphere and pace.
Another very recent film of yours is The Boom Boom Girls of Wrestling - so what's that one about, and who do you play?
That one is a horror action film and it's about six female atheletic actresses who get cast for being superheroes on a wrestling show. After hard training and ups and downs in the gym, the fresh wrestlers board the bus to their first fight in Las Vegas. The bus get stuck in the middle of nowhere, and the girls end up in a ghost town together. They must survive a supernatiural slasher named Lisa Turner.
I play the villain of the story Lisa Turner, the pro-wrestler turned trainer that becomes a supernatural slasher.
Again, what did you draw upon to bring your character to life?
I usually play villains and I look for their humanity, after all, if you look at every villain, at one time they had the same hopes and dreams as everyone else and although everyone has dark thoughts, these women eventually act on them. I researched women killers with mental disorders, like multiple personalities, and other coping mechanisms that lead to mental breaks in people. I sat down and examined each of her motives and developed a root cause and reasoning for each. When it comes to wrestling and the fighting I was able to draw upon my own skill. Also, I wanted the audience to see and understand that Lisa was a victim that snapped, that she did love and connect with someone, but at some point she simply snapped.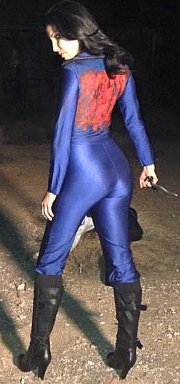 The Boom Boom Girls of Wrestling
With your background in stunting, how easy was it for you to get into the wrestling theme of the film, and do talk about The Boom Boom Girls of Wrestling's action scenes for a bit!
The wrestling and fight choreography are home base for me, I trained with Grand Master Gene LeBell in Grappelling, because I had been in stunts for so long, action sequences are 2nd nature to me and allow me to really explore the character from an acting perspective.
What can you tell us about your director Carolin Von Petzhold, and about the shoot as such?
Carolin is a very impressive director, she didnít have a lot to work with, yet she managed to make every day work. I remember getting a call the day before one scheduled shoot day and she confessed that she was praying so hard, because they still did not have the ghost town. I called a friend and he arranged it and voila we had the ghost town, but no one else knew that she did not have that location until last minute. There were many moments like this, so filming The Boom Boom Girls of Wrestling was like an adventure. She is a visually great director and works with her talent well to merge ideas for the character. Also, it didnít take her long to have a finished product. Personally, I donít think Carolin slept, she did an amazing job.
Any other current or future projects you'd like to talk about?
I am the lead in Jonni Dingoís upcoming Eyeball, a fun heist comedy, and a currently untitled fight movie with an legendary big name actor attached to be filmed next spring, sorry canít say anymore on that and yes I am really excited.
From what I know, you entered the filmworld as a stunt performer - so what can you tell us about that aspect of your career, and how did you train for this, even?
I really got lucky, I started in this business as a stunt car driver, Rick and Lori Seaman trained me and were my mentors. I obviously love cars and can do everything you arenít supposed to do with your car, thank you Rick and Lori. Eventually, I incorporated my other skills, I was raised a fighter and I had taken up Kung Fu as a personal life path, I actually never intended on using it in film, but it really does fit in. I trained with some amazing stunt legends and they became my mentors, I love stunts and that will always be home for me and the stunt community is an amazing family.
What made you branch out into acting eventually, and did you receive any formal education on the subject?
It was funny, I never sought out to be an actress, it was a stunt colleague that told me that based on my look I will rarely stunt double, they will choose to hire me as an actress to do my own stunts so I should get trained in acting as well. I took his advice and went to Stella Adler Academy for Acting. He was right, 95% of my calls were acting stunt jobs and eventually segued into bigger roles, I am happy I listened to him.
What can you tell us about your filmwork prior to Paying Mr. McGetty and The Boom Boom Girls of Wrestling?
All of my work is action-oriented so I have worked on many amazing TV shows and film. Earlier this year I got to play a Colombian police officer on Agents of S.H.I.E.L.D. so that was a great day for me. Iíve had so many great experiences like working on the Academy Award winning film Argo and observing how talented Ben Affleck is as a director and actor, he really can direct himself, which is not an easy task. Iíve worked with Quentin Tarantino on Death Proof, Tom Cruise and Stephen Spielberg on War of the Worlds and so much more. My career has truly been a good one and given me some remarkable experiences and opportunities. As a matter of fact, I recently discussed my very first job in Hollywood, I was an extra to get my SAG card to be a stunt person and they upgraded me to an acting part as John Ritterís characterís assistant on Veronicaís Closet. I had an entire day of one on one conversations with John Ritter since our scene started in an elevator, he was so kind, he gave me amazing life and acting advice, and he loved his family so much, he carried photos of them in his pocket. I truly have had some great experiences in this business.
Actresses, stunt performers, whoever else who inspire you?
Wow there are so many. When it comes to stunts I was inspired by Jeannie Epper, after all she doubled Wonder Woman. As for actresses, I would have to say Angelina Jolie, Sigourney Weaver, Michelle Yeoh, Selma Hayek, to name a few, there are so many strong women that inspire me. And I am very inspired by Jackie Chan, he is really an amazing performer both in stunts and acting. I am also inspired and grateful for my Sifus Grandmaster Eric Lee and Grandmaster Samuel Kwok, I am fortunate to have two very incredible Sifus.
Your favourite movies?
Kill Bill 1 & 2, Star Wars, Kung Fu Hustle, Alice and Wonderland (the cartoon), Wing Chun (Chinese movie), Rock of Ages, Talledega Nights: The Ballad Of Ricky Bobby, Nightmare Before Christmas, Beetlejuice, Hellboy, Blade 1 & 2.
... and of course, films you really deplore?

Feeling lucky ?
Want to
search
any of my partnershops yourself
for more, better results ?

The links below
will take you
just there!!!

Find Crystal Santos
at the amazons ...

amazon.com

amazon.co.uk

amazon.de
Looking for imports ?
Find Crystal Santos here ...
Something naughty ?
(Must be over 18 to go there !)

I actually walked out of Fear and Loathing in Las Vegas. It was all the throwing up... yuck!
Your website, Facebook, whatever else?
Website: www.crystalsantos.tv
Facebook: OfficialCrystalSantos
Instagram: OfficialCrystalSantos
Twitter: crystalmsantos
Anything else you're dying to mention and I merely have forgotten to ask?
I believe that while we are in the process of living we should not forget to live and love with all of your heart. Everyone is good at something and there truly is something amazing to find in everyone.
Thanks for the interview!
Thank you very much for the interview Sir :)