Your movie Saberfrog - in a few words, what is it about?
Saberfrog is about Josh, an aging slacker who goes on a quest to find old friends because voices in his head tell him to.
From the top of my head, I'd call Saberfrog a very late generation X movie - something you can at all relate to, and your personal take on the generation X (and what has become of it) as such?
Sometime in 2006, it suddenly occurred to me that the Generation X "era" had ended some time ago without anyone seeming to notice or care. So I started writing Saberfrog, thinking it would be the first movie to portray Generation X in the past tense, as a generation that was no longer young and rebellious and was now facing middle-aged adulthood. Clerks II beat me to it, of course, but I can't think of too many other movies that have done it.
I've always had mixed feelings about the Generation X slacker stereotype, because it seemed to glorify being stupid and lazy. At least when the 1960s generation rebelled, they did so in order to create great art and find new ways of thinking and living, whereas a lot of people in my generation seem to resent anyone who has that kind of ambition, and are quick to bash anyone who's managed to accomplish something.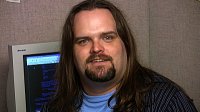 J.D. Edmond as Josh
I think the 1960s baby-boomers were much more obsessed with their own identity as a generation, and with trying to define other generations in comparison to themselves. Whereas Generation X really only cared about hanging out and consuming pop culture. Maybe that's why, once we became old enough to be the dominant influence in the media, you stopped hearing about Generation X.
Is the movie in any way autobiographical, and with which of your lead characters do you identify the most, actually?
The movie is ridiculously autobiographical. At the time I wrote the script, I was in a job that seemed to be on the verge of ending, and it made me think about all the dreams I used to have, and all the people my age with similar dreams who I'd lost touch with. So I was in the same boat as Josh at that point.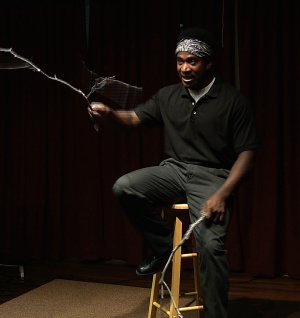 Reuben Josephe Tapp as Terrance
However, a character I identified with even more was Josh's friend Terrance. Because Terrance had a passion that he had to give up some years earlier, and was morally conflicted about whether that was the right decision to make, unlike Josh who never had any dreams or ambitions at all.
(Other) sources of inspiration when writing Saberfrog?
There was a very funny, very lo-fi documentary about Star Wars-fans, called A Galaxy Far Far Away, which captured the slacker generation at their nutty, late-90s peak. After spending the whole movie basically laughing at these cheerfully weird characters and their obsessions, director Tariq Jalil then gets very serious at the end, narrating the observation that at least these guys believe in something. And it ended the movie on a poignant note, making you realize that there were a lot of strange, broken people in my generation, for whom heroic fantasy is some kind of lifeline to sanity and meaning. The whole mood of that film really captured a certain 1990s giddiness and optimism that didn't survive very far into the 2000s.
The idea of an aging dreamer trying to get his old gang back together was very influenced by Terry Gilliam'sThe Adventures of Baron Munchausen, which is a movie I was obsessed with as a teenager. I was also very influenced by The Muppet Movie, a movie which, if you think about it, is actually the last of the 1960s/1970s existential road movies, cleverly disguised as a kid-friendly comedy. It has a mixture of wackiness and melancholy that I think found its way into Saberfrog.
The fictional sci-fi series Vanguard Epsilon - have you ever developed that one to greater detail thank shown in the movie, and what was it based on?
The Vanguard Epsilon novels are meant to symbolize the influence of sci-fi and fantasy stories on my generation. I had to think of a story and premise that had some of the common themes of heroic fantasy, such as a young orphan discovering he's the last survivor of a noble lineage. The novels didn't actually exist outside the universe of the movie – I created just enough of the overall storyline so that Josh could talk about them. But after making the movie, I decided it would be fun if the novels actually existed. So I'm actually writing them now!
Which brings us to the science fiction undercurrents of your movie as such: Is that a genre you're at all fond of, and why?
I was a huge science fiction fan as a kid, because it seemed to promise a bigger and more imaginative world than the one in which I was living. I think science fiction fans have become more obsessed with nostalgia for stories they already know, whereas they used to be more interested in original ideas and exploring new territory. Which is too bad, because it's the one genre that is limited only by your imagination.
How would you describe your directorial approach to your subject at hand?
Some directors put the technical details first and require the actors to hit their marks and stand in their key light. I prefer giving the actors free reign and requiring the camera to keep up with them. To me that approach feels more organic. Low-budget filmmaking forces you to be flexible anyway – you can't micromanage everything, so if something happens on camera that isn't exactly what you had in mind, you have to quickly decide whether to put your foot down and correct it, or to embrace it as a happy accident.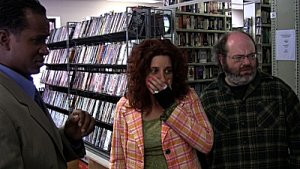 Reuben Josephe Tapp, Liz Mariani, John Karyus
You have to talk about your key cast for a bit, and how did you get them and why exactly these people?
J.D. Edmond (Josh) and Wendy Foster (Aymee) were long-time friends of mine who I knew wanted to act in the film. They were both slightly different from how I'd pictured those characters when writing the script, but when making a low-budget movie I've found that sometimes you should cast against type and choose someone who you know will be fully committed to the project. J.D. and Wendy both brought comedy and charm to characters who could have seemed unsympathetic if played by someone else.
Reuben Tapp (Terrance) was a lucky find – I met him at a meeting of local filmmakers, and invited him to take part in an open reading of the script, but he was so amazing that I had to cast him for real. Liz Mariani (Laurel) responded to a casting notice I sent out in the Buffalo area, and she exactly fit my mental image of the character.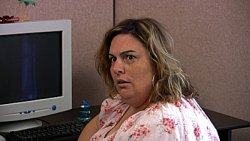 Wendy Foster
John Karyus (Bert) was the only actor that I had specifically in mind when I wrote the script. I met John in college, where he was the class clown who would steal every student film he acted in. He and I had similar experiences and similar philosophies, and a lot of the themes in the film are very influenced by long conversations he and I have had about our lives. John is one of those people who seems crazy but is actually pretty deep when you get to know him, so I wrote him a role that had a similarly disruptive presence in the story.
What can you tell us about the shoot as such and the on-set atmosphere?
Although the movie takes place in several different cities, it was mostly shot in upstate New York. I intentionally split the shooting schedule between Rochester and Buffalo, which are about 75 miles away from each other. I live in Rochester, which is a smaller city with a more middle-class, white-collar industry and a lot of prestigious colleges and institutions. Buffalo is a bigger city with a more blue-collar attitude and a grungier, funkier arts scene, and I thought it would be good to combine those two energies.
John Karyus is a working actor in Los Angeles, so the schedule was structured around his availability. He came to New York state for two weeks, and during that time we shot all of his scenes, as well as any other scenes that used those same locations. He grew long hair and a beard for the first week of shooting, then cut his hair and beard for the second week in order to film flashback scenes where he appears younger. We then shot the rest of the movie over the following month or so, with some pickup shots about a year later after the rough cut was completed.
I don't have much to say about the on-set atmosphere, since I personally was busy all the time, trying frantically to get the movie made, doing a lot of jobs myself that I should have delegated to other people. I can't speak for the actors completely, but they seemed to be enjoying themselves – they started throwing in ad-libs and extra lines of dialogue they'd made up, which to me is a good sign that the actors are enthusiastic about the film. There were one or two days of shooting outdoors in the hot August sun that I know were hard on the actors, but they were troopers and we got through it.
A few words about audience and critical reception of your movie?
Saberfrog got a very positive response when I premiered it in Rochester in 2010, getting laughs in all since the right places. Since then, I haven't gotten too many negative reactions. People either like the movie or are kind of baffled by it. But sometimes the confused reviews are the best reviews. A glowingly positive review can stroke your ego, but a confused review can be funnier because you feel like you messed with someone's head.
Let's go back to the beginnings of your career: What got you into filmmaking in the first place, and did you receive any formal education on the subject?
When I was a little kid, they still showed short films in school on 16mm. Sometimes they would be educational films, and other times they would just be comedies or strange art films and animations. Back then they also used to show short films on cable TV in order to pad out the running time between movies. None of these short films were made by anyone you'd ever heard of, they were clearly low-budget, and even as a kid they seemed like something that I could do. It was also the era when there were a lot of "the making of" specials on TV, and articles in magazines, explaining how movies were made and how special effects were done. I don't know how anyone could grow up in the 70s or early 80s and not be inspired to become a filmmaker. So I started making my own movies, mostly animation, and later went to film school.
What can you tell us about your filmwork prior to Saberfrog?
At the end of film school I joined the TV crew at WXXI-TV, our local public television station, and then became an in-house videographer at Xerox. I also made another low-budget feature, called Curse the Darkness, which was a sort of sci-fi satire set in the New York City art scene.
After that, I wrote the screenplay for Enter the Dagon, a short film spoofing H. P. Lovecraft. The film was directed by my friend Tom Gleason, who did the makeup effects for Saberfrog.
Any future projects you'd like to share?
Most recently, I helped produce a period drama called Bury My Heart With Tonawanda. It's about a young man with Down syndrome who flees from his own society and is taken in by a Native American community. The writer-producer, Adrian Esposito, is a young man with Asperger's syndrome who has overcome his disability to make several films, and on this project he cast several actors with Down syndrome to play the lead role at different ages. It's a very heartwarming film, certainly compared to the wacky comedies I usually get involved with, and I hope to see it showing at film festivals soon.
I have a couple new scripts of my own that I'm working on, but I'm still trying to decide which one is most worth spending another few years of time and money trying to make. Saberfrog was a personal rite of passage on a lot of levels, and I want my next project to be something more fun.
How would you describe yourself as a director?
Always learning. When you're a student, it's such a struggle just to get the logistics right: getting all your cast and crew to show up, getting the basic coverage that you need in the time allotted. As a result, you don't always have much time or energy left over to concentrate on niceties like lighting, blocking, camerawork, or performances, all the stuff that being a director is all about. Those things come with practice – it wasn't until after leaving film school, and making movies on my own, that I began to develop in those areas. Plus, the technology is always changing, and audience expectations are always changing as well. So the challenge is to keep growing and adapting, learning new tricks and being able to let go of old ones.
Filmmakers who inspire you?
The films of Terry Gilliam and David Cronenberg have been big influences. When I was in film school, there seemed to be a rivalry between people who wanted to make art movies and people who wanted to make sci-fi or horror movies, but Gilliam and Cronenberg proved that you could do both – you could make a movie that was funny or gory while also being profound and thought-provoking and expressing a personal vision.
George Lucas and Kevin Smith have each been frequent targets of criticism in recent years, but I admire the fact that they came out of nowhere to create their own brands as filmmakers, and that they've continued to experiment and take chances. As filmmakers they may have shortcomings, but you can see them trying to stretch themselves and overcome their limitations, and that's inspiring in its own way. The fact that they're both retiring from filmmaking makes me feel old. That's another theme of Saberfrog – reaching an age where all your heroes have faded away and it's time to actually become a hero yourself, instead of just clinging to the past.
Your favourite movies?
Gilliam's The Fisher King is a favorite of mine. In lesser hands it could have been just another corny movie about a yuppie regaining his humanity, or about a crazy person being portrayed as holy and noble. But Gilliam saw some personal themes in the script, and elevated it into an epic, moving story about four people finding redemption. It's also the only movie I've seen that portrayed New York the way I've always experienced it – as this big, loud, amazing, dirty, messy place where anything could happen.
In a lighter vein, Black Dynamite is the most entertaining movie I've ever seen. I'm a sucker for retro-70s stuff anyway, but that movie got everything right – the look, the sound, the attitude – in addition to being funny as hell. It's impossible to watch that movie and still be in a bad mood at the end of it.
... and of course, films you really deplored?
In general, I hate things that are just pop culture references – or worse, just complaining about pop culture. I guess you see that more in TV comedy and on the internet than in "real" movies, but still: Even if you're making a spoof or an homage, you should bring some creative vision of your own to it.
Your/your movie's website, Facebook, whatever else?
You can watch the trailer at http://www.saberfrog.com, like the movie on Facebook at http://www.facebook.com/Saberfrog, and follow the movie on Twitter at @saberfrog.
Anything else you are dying to mention and I have merely forgotten to ask?

Feeling lucky ?
Want to
search
any of my partnershops yourself
for more, better results ?

The links below
will take you
just there!!!

Find Curt Markham
at the amazons ...

amazon.com

amazon.co.uk

amazon.de
Looking for imports ?
Find Curt Markham here ...
Something naughty ?
(Must be over 18 to go there !)

When I was trying to choose between making Saberfrog and making a different script, I chose to make Saberfrog because it seemed simple. I thought a dialogue-driven comedy-drama about a few characters, set in the present-day real world, would be easier to shoot. Also, it was about a particular generation hitting a certain age, and I figured I should make it soon in order for it to be timely.
Of course, I got it wrong on both counts. It was a complex film with lots of location changes, it had flashback sequences that required different hair and makeup, it had driving scenes, it had action and special effects. It wasn't simple at all! And I'm still talking about and promoting the film half a decade after I shot it! But that's the beauty of filmmaking, especially on a low budget – you end up going on a journey you never would have expected.
I should also once again thank John Centrone for the music score, Frank Kielar for the animation sequence, and Tom Gleason and his team for the makeup effects. On a no-budget movie there's a tendency to try to do everything yourself, but no one person can do absolutely every job on a movie, and those guys really helped make Saberfrog the movie that it is.
Thanks for the interview!
My pleasure.