Your new movie American Scumbags - in a few words, what is it about?
American Scumbags is a films featuring three interconnected stories about sadistic sociopath convict Billy, drug kingpin Chester & heroin addicted hit man Johnny (played by myself). The film is trashy, sleazy and a reflection of lower class America to some extent.
What were your sources of inspiration when writing American Scumbags?
Well, my sources for inspiration were actually just real life things I had seen first hand growing up in my neighborhood. A few of the characters in the film are actually based on real life people I used to hang out with.
My intentions going into the project were that I didn't want to make another horror film like we did with my previous effort My Master Satan-I wanted to make a film that was dedicated to scumbags and murder. I also wanted the film to have superior production/sound/quality than My Master Satan did.
After My Master Satan was released, people would write to me telling me they loved the fact that there were no heroes or anyone to sympathize with in the film, only scumbags. So I decided I was going to do that again in American Scumbags.
I also decided early on in the project that the most heinous & vile character Billy (played by Darien Fawkes) would be the star of the film. Everyone in American Scumbags is a shitbag but he is far worse then any of the other characters in the film & I think it makes it unique and unusual that his character is so evil yet he is the focal point of the film.
With all of your main characters staying true to your film's title and being scumbags, which one (if any) could you identify with the most actually, which one the least?
Well obviously I do not identify with Teddy, but I do not identify with Billy either. He is a monster & none of his actions are justifiable. Other than those two aforementioned characters-I could easily identify with all the others-especially my character Johnny or Wheeling Deals. Wheeling Deals is just a victim of unfortunate circumstances doing what he must to survive and my character Johnny is an addict doing what he must to support his heroin addiction.
American Scumbags doesn't exactly hold back when it comes to violence and depravity - so do talk about some of the sicker shit in your movie for a bit, and was there ever a line you refused to cross?
Well, when I make films, there really isn't any type of subject matter too taboo for me. If I have a scene or idea in mind and I have the resources to pull it off then I will. I am not afraid to do anything.
Some of the sicker shit in American Scumbags would obviously be the rabbit skinning scene. I know for certain that quite a few people have a hard time watching that scene in particular.
Other then that-there is a bit of gore sprinkled throughout the film and a few scenes involving urination & defecation.
What can you tell us about your overall directorial approach to your story at hand?
When I conceived the idea and script for American Scumbags, I envisioned a sleazy, hateful & trashy film. I also wanted the film to have a feeling of authenticity and realism to it & I think I accomplished that.
You also play one of the leads of American Scumbags - so do talk about your character for a bit, and have you written him with yourself in mind?
My character Johnny is drug kingpin Chester's hired gun. Johnny is addicted to heroin & will stop at nothing and eliminate everyone and everything in his path to get his heroin and satisfy his addiction.
Johnny is one of the first characters I actually wrote into the film-he's an older character actually. He first made his first appearance in my first short film Scumbags: A Day in the Life of a Drug Dealer. I played him in that short film-so I was basically left with no other choice but to play him again since I was resurrecting his character in American Scumbags.
It was a blast to play Johnny though-I wouldn't have had it any other way.
What can you tell us about the rest of your cast, and why exactly these people? And do talk about the shoot as such, and the on-set atmosphere!
Well, It was imperative to the film that we had all the right actors and actresses who fit their parts well and embodied their characters-especially Billy. I was fortunate enough to find an incredible and talented cast of people to work with who helped bring the film to life.
I met Nick Benning (Lucifer) at a thrift store. Him and I started talking to each other and I revealed to him that I was a Denver filmmaker working on a new film and asked if he'd like to play Lucifer and he enthusiastically accepted my offer to be in the film. Then shortly afterwards, Nick referred me to his friend named Fred Epstein who ended up playing Chester. Fred Epstein was as equally enthusiastic as Nick was and he did an incredible job playing Chester and he became a good friend of mine (as did Nick) Then there is Darien Fawkes. I knew Darien for quite some time-he is actually my neighbor and for some reason it never really occurred to me to ask him if he'd be interested in playing a role in one of my films.
I had been looking for the right actor to play Billy for quite some time actually. Two other actors had tried before Darien but failed. So finally I asked Darien if he'd be interested in the role and he enthusiastically took me up on my offer and he did an incredible job of bringing Billy to life. I can't imagine anyone else playing the role or bettering it. None of the actors that tried before him could hold a candle to him or his acting abilities.
Then there is my father who plays Wheelin Deals. I am fortunate that my father supports what I do and is always participating in the films I make. Big thanks to him.
A family friend who played Teddy & we were also fortunate to get first time actress Bianca Valentino to play the role of Angel and then Nick's friend Katy and her boyfriend Bill played the role of Billy's ex girlfriend and her new boyfriend.
The onset atmosphere was actually laid back for the most part. Everyone was extremely comfortable with their roles and knew what they had to do.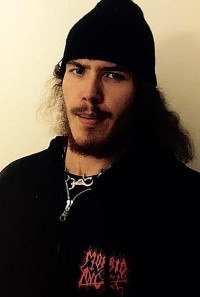 Feeling lucky ?
Want to
search
any of my partnershops yourself
for more, better results ?

The links below
will take you
just there!!!


The $64-question of course, when and where will American Scumbags be released onto the general public?
It is actually already available on DVD & It will be playing at a few film festivals in the near future.
Anything you can tell us about audience and critical reception of your movie yet?
Yes-it has been great actually. Critical reception seems to be far more favorable to American Scumbags than my with my previous effort My Master Satan. I also feel that I get progressively better and better with each film I make and I think that definitely shows on American Scumbags.
Any future projects you'd like to share?
Yes-I am currently in the preliminary stages of American Scumbags Part 2. After that, I plan on making a trippy underground horror film that is kind of similar to My Master Satan but it will be its own entity entirely.
Your/your movie's website, Facebook, whatever else?
Yes, anyone can send me a Facebook friend request @ www.facebook.com/profile.php?id=100007959648925
Like American Scumbags on Facebook @ www.facebook.com/American-Scumbags-799028973537927
Anything else you're dying to mention and I have merely forgotten to ask?
Yes. I would like to take this opportunity to thank all my fans and supporters! And thanks for conducting this interview with me.
Thanks for the interview!