Your new movie The Rise & Fall of an American Scumbag - in a few words, what is it about?
It is a dark and nihilistic drug/crime film that revolves around several scumbags including Billy, a sociopathic convict with a scheme to murder his father for his life insurance policy, and a drug addicted hitman named Johnny who wants to kill his boss and take control while he is fighting a drug addiction and slowly self-destructing.
What were your inspirations when writing The Rise & Fall of an American Scumbag?
I actually found a lot of inspiration for The Rise & Fall of an American Scumbag from my last full length feature The Acid Sorcerer. The Acid Sorcerer dealt with themes that were similar to my first two features (My Master Satan & American Scumbags), but it was stylistically different, more cinematic, artistic and darker than anything I had ever done before, and I wanted to continue that style with The Rise & Fall of an American Scumbag. The Rise & Fall of an American Scumbag features three characters from the film American Scumbags -but this film is not a sequel to American Scumbags. I wanted The Rise & Fall of an American Scumbag to be its own film - meaning that the viewer can watch, understand and enjoy it without having watched American Scumbags.
As far as how the film looked visually, I wanted the film to kind of have a dark 90's film vibe to it. The look of the film and color correction was very important to me for this time around. The coloring and visuals of the film really amplified the griminess of the film in my opinion.
Of all the scumbags in your movie, who could you identify with the most (if any), who the least, and why?
I identify with Johnny the most because he is very ambitious and wants to make it to the top but at the same time he is slowly self destructing, but I can identify with some of the aspects of Billy such as the lawlessness and anti-authoritarianism of the character. I also enjoyed the fact that the character Wheeling Deals is kind of a lowlife but he has some morality such as the scene when he shoots and kills the dealer selling drugs to kids at the playground, but to be honest I can probably find something to identify with in all the characters in the film.
Your movies are usually populated primarily with scumbags, and The Rise & Fall of an American Scumbag is no exception - does this in any form or way have to do with your view of the real world?
Yes - to some extent, and I also think that my anti-authoritative personality kind of creeps into my films as well, but from an artistic/filmmaking standpoint I love making films and portraying low life characters as opposed to heroes and good guys.
The Rise & Fall of an American Scumbag does push the envelope regarding scumbaggery quite a bit - so honestly, how much fun is to think these things up, and is there ever a red line you refuse to cross?
It is fun, but sometimes challenging as I occasionally have writer's block, but that is just part of the process. I wanted this film to be very sleazy, scum-baggy, angry, hateful and nihilistic and I think this definitely shows and the film comes across as more extreme and scum-baggy than my earlier films. And no - there is never a line that I refuse to cross - I will do anything as long as I have the resources to pull it off.
What can you tell us about your directorial approach to your story at hand?
I used the same approach that I used on The Acid Sorcerer, which was to put more attention to detail and try to employ more symbolism and/or double meanings in the film, the only thing that was different was the fact that I didn't allow the actors to have as much liberty and freedom with dialogue as my past films. Everything was a lot more scripted and carefully planned out such as the several voiceovers throughout the film that help drive the story along. Another benefit of the voiceovers is that they allow the viewer to kind of get inside the mind and psyche of the characters which was exactly what I was aiming for.
You also play a lead character, Johnny, in The Rise & Fall of an American Scumbag - so have you written him with yourself in mind, what did you draw upon to bring him to life, and how much Dakota Bailey can we find in Johnny?
Johnny was one of the first characters I ever created (back in 2012) and I have always played him. He made his first appearance in my first short film called Scumbags: A Day in The Life of a Drug Dealer (2014), he was one of the main characters in American Scumbags (2016), and I was left with no option but to play him since I was resurrecting the character in The Rise & Fall of an American Scumbag. Plus I do kind of have a connection with the character since he was one of the first characters I ever created and as I progress as an actor I have the ability to portray the character better each time, but I find it is a little bizarre how I have grown and aged through the years and so does the character Johnny.
Do talk about the rest of your cast, and why exactly these people?
I've worked with Darien Fox now for quite a while (three films to be exact) so once I was bringing the character Billy from American Scumbags into this film there was nobody but Fawkes to play him. L.B. (Wheeling Deals) is actually my father and I've been fortunate that he helps and plays a character in almost every film I make, but the rest of the cast I had never worked with before. I met Alaskan Cinder and Marla Rose online. The hardest part about making this film was finding the right actress to play Candy, Billy's girlfriend. A lot of actresses were interested in being in the film but didn't like the final scene where Candy overdoses and Billy takes advantage of her body, but fortunately we met Marla Rose online and she did a great job of playing the role. Then there is Alasken Cinder who contacted me online and was interested in acting in a film. I designed the character Pat specifically for her and she did a great job as well.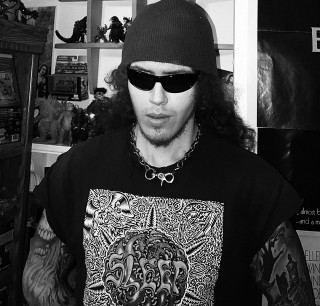 A few words about the shoot as such, and the on-set atmosphere?
It was always unpredictable and this film was sporadically filmed from July 2017 - January 2018. The film was filmed in several different places such as my garage, the industrial areas of Denver, West Denver - just all over the place.
Filming was complex - or as I heard Darien Fawkes once remark, 'chaotic'. It was very challenging with all the voiceovers and the kind of complex storyline but in the end I was able to put it all together to make a coherent film and story. So I would say that the on set atmosphere was stressful, intense and sometimes uncomfortable.
The $64-question, where can your movie be seen?
It is available on DVD through our storenvy site but will soon be available through amazon.com and once the film has played at some film festivals (hopefully Shock Stock in Canada & Cinema Wasteland in Ohio and a few other film festivals) then it will probably be streamed online for free on the Kings Of Horror YouTube channel. They actually have all three of my previous full length features available for viewing on their channel.
Anything you can tell us about audience and critical reception of The Rise & Fall of an American Scumbag?
It's been great - I think it may be our best film yet - I am very proud of The Rise & Fall of an American Scumbag.
Any future projects you'd like to share?
Yes - I am currently writing the script for a film that will feature Smoke from The Acid Sorcerer as its main character, along with some other new and twisted characters - I think it will be my best and darkest film yet. We will probably film it in the mid to late summer 2018 and have it released later this year.

Feeling lucky ?
Want to
search
any of my partnershops yourself
for more, better results ?

The links below
will take you
just there!!!


Your/your movie's website, Facebook, whatever else?
Official Facebook: https://www.facebook.com/dakotabaileyactordirector/
Official YouTube channel: https://www.youtube.com/channel/UCEYLCDlEn1sxIy7KGRR2Uag
Anything else you're dying to mention and I have merely forgotten to ask?
No, but thanks for covering our films, the festivals that play our films and the fans for their continued support.
Thanks for the interview!