Your new movie My Master Satan: 3 Tales of Drug Fueled Violence - in a few words, what is it about?
It's three interconnected stories about serial killer/scumbag Alister & his friends killing each other and seeing Satan in their acid trips.
What were your sources of inspiration when writing My Master Satan: 3 Tales of Drug Fueled Violence? And since your movie pretty much "grew" out of a short, what can you tell us about that process?
I don't really go into a project wanting to make a movie similar to anyone else's. I just go about doing my own thing & I have a vision in my mind of what the film is going to be. I'd say that with this project, I just wanted to make an underground film.
As you mentioned, this film was born out of the short film Satan's Coming for You. I made that one last April & afterwards I was out of ideas. I wasn't sure what direction to go in next, and I was working on a full length version of my first short film Scumbags: A Day in the Life of a Drug Dealer but for some reason the idea came to make a full length feature based off Satan's Coming for You. We started working on it in September 2015. I had already met Wild Willy Wakefield & Chuck and they saw Satan's Coming for You and once they found out that I was making a sequel to it, they wanted to be a part of it. The reason why I chose to make a film based off of Satan's Coming for You was that I dug the Alister & Bubba characters & their story. I also felt we could build off them and their characters better with a full length film then we did with a short film.
Do talk about your movie's approach to violence for a bit?
I don't think the movie is very violent - I mean it has a little blood here and there - the amount of violence that wouldn't bother any horror fan ... but there are some animal death scenes (that are fake) that I know some people will find offensive.
My Master Satan: 3 Tales of Drug Fueled Violence has an old-school VHS-tape look to it - now what's the thought behind this?
Well the original camera I used on Satan's Coming for You got broken and I was already messing with the VHS for a different project. I have an HD camera, but there was no way I was going to use it for My Master Satan. I wanted My Master Satan be the kind of movie people watch & say "this movie feels like it was made in the late 80's or early 90's." I was going thru a phase watching the movie Black Devil Doll from Hell at the time - it's a shot on VHS film, and it inspired me shoot a film on VHS
I already have my own style of filmmaking that's gritty & scumbaggy feeling, so in my opinion the VHS quality amplified it tenfold. If you watch the film, you will notice that there aren't really any signs or references to modern technology except for the peeping scenes where the characters are using cellphones to take pictures. But besides that, there aren't really any signs of modern technology.
You also play one of the leads in My Master Satan: 3 Tales of Drug Fueled Violence - now what can you tell us about your character, what did you draw upon to bring Alister to life, and did you write him with yourself in mind from the get-go? And why is he talking in a distorted voice, actually?
I wanted the Alister character to be a weird sadistic serial killer/thug. I wanted him to be an unlikable character that the viewer would hope would die or get killed off or get what they deserve at the end of the film - but doesn't. And yes, I wrote the character with me in mind to play him because at the time the only other person I knew who acted was Matt & he was playing the Bubba character. I wanted the viewer to know that Alister was a bad person, that's why when he is first shown, the viewer sees him put the dog in the bag and beat the bag on the ground several times, but I didn't want him to be an over the top character like Woody.
To play him, I just acted natural & laid back for most of the scenes & then for the scenes that were violent like the dog in the bag scene, or the murder scenes, or scenes where he was mad I just had to find something in my mind that made me mad and bring out the rage.
What can you tell us about the rest of your cast, and why exactly these people?
Dealin Dick is actually my father helping out being in the movie - I made the character specifically for him. He is always in and helps with my movies. There's Matt as Bubba, I've been making movies with him the longest (besides my father), we are friends & he's a Denver native. I can't imagine anyone better to play Bubba than him. He had some acting experience prior to our film, he was in a few plays before. There's Brian, he plays Charlie. He's a friend of mine too, and I asked him to be a part of it because I thought that he looked the part for our movie. He had no prior acting experience. I wrote the Charlie character with him in mind to play him and I designed his character kind of as Alister's protegé. Brian is from New York too, unlike the rest of the cast in the film who are Denver natives. There's Wild Willy & Chuck. They knew each other and then met me & wanted to be a part of the movie - they had no acting experience prior to this film as well, but they are really great actors and were very enthusiastic. I made up their characters specifically for them to play. I think that no one else could have played Woody like Wild Willy did. That's why when I created the Woody character, I just used the vibes that I got from Wild Willy as inspiration for a character.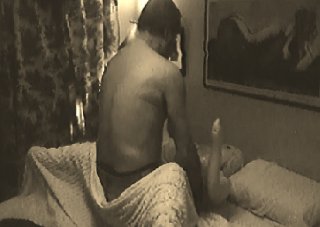 Do talk about the shoot as such, and the on-set atmosphere!
The way we make movies and the on-set atmosphere is unique, & weird sometimes - & it's what really distinguishes us from other independent filmmakers. Sometimes we will be meticulously planning a scene & discussing how it's going to go down, or there are sometimes I will just break out the video camera & say "Action" & we do a scene in one take. Sometimes theres people on set that aren't even in the movie. Like the scene where Alister & Bubba break into an abandoned unit in an apartment building to stay the night & Chuck finds them & confronts them & gets killed. I remember for that scene that Wild Willy came to watch us shoot the scene and brought like 3 or 4 other guys with him that weren't in the movie. Other times we would go into public places and start shooting like for the concert scene, or when Bubba & Alister go to the restaurant/arcade. This film was essentially guerrilla filmmaking.
I also remember another time on set when we did the scene where Woody dies of auto-erotic asphyxiation that everyone - especially me - almost died from laughter.
Anything you can tell us about audience and critical reception of My Master Satan: 3 Tales of Drug Fueled Violence so far?
It's been mixed like it always is when we release a film. We have a lot of people that like it & then we have people that don't like what we're doing. I kind of already knew some people wouldn't dig it because of the VHS quality, because of the animal scenes, etc. etc. But I truly believe if a viewer can go in with a mindset that this film is not a Hollywood film & that it doesn't have a huge budget that they can enjoy it. The movie is enjoyable film & I think if a viewer can't be entertained by it, then they just don't get it.
But I've got to say that before we released the film, we took a 15 minute preview of it to three different open screen nights here in Denver. Audience reaction would be depend on what kind of audience it was. So if it was an art house crowd, they wouldn't dig it very much - probably just dismiss it as trash. But if the crowds were just normal everyday people, they loved it.
Any future projects you'd like to share?
Yea, I'm in the preliminary stages of a my next movie called American Scumbags, it's a full length film based on my first short film called Scumbags: A Day in the Life of a Drug Dealer. It's gonna have more gore & violence and be shot with an HD camera. I am hoping to release it before the end of this year. I would also like to release two full length films in 2017.
What got you into filmmaking to begin with, and did you receive any formal training on the subject?
I got into filmmaking as a child because I loved movies and wanted to make movies & be in them. I started making movies on a beat up old camcorder in the sandbox & evolved as I got older.
My craft came through experiential learning.
What can you tell us about your filmwork prior to My Master Satan: 3 Tales of Drug Fueled Violence?
I decided to make my first short film when I was 18, I met Matt shortly afterwards and we made Scumbags: A Day in the Life of a Drug Dealer. It got pretty far, we got to play it at the Oriental Theater in Denver, and for like three months, a TV station here in Denver played it on their local station. We made Satan's Coming for You afterwards and now we have our first full length feature My Master Satan: 3 Tales of Drug Fueled Violence.
How would you describe yourself as a director?
Laid back, practical & unpretentious. I am easy to get along with and open to everybody else's opinions too.
Filmmakers who inspire you?
Where do I start? As a child, the 1933 King Kong made me want to make movies, so I'd have to say Merian C. Cooper & Ernest Shoedshack. All the original Godzilla films made me want to make movies, but as I got older Lucio Fulci [Lucio Fulci bio - click here], his gore & zombies are incredible & I feel that all the modern zombie movies out there today have nothing on him or his zombies. Jose Mojica Marins, I'm a Coffin Joe fan & I feel that he may be one of the most underrated directors of all time. Mario Bava [Mario Bava bio - click here], I like his work a lot & he is an artist, I just don't see myself doing anything stylistically similar to his work in the future. Jörg Buttgereit and his Nekromantik films. He's another big influence on me, I really like his movies. He is an artist. Even Sam Raimi because of the first Evil Dead film. I also like Bob Clark & Allen Ormsby, the guys behind Black Christmas, Children Shouldn't Play with Dead Things, Deranged, Deathdream. Joe D'Amato [Joe D'Amato bio - cllick here] because of his film Beyond the Darkness. Frank Henenlotter. There are several filmmakers that inspire me.
Your favourite movies?
This is a tricky question. Let me think. Cannibal Holocaust, The Exorcist, At Midnight I'll Take Your Soul, Evil Dead, the Nekromantik movies, King Kong (1933), Zombie 2, Black Sabbath, Meet the Feebles, Don't Go in the House, Beyond the Darknesss, The Beyond, War of the Gargantuas, Faust (the silent version), I like a lot of the old Italian films that have beautiful cinematography as well. I like a lot of the old black & white horror films as well. I am just a big movie fan all around.
... and of course, films you really deplore?
I can't think of any off the top of my head-but I don't like movies that feature over the top CGI.
Your/your movie's website, Facebook, whatever else?

Feeling lucky ?
Want to
search
any of my partnershops yourself
for more, better results ?

The links below
will take you
just there!!!

Find Dakota Bailey
at the amazons ...

amazon.com

amazon.co.uk

amazon.de
Looking for imports ?
Find Dakota Bailey here ...
Something naughty ?
(Must be over 18 to go there !)

My Facebook page/page for my production company R.A. Productions: https://www.facebook.com/dakotabaileyactordirector/
The Facebook page for My Master Satan: https://www.facebook.com/mymastersatan
Anything else you're dying to mention and I have merely forgotten to ask?
No, but I've got to say that pretty soon we will be having a big premiere of My Master Satan sometime this summer at a theater in Denver. We will be headlining the show and we will have a couple other filmmakers who will get to play their movies before ours. I also would like to take this opportunity to say that me & my company (R.A. Productions) will be making more features. We will continue to make movies & we will keep getting better & better with each film we make. Thanks again for this interview and to all our supporters out there. I'd also like to give a thanks to Darren of Luciferian Insectus for giving us the music to My Master Satan...
Thanks for the interview!
Thank you for the opportunity.