Your upcoming movie Follow Her - in a few words, what's it going to be about?
Follow Her is about an aspiring actress who responds to a mysterious classified ad for a popular live streaming show but finds herself trapped in her new boss's twisted revenge fantasy.
How did the project come together in the first place?
After meeting a stranger off Craigslist to write "Hitchcock style" scripts with. It was at that time I came up with the concept, two years ago. About 6 months later, I was listening to this podcast called Making Movies is Hard who's guest speaker stated: "Before you make your baby project, go make all your mistakes on another film first." I had spent 5 years developing a different script and in one podcast, I redirected my whole plans and started writing Follow Her and then fell in love with it. I reached out to a different podcast called Film Trooper, to seek connections to executive producers. They linked me to John A. Gallagher who loved the project and linked me to Sylvia Caminer to direct it. Sylvia and I clicked, she connected us to Luke Geissbuhler, our DP, and Luke brought on his whole camera crew. Goes to show, connections are invaluable in this business, but more importantly, doing what you need to do to be ready for those connections.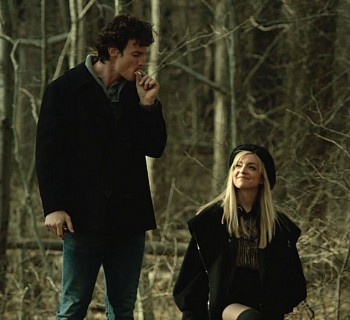 What were your sources of inspiration when writing Follow Her? And since the film revolves around an aspiring actress, is any part of it autobiographical in any way?
Ha yes... How can you tell? A lot of what is in Follow Her is inspired by my own experiences using Craigslist back when I was producing the series Starvival. I've modernized it in Follow Her in that the main character, Jess Peters, uses a live streaming platform instead. Her web series is much more tailored around busting people online who post jobs catered to young women with the intent of ulterior motives, for example: A "shoe commercial" which is really just a ploy to get pictures of women's feet to satisfy that person's secret foot fetish.
With Follow Her being a thriller, what can you tell us about your movie's approach to the genre?
Our film is ultimately a psychological thriller-horror with a slow build in the creep-factor versus the more conventional slasher flick with lots of gore. Though forewarning, it's pretttttyyyy sexy. More than anything it's about these two characters employing their own manipulative tactics to elevate their power in what becomes a rather deadly and tumultuous game of cat-and-mouse.
What can you tell us about Follow Her's director Sylvia Caminer, and what's your collaboration like?
I was really lucky to find Sylvia when I did, it was the right timing for both of us. She was eager to direct an exciting, fictional film (as she usually directs documentaries) and hadn't found the right one yet. She read one of the earlier drafts and came onboard. Soon after, we started enhancing the script which we did for over a year! Fortunately we work exceptionally well together. That's not to say we don't disagree sometimes but we hash it out in enough detail that the conclusion is usually made clear. She's been simultaneously shooting her PBS series, Samantha Brown's Places to Love (which just won an Emmy for best travel show!), so availability can be tricky but we manage to make it work. Between she and our super talented script consultant, J. Preston Witt, I feel very supported in the collaborative process. We all keep each other accountable and in line with the thematic elements within the story.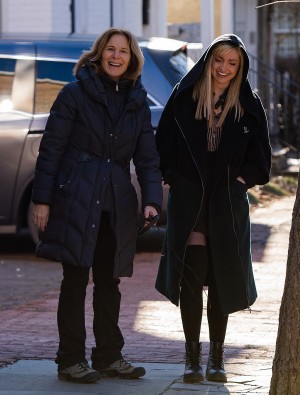 Dani with director Sylvia Caminer
You also play the lead in Follow Her - so do talk about your character, and what do you draw upon to bring her to life? And have you written Jess with yourself in mind from the get-go?
In ways, Jess was the dream version of me in her ballsiness. Yet at the same time, she's naive in ways I am not. I used to be more brave but now I tend to have too many feelings. Ha. I'm much more sensitive to things now because I value so much more than an existence on social media based on popularity, whereas Jess is a tough nut, very unemotional and detached with a lot of her worth wrapped up in her follower-counts and online likeability. It's an existential crisis detaching oneself from digital validity when so many apps use likes to keep people hooked. They are literally created to be addictive.
To bring Jess to life, I set aside a month to prep and put down my producer hat so that I could focus 100% on the creative. I always had myself in mind to play her. I immersed myself in digital media / live-streaming-sources / apps to dig into what is relevant and the methods to gaining followers between thousands of fake accounts littering the web. I was in the gym every day so that once it came time to film, body consciousness would be the last thing on my mind.
What can you tell us about the shoot as such so far?
So far, the shoot has gone really well! Super grateful for the team we've brought together, Sylvia and I really leaned on our producing partner, Michael Indjeian. There was such a good balance of professionalism and play on set, especially by our DP, Luke Geissbuhler, who was such a role model, along with Luke Cook, my co-star. Both exhibit such a playfulness/joy on set but can quickly lock into the moment. I didn't want the shoot to end. I'm absolutely in love with the lifestyle of shooting: long hours, weird hotel rooms, being shuffled around day-to-day with a totally whack schedule because what-called-for sun has turned into a full blown storm. I think shoots can always be a little rocky to start, I mean we literally got into a car accident on our first day of rehearsal, but we found our groove pretty quick. Also, I want to make a shout out to Westley Valentin who is a phenomenal 2nd AD (you're incredible, Westley, and I am so very grateful for you!)
From what I know, you're still in the process of filming Follow Her - so what's the schedule, however tentatively, and any idea when and where the movie might be released yet?
We are scheduled to shoot the rest of the film mid-September and working to secure financing for those final 7 days of filming. That gives us enough time between now and then to prep! We'd be looking at a release date in 2020, and planning to enter the festival circuit and get Follow Her submitted to "the big gun" festivals like TIFF, Tribeca and Cannes, and many more.
Any future projects beyond Follow Her you'd like to share?
I've started developing the sequel of Follow Her, which feels like an even more exciting and amplified version of this film, tentatively titled Follow Them. I'm really excited about it! Ideally, I'd love to have this ready for the release of Follow Her so we can go right into prep for the next.
What got you into acting in the first place, and did you receive any formal training on the subject?
I've been acting pretty seriously since 10th grade after performing in Grease. From there, I got involved in every community theatre production available that my small town offered. Since graduating high school, I dove into the Acting for the Camera Program at Capilano University and then straight into another graduate program in Theatre Arts at MacEwan University. After touring with a dinner theatre called Jubilations, I headed East to Toronto where I trained consistently in acting workshops with a variety of teachers and then popped over to New York where I dove into Matthew Corozine Studios and IFS therapy. I mention IFS (Internal Family Systems) because this form of therapy honestly contributes more to my work as an actor than anything else in my life.
From what I know, before you broke into films, you were a stage actress - so what can you tell us about that part of your career, and how does performing on stage compare to acting in front of a camera?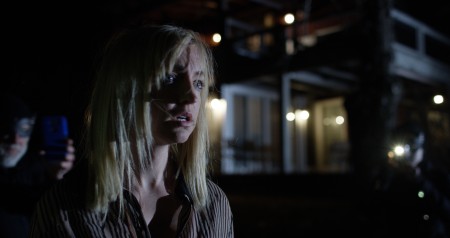 This brings me back. Yes, I started on stage because my hometown didn't have any programs associated to film, probably still doesn't - it's reallllllly small. But theatre was definitely my first love. It's more lively in the sense of immediate gratification, versus film, which can take a year before it's even seen and typically costs a lot more. And by that point, you've moved on to how many other projects...? Which is why I think it's important to celebrate your successes as they occur. Like celebrating finishing shooting. And celebrating again when the film is released or accepted into a festival. Celebrating all the lil' long way! It's a journey this filmmaking process so it's important to acknowledge your milestones. But the biggest note I've received as an actor transitioning from theatre to film is… Do less.
Of late, you've also moved into writing and producing - so what prompted that move?
I've actually been writing and producing for many years - with Starvival I wore all the hats. I created, wrote and produced a series for LGBTQ+ network OUTtv with my ex-girlfriend which was hella fun, a pilot with VH1, and later a TBS series called The Unprofessionals where I acted as a consulting producer, writer and lead character on the show. I'm the type of artist who condones creating your own work so you're not reliant on others providing work for you. To enable yourself to pursue your art, typically you have to write it. And in order to get the writing on its feet, you have to produce. If you love acting like I do, then it only makes sense to act in it... or if you're really heroic, act AND direct it. Phew.
What can you tell us about your film and TV work prior to Follow Her, in whatever position?
As mentioned above, I've produced and written a number of films/series. Prior to this, I worked in Toronto on a variety of Actra productions like Gavin Booth's film The Scarehouse [Gavin Michael Booth interview - click here]. I acted as a guest star on 19-2, Single Ladies, Meet the Family and the Investigative Discovery shows Fatal Vows and Stranger in my Home. After I moved from Toronto to New York for the TBS series The Unprofessionals, I took a year break from the industry to reevaluate my goals… out of this came the creation of Follow Her.
How would you describe yourself as an actress, and some of your techniques to bring your characters to life?
My techniques to acting are ever-evolving as I continue my journey into self-discovery. The more I understand my own layers/protectors and depth, the more I am able to understand the tactics and vices of another character. I try my best to get off book as quickly as possible using a method called "taking it off the page" developed by Harold Guskin. This initial snail-like-process eliminates any means of memorization because you are making the words personal which allows the lines to seep into the body versus just memorizing words with no meaning or relatability. With Jess Peters, I was in and out of "method acting" techniques around social media… I have to really feel the character in my body to get out of my head. If I do get stuck in my head, I have learned over the years that the power of admission - to admit whatever is going on, regardless of how embarrassing it might be, will allow oneself to be present.
Actresses (and indeed actors) who inspire you?
The actors in the HBO series Euphoria. I think they are phenomenal, as well as the lead actress in Midsommar... all the actors in that film are ridiculously talented. I think Toni Collett should have won an Oscar for her role in Hereditary… She blows me away. But it's Jim Carrey who is my true inspiration.
Your favourite movies?
These are often changing but I am really inspired by Jordan Peele's work on Get Out and Us. Room, the Canadian film starring Brie Larson is another fave. As mentioned above, I love Ari Aster's writing/directing on Hereditary (even though I covered my eyes and squealed through half the film) and Midsommar. I am a huge fan of Blumhouse's films, The Purge, Whiplash, etc. or Fede Alvarez' film Don't Breathe. And always gotta throw Dumb and Dumber in my list of faves.
... and of course, films you really deplore?

Feeling lucky ?
Want to
search
any of my partnershops yourself
for more, better results ?

The links below
will take you
just there!!!


Ohh, hm…. films that use cheap motives like over-using nudity and sex scenes to try and get away with a weak script or bad acting. Or films that use gore and torturous scenarios for the sake of excitement and lack any real motivation or character objectives.
Your/your movie's website, Facebook, whatever else?
The movie website is currently being updated to the new title but can be found at classifiedkiller.com. You can also find me on Instagram at @danibarker7. My personal website is www.danibarker.com, and the Facebook page for the film (with updates in the near future) is @FollowHerFilm.
Thanks for the interview!