Your new movie Confession - in a few words, what is it about?
As far as plot goes, it concerns two detectives who must determine if they have arrested God for a particularly gruesome multiple murder. That's the simplest way of explaining it because it references the more procedural, crime-drama aspect of the film while also alluding to the fact that it is anything BUT a typical crime drama. Not a lot of serious films are willing to include the possibility of God as one of the major on-screen characters.
Among many other things, Confession touches heavily on the subject of religion - so what kind of research did you do regarding that aspect of your movie?
I did a Q&A after the cast and crew screening for which I had asked everyone to bring one or two people who had no connection to the making of the film so I could get a clue how it played for strangers, and the first question I got was "what were my personal religious beliefs?" At that time, I said that my personal views were unimportant, but I wanted to stress that I stood behind every comment about religion made in the film. Since a teenager I have actively read and contemplated multiple religions. I have read the Bible, in several versions. I have read much of the Bhagavad Gita, studied the Tripitakas, read portions of the Quran, and even perused the Book of Mormon. That formed the overview that inspired the script. During the actual writing I did additional specific research into biblical archeology and history; interpretive tenets and how they have changed through the years; whatever was necessary so that if an opinion is stated such as "the five Books of Moses were not written by Moses" I had actual evidence to support it. Originally, I included all of that support in the script, but I cut most of it out because I was making a movie, and telling a story, not filming an extended lecture. Many people would argue I didn't cut out enough.
(Other) sources of inspiration when writing Confession?
Before the internet, there wasn't a lot of access to screenplays – they were rarely published, and they weren't widely disseminated. So, I used to go down to the Writer's Guild in Hollywood where they had a reading library; I could sit at a table and read any screenplay they had on file, and I would do that from opening until closing. One of the many scripts I read was Blatty's first draft of The Exorcist. My favorite scene was the initial interview between Father Karras and the demon. It was lengthier in the first draft, subsequently edited down. And I wished they hadn't cut it. The notion of having a discussion with an entity about conflicting and contradictory aspects between concepts of Good and Evil was far more stimulating to me than just spinning your head around. And Blatty's scene didn't really go in that direction either because he was telling his story within the confines of a very specific faith; but the idea of a longer discussion that did go in that direction always stuck with me. When I first conceived of Confession it was going to be a play about a priest and a demon, really debating. But I always tend to ask myself, "is that unique enough?" So, I kicked the idea even further out into left field.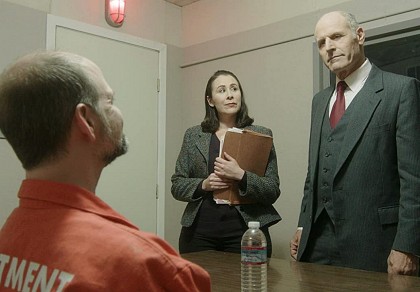 While writing, to what extent could you actually identify with McCallum - or at least the entity possessing him?
More so than many characters I have written, McCallum shares many of my own - shall we say - severe views of human nature and the absurdity of humankind. And the questions he throws out there, challenging everything, are obviously all questions that I, myself, felt it necessary to find answers to during the course of my life.
You also did the production design for Confession - so do talk about that aspect of your movie?
As the designer for Confession I knew there were two massive challenges. First was the budget, or lack thereof, and second was the fact that we were filming in Northern Humboldt County which is rural, with amazing redwood forests, and quaint Victorian houses, and that is the exact opposite of where the story unfolds. That required not just careful location scouting and shot compositions – keeping the "local" color out of the frame – but it also required the use of digital matte paintings and even forced perspective miniatures shot in camera. Because I didn't want it looking like lush redwood forests, let's just say that not all the trees you see in the film are real. And to achieve the look I wanted, to have control over all of that, I also would need to build a majority of my sets, which is where the lack of budget really hurt. I wouldn't be creating highly stylized sets – which would be fun – but I would need to take one place and turn it into something it wasn't. And not have it be noticeable or call attention to itself. I also want every setting to support the characters and themes, so there are subtle clues strewn throughout the whole film that are only meant to register on a sub-conscious level. For instance, every scene has some black and white elements, because that's how most people see the world – in terms of black and white. Another obvious example is the multiple interrogation rooms which reflect the story's progression; the first one is simple and clear, like they expect the case to be, but the one in the last half has more angles, more conflicting textures, and even the walls have a puzzle-like pattern of tiles. And then the nightmare interrogation room at the end. You can only ensure such details by building your set from scratch. And the script called for over 60 locations, including police stations, hospitals, mental health facilities, a prison, a morgue, a college campus, in addition to various apartments, homes, numerous exteriors and a few places that could only be considered "other-worldly". Fortunately, I know how to stretch a dime to do a dollar's work because of my theatrical background.
What can you tell us about about your movie's approach to the horror and thriller genres?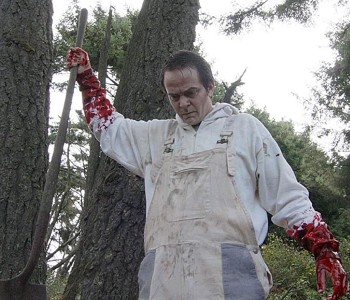 I am a huge fan of both genres, especially as a form in which you can choose to explore bigger issues and darker, more substantive themes. Most of the scripts I have written fit into those two genres. But I knew from the outset that Confession was not really going to be either type of a film. Or, I should say, only one type of a film. There were several sequences that were more typical of a horror movie; some were shot and some I cut before shooting, but I eliminated them all because I didn't really want something in there that looked at all clichéd, or like something seen a hundred times before. Sadly, if someone approaches the film only wanting to see a horror movie, or a straight thriller, they're probably not going to be happy with where the film is taking them. I hope maybe they'll give it a second chance once they know what they are in for; they might be surprised how much more meaningful it becomes.
A few words about your overall directorial approach to your story at hand?
In the presentation I wanted it to be as grounded in reality and as underplayed as possible. In contrast to the expansive nature of all the things it was dealing with. I also took the approach that I didn't really want the audience to be too certain of what kind of a film they are dealing with. That means the drama of some scenes is so muted that it doesn't feel "right" for the audience. Other passing moments are shot in such a way as to impart an unexpected sense of dread. Thematically the picture is about shaking foundations and I wanted to play with that a bit in the actual direction and structure from the first shot on.
Do talk about Confession's key cast, and why exactly these people?
I was very fortunate in that Humboldt County has a thriving theatrical community. There might only be 60,000 residents spread all around but there are multiple venues and theater companies, in addition to Humboldt State University, so it was easy to have over 80 people show up for auditions that at least had some level of experience. That one of those actors was a Tony-nominated professional like Cynthia Martells was the best kind of icing on the cake! A friend had told her about the auditions, she asked to read the script, and she liked it. Now the only problem with using actors for whom acting is not their main profession is they usually have other jobs they must accommodate. So, there can be scheduling issues – particularly because we weren't just filming on weekends. But at least I could expect a large degree of enthusiasm and commitment from my performers. I was also primarily concerned with finding actors who would give the impression of real people, not Hollywood types. I didn't want someone who simply "looked like" the role. Real people, just doing their jobs, caught up in this inexplicable situation; that's what I wanted.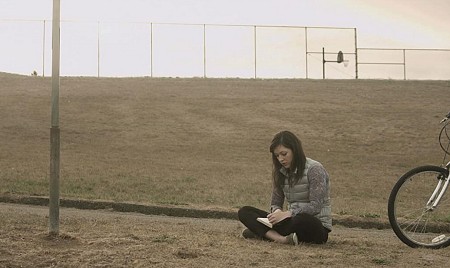 What can you tell us about the shoot as such, and the on-set atmosphere?
When the other producer, Carol Lang, offered me the opportunity to make a micro-budget film, she always planned on shooting in the evenings, from approximately 6:00pm to 11:00pm, and on weekends, much as the locals are used to doing when they are rehearsing a community theater production. Principal photography would stretch over 32 days, but when the hours were totaled up it was actually only 18 shooting days. It also meant the majority of the film would need to be shot night-for-day, although we only had limited lighting equipment. Our cinematographer Matt St. Charles did wonders with that, thankfully. Ironically, most of the scenes that actually took place at night could only be shot during the day on the weekends because of specific actor or location availability. We started out with a pretty good-sized crew of volunteers but there were only a few of us that had ever worked on a movie before, and by the halfway point of shooting it was usually just the skeleton crew, plugging away. But I would rather be surrounded by a few people you can count on then a hundred people who disappoint. It wasn't an easy shoot by any stretch of the imagination and over half of it took place in a stuffy basement facility where I was building all the interrogation rooms, a lot of the hallway and police station stuff, or we were squeezed into the production offices which I turned into multiple settings. But the core group got along well, and we made the best of it.
Anything you can tell us about audience and critical reception of your movie?
I realized going into the project that the audience would be seriously polarized. There would be those who could roll with the film being unlike other movies, having more to say, taking the time to say it, and not shying away from controversial elements – these would be the people who could respect the film even if they did not like it or agree with it. And then there would be those who wouldn't be happy being challenged, or having their beliefs challenged, or they just want every movie to be a simple slasher or have lots of action, and those people would absolutely HATE the film. So, we seem to be skating at an almost perfect fifty percent between those who embrace the film for everything it attempts and those who think its too much talking, and/or a load of crap. It could be a lot worse; one of my main actors repeatedly worried that by filming this script I was courting "suicide by zealot".
Any future projects you'd like to share?
I have several projects that are written and already in various stages of pre-production. They run the gamut in terms of budget and that is the deciding factor on which one shoots next; it all comes down to cash, and of course the ending of a global pandemic. Since I do my own production design, I can spend a lot of time developing visual concepts, make-up and settings etc. while I am waiting. I have a folk-horror project called The Bight that's already cast, pretty much crewed, and will probably shoot next. Unfortunately, we lost the key location at the beginning of the year so it's budget just crept up again. With a little more funding I have a unique post-apocalyptic tale called With Night Dark that's ready to shoot, and a very dark, sort of fairy-tale horror film called Mysterious Wishes. And in case you can't tell, all of the next few films are going to be a lot more accessible and be a lot more marketable than Confession. Although there's nothing typical, or lightweight about any of them.
You actually entered the filmworld as an art director and production designer - so what can you tell us about that aspect of your career, and did you receive any formal training on the subject?
I am one of those autodidactic folks; I am self-taught in everything I do. It's why I worship education and am such a fanatic about research. I got into film design through a connection I had as a theatrical designer, and I'd get hired because I would try to do ambitious things for ridiculously small budgets. Just like in theater. I worked mostly in documentaries, tasked with recreations. I have worked with Mark Lewis on a number of his films, starting with the Emmy winning Rat, up to Cane Toads: The Conquest, which was Australia's first live action feature filmed in 3D (as opposed to converted). That took me Down Under for almost a year, and I was the only yank brought over. I've done commercials and short films, and more than a few projects I do not include on IMDb. In the low budget film arena there's also been over half a dozen films that I have quit during pre-production because it was obvious to me that there was no way these projects would ever be completed. The people just had no realistic idea what they were doing. It's when I decided that if I ever made my own films, I would also produce them myself.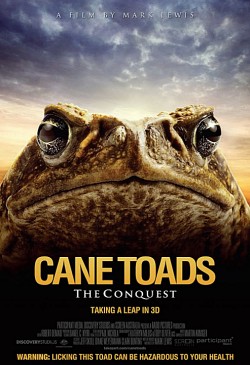 What made you branch out into writing and directing eventually?
Ever since high school I always thought of myself as a writer and a director first. Well, writer first, director second. I actually pursued being a writer/director with a producing partner of mine, a long time ago. It led to meetings with Disney and Universal, but I came away from those experiences, shall we say, a little embittered. I just walked away from it. Had a family. Became a freelance commercial illustrator, a painter, and eventually a theatrical designer. And then decided it was time to do the one thing that I always wanted to do most; make my own film.
How would you describe yourself as a director?
I am a very visual director, in that I approach each shot knowing exactly what I want. Camera movement, composition. Obviously being an artist, I approach the frame in the same way as I do my paintings. What am I trying to impart with the composition and the elements within the frame? I was so fortunate that my cinematographer Matt St. Charles was tolerant of my insistence how high a horizon line had to be, or where vertical elements had to be worked into the shots. I started shooting by editing in camera; calling cut right where I envisioned going to a different shot, but fortunately my editor, Cole Saxton, convinced me to start shooting some sort of coverage because you never know where problems might show up in editing. And he was 100% correct. If I had all the time in the world to keep shooting until I was positive I had everything I needed, then I could cut in camera, but with our limited time and miniscule budget you actually have to anticipate more problems showing up. And they did. So, Cole taught me a very important lesson. One of the many ways he helped save my movie. I owe him. Verisimilitude is also very important to me; whether something is real and believable – however fantastic. I am in awe of directors like Ridley Scott and Michael Mann. There are so many compromises inherent in microbudget filmmaking – like whether the notebook a character is carrying is appropriate for the agency they work for – that breaks my heart when you can't do it right. I am hoping in any future project there'll be less compromises. All those details are important to me.
Filmmakers who inspire you?
Stanley Kubrick, Richard Lester, Paddy Chayefsky, Aaron Sorkin, Michael Mann, Neil Jordan. I am a huge fan of Neil Marshall and Terry Gilliam. And, of course, designers like Eugenio Zanetti, Dante Ferretti, and Ron Cobb.
Your favourite movies?
As opposed to what I consider the "best movies"? I am all over the place then. Besides the usual suspects like Manhunter, Zodiac, John Carpenter's The Thing and Mad Max: Fury Road, I would include To Kill A Mockingbird, Murder on the Orient Express (DEFINITELY the Albert Finney version!), Anatomy of a Murder, and Love Actually. Then there are a slew of movies I seem to be the only person that loves. Two of my personal favorite films are Killing Them Softly and the 2010 remake of The Wolfman.
... and of course, films you really deplore?
I despise any film where I can tell that the filmmakers aren't even trying; where you can hear them excusing lame, tired choices by saying "everybody always does that," or "nobody's gonna care" or "that's how it's always done". Or they excuse inconsistencies, and out of place elements, with "Yeah, but people like that in a movie." I don't care if you're talking about a randomly inserted romantic angle, or a cute kid, or a puppy dog saved at the last minute. Sorry folks, you owe the audience more than that.
Your/your movie's website, social media, whatever else?
You can follow Confession at www.facebook.com/Confession-The-Film-102625714986475
And PTG Films at www.facebook.com/ptgfilms1
And, if so inclined, anyone can check out my personal artwork or see examples of my theatre and film designs at www.danielcnyiri.com

Feeling lucky ?
Want to
search
any of my partnershops yourself
for more, better results ?

The links below
will take you
just there!!!


Anything else you're dying to mention and I have merely forgotten to ask?
I guess it's important to me to say that although Confession was written to be challenging and provoking, it was never meant to attack or insult anyone. Any film that deals with the supernatural - with forces that are larger than human and that carry the mortal past the constraints of an earthly existence – it is inherently a spiritual film. But if anything could be reasonably questioned, then, by default it should be questioned. A truth is not damaged by being held up to the light. I have the greatest respect for any person of faith, whether their faith is in a religion or in science or in themselves. What I do consider dangerous is those belief-systems that discourage looking any deeper than merely accepting what you are told. What most people hold out as Truth is usually established less by a conscientious search than by the social system they were born into. Near the end of the film Dean McCallum (or the entity possessing him) says, "Ultimate Truth is not like your favorite music; it's not defined by what you personally prefer, or what you grew up listening to." And I think that kind of says it all.
Thanks for the interview!