Your new movie Ghosts of the Odeon - in a few words, what is it about?
Ghosts of the Odeon is a young boyís adventure around a long forgotten cinema. Exploring it from the lobby to the auditorium, he encounters echoes of the past, as iconic movies come to life.
How did the project come into being to begin with?
Back in Autumn of 2013 I noticed signs for Chester Film Co-op above two shop units behind the old Chester Odeon. The building had been closed since 2007, so any activity was a big thing. I made some enquiries and found out that the Co-op had been set up by RE:NEW, as part of an artistic programme. It was all connected to the redevelopment of Chester Odeon into a new cultural centre. I suggested to my business partner, Mark Ellingham, that we should go along and see what it was all about. After a few meetings it became clear that the main focus so far was on contemporary art films - something we have no great interest in. However we could see the potential for the Co-op to promote networking between local film-makers and perhaps even to make some films in Chester. After a few meetings we were told that RE:NEW wanted the Co-op to produce several films about the Odeon and its history. Since Mark and I were the only film-makers in the Co-op we took on the commission. We abandoned the brief of filming a few shots inside the old cinema building and decided to make a short film - Ghosts of the Odeon.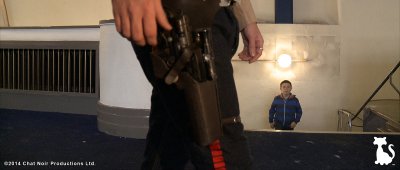 What were your inspirations when dreaming up Ghosts of the Odeon, and what kind of fun was it to include all those hommages to classic movies?
I think it all started when I was outside the Odeon one night in the rain. The cinema, although now in a state of disrepair, is a beautiful Art Deco building - one of only two of its kind ever made (the other being in York). After all these years it is a bit of a sad sight and for some reason Rutger Hauerís ďTears in rainĒ speech came into my head. Maybe it was the rain and the street lights, maybe I just love Blade Runnerís aesthetic too much - but the idea just seemed perfect.
Iíd been on a tour of the building and the shapes and forms in there presented many exciting visual opportunities. From day one I had the image of the cinema in the rain with the Blade Runner voice-over ďIíve seen things you people wouldnít believeĒ - then BOOM to the opening eye and then tracking shots over the lobby - almost mimicking the shots panning over the surface of the Nostromo in Alien. I also had the finale, with a little boy - looking over the ruined grandeur of the auditorium with the ďall these momentsĒ section of the speech floating through the ether. Thatís all I had, but I knew whatever we put between those two scenes, we had a film that could bring a tear to the eye.
The challenge was how to make a ďhomageĒ film without it becoming cheesy. Itís very hard to replicate other movies without it looking like over-eager cosplay. Itís about getting the tone of those movies and treating them with a lightness of touch. Never being too geeky or too referential. The idea was to make the film work even if people didnít get every nod. The drama and the excitement had to be separate from the references, but reinforced by them - if you Ďgotí the quotes. Beyond that, it then simply came down to what was physically possible, taking into account the time available and the use of visual effects. We made lists of the films we would like to include and then scribbled notes as to how we could achieve them.
How would you describe your directorial approach to your subject at hand?
The focus of the film always had to be on the boy having the adventure and the film hardly ever cuts away from him. There was a certain amount of mimicking other filming styles, but mainly it was about being reactive to the environment and the action. I shot the film in 2.35 which gives the film the real ďwidescreenĒ look, but comes with its own set of problems, mainly involving how you compose shots and the type of cutaways you use. My main philosophy was to let things play out in that widescreen and keep the shots a little wider and richer in their composition. We used a small amount of hand held, quite a few tracking shots in the opening and the finale. While I wanted to show the building off, I didnít want slavishly to fill the film with wide shots of the architecture. It was far more interesting to try and use it to give echoes back to the films we were homaging. The best example of this is the scene with the Facehugger, where the chair backs start to look like the boney structure inside the derelict.
You just have to talk about your location, Chester's Odeon, for a bit, and what was it like shooting there?
The Chester Odeon is an Art Deco cinema that was opened in 1936 by Douglas Fairbanks Jr. Itís a stunning building, but in its present state you can only see half the grandeur and luxury it must have represented when it first opened. Itís been redesigned and modified over the years, splitting the one large screen into five smaller screens. But even that doesnít diminish the thrill and the impact of standing at the back of the cinema, looking down at the large screen. Being a concrete structure, it is surprisingly cold inside, even on the hottest days of the year, so we had to make sure that everyone had coats and jumpers. Having visited the cinema when it was open, I knew the basic layout very well, but again it was strange taking cameras into a building that had been such a big part of my childhood.
Do talk about your cast for a bit, and why exactly these people?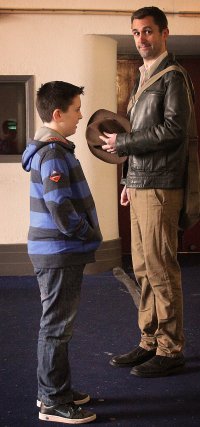 Jack Clayton, Nathan Head
We always knew the hardest part to cast in the film, would be that of the young boy, as so much of the filmís success would rest on him. In any fantasy situation the reality comes from how the characters react to it. Iíd worked with Jack in 2009 on a corporate film, where he had a small role. Even that part involved special effects and imagination on his part, so I was confident he would be able to pull off the role. We put the film together very quickly and unlike shooting a feature film there was no time to prep or plan a lot of the filming in advance. Jackís mum is also an actress. I had told her the basics, but I didnít get to speak to Jack himself until we were on set. We filmed very quickly to get through all the scenes and I canít praise Jack enough for how he coped with what must have often seemed like very surreal direction from me.
Nathan Head [Nathan Head interview - click here], who plays all the other roles in the film (Marty McFly, Han Solo and Indiana Jones) is an actor Iíve known for some time but never worked with before. I suggested Nathan join the Co-op and, as we were putting the film together, he seemed the obvious choice to play all the remaining parts. Sadly, his face never appears on screen, but Iím hoping to work with him again and give him a more featured role.
What can you tell us about the shoot as such, and the on-set atmosphere?
We had a very tight schedule to get through. The initial shoot was just 6 hours, including set-up and strike. There hadnít really been time to script the film or storyboard it, but I had detailed notes for all the scenes and had the blocking sorted in my head. We used tracks in the opening scenes, which always slow things down, but did help to ease us into the rhythm of filming. It was a little surreal to begin with, staging all these scenes in the context of the derelict building. But I tend to edit as I go along inside my head, and very quickly I could see the footage we were getting was hitting the right tone. The shoot was manic, running from set-up to set-up, while dealing with costume changes and props. Jack only got the giggles once - but to be fair that was during the 2001 scenes, which came very late in the day and required a lot of imagination. By the time we had finished the first day we were utterly drained, but buzzing with the excitement of what we had achieved. That evening I cut together the footage, which formed probably 80% of the film you now see. There were a few shots I was eager to re-shoot, either because of focus or lighting issues. But I could also see the potential to turn something good into something great. I scheduled a second filming day of just two hours for pick-ups and then started work building or acquiring the additional props we would need. It was at this stage that we added ET, the Facehugger and Gizmo, which now seem so central to the film. The second shoot day was just as fun, doing pick ups and adding extra scenes. It was actually Jackís 11th birthday and so after we wrapped we all had cake and doughnuts.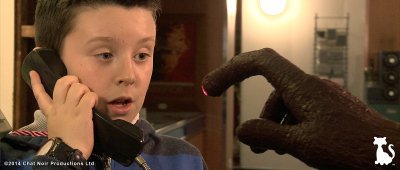 The $64-question of course, where can Ghosts of the Odeon be seen?
We were very proud that the Ghosts of the Odeon actually premiered on the main screen inside the Chester Odeon, during a heritage open weekend held by RE:NEW and Cheshire West and Chester Council. It was a real thrill to see it on such a big screen, the same screen that showed the re-release of Star Wars: A New Hope in 1997!
The film can be found easily online:
www.cnpfilms.com, which is our official website for film and TV projects.
www.chesterfilmco-op.co.uk, the website for the Chester Film Co-op.
Do talk about audience and critical reception of your film so far for a bit!
I always hoped the film would go down well, because it features respectful homages to films (and an era of film-making) that people love. When youíre in the middle of making a film, you often donít know how the film is going to turn out, there are so many variables and one small element can undermine all the other good work. When we premiered the film on the Odeonís main screen, the reaction was good. The people had been on a tour around the building and the last thing on their itinerary was viewing the film. After that I shared the film with contacts in the film industry, a lot of whom have worked on the films featured in Ghosts of the Odeon. The reaction has been amazing. I have emails from the most cynical and industry-weary vets, who admit to having shed a tear or two. For a film we made quickly, on a ridiculously tight budget, Iím very proud of the team and the reaction their work is getting.
Any future projects you'd like to share?
We have just completed work on A Life at the Pictures, a short interview film with an old lady who remembers the Odeon opening in 1936. Also made for RE:NEW, the film is a mix of interview footage and archive photographs - http://youtu.be/Fauj-ZU9Urg
For a couple of years now Iíve been developing a project called The Fractured Man, another original screenplay and quite unlike anything Iíve done before. Like Ghosts of the Odeon it is the product of my love of growing up loving movies, but unlike Ghosts of the Odeon it is original and not a pastiche - however loving. Itís hard to share a synopsis without giving away the plot, but what I can say is that itís an adventure film, dark and dangerous: Indiana Jones via Inception and Steven Moffatís Doctor Who. The script has gone through A LOT of drafts, but mainly Iíve been waiting for camera technology to improve / come down in cost. Iíve shot numerous commercial projects in HD and as great a format as it is, I want to shoot the film in 4K, as I just donít think HD is good enough to hold the large widescreen 2:35 shots Iím planning. Dreamscape, my first feature, was very much Ď60s John Frankenheimer crossed with Ridley Scott. With Fractured Man, Iím very much heading for Ridley Scott crossed with Martin Campbell, if not story-wise, at least visually.
What got you into filmmaking to begin with, and what can you tell us about your education on the subject?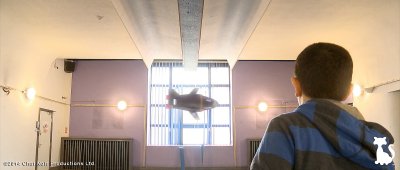 From a very early age, probably 5 or 6, I had a complete and utter fascination with movies and the creation of moving images. I think the blame for this can be laid firmly with my father, who introduced me to Gerry Andersonís Thunderbirds, Stingray and (my favourite) Captain Scarlet. What I gained from these TV shows was an appreciation for a world created entirely from scratch. In the Anderson puppet shows there was no location film, off-the-shelf props or costumes - everything that appeared on screen had been designed and made - even the puppet cast. My love of films quickly extended to Harryhausen, Star Wars, Bond... in fact a lot of the films that are quoted in Ghosts of the Odeon. At high school I did ok, grades-wise, but my real love and interest was in films. Most break periods involved talking about movies or sharing scripts with a group of friends, which included my now business-partner, Mark. After school it was suggested that I should go to uni and pursue film-making. I honestly wasnít keen on the idea of three more years of education, but my family and especially my late grandfather said it would be the best thing for me. I joined HND Film and Television Design at the NEWI in Wrexham, Wales, and for two years had pretty much constant hands-on experience making films. The course was for the most part self-taught, learning by doing, which was fine for me as it allowed for lots of experimentation. During my second year, I made Mindfield - a Blake's 7-esque thriller, filled with lots of action, stunts and special effects. I was very lucky to be at university with a talented, maverick group. We lived and breathed movies. As we were heading towards the end of our two years of the HND, we realised that we were in danger of leaving university with only a small percentage of the skills we needed and that our best way to progress as film-makers was to keep working together on film projects. So we wrote letters and had meetings with the senior management of the university, campaigning for them to create a degree for us. Eventually they agreed and set up BA Hons in The Moving Image, a course which, in a modified form and with a new name, still runs today.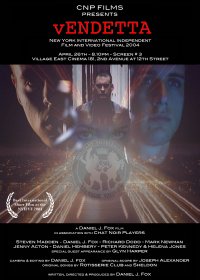 You just have to talk about your graduation movie vENDETTA for a bit, and the impact it went on to make?
When I started the degree, the first year was focused around several short projects, which didnít really interest me. I knew the only way I was going to learn and develop as film-maker was by stretching myself towards the feature film style. So I produced the short films quickly in a few afternoons and then started work on vENDETTA. Over the next year I shot scenes with the help of my fellow university students. By the end of the first year I had a rough cut of the film, which was a mix of good and bad. I was able to look at the weaker scenes - some were cut, others re-shot.
It was a great exercise to take the film apart and really look at what worked and what didnít. By the time I submitted the film to my tutors it was 45 minutes long. They must have liked it, as the marks went towards me getting a BA (Hons) First Class. Before I left uni for good, I added extra scenes bringing the film up to 56 minutes in length. If Iíd had the time I would have extended it further to feature length, but at the time, this was a massive achievement. The year after (2004) we took the film to the New York International Independent Film and Video Festival, winning the award for Best International Short.
Also, do talk about your feature debut Dreamscape, and how did it come into being?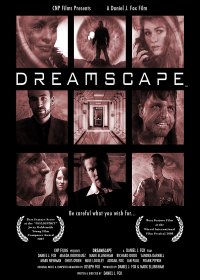 In this business youíre only as good as your last film. I knew that while vENDETTA was a nice landmark on the road, it didnít really reflect on what I could do in film. The initial idea was to make a short film, to try out some new techniques and to produce a film that built on what we had learnt making vENDETTA. So we started with good intentions - a simple no special effects, black and white thriller film-noir with a hint of sci-fi, more John Frankenheimer than Ridely Scott. We again used some of the cast from vENDETTA as well as bringing in a new core of actors, including Sandra Darnell and Magda Rodriguez from London to play the filmís two female leads. Somewhere along the line the film started to grow and develop. Running concurrently with Dreamscape, Chat Noir was starting to dabble with CGI for a documentary project. When I started to see the results we could achieve, it set me thinking. It wasnít long before we had a CG city being built, helicopters, a monorail - all of which helped to open up what had been a very interior story. Shooting in black and white helped us make the CG integrate into the live-action and while keeping the film-noir feel that had been the original inspiration. We ended up with a film 56 minutes long, which was too long to be a short and too short to be a feature film. What we had really worked, but there was space to add extra scenes and to add effectively a third act... which is what we ended up doing. The whole making of Dreamscape was mammoth, but also the best learning experience possible, as not only did we make a feature film, but we were able to take it apart hal way through production and really look at story structure and plotting. The film has sat on various distributorsí desks over the years, I think the black and white being a problem for most to find a market for. In the last six months Iíve decided to bite the bullet and put it out there on VOD. I think there is an audience for a film like Dreamscape, and if nothing else it will be the first calling card to other things.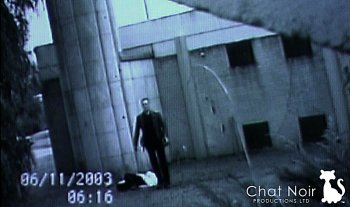 vENDETTA
Any other films of yours you'd like to share?
Weíve made a lot of films over the years for a variety of clients. Two stick out in my mind: One is actually a series of documentary films that we have filmed and produced for my brother and sistersí company, Lost in Castles - http://www.lostincastles.com. This is an on-going series of DVDs recreating medieval castles around the UK, using on-location filming and CGI modelling. So far we have filmed Middleham, Sandal, Conwy and most recently Rhuddlan Castle.
The other project is a film about childhood sexual abuse for a local charity, The Lantern Project - http://www.lanternproject.org.uk. We started work on this film long before child abuse was such a common headline in the British press and it was exciting to work on a film that could actually help and change lives.
The opening scene, a very disturbing scene shot in another stunning broken down location, is a perfect example of what makes Chat Noir Productions unique. It plays like a scene from a movie, with lush production values, acting, music and sound work - drawing the audience into the film, connecting with them on an emotional level.
A few word about your company Chat Noir Productions, and the philosophy behind it?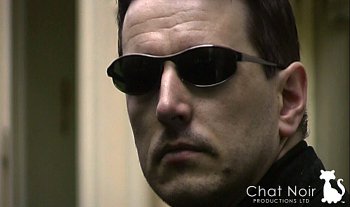 vENDETTA
Chat Noir was incorporated by myself and Mark Ellingham, who has been a friend since high school. We have very similar tastes, but also different strengths and outlooks, so are a great mix when it comes to working on productions. We decided we wanted to set up a production company after university for corporate work. At that time we were also working other jobs, in TV and live events, but we still built up a pretty respectable portfolio of work. Around 2009, after we had completed Dreamscape, we decided to re-focus the company as ďCreative Video SolutionsĒ, bringing to the client market everything we had put into Dreamscape - a one stop production company, taking a film from script to screen. We approach any film production as we would a drama, with high attention to detail and design - something that is sadly unusual in client-based film projects.
How would you describe yourself as a director?
Iím very hands on and I know what I want. Iíve drawn since I was very young, so pictures and images have always been very important to me. I donít tend to storyboard heavily, as I usually have the film in my head, shot by shot. Itís then just a matter of building the jigsaw of shots, while at the same time looking at light, performance etc. Over the years Iíve shot most of what Iíve directed and edited too, so I can be very efficient when it comes to the type of coverage I need. This allows me to be very specific and to craft images that tell the story, rather than rely on general coverage to build a scene afterwards in the edit. I like to film fast, with lots of energy, natural light where possible. Once you get into a rhythm on -set the scenes tend to fly by. Iíve done most jobs on and off set over the years, so know the complications and also how my requests will have an impact on other people. So I know that moving the camera in a certain way will save a rotoscope artist hours of work. So, Iíll do that, as it will mean that they can do another shot in the time saved.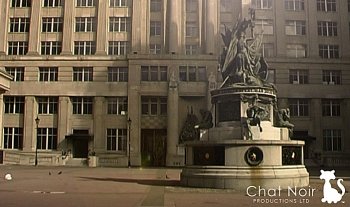 vENDETTA
Filmmakers who inspire you?
Ridley Scott, Martin Campbell, Steven Spielberg, Christopher Nolan, John Frankenhiemer, Sergio Leone, Billy Wilder.
Your favourite movies?
Goldeneye, Empire Strikes Back, Alien, Blade Runner, Casino Royale, Star Wars, The Manchurian Candidate, Seconds, Sweet Smell of Success, Ace in the Hole, Gladiator, Die Hard, Lethal Weapon, The Thing, Inception, The Prestige, Get Carter, Where Eagles Dare, Raiders of the Lost Ark, Singing in the Rain, Wrath of Khan, Once Upon a Time in the West, Once Upon a Time in America.
... and of course, films you really deplore?
Die Another Day, Star Wars-prequels, Matrix-sequels. But you can learn a lot from watching them... A well constructed movie is a thing of beauty, but a badly made film with all the thought processes and ideas rough, ready and undeveloped is far more informative.
Your/your movie's website, Facebook, whatever else?
https://www.facebook.com/ChatNoirProductions
https://www.facebook.com/chesterfilmcoop
https://twitter.com/Daniel_J_Fox
https://twitter.com/ChatNoirProds
Anything else you are dying to mention and I have merely forgotten to ask?

Feeling lucky ?
Want to
search
any of my partnershops yourself
for more, better results ?

The links below
will take you
just there!!!

Find Daniel J. Fox
at the amazons ...

amazon.com

amazon.co.uk

amazon.de
Looking for imports ?
Find Daniel J. Fox here ...
Something naughty ?
(Must be over 18 to go there !)

Never forget the music. I see so many movies that are utterly destroyed by bad scores, too loud scores, scores trying to be ďcoolĒ. I cannot read music and I cannot compose, but Iím lucky to work with two composers (who also happen to be my younger siblings) who have become very good at interpreting my notes on what a scene needs and turning it into appropriate but also memorable music. Film scores run this narrow line between not being heard, while at the same time giving a film so much of its identify and soul. A film is often a hollow and directionless thing until those last few moments where you add the score and mix it with the sound effects. Thatís a scary thing for a director as all their hard work can succeed or fail, depending on what the composer adds...
In my defense, I never see my films without music. Even in the very early edit stages in my head I can factor in what the music will bring. That simply comes from having made a lot of client films over the years. On Ghosts of the Odeon we were able to recreate all the classic film scores, ones which still fill my CD collection and iTunes. For me that is the real thrill as itís the part of the process I donít have hands-on control over, other than saying, Ďno that doesnít sound rightí or Ďthatís great, donít change a thingí.We started recreating the music almost note for note, but then as we went on, we became a little freer and let the drama and the images dictate where the music was heading. And I suppose that neatly explains my entire philosophy of film-making - films are about getting the details right, being very specific and exact, but also learning when to use broader strokes, which might not be technically correct, but is dramatically and emotionally correct. And thatís how you reach an audience.
Thanks for the interview!