Your new movie Grandpa's Psycho - in a few words, what is it about?
It's about a man that thinks he is doing good in the world. It's about a young woman (Kelly) who refuses to be told how she should live, act, behave, think or even exist. It is about a young girl and her mother trying to find a path to live on. This film is not a "typical" horror... It's more psychological in nature. It is meant to make the viewer imagine what this world must be like for not only Grandpa but his daughter and granddaughter to have to be subjected to him and his ideals. What it must be like for the girls he believes he is truly helping. Without giving away any spoilers this film gives a voice to what the traditional horror films would call the "victim". Kelly is our "victim" and she is anything but. She is strong willed, brave, confident, unapologetic and a fighter in every sense of the word, that won't let anyone or anything tell her how she should live or what to believe no matter what the cost. She will not be subject to the men in her world treating her in any way but the way that she chooses to be treated. Some people may see this as a story about a psychotic grandfather and his "girls"... However I would say that they are only looking at the surface and they are not allowing themselves to truly see Kelly, Lisa and Megan for the very strong women that they portray in the film. Jessica Moore, gave this film life and ground to stand on with the way she played Kelly unapologeticly as who she is and let no one stand in her way of that. My hat is off to the entire cast for what we asked them to go through psychologically.
With Grandpa's Psycho being about a religious zealot gone off the rocker - your thoughts about religious extremism as such?
I believe spirituality is a very individualized thing. To comment on what one believes versus what another does seems closed and a bit lack luster. Religion and spirituality are very different however they go hand in hand in many cases and I support all those in their beliefs. Who am I to say what is "right" or "wrong". I am just a guy that likes to tell stories that under the right circumstances might not be too far from reality.
Now going through your filmography I've found one short called Visiting Grandpa, also starring Gunther Grambo - now are these films at all related?
Yes. I wrote this as a short film for Gunther Grambo a few years back. We got some pretty amazing feedback on it so I decided to write a feature version of it and see what I could make happen with it. Seems to have worked out :)
(Other) sources of inspiration when writing Grandpa's Psycho - and (to ask a probably silly question) is any of this based on either of your actual grandfathers?
Not a silly question at all to me. The inspiration came from a few places. I wanted to write a film that would showcase Gunther in a way that would work for his career and mine. I also wanted to make sure that I wrote very damaged people that had strong ideals that they could stand up and be proud of. I always want my female characters to be strong and stand for something. Hell I want all my characters to stand for something and believe in it without wavering at the first sign of conflict. I didn't really know my Grandparents too well, they all passed away when I was pretty young. However, I would like to think that they were people of conviction, and if they believed they were doing the right thing then I hope that they did it without regret. Which for me would be an inspiration in a round-about way I suppose.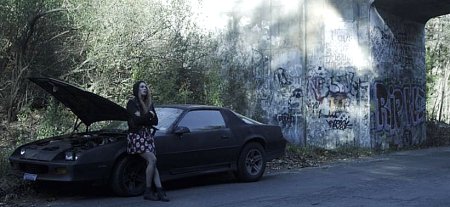 I've written somewhere in my review that my synopsis might make "Grandpa's Psycho sound a little moronic", which it clearly isn't of course - but were you ever tempted to just let go and turn your story into an outright comedy?
Simply... No. I started out in comedy as a clown with "the greatest show on earth" and in a lot of ways that helped me develop my writing and story telling. However, I lean towards the darker, gritty stuff that can be rooted in reality.
What can you tell us about movie's very specific approach to violence?
I think the mind is a very powerful tool. I think this film will make a lot of people very uncomfortable because I chose to imply violence and allow the viewer's mind to wander and wonder all at the same time. One could argue that if you call this film violent and twisted... It might very well be your own psyche and imagination that is leading you to that place. Don't get me wrong there is some very twisted psychological moves in the film but it was very much our plan and choice to only lead you to the violence and let you do the rest.
Do talk about your overall directorial approach to your story at hand!
We shot this film in 12 days on a very very small budget. George Lyon and I have worked together several times in the past; he and I both talked in great detail on how to approach this film on a very narrow and concise path. We made a plan and we did everything we could to achieve that plan. We knew going into it that we wanted a psychological thriller/horror that would capture an audience that would give it thought and see beyond the surface. We knew we wanted to do a lot of what we call "flow with the scene"-shooting. I would block it with the actors, we would shoot some standard coverage and then George would throw the camera on his shoulder and he would find the heart of the scene as he just flowed with it. George is an extremely talented cinematographer and he shot a truly beautiful film (and that's not even taking into account what little he had to work with to do so). I suppose the question would end up being did we succeed in our plan? The plan was to finish a movie to the best of our ability under the circumstances we happen to be under (which btw were newer "green" actors that had only done a few films and some of them had never been in a film before at all, 27k budget and 12 days to shoot) and get it out to the world and let them be the judge. This team of actors and crew where incredible to say the least. I hope that my directorial strategy/approach will always be collaboration with the people around me while maintaining the vision of the film through to completion.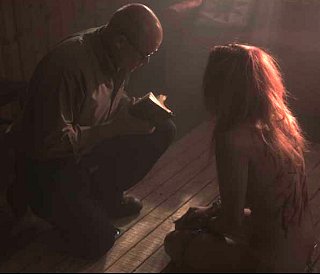 With Grandpa's Psycho's content being rather adult in nature, and one of your key characters being a mere child (Alexandra Kane) - how hard was it to actually find an actress for the role, and how do you handle a girl her age on a film like yours, how did you manage to get the just right performance out of her?
It wasn't very hard to find her. Tracey Kane (Allie's mother) and I have been close for several years now and I had used them both in Nick Fradiani's music video a few months before shooting Grandpa's Psycho. I just called her up and said "Hey, do you trust me?" She said "of course", so I asked her if she would like to make a movie with her daughter. She and I had many discussions about the film and how to keep Allie safe and sane. I had a child therapist that specializes in childhood trauma do a few sessions with Allie before the film to make sure she understood the difference between real and imaginary. I also only gave her a modified script that only had her scenes with no graphic language or content. Then I had rehearsals for a month leading up to the filming where Allie met Gunther and they could bond and get to know each other. Then when we got to set I made sure that Allie was always at the forefront of my process when she was going to be involved with anything that might upset her. We talked about it all, we got creative and we just had fun and played together. Making movies is the greatest thing in the world, and as long as I could remember to have fun and never lose sight of my integrity and desire to keep all of the women in this film safe and comfortable I knew we would end up with a really twisted film that would make a lot of people uncomfortable. Allie was amazing and we did everything I could possibly think of to make sure that she knew that this was not real and that she was always safe and had the choice of participating. After the filming we did a follow up with the therapist to make sure Allie was still in a good healthy mindset going back into her life. As for getting the "right" performance from her... I asked her to listen to the people talking to her, think about what she wanted to say to them and then say it.... But most of all let's have some fun... and she did. Very very talented young lady to say the least.
What can you tell us about the rest of your cast, and why exactly these people?
Gunther Grambo and I met on a little film I did called Marco Polo Boys (on amazon if anyone wants to subject themselves to a film made in 9 days that is 100% improv) and after that film he began studying acting with me every Monday night. Several of the people in the cast have studied with me in that actors collective that I run on Monday nights in Connecticut where we all live currently (well most of us, the rest come from NYC). I already told you about Allie and Tracie. Jessica Moore on the other hand was a gift. She came to me through a friend on the magical world of social media. I reached out and asked people if they knew any talented actresses that were looking for the most challenging role they would play to date. Many people sent me emails and headshots and wanted to read the script. But then Jessica Moore, this very elegant, tall blonde articulate woman that had many many credits playing the "white girl" or the "rich white girl" or the "princess"... She was stunning and talented and I thought to myself self, "if you can get this girl in this film she will kill it" and she did. Basically we talked on the phone for about an hour I told to keep and open mind and if she could see the strength and power that Kelly has then I would make a film that would change the way every casting director would look at her again. She read it and a few hours later she called me up and said "let's do it". I said "are you sure?" to which she replied "yeah" to which I replied... "And you are good with me stripping you naked, chaining you to the floor, putting a creepy old man in front of you and having him accost and beat you for several days in New England in November in a cabin with no heat?" She replied "I love this character and I have been dying to do something that I can sink my teeth into and actual act in. So yes please. Let's do it"... I was right... she killed it. The other castmembers are other acting students and friends that I have worked with over the years. Except Ashley Tremonte (the woman in the opening scene)... I had sent her the script to read for another part and she actually asked me if she could have the role of the girl in the opening scene. I asked her if she was sure and that it would be setting up the film for the full amount of crazy that it was gonna be. She told me straight up and with confidence that she would be proud of this role and that it would be the biggest challenge for her to date. I gave it to her... She showed up and was a champ through the entire shoot. All three of those ladies were absolute beasts and never complained once. Those women trusted me, Tracey trusted me with her daughter... that is probably what I am most proud of in this process... The women that read this script and then trusted that I would keep them safe through it all. I thank them for that now and as often as I can.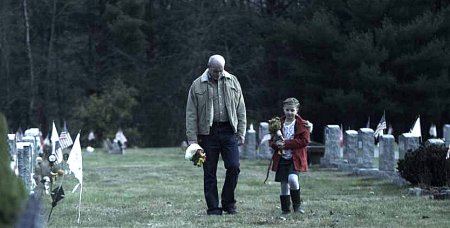 Do talk about the shoot as such, and the on-set atmosphere?
Filming is the most amazing thing on earth. To be allowed to do what I do and be surrounded by the team that I have assembled over the years has been nothing short of incredible. I had friends fly in from all over the country to be a part of this film. I had friends of friends donate time and food and hotel rooms to make sure everyone was comfortable and safe every night. I had friends and relatives let me use their locations and tools and cars any pretty much anything else I needed to help make this little film become a reality. I shot in my home town of Staford Springs, CT. That town is full of so many wonderful and welcoming people. They were all so supportive and open to the idea of me doing this film around them. Most of all it was FUN... we laugh.. we laugh a lot. If you don't have a solid sense of humor and are able to understand sarcasm and joking then you probably shouldn't work a job that demands 12 to 16 hour days with very little sleep and even less pay sometimes. We were a family. We are a family. I trust them and they trust me. We laugh, we yell, we hug, we work, we do all over again day in and day out... and not always in the same order. I love being on set. There is nowhere on earth I would rather be than on set in directing and producing films. I couldn't be more grateful to everyone that believed in me and believed in this project. From the the EPs Ryaz, Tom and Victor to the PAs. This set was incredible. It was safe. It was diverse. It was film. And it was one of the greatest memories I will ever have because of the people I got to do it with.
What can you tell us about audience and critical reception of your movie so far?
So far... People either love it or hate it. Even the people that hate however seem to hate it because of how twisted it is, so I feel like that must be a win. right? We just really appreciate people taking the time to watch the film and give us their feedback, good or bad...
Any future projects you'd like to share?
I have a couple things in development: The Worker is what I hope to shoot next. It's a vigilante thriller about a DCF (department of children and families) social worker that decides he is tired of watching children being hurt in the flawed system so he is going to do something about it.
The other project is titled Wronged which is a revenge thriller about two sisters that are looking to get revenge on their step-father and mother for the things they did to them their entire lives.
I am also looking to collaborate and work with talented people all the time. I am very open to new projects and ideas.
What got you into filmmaking in the first place, and did you receive any formal training on the subject?
Everything about movies is amazing to me. I probably go to the movies on average 5 to 6 times a month if not more. I started out in front of the camera and then moved behind it briefly before moving from LA from NYC. All of the formal training I have is in performance. Film making for me was done at the school of hard knocks in Los Angeles CA with a very solid group of friends. We would get together almost every day and shoot project after project trying to get it right. Films like Even If, What's That Make Me, Breathe, Acquired (written & directed by Desmond Faison), just to name a few. Then I helped produce other people's films. I went and asked questions. I read books. I worked. And then I worked some more. I surrounded myself with people I respected. People I trusted and people that were clearly more talented and smarter than I was and am.
What can you tell us about your filmwork prior to Grandpa's Psycho?
There is a ton of it! Some of it is absolute crap. Some of it is pretty great. Most of it including this film are just the beginning of what I hope to do. Collectively with my school of hard knocks family and the rest of the people I surround myself with - we just love to work. We are not the best at what we do. We are not better than anyone else or smarter or funnier or more talented... we just really really love the work and we hope to always be proud of the work that we put out. I hope to always put out something that is better than the last one that I made.
How would you describe yourself as a director?
These types of questions are always hard. But the best way that I could describe myself right now as a director... Validated. Growing. Learning. Inspired. Grateful. I love being a story teller and most of all I hope that the people with the power to give me permission to work more and more open the door and invite me in.
Filmmakers who inspire you?
The ones that fail but don't quit. The ones that go unnoticed but have more talent than they know what to do with. The ones that understand that what we do is a business and we have a job to do and we can't get lost in our own egos while doing it. The ones that found a way to make this their lives and continue to put out good work and create stories that are worth watching. I hope to be one of them someday.
Your favourite movies?


Feeling lucky ?
Want to
search
any of my partnershops yourself
for more, better results ?

The links below
will take you
just there!!!

Find Danny LeGare
at the amazons ...

amazon.com

amazon.co.uk

amazon.de
Looking for imports ?
Find Danny LeGare here ...
Something naughty ?
(Must be over 18 to go there !)

Hmmm... Depends on the day and my mood. But to name a few in no particular order It's a Wonderful Live, Man on Fire, Tombstone, Varsity Blues, The Program, Taxi Driver, Seven, Fight Club, How to Lose a Guy in 10 Days, 10 Things I Hate About you, The Dark Knight Rises, Batman Begins, Avengers, X-Men, Footloose, Dirty Dancing, Road House ... I could go on and on ...
... and of course, films you really deplore?
Not sure I am gonna venture down this path... Everyone that has accomplished the feat that is getting a film out to the masses deserves the respect of the work that went into that project. I may not be a fan of some work but to "deplore"... I can't think of any. Making a film a reality is too difficult for me to look down on anyone that has pulled it off.
Your/your movie's website, Facebook, whatever else?
@THEDANNYLEGARE
On Facebook I am Danny LeGare (you'll know it's me by the Grandpa's Psycho posts everywhere).
Anything else you're dying to mention and I have merely forgotten to ask?
Thank you! Thank you to all the cast and crew. Thank you to the EPs. Thank you to Ryaz Ansari for believing in me and knowing that I could pull it off. Thank you to my dear friends and family that have never wavered in their support. Thank you to everyone that watched the movie and loved it or hated it. Thank you to everyone that took the time to read this. Thank you to my beautiful girls and all the love, laughter and kindness they bring into my world. Thank you for letting me stand on this soapbox and talk about myself and indulging it. Thank you to whom ever the next person to give me permission is. Thank you to all the people that tried to knock me down because all it did was make me stronger. Thank you to all the people that didn't help me up because it made me learn how to stand on my own. Thank you to the brave, strong women that were in this film and trusted me to keep them safe while the suffered for their craft. Thank you for validating me Osiris Entertainment and RedBox. I am now officially a filmmaker and no one can ever take that from me. So, Thank You!! I don't think I can say it enough.
Thanks for the interview!
Thank you!