Your new movie Stomping Ground - in a few words, what is it about?
Stomping Ground tells the story of a young couple on a weekend trip in the American South who end up on an impromptu "Bigfoot hunt" that threatens both their relationship and their lives. It's a hybrid dramatic comedy / creature feature. It's my first feature film.
Why Bigfoot? Is he a monster you're particularly fond of, and did you do any research on the subject?
It didn't initially start out as a Bigfoot film. I was aiming to make a small, character-driven film while also injecting a creature feature horror element. I planned to shoot in my home state of North Carolina and once I started researching folk tales and stories from the region, I stumbled upon a surprising Bigfoot history in a forest really close to where I grew up. The film took off from there.
Other sources of inspiration when writing Stomping Ground? And is any of this (other than the Bigfoot-part I hope) based on personal experience?
The "coming home" aspect definitely has a personal element -- I grew up in North Carolina and am very fond of it, and always hoped to showcase the things I love about it on film (the people, the food, etc). I live and work in Los Angeles now, so "coming home" to my family is always very important to me.
In Stomping Ground, you focus on the human drama most of the movie and only bring your monster in rather late in the narrative - what inspired that rather unusual move?
I didn't want to make a standard horror film. I wanted it to focus mostly on the character/relationship element, with the scary elements only coming into play really late in the game, creeping up slowly and bursting out right at the bitter end. I'm a fan of the sort of horror films that re-imagine the genre -- films like Gareth Evans' Monsters and the Duplass Brothers' Baghead were two pretty big influences for me in regards to the films pacing & tone. Part of the reason for this was purely financial (the film was basically self-financed for very little money) but it was also something I'd been wanting to try for a long time.
What can you tell us about your directorial approach to your story at hand?
We didn't have much time or money, and it was my first time directing a feature, so I'm not sure how to describe my directorial approach. I was wearing so many hats and having to push to keep everything moving, so it was kind of a whirlwind. I had an amazing cast & crew who I could lean pretty heavily on, which definitely helped keep things running smoothly. Credit for the great acting goes to my fantastic cast. Credit for the images goes to my DP Alex Sablow and his camera crew. Credit for the creature work goes to my makeup FX artist Dan Russo & the suit performer Kurt Carley. Credit for the music goes to my brother -- an awesome banjo player -- and my composer Ted Speaker. A filmmaker friend gave me a bit of advice once: "Surround yourself with people more talented than you"... so that's what I did.
Do talk about your movie's key cast for a bit, any why exactly these people?
John Bobek ("Ben") is a friend of mine and a really talented LA-based actor -- he's been in a few of my shorts and he was in my head while writing the film. Tarah DeSpain ("Annie") is another friend and amazing actress. Justin Giddings ("Jed") came through LA Casting and was a real blessing... He definitely steals a lot of scenes in the film. And Jeramy Blackford ("Paul") is a North Carolina based actor who auditioned for us through, of all things, a YouTube video. I never met him in person until the 1st day he showed up to shoot. Luckily, that gamble paid off big time. He's amazing in the film and has become a good friend as well.
What can you tell us about the shoot as such, and the on-set atmosphere?
The shoot went surprisingly well. I was feeling pretty overwhelmed going into it, but we lucked out in a lot of ways. The weather was perfect pretty much the full 3 weeks we shot... It only rained once and we didn't lose any time because of it. For 2 weeks the entire cast & crew lived together in a cabin in the woods, giving the whole experience sort of a "summer camp" feel. Everyone seemed to get along and after a long day of working hard, we'd hang out on the back porch of the cabin drinking beers and having fun. I think I got extremely lucky all across the board. Most "first features" don't run as smoothly.
A few words on critical and audience reception of your movie so far?
So far it's been pretty good. I think the people who've seen it have appreciated the slow burn, not-quite-horror approach to it. I think it surprised people who may have thought they were in for a straight-forward horror film but got something else. I think the more militant horror community may not appreciate the film since it doesn't pile on the blood, gore & nudity, but overall I think folks have dug it.
When and where will Stomping Ground be released onto the general public, actually?
The film is being sold & distributed by California Pictures. It's currently on VOD in Canada through January 31st 2015. We've sold the film to a few foreign territories so far and more are coming soon. We don't have a US release scheduled yet, but hopefully everyone will be able to see the film come spring of 2015.
Any future projects you'd like to share?
I've got a bunch of potential projects I would love to make, but currently no financiers/backers. We're working on it though. I've written a "body swap dark comedy" that I really love and a writing partner of mine is polishing up a PG-13 kid friendly monster movie that would be pretty amazing if we ever get to make it.
What got you into filmmaking in the first place, and did you receive any formal education on the subject?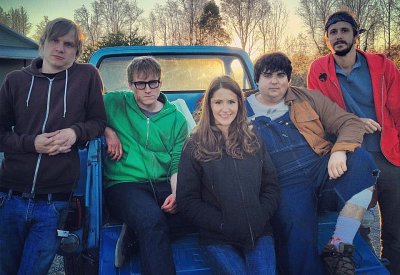 Dan, John Bobeck, Tarah DeSpain, Jusdin Giddings, Jeramy Blackford
Filmmaking has always interested me, but I didn't get serious about it until college. I didn't go to a "real" film school, it was more of a communications / television program. I did spend a semester at FAMU in Prague, Czech Republic, getting a more formal film education.
What can you tell us about your filmwork prior to Stomping Ground?
I've made a few short films and worked on countless other films, videos, etc. By day I'm a TV producer with E! Entertainment's The Soup. My 2010 short film Night of the Punks did pretty well on the festival circuit and with critics. I'm really proud of that one. Folks can watch it at http://www.nightofthepunks.com.
How would you describe yourself as a director?
I have no clue. Just a guy who likes funny & scary movies and wants to make more of them.
Filmmakers who inspire you?
Sam Raimi, John Carpenter, Edgar Wright, Ti West, the Duplass Brothers, Danny Boyle.
Your favourite movies?
Return of the Living Dead, Evil Dead, Calvaire, The Goonies, The Dirties.
... and of course, films you really deplore?

Feeling lucky ?
Want to
search
any of my partnershops yourself
for more, better results ?

The links below
will take you
just there!!!

Find Dan Riesser
at the amazons ...

amazon.com

amazon.co.uk

amazon.de
Looking for imports ?
Find Dan Riesser here ...
Something naughty ?
(Must be over 18 to go there !)

Being an indie filmmaker who's trying to break into bigger things, I don't want to publicly slag any film or filmmaker. But I will say that I'm really bored by big budget action / superhero flicks. Anything that's just a bunch of CGI comic book characters destroying buildings is a real snooze in my opinion. So yeah, I guess the Transformers movies.
Your/your movie's website, Facebook, whatever else?
http://www.stompinggroundfilm.com
http://www.facebook.com/stompgroundfilm
http://www.twitter.com/stompgroundfilm
Anything else you are dying to mention and I have forgotten to ask?
Here's a fun fact for horror fans -- Stomping Ground features a cameo appearance from Theresa Tilly, who's best known as one of the original "Ladies of the Evil Dead" from Sam Raimi's Evil Dead. We were really lucky to land her and she was a real pleasure to work with.

Thanks for the interview!