Your new movie Rock and Roll: The Movie - in a few words, what is it about?
Rock and Roll: The Movie , an underdog does good story is today's Rocky, if Rocky were a burned out, has been, never was 80's rocker who gets a second chance at stardom which had escaped him early in life.
Since you have been in the music industry for quite some time yourself, is any of Rock and Roll: The Movie based on your personal biography or showbiz anecdotes?
The lead character Steve Taylor and I have a few things in common. I was an 80's/90's rocker who never landed the precious solo record deal, though I've had a really great career playing music with such acts as The Righteous Brothers and Paul Revere and the Raiders. The character is a mix of me, Steven Tyler, Jim Morrison, Mick Jagger, Keith Richards, Jack Black, my dad and Nick Nolte.
Other sources of inspiration when writing Rock and Roll: The Movie?
I'm a fan of old, silly, meaningless comedies like Kentucky Fried Movie, The Groove Tube, The Rocky Horror Picture Show, Airplane, The Naked Gun and the such. And, I love underdog stories. So I kind of combined all those elements in Rock and Roll: The Movie. Although Rock and Roll: The Movie has a really good contiguous storyline. My first film school instructor said "You need either comedy, rock and roll or breasts in your first film" - so I wrote in all three.
What can you tell us about Rock and Roll: The Movie's brand of humour?
Rock and Roll: The Movie's humor is old school comedy wrapped in a new skin with a great story. It's silly, sometimes stupid and simple, which to me is the best comedy.
You of course also have to talk about Rock and Roll: The Movie's music for a bit!
When I wrote the music for Rock and Roll: The Movie I wanted it to be good, raw rock and roll which was musically sound for today's market, but I wanted it laced with humor. Some of the songs are rocking, serious tunes, like Candy Store, which I wrote to show the depth of Steve Taylor's musical talent. The guitar work in that song shows him to be an undiscovered legend of his instrument. Then at the other end of the spectrum we have My Guitar, My Penis, a silly rock anthem meant strictly for laughs. Although the music in that song is great, lol.
Do talk about your directorial approach to your story at hand!
In directing Rock and Roll: The Movie, I tried for that old school look with the angles and shooting style, yet shot with new digital cameras which really gives the film it's own look. Though the film is a lot of dialogue, I wanted it to move and flow between scenes, so we used some fast motion effects like they used to use in The Monkees and Banana Splits as scenes and transitions. We used a lot of creative Dolly moves and steadycam too to give movement to some scenes. Because I also wrote the score, I knew what the music would do so it helped my planning. My DP Dimitris Bogiantzis was awesome. With our budget we should have had a DSLR and a couple of lights, but because of him we had a full truck with everything a million dollar production would have. He was great.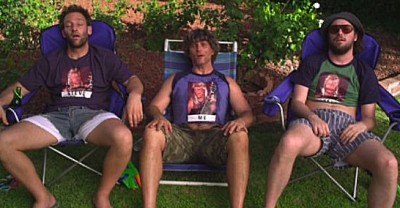 Darren (center) with Bill (Vince Corazza) and Ted (Chip Bent)
You also play the lead in Rock and Roll: The Movie - so did you write the role with yourself in mind from the get-go, and what did you draw upon to bring your character to life?
I definitely wrote the lead character for myself, although I did audition some guys to see if there was a better candidate for the role. I didn't want a lip syncer or air guitar guy. Steve Taylor acts, sings, plays guitar and is very physical so it's a demanding role for sure. I wanted a role where I could do all the things I do to showcase my talent, so I wrote it. When first writing it though, I didn't plan on also directing at that time. That seemed too daunting at first. Scary even. The problem is that it's such a strange animal that nobody else quite got it. So in the end I felt that to get what I wrote on screen I had to direct. So I did. I knew I could direct. I knew I could play the star role. I just wasn't sure I could do both at the same time. But I did and have done it twice since on Christmas in Hollywood and Grace of the Father.
Do talk about the rest of your cast, and why exactly these people?
I had originally written the David Roso lead role for one of my acting students, Evan Coburn (I still teach a workshop in LA). But after a couple failed financing attempts he wasn't available when the money came through, so off to casting we went. We auditioned hundreds of people for the roles in this film. My casting team, headed up by my wife Dianne, would send me tapes of auditions while I was touring. I'd watch the tapes and then send my responses. This went on for weeks. When we had our favorite four actors for each role, I flew into LA and saw the final callbacks in person. And was blown away at the level of talent that wanted to be in this film. But I needed Evan for this role. Luckily, a guy named Clark Koelsch walked in the door and blew us away. So I cast him right away. We almost lost him to a Robin Williams movie but it worked out. He was my David. I needed a villain and we found Daniel Laney and Mara Marini (Parks and Recreation and Blackish). We wanted a real porn star to make a cameo and flash the camera for a scene, we found the unbelievably beautiful Alexis Amore. We needed Steve Taylor's lifer roadies, Bill and Ted and we found Vince Corazza (now on Broadway) and Chip Bent, two of the most talented guys I've seen in years. I mean the cast was amazing. Truly. I was so happy. We needed a talented 4 year old to play baby Steve and my daughter Raina blew us away in an audition. Yes, I even made my daughter audition. Everybody had to be the best for the role to make the film its best.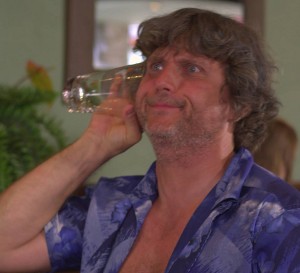 What can you tell us about the shoot as such, and the on-set atmosphere?
Okay. We had 14 days (my only window while touring) to make a film that should take six weeks. And the jerk off LA film cops shut us down for two days for ridiculous, only in LA-type reasons, so we actually only had 12. We worked up to 18 hours a day and it was awesome. The crew, the cast, the interns all worked so hard. It was amazing. There were a couple expected blow ups with such a hard schedule, but we got through it. The atmosphere on the set was so professional and positive, it was one of the best times of my life.
Anything you can tell us about audience and critical reception of Rock and Roll: The Movie?
I did some test screening after the film was finished and we had great input. I actually showed the film in some locations, then did a small concert after the screening and I'd say 90% of the people loved the film. They laughed out loud. Really loud. A few didn't get it and a few just didn't like it. I made the film for the college crowd, but to my surprise, 18 to 60 year olds gave it thumbs up. Because of the subject matter, the demographic was really wide. I was elated! Of course some older folks were offended by the brief nudity and some of the songs and language, but I saw that as a victory. I meant it to be a silly, offensive, raucous comedy and it is. A friend who is a Christian minister told me he loved it. Voilà!
Any future projects you'd like to share?
I starred in and co-directed a faith-based film called Grace of the Father from Lazarus Filmworks, which should be released sometime in 2017. I have series of scripts I've written that I'm going to try and sell as a package. A dramatic military story about two wounded enemies that must help each other survive, a suspenseful horror story detailing the arrival of the anti-Christ, a comedic sequel to Rock and Roll: The Movie, a kids story about a new superhero, a Hangover style adult comedy and a new action Bond-type story. I'll be shopping my novel The War Of Angels around Hollywood this season to make it into either a series or feature. I'll also be pursuing more roles as an actor.
You entered the showbiz as a musician, actually - so what can you tell us about your career as a musician, and how has the business evolved since?
I started playing music professionally in 9th grade and never stopped. When I started I just loved playing music. But as I progressed of course, I wanted to excel and take it further so I started writing and recording songs. In those days a successful songwriter could really clean up and build a future. I was influenced by rock and roll, blues, country, even classical music and loved it all. Though known as a blues/rock guy, I started getting a reputation as a big ballad singer. While touring in the Broadway show Elvis, I did Star Search and was the first winner of the 1990 season. Then more doors started to open and I moved from Florida to Reno where I did some casino shows as the star vocalist and met a different headline act each week. With dressing rooms next to the stars I got to know quite a few of them and that's when my career started to take off. Taking a job singing with one of the headliners in 1995, I moved to LA to act and in the interim began my education in making films. The music industry unfortunately got dumped on its ear with the Napster crisis and music was then given away free and musicians were just abandoned by the Federal government. It ruined the music business as we knew it. People who previously made good livings on royalties were going broke. It was this that nudged me even further into the film world. Music in movies still paid. And so did making films.
Do talk about your music and your musical influences for a bit?
My entire family is extremely musical. It's as if everyone plays and sings. I'm related to the Cashs and Carters as in Johnny and June. My grandmother, grandfather, mother, father, uncles, aunts, cousins all played instruments and sang. I started singing at about age 8 and have been going ever since. When young I loved different music than my friends. I loved Elvis, John Lee Hooker, Glen Campbell, Burton Cummings (The Guess Who), BJ Thomas, Foreigner, Kiss, BB King, Ray Charles, Michael Jackson, The Osmonds, Les Paul, Jimmy Paige, etc., a real strange variety. When Southern Rock hit the scene I was done. Rock and Roll with a southern, bluesy edge became my thing. I love the human voice and the guitar and still spend every moment I can experimenting with both. In 2010 I won Best Male Vocalist In A National Touring Act.
What made you pick up acting and filmmaking eventually, and did you receive any formal education on either?
As a kid my imagination was off the charts. While watching movies, I could put myself in the film. I'd do lines with the characters, watch the film again and insert my own lines to work with the film. I'd also mimic voices on TV and in movies. Before long I was doing 50 voices and even did stand up and impressions later in life. In high school I took a drama class and found I had a knack and love for it. At 17 I packed my car, moved to New York so I could study acting with the best teachers. I did a lot of theater, on and off Broadway, regional theater. I got a lot of experience within a couple years. To this day I love the craft of acting and teach at my studio The Actor Shop.
What can you tell us about your film- and TV-work prior to Rock and Roll: The Movie?
I landed my first real TV role in Orlando, Florida in the early 90's. I did two kids series, The Adventures of Superboy and Swamp Thing. Fun jobs for sure. Then I did some films later on in LA. Had some pretty nice small parts in Hancock with Will Smith, and Eagle Eye with Billy Bob Thornton. I actually took a background job on Eagle Eye so that I could meet Steven Spielberg to give him my novel, which I did, and while there was upgraded to stunt actor and got to work with Michelle Monaghan. One of the stunt actors caused a riff and was fired on the spot. For eight hours Michelle Monaghan fell on me on some stairs and I kept her safe. What a great gig. Because of my heavy touring schedule though it was tough to really audition enough and to get the jobs I wanted to pursue. Then I made Rock and Roll: The Movie. Since then I've starred in and directed two more features and it looks like more are coming my way.
How would you describe yourself as an actor and director?
As an actor I feel very lucky, because I truly love the craft. I love learning, experimenting and growing. I love stage and screen, contemporary and classical. I'm as comfortable playing a town drunk as I am Hamlet. I do twelve different accents and can't wait to learn more. I think I started teaching, because it gave me another way of learning and growing. At this point in my life I'm ready to be on film sets every chance I get. As a director I am extremely detail-oriented and love to carefully craft, rehearse and perfect a scene before shooting. I like to have good technicians because I like to focus on the performance, although I have worked every position on a film set and understand the whole process very well. I love directing, I love acting but I'm not sure I want to do both at the same time anymore. I'd rather concentrate on one.
Filmmakers, actors, whoever else who inspire you?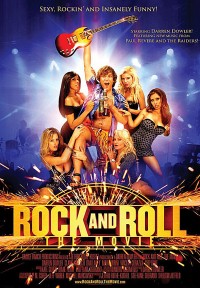 Feeling lucky ?
Want to
search
any of my partnershops yourself
for more, better results ?

The links below
will take you
just there!!!


I am turned on by creativity. Extreme and risky creativity really stokes my fires. I love the greats like Spielberg, Hitchcock, Scorcese, Capra, Demille, Coppola, Tarantino, and I also like more vague and off center, yet mainstream like Kubrick, Burton, Brooks. Love Eastwood, Stone, Lucas. Musically I am really amazed by John Williams, Elfman, Horner, Goldsmith, Mancini, Silvestri.
Your favourite movies?
Jaws, Star Wars, Galdiator, Ben Hur, Braveheart, Godfather, Troy, Up, Rob Roy,Love Actually, Alien, The Exorcist, Legends Of The Fall, Boondock Saints, Raiders of the Lost Ark, Jurassic Park, It's A Wonderful Life, The Wizard Of Oz.
... and of course, films you really deplore?
A Christmas Story.
Your/your movie's website, Facebook, whatever else?
My new CD Goodnight America:
https://www.amazon.com/exec/obidos/ASIN/B01C5MG4Y6
https://www.amazon.com/exec/obidos/ASIN/B01BD9H9G4
http://RockandRolltheMovie.com
http://facebook.com/RockandRolltheMovie
Trailer: http://www.uncorkedentertainment.com/films/comedy/
Darren Dowler: http://DarrenDowler.com
Thanks for the interview!