Your new movie Graffito - in a few words, what is it about?
It's about an artist struggling to find his voice in a world that is increasingly digitized and apathetic.
How did the project come together in the first place?
This film came out of a series of discussions I had with John Sutton and Heather Dingo in late 2013. It was very much a reaction to our most previous projects. I was frustrated by the assumed necessity of hiding light stands, making sure the boom mic wasn't in the shot, everything well lit, filmed in HD, etc. All of this technical shit seems to command a greater respect on a film set than the performance of the actors and the essential energy of a scene. We wanted to find a more pure process, one that emphasized character, story, and movement over strict technical tradition. For us, the ideas were paramount. We were also very frustrated by the lack of vision in many films. We believed that film needed to be extremely personal and come from a deep need to tell a story or explore a concept rather than a vehicle for digital trickery or to feed a narcissism.
What can you tell us about Graffito's writers Heather Mingo and John Sutton, what was your collaboration like, and how closely did you stick to their script, how much of your movie was improvised?
The script evolved very organically. I had an overall vision for the film and pages and pages of notes on details and scene fragments. John and Heather took all of that and put together the first act and a brief skeleton of the third act. From this outline we began filming and improvising and writing as we went along. After we had the first 20 minutes of the film shot and edited, we held a cast/crew screening after which we discussed how to finish the film and what things needed to be punched harder and also how to fit in more of the ridiculousness that would allow the film to really take off.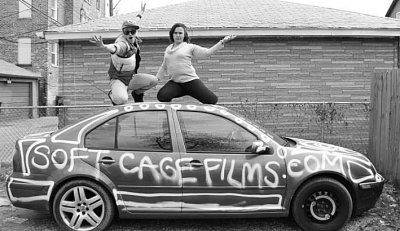 David and Heather Mingo
What can you tell us about your directorial approach to the story at hand, and the look and feel of your movie?
I was really interested in this project being a true collaboration, rather than coming to set with all of the answers in my little note pad. Each actor was given the opportunity to not only help write dialogue and develop the script, but also to come up with new business on set and to follow a tangent as far as it would go. This film for me was an exercise in accepting whatever came my way during the shooting and trying to adapt it into the film. If we got kicked out of a location by the police, we almost always ended up with something better. If an actor was struggling with something specific that I wanted, we worked together and came up with something that was always better than my original idea. I felt very supported and I hope that all of our talent felt that their voices were really listened to.
The actual look and feel of the film was an attempt to connect our current social conditions in Chicago in 2014 to those of the past. To give ourselves a sense of being part of art history. We seem to romanticize the past as we see it through that particular era's art. The internet and facebook has had the unintended effect of isolating people and making us feel disconnected. I wanted to invoke the spirit of the French New Wave, the New York No Wave, LA New Hollywood, German New Wave, etc. and give us a sense of our own significance within this context. I wanted to announce a new movement here in Chicago.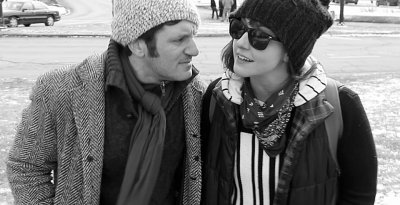 Antonio Brunetti, Brittany Ellis
Graffito pays hommage to Chicago's art scene as a whole - so do talk about that scene for a bit, and how supportive where artists whatever genre to your film?
Chicago has a real sense of community in the art scene. I am always overwhelmed with the amount of support I get on each film. Here it isn't about money, or fame, or polish. We have the best actors in the world. Everyone I know is an actor AND a musician AND a writer AND a director AND a great cook. These people are too talented for LA and too poor for NY. The struggles depicted in the film are all pulled directly from our experiences as artists in this city. There is a huge value placed on truth in art and if our film had come from a place of dishonesty, people would have seen right through it. I hope that what they feel when they watch this film is recognition and that we are celebrating this community.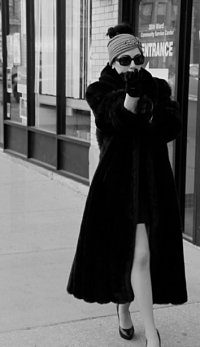 Jill Oliver
What can you tell us about your cast, and why exactly these people?
All Chicago people of course and almost entirely drawn from our vibrant theater scene. Most of the people that worked on the film are old friends that have appeared in numerous other projects. But I was also able to work with some other actors for the first time and really expand our scope. The concept for the film was that we each played a slightly exaggerated version of ourselves. I'm the egomaniacal director that values his vision over all else. Antonio Brunetti is the fierce romantic and brilliant artist that sometimes loses sight of the big picture. Michelle M Oliver is the underexperienced and difficult to work with ingenue. Jill Oliver is the actress that shows up on set hoping to get a bigger part in the film. I also finally felt confident enough on this project to approach the great Nicole Wiesner to play a version of herself in this film. I based her character off of my impressions of her 6 years ago when we first met. She was this huge personality in my mind, mysterious, powerful, terrifyingly intimidating. She has a big voice, gorgeous piles of hair, and is known for playing the biggest baddest characters on Chicago stage. The joke that we make in the film is that she is really bald and never leaves her apartment and spends her days brooding over her broken heart and fiercely protecting herself emotionally. She was such a good sport to go along with this! She is also the sweetest, most patient, most talented actor I have ever worked with. Nothing like the Nicole in the film! Nicole is just my favorite example, but every character in the film has a similar backstory in terms of drawing from real life and embellishing to the point of absurdity our own personalities.
You of course just have to talk about your rather eccentric musical score for a bit!
That was all John Sutton: our composer, co-writer, actor, boom operator, jazz bassist. John is pretty deep into the jazz scene in Chicago (and around the world) and his vision for the score was to pay homage to classic French New Wave sounds while also pushing the form into something more experimental, impulsive, and contemporary. As with the film, everything was recorded in one or two takes live, with John's dream team jazz ensemble. We also brought in some members of my band, The Garvey Train, to record the grungier acid rock style for the rabbit hole section in the second act of the film. This was the first time we have been able to get all of the musicians together in one room and record the score live over the edited film. It gives it such a raw expressionistic quality.
What can you tell us about critical and audience reception of your movie so far?
Well your review was great! Audience reception has been great! Right now it's a matter of getting the film in front of as many people as possible.
The $64-question of course: When and where will the film be released to the general public?
We have a series of seven screenings planned throughout August and September in Chicago. We hope to raise enough money at these screenings to fund a Graffito festival run in the fall and spring.
Any future projects you'd like to share?

Feeling lucky ?
Want to
search
any of my partnershops yourself
for more, better results ?

The links below
will take you
just there!!!

Find David A. Holcombe
at the amazons ...

amazon.com

amazon.co.uk

amazon.de
Looking for imports ?
Find David A. Holcombe here ...
Something naughty ?
(Must be over 18 to go there !)

We have a ton of stuff ready to go! Our next feature film is about the housing crisis, biocentrism, and reality. We also have a feature length anthology about three marginalized urban workers that we hope to begin filming soon.
Your/your movie's website, Facebook, whatever else?
https://www.facebook.com/pages/Soft-Cage-Films/375537495844858?ref=hl&ref_type=bookmark
Anything else you are dying to mention and I have merely forgotten to ask?
If you need us, we'll be in Chicago sitting behind a camera, bleeding.
Thanks for the interview!
Thank you for your support!