Your upcoming movie Badass Bunyip - in a few words, what is it about?
David – It's a schlocky, gory, Aussie, Christmas movie. Our main characters, Shazza and Gazza accidentally choose a sacred Aboriginal site to have their Christmas lunch. All hell breaks loose and they are relentlessly pursued by an angry Bunyip whilst encountering various dreamtime spirits along the way.
How did the project get off the ground in the first place, and how did the both of you get involved?
David – I'd produced 13 short films, so a feature movie had to be next. My end of year holidays were coming up, so the timing was right. I've worked with the director, Gerardo Chierchia, on 3 short movies already, Dark Metamorphosis, The Road to Hell is Still Undefined and Parental Duties. Each one is longer than the previous, so going to a full feature length movie was a logical progression.
Trish – David & I have been collaborating on various projects for quite a while now & we always have a blast, he had actually been talking about Bunyip ideas for a while, and so when he mentioned he wanted to shoot a bunyip based horror/comedy feature over the holidays of course I was on board!
Before we go further into detail about the film, what can you tell us about the Bunyip, which I understand is a monster rather local to Australia? And also, why the Bunyip, are you at all fascinated with the creature? And how close do you stay to the actual legend, and did you do much research on it?
David – I mentioned Bunyips in a previous short film called Camp Wheredaheckarewe. They're more deadly than Yowies or drop bears. They've been reported in newspapers since 1845 and have been part of Aboriginal legends since time immemorial. Bunyips are basically killing machines that live in billabongs and swamps.
As for how close we are to the real deal …. There are many varied drawings but it's also said that no one has ever survived seeing one for there to be any accuracy to them. They tend to be shown as having lots of mismatching body parts, as though they came from radically different creatures … so we are correct in that respect.
Why did I choose a Bunyip? Keep in mind that Australia is full of dangerous creatures. We don't use bug spray when we come up against the usual oogly booglies like funnel web spiders and tiger snakes. For that, we just send the kids out with a chainsaw to deal with it. When you get something as legendary as the Bunyip … You're probably dealing with something far more dangerous than Alien. I needed a monster that was deadlier than any other movie monster that ever existed, and the Bunyip is it!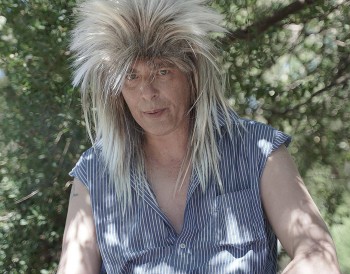 David in Badass Bunyip
So what were your sources of inspiration when writing Badass Bunyip - other than the legend itself of course?
David – Some inspiration came from 1970's Ozploitation films like the Barry McKenzie and Alvin Purple movies. I wanted something where Australians actually acted like Aussies. That in itself will probably shock the rest of the world anyway, but should have fellow Australians in stitches.
Usually, we don't use Australian colloquialisms when addressing the world. The last time that happened was when a Prime Minister (Bob Hawke) addressed the UN and said that "Australia will not play silly buggers with international policy" and it got translated to the Japanese delegates as "humorous homosexuals". We've since learned that the rest of the world doesn't speak strine. I've been brave enough to script things like "I bet you bang like a dunny door in a mallee storm" and "I'm as dry as a dead dingo's donger".
I'm sure that this will cause some problems when I go to get the subtitling done for Italy, Germany and France. There is also a chance that we might have to subtitle it anyway for the rest of the English speaking world.
Do talk about Badass Bunyip's creature design and effects for a bit!
David – The creature design was put together by our make-up artist, Ivana Rene`e Ciccone. I sent her some links beforehand and she translated them into reality. Gerardo made a video that shows her amazing work in creating the bunyip. As for effects, things like arms being ripped off and gashes on faces were also her work.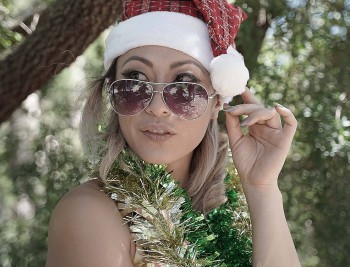 Tritia DeVisha in Badass Bunyip
As I understand, the film has also quite some violence in it, given the nature of its creature - so what can you tell us about the bloody bits, and how are they achieved?
David – Everything is created the old fashioned way but will be bloodied up a bit more in after effects. All the body parts are props and the injuries are SFX make up. Eyeballs get torn from their sockets, guts are ripped out, brains scooped out of cracked skulls and penises severed and cast away. I think the kill rate is around 20, but I'll know for sure when we have the final cut.
You both play the leads in Badass Bunyip - so do talk about your respective characters for a bit, and what do you draw upon to bring them to life?
David – I play Gazza. That's Australian for Garry. He's a fairly typical outer suburban guy that likes to drink beer and thinks a romantic date is taking his girl to the football. He's not suave or intellectual, but he means well. He's also a bit on the stupid side. He's what we refer to as a "nong".
Trish – I play Shazza, which is Australian for Sharon. I think Gazza & Shazza are two of the most stereotypical bogan names you can find. I think Dave's original idea for Shazz was a extremely crass & annoying bogan 'scrubba' with a high whiny voice and very typically Australian, & he made mention of a few people & characters for reference. When we caught up a week before the shoot to discuss the character I asked him if he just wanted me to reprise the same type of character I played in Cannibal BBQ, one of our previous films. He replied that he liked the crassness but didn't want the character to be so 'American gangsta' influenced and a bit more typically 'strine', which for me was a bit of a challenge as growing up as an Asian/Ethnic kid in the 90s in Melbourne (when movies like Romper Stomper were out), typical white racist bogans & skinheads were the groups I had most issues & got in fights with so I actually had no-one I knew to this day closely enough to imitate. Also the fact that there was no script (our dialogue in Badass Bunyip was entirely improvised) & there was not much prep time, so in the end I had to play the character as best I could, being less US influenced but still drawing on my own experiences & incorporating elements of bogan crassness, from David's suggestions of for use of various Australian colloquialisms, as well as observations of crass behaviours of bogans we knew of, as well as influences from iconic Australian comedy shows I've watched like Kath & Kim, so that the character could still be realistic & believable and yet hopefully somewhat likeable so that audience members could relate to her.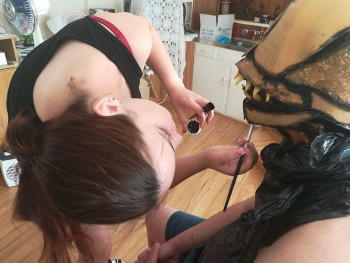 the "badass" Bunyip in make-up
Badass Bunyip is not the first movie the two of you are involved with together - so what's working with each other usually like, and how have your collaborations evolved over the years?
David – Trish and I have done quite a few short movies together, as well as a TV series called Horror House. Trish likes to play strong female characters, so often, I get beaten up in the most humiliating ways imaginable. We're setting a new bar for slapstick that I don't think anyone is ever going to reach.
Since our first time together in front of the cameras, which was for the first episode of Horror House, we've come a long way. There's an energy and a sense of timing that only comes from having been on so many sets together.
Trish – Like I said earlier, I always have a blast when working with David & I we are generally in fits of laughter on a lot of his shoots. Haha, David says that but he loves it (being beaten up & humiliated by my onscreen in our characters), as he is the one who writes it into all his scripts!! When we worked on my upcoming action fantasy series Durga Chronicles of Devi earlier this year I actually gave him the least humiliating role where he didn't have to be beaten up, choked & trampled by me!! Lol.
Do talk about Badass Bunyip's director Gerardo Chierchia for a bit, and what's your collaboration with him like?
David – Gerardo is fantastic. He works fast and is adaptable to whatever changes. When we did Parental Duties, we had our location picked and Gerardo had been out to block all the shots in an old shack with multiple rooms. On the day of filming though, a massive storm suddenly came through on our way to the set. Roads were flooded and blocked off. We saw cars up to the top of their tyres slicing through the water.
Gerardo just said, I know another place and we all went there. The new location was just a wall with a roof over it. He built a new set out of whatever we found handy and rolled with the changes. He reads the scripts and often has it planned out as to how he will shoot it and create the effects, but he can also adapt to any circumstances. There aren't that many that can deal with a guerrilla shoot and Gerardo seems to thrive on it. He thinks on his feet.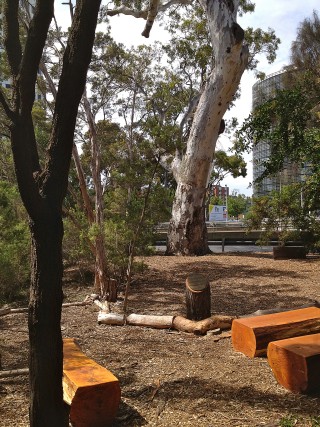 "Bunyip country"
From what I know, at least parts of Badass Bunyip is being filmed in what I'd call in lack of a better word "Bunyip country" - so do describe the area for a bit, and what is it like filming there?
David – Yep, we are definitely filming in Bunyip country. Albert Park was once a swamp and it was drained. You still have native trees there and a sacred Aboriginal site. Where we're filming feels a bit like the outback in that you have what looks like a bush path and logs to sit on, but then you look up and see sky scrapers and a football field surrounding it. Society just built up over 150 years and left a little piece of bushland in the middle of a city.
An indestructible murder machine, like a Bunyip, would certainly survive the build-up of the city, and we were aware of that while filming. I've never actually seen anyone sitting in the exact area we filmed in. We didn't even see people walking through it. Just thirty paces outside of it though, the walking paths are always packed with joggers and people walking their dogs.
I'm just going to take a guess that people don't go into that spot due to all the stories about pets going missing. If something did happen there, no one would hear you scream over the sound of the traffic just outside.
As far as I know, you're in the middle of shooting Badass Bunyip at the moment - so do talk about the shoot so far, and what's the (however tentative) schedule?
David – We have two more shoot days to go. One is a featured kill that wasn't able to be filmed the other day. I won't say anything about that, other than that it's also a bit of a sexy scene. The last shoot day is a mass kill where the Bunyip goes on a rampage and just slaughters one person after another.
Any idea when and where your movie will be out yet?
David – I'm guessing that the final edit will be in April. This is planned to go direct to DVD in a number of countries, so the date it becomes available will be after that.
Any future projects beyond Badass Bunyip you'd like to share?

Feeling lucky ?
Want to
search
any of my partnershops yourself
for more, better results ?

The links below
will take you
just there!!!


David – There are quite a few, but as far as feature movies go, I'm planning on collecting up 90 mins of the short films to release as an anthology called Tales That Broke My Brain. Trish and I will be hosting that, so it won't just be a collection of stories bunged together. I'm hoping that this will be my feature film follow up to Badass Bunyip and will follow it within a few months of its release.
Trish – Yes, we have a few of David's shoots for Tales That Broke My Brain scheduled for the next few months, as well my new action fantasty series Durga Chronicles of Devi (which David also stars in) is set to release soon, and David will also be in my own upcoming horror/action/fantasy feature which is currently in pre-production & set to film later this year/start of next year.
Your/your movie's website, Facebook, whatever else?
https://www.facebook.com/BadassBunyip
https://www.facebook.com/HorrorHouseShow
https://www.facebook.com/Durga-Chronicles-of-Devi-2025360287762067/
Thanks for the interview!