Your upcoming movie Ball Boy - in a few words, what is it about, what were your inspirations when writing Ball Boy, and (as stupid as this may sound) is any of this based on personal experience?
I've always been fascinated with sports, having played tennis, baseball and football for the better part of my life. Ball Boy is not really based on any personal experience of mine though. One thing that really struck me were the silent folks who do their job quietly and are invisible to the world. Specifically the ballboys. And what if people actually went to watch a tennis player because she had an entertaining ballboy. A ballboy increasing ratings? Now, that's funny. And that germ of an idea kept spreading and spreading. Hence…
Ball Boy tells the story of London Bell who shames his family, which contains a long line of legendary ballboys, when he gets banned from baseball for life for objectionable behavior. Down in the dumps, London's friends, Roman and Dublin, convince London to try out for Women's Tennis Federation despite London's objections about tennis not being a team sport. The WTF is run by a wacky Orthodox Jewish Rabbi known as Rabbi Mendel, who is assisted by the scheming Saul. At the tryouts, London goes up against a more athletic competition, with the exception of one mentally challenged ballboy hopeful. The tryouts feature duels, where ballboys go one on one and race for balls, as two guest players, the sexy champion Vlada and the no-nonsense number two contender Bella, smack volleys against each other. London ends up losing most of these duels and trudges back to his favorite dive bar, the OZbar.
The one saving grace for London: He may have caught the attention of Bella. The OZbar also happens to be the place of choice for a celebration for the ballboys who won jobs. The obnoxious and steroid-inclined ballboy Sebastian ridicules London for thinking he could win a job in tennis just because he was a famous baseball ballboy. London, humiliated, gets a surprise visit from Coach Sven, the coach of the number one player Vlada... You can guess what happens... And no, London does not end up as a Ballboy for Coach Sven.
What can you tell us about the writing process and your collaboration with co-writer Jay Boccio?
Jay started off working as a production assistant for All People Are Famous, a prank show that I'm directing, where all the victims are pranked with the cameras in plain sight. We did fake auditions and pranked some actors - that was brutal as actors take themselves seriously and I truly respect actors, but it was hilariously funny. Anyways, Jay always had some cool ideas and I knew he was a writer and I realized that this is the guy to bring on as a co-writer for Ball Boy. I wrote the first draft, and then I had him do the second draft. We kept trying to top each other and towards the last draft, I was focusing on keeping the story on track as I was shifting my attention towards directing the flick while Jay continued to push the envelope to make the script as funny as possible. We started tailoring the script towards the actors we cast during our last draft polish and it really helps to finish that script right when you know your whole cast. On the set, I had Jay serve as the on-set writer and it really helped since I was focusing more on the actors' performances. I also want to mention that Ball Boy is based on an earlier version of the script that I wrote along with Robert Vaughn, and can't thank him enough for his contribution in helping me finish that earlier script which helped lead to creating this one with Jay Boccio. I think it takes a lot of guts to let go of your script a bit and bring in a co-writer. I ultimately did this because I felt I was so married to some elements of it and I've learned that some of the best comedy comes from writing couples. Comedy is a different animal from the drama genre. We try to be on the same page and head towards one kind of voice, but the key is to try to get it as funny as possible without ruining the story. I hope we nailed that balance between story and humor.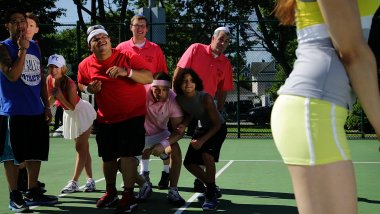 What can you tell us about Ball Boy's specific brand of humour?
Any script of mine will have some Broitmanisms (just little silly things that are funny to me), and no, I did not come up with that pompous term, my buddy, Guy Shahar, did. He mentioned when he watches my work, he can tell it's mine before even reading the credits. For this story, I was influenced by WaterBoy and DodgeBall. I'm a fan of those kind of sports comedies, and I'm sure some of it trickled into the writing for this story. Having said that, at the end of the day, it's really a Dave Broitman and Jay Boccio brand of humor along with the influence of producer Eric Vargas and the rest of the cast.
How would you describe the look and feel of your movie?
Definitely has a WaterBoy and DodgeBall feel to it as I mentioned previously. It may seem like just a balls to the walls comedy, but it has some heart to it and it's definitely not as shallow as the comedy might seem at first glance. We put in a lot of thought into each moment and how it impacts the flow of the scene and the feel of the movie.
Do talk about Ball Boy's principal cast for a bit, and why exactly these people?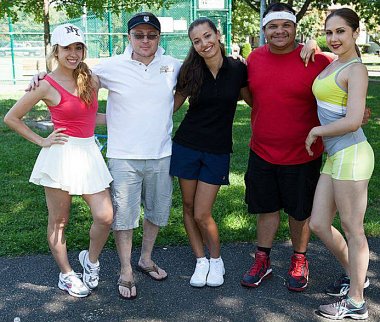 I held open casting calls for most of these roles with the exception of Pepe, whom I based on a character played by Eric Vargas (who is also our main producer) in our All People Are Famous prank show. We wrote the part of Coach Sven with the talented Keith Collins in mind as he's perfect for that role. The part of Sebastian was inspired by Roman Itkin's on-air persona, yet I still had him audition and he beat a ton of people for that role. Myles MacVane who I knew from our days on Don't Shoot the Pharmacist! really captured the essence of Rabbi Mendel and won that role. Matthew O'Connor, whom I saw in Mama Needs a Ride was originally cast as Dublin, then shifted to Bartender Jimmy role when we brought in Ben Curtis (Dell-dude, We Are the Hartmans) to play Dublin. However, on the day of the shoot, the actor playing Roman couldn't show, and I asked Matthew to step in. See, I had Matthew audition for 3 different roles during the audition process, and he actually nailed all three roles. It turned out for the best as Matthew and Ben had such a wonderful rapport together and it's a happy accident for the movie. Our Bartender Jimmy role ended up going to Steve Armato, who was the grip for our movie, and he really did a nice job. I am truly in love with the whole cast as I think we nailed the casting choices: our leading man Guillermo Heredia, Carlotta Brentan, Lana Chidsey, Nate Steinwachs, Julien Vargas, Samantha Tuffarelli, Jordan Scott Gilbert, Mo Gelber, Andrew Schmidt. I feel like I'm forgetting someone, oh yeah, it's probably me... as the fan that flips the bird. Many hugs to the extras as well.
How far along in production is Ball Boy presently, and any idea yet when and where the film might be released onto the general public (and I know it might be waaay too early to ask)?
We finished shooting it already. I hope we can screen it by December 2013. We already have a fast-paced promo trailer that played at our Sep.11 wrap party at the XVI Rooftop in NYC. Brendan Boettler is a very talented editor that can do trailers and full length flicks at a pretty quick pace too. He understands what we're trying to accomplish with each project and that's why I love working with him. Music composer Alex Blackstaffe is new to the team, and him being from London only helps, since the Brits know their comedy.
Any future projects beyond Ball Boy?
Kickball is next! Has-Beens, a project by Eric Vargas, is also on So Real? Entertainment's radar. Also shooting more episodes of All People Are Famous, a prank show. Get Famous, co-written with Robert Broomall, is another project we will be getting off the ground. Lastly… a sitcom based on Don't Shoot The Pharmacist! is a possibility.
What got you into filmmaking in the first place, and did you receive any formal training on the subject?
I actually went to school for pharmacy. With about one month left before graduating, I realized I'm pretty good at writing. In my earlier years in school, I was never a great writer, and it's because I never believed that I can even write well. When I won a couple of contests, it got into my head, probably fed my ego a bit, and now I believed I can write. And just like that, I would write like a pro. I started getting paid to write reports for other college students and their professors would say things like, wow I've never seen anyone write like this, bla bla, and it ate at me because I wanted to say "hey, I wrote that, not him." Lol, anyways, what do I do? I write this really funny (or I thought it was funny) script titled Gransby, but the story is really bad. I just focused on being funny. It's about a dude who wants to date a girl because he thinks she's a virgin, but at the end it turns out she's not. On top of that, it has a surreal element where she's in a town where only trustworthy people can get in, but the main character is not trustworthy, and he's not able to enter the town of Gransby. After graduating pharmacy school, and taking a bunch of screenwriting classes and seminars, and failing to sell a couple of scripts, I realized I need to write what I know, which was pharmacy, and go make a movie. I read Kevin Smith's quote "don't wait for your break, make your break" or something like that, and that added fuel towards my ambition of making a movie. I went to producing and directing classes and seminars and Dov S-S Simen's School of Film Producing and took the plunge to make a feature which further served as my film schooling.
What can you tell us about your filmwork prior to Ball Boy?
There's a few that I want to mention firstly: I shot a feature titled Don't Shoot The Pharmacist! starring Ben Bailey (Cash Cab), Steve Byrne (TBS' Sullivan and Son show) and Godfrey (Soul Plane, Phat Girlz, 7-up Guy). I'm really proud of that movie. Also have been filming All People Are Famous, a wicked prank show that I created with Eric Vargas along with Roman Itkin and Jimmy Justice, that targets actors, directors, film production assistants and job interviewees. I directed and produced Sexcut with Matt Florio who has a good knack for comedy writing and also shot a reality show for super-smart agents Steven Saperstein and Mike Roitman, and also directed a couple of episodes of Something About Ryan which was produced by Ryan Mooney and Maria Rusolo.
I learn something new on each project, and try to not make the same mistakes twice. It's very simple, but not enough people follow through on this philosophy. This applies to one's life, not just filmmaking.
As far as I know, you have also produced musicals for Broadway, right? So how does producing for the stage compare to directing for the screen, and which do you prefer, actually?
Definitely prefer directing for the screen. I feel so much more in my element there and truly what I know. I have so much respect for the producers and directors of Broadway. Some folks, including me when I was a kid, thought that a Broadway director simply watches the show and claps, and maybe whispers or signals to them while the show is happening. Sounds naive right, but I bet some folks think that way to this day.
How would you describe yourself as a director?
This is a real tough question, but I'm willing to divulge and have a feeling this will be a very long answer ...
I'm pretty easygoing, but not so much when filming a project. I'm extremely hyper, mentally-wise, as I think and obsess over every little thing even though I'm not always expressing those thoughts to anyone at that moment. I am extremely ambitious as to what I'm looking for out of each character and scene, yet I know when to let things go if it's not an important issue. I also know I'm not perfect, and appreciate all the help I can get. The day that I become an arrogant schmuck who thinks he knows everything… well, I will never let that day happen.
If someone has an idea that really strikes them, I encourage them to mention it to me. I don't have that insecurity that some folks may have where they feel they're getting shown up because they're giving you an idea you haven't thought of yet, i.e. one of my actors thought it would be funny if an umpire says "that's not kosher." If I agree, I do not hesitate to put it in. To me, that's what makes someone a good director, recognizing an element that can make that moment better and not being afraid to use it just because you weren't the one who thought of it at the time. Any decision I make based on others' suggestions is made with respect to how it will affect the outcome of the story. The director gets judged on the decisions he's made. I'm extremely cognizant of that yet I'm very self-aware that I come off as nonchalant at times because I do not want to burden my worries on others. Jeez, I'm sounding a bit full of it, but I'm baring my naked thoughts here.
I fully accept that fact that there's a human element to deal with in terms of what your mind wants out of each scene and each character versus the reality of what kind of result you are really getting. There are times where an actor goes on an impulse and it works better than you could've hoped for and you let them run with it. That's the biggest credit to a director, to recognize something special, and also to know when to cut it off or do another take if you know you didn't capture the essence of what you're looking for. Sometimes the budget prevents you from getting a certain shot, or there are some time constraints, and it's a matter of being creative and still satisfying your vision for that moment. For example: I wanted to create a shot where we see a drink slide down the bar, and imagine the camera that is sliding along the bar as the drink. This way when the hand catches the drink from the drink's POV, it will be a very cool transitional shot. As it turns out, we were pressed for time, and instead came up with a different way of getting that transition. We shot a close-up on the actor's hand, and a drink slides into frame and that satisfied my vision for that shot without ruining the integrity of the film in any way.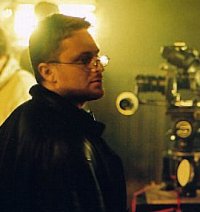 When I'm working with veteran actors who are more seasoned than the younger or less experienced actors, I will watch a take or two, and then suggest a couple of adjustments that I feel can elevate the scene or the characters. With some characters, there's a certain level of improvisation that I am fond of, yet with some other characters that are more dialogue-driven and giving important information towards the story, I'm more strict. I do not believe in teaching an actor how to act. The performance will not feel kosher. The actor needs to feel and understand the moment, and the naturalism of the actions and speech will shine through. I also believe that whenever possible, if an actor is drinking a Shirley Temple, then it better be a real Shirley Temple. If they're snorting coke… hmm, then I'll compromise a bit. I respect each actor's technique in terms of what helps them achieve that performance. As an actor, I lean towards a variation of the Stanislavski method, but each actor should rely on what works best for them. I strongly feel any director should at least have some acting school background. The Deena Levy school of acting in NYC really helped round me out as a director, and special thanks go out to my acting teacher Don Puglisi, who is a marvelously delirious actor by the way.
Lastly, I realize I'm pretty strong at adapting to and resolving changes or issues on the spot. On this particular film, an actor for a very prominent role did not show up. I had to do a script re-write on set and pull off a slightly different take on the story. It worked out well and the actors on the set for that scene, Ben Curtis and Matthew O'Connor, were true pros that helped me pull it off. It also helps to have a strong director of photography (Dan Zimmer) who gets things done with passion and cares for the movie as much as you do.
Hence at the end of the night, my goal is to help the movie get to that next level without being overwhelming towards my cast and crew… and to try to preserve that singular voice that I strive for in comedy.
Filmmakers who inspire you?
Kevin Smith, Larry David, comedian Dane Cook, Sacha Baron Cohen and Ben Affleck (for the way he turned his career around). Need I clarify any further? Nope.
Your favourite movies?
American Psycho, Major League, Borat, Superbad, all Tarantino-flicks, Waiting, Moneyball, Crank, most Statham-movies, and TV shows such as Impractical Jokers, Breaking Bad, Suits, Curb Your Enthusiasm and Prison Break. And yes, I'm forgetting about 64 others. I can watch a sports comedy or sports drama over and over again each year by the way. Believe it or not, I enjoy watching thrillers and dramas more than comedies though. I think that's why I do comedies, because I want to make something that's funny to me. Believe me, there are lots of good comedies out there, but there's just that little something extra that I prefer, and I think that's why I derive more pleasure out of making a comedy.
... and of course, films you really deplore?
I'm not big on horror movies, and Blair Witch Project is a movie I actually walked out on within 10 minutes of watching (I didn't care for the gimmick for that home video feel, they do have my respect though when it comes to marketing)… I do like the Saw- and Hostel-franchises.
Your/your movie's website, Facebook, whatever else?
www.DontShootThePharmacist.com
youtube.com/SoRealEntertainmen08
Anything else you are dying to mention and I have merely forgotten to ask?

Feeling lucky ?
Want to
search
any of my partnershops yourself
for more, better results ?

The links below
will take you
just there!!!

Find David Broitman
at the amazons ...

amazon.com

amazon.co.uk

amazon.de
Looking for imports ?
Find David Broitman here ...
Something naughty ?
(Must be over 18 to go there !)

I think whoever's still reading this is sick of me by now. But… gotta show some love to Keith Collins for getting us noticed and the So Real? Entertainment crew that made it happen. Dan Zimmer the DP really helped me pull off the movie. Make-up artist Tatiana Maldonado did a lovely job with the actors and is a great presence to have around. Many thanks to Todd Rawiszer the 2nd cam operator, Sawrab Karim the sound man, the grip Steve Armato, PA's Damaly Shepherd and Christina Lio, co-writer Jay Boccio and my main right-hand man and producer, Eric Vargas. Special thanks go out to Ozzie Manresa who was gracious enough to let us use the OZbar in Cliffside Park, NJ, the Screen Actor's Guild, the village of Ridgefield Park, and our sponsors including Monica and Phillip Biondella, Raul Razon, James Fox, Countryside Chimney of NJ and Oliver & Brick fashion line. Lastly, thanks to my loving family and girls for being there for me!
Thanks for the interview!
Thanks and hope I see you at the screenings!