Your new movie Tailypo - in a few words, what is it about, and what can you tell us about your character in it?
Tailypo is an old folktale born in the Appalachian Mountains about a lone woodsman named Levon, his faithful dog, Jasper, and a cat-like creature that they encounter one day while out hunting for food. Levon, for whatever reason, has decided that he is tired of city life, and probably tired of people in general, and now makes his home in a meager cabin in the woods living off of the land. He is a man who is at peace with himself, at peace with his surroundings, and most of all, has a tremendous love for his only friend and companion, Jasper.
What did you draw upon to bring your character to life, and how much David Chattam can we find in Levon?
Playing Levon was really a lot of fun for me! As a kid growing up in Calhoun, Georgia, I spent many hours playing in the woods behind my house with friends. We had all sorts of trails that we made, had more cookouts than I can remember (almost burned the woods down once), and even built a multi-level treehouse! Getting the chance to basically play in the woods as an adult reminded me of those days and brought back a lot of fond memories. I will say though, that most of Levon's characteristics were based off of my grandfather, Roy Chattam, who passed away in 1990. "Papa Roy", as I called him, was a tall, slender man who was very well respected in and around my hometown. He had a warm personality, an infectious smile, and always looked you in the eye when he talked to you. Papa Roy was a self-made man, and actually started a successful family-owned moving and storage company at a time when Jim Crow laws were still in full effect. As Levon, the way I moved, walked, talked and laughed were all based on Papa Roy.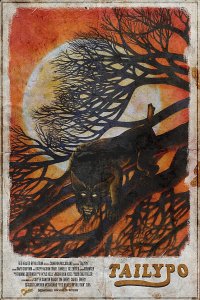 You pretty much carry the whole movie on your own shoulders, with only a dog to act off of - so how much of a strain was that?
It really wasn't a strain at all. Cameron McCasland's [Cameron McCasland interview - click here] script was so simple and straight forward that anyone could probably have pulled it off. I do have to admit though, that I am a big fan of Castaway and Dances With Wolves, two films in which the main actor spends a lot of time alone, and that always intrigued me. So when I was presented with the opportunity to do a film like that, I jumped at the chance!
As for as my interaction with Jasper the dog (whose real name is Ranger), that was the easiest part. Jasper was an absolute joy to work with. It was a little bit tricky to get an untrained dog to do what you wanted him to do, but we figured out ways to do it. The funny thing with Jasper though, was that he was very gun shy. The first time I discharged the shotgun around him, he immediately called it quits for the day and hastily headed for home! I have been a doglover since I was a child, and Ranger reminded me a lot of my last dog, a boxer named "Motown" who was tragically shot and killed by some neighbors several years ago. I recently found out that Ranger has gone missing. That makes me sad. Hopefully he will return home soon.
How did you get involved with the project in the first place, and where you at all familiar with the folk tale of Tailypo before making the movie?
I got involved with Tailypo directly through Cameron McCasland, the writer and director. I had never heard of the tale before. Cameron got in touch with me one day and told me about a short film that he had written with me in mind as the lead (of course that sparked my interest), and told me about the film's premise. I was immediately hooked.
What can you tell us about your director Cameron McCasland [Cameron McCasland interview - click here], and what was your collaboration like? And how did the two of you first meet even?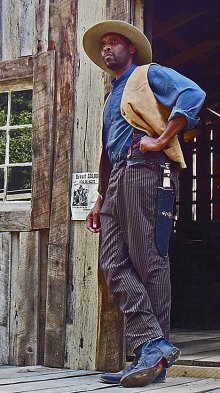 I auditioned for Cameron a few years back, and landed a small role in his film The Lashman. As an actor, you're always cautious of working with directors you don't know, especially on small budget films. You never know what you are getting yourself into. I have to say that I liked Cameron immediately when I met him. He was honest and straight-forward. When we shot my scene in The Lashman, I was immediately impressed with all of the camera equipment and gear he had in his possession. I knew right then and there that he knew what he was doing. I also really like Cameron's directorial style. He lets the actors act. In both films I've shot with Cameron, he basically set the scene for me, pointed the camera at me, and said "action". For me, that style of directing makes me feel like the director trusts my decisions, and the work I've put into developing a character.
Do talk about the shoot as such, and the on-set atmosphere?
I completely enjoy shooting with Cameron and his crew, DP Josh Ickes, and Mr. "Do Everything Else" Joseph Drake (who also played the Tailypo). The atmosphere was both very professional and very laid back. In fact, I remember one of the nights we were shooting Tailypo, it was freezing cold, and I had to shoot wearing a t-shirt and some thin pants. After joking with Cameron about him getting to stay warm in his cozy jacket, Cameron and crew without hesitation (well, maybe a little hesitation) also stripped down to their t-shirts and finished the night out freezing right along with me!
Both productions I've worked on with Cameron have been shot in Kentucky, and both times I was lucky enough to stay at Copper Canyon Ranch, and make great friends with the owners Tim and Carole Emory, and Chad Fuller. Tailypo was actually filmed at Copper Canyon Ranch, and if you haven't seen it or don't know what it is, it is the COOLEST mock western town that I have ever seen! I really hope that one day I can shoot an actual Western themed film there!
Any future projects you'd like to share?
I've got a few really cool indie films and web series that I'm working on right now that should be out either later this year or early next year. My latest project was a role in a feature film titled Holding Patterns, directed by Jake Goldberger, and starring Freddie Highmore, Jake Abel, Haley Joel Osment and Christopher Meloni. That one is due out sometime in 2016.
What got you into acting in the first place, and did you receive any formal training on the subject?
I literally fell into acting and had no desire to do so before it actually happened. Back in 2001, I was doing IT work at a company in Brentwood, TN, when the movie The Last Castle was being filmed in Nashville, a co-worker of mine talked me into going out to be an extra on the film and I reluctantly did so. The first day I was on set, after about four hours of doing nothing but sitting in the extras hold area, I asked if I could go out and watch some of the filming. I went out to watch, and a few minutes later one of the assistant directors walked by me, looked at me and said he had an idea for a new character in the film, and told me to walk with him. Next thing I know, I'm doing a scene with James Gandolfini!!! Now, my scene ultimately didn't make the final cut, but that's what got the ball rolling!
As for formal training, I did not go to school for acting, nor do I have a theatrical degree. My formal degree is a B.S.B.A in Information Systems from the University of Alabama in Huntsville. I was actually 32 years old when I landed the role in The Last Castle and had never done any acting before that. Since then, I have taken many great acting classes and workshops, one of my favoring being a character building workshop with a fellow named Mykelti (pronounced "Michael T") Williamson, the actor who played "Bubba" in Forrest Gump. Mykelti and I still stay in touch to this day.
What can you tell us about your filmwork prior to Tailypo?
As I said, the first film I ever worked on was The Last Castle, but my main scene got cut. My second film a year later was 21 Grams with Sean Penn, Naomi Watts, and Benicio Del Toro. I had a great scene with Benicio that never saw the light of day either. Since then I have had the privilege to work on over 40 different films and television shows, and have enjoyed each and every one.
As far as I know, you've also done your fair amount of theatre - so what can you tell us about David Chattam, the theatre actor, and how does performing on stage compare to acting in front of a camera?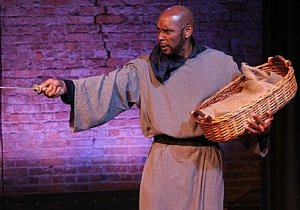 David on stage in Titus Andronicus
I love theatre. The first acting workshop I ever took was a theatre workshop with Nashville's Metro Parks department. I remember the day I walked onto the stage at the Looby Theatre for the first time and the feeling of joy it gave me. I have had the pleasure of working with some of the best professional and community theatres in Nashville, and have also had the privilege of performing shows in theatres from the Atlantic to the Pacific.
Theater is a totally different beast than acting on camera. Camera acting is all about not being too "big", whereas theater acting is completely the opposite. To be able to switch from one type of acting to the other takes practice. I love the instant feedback you get (good or bad) from an audience when you are on stage. There is nothing like hitting that comedic line and hearing the audience roll with laughter, or giving that poignant speech and the audience is dead silent and hanging on your every word. At the same time, I love the subtleness of camera acting. It's just a more natural feel for me, and I love that you can reach out to so many people through film. All in all though, I don't care whether I am on stage or in front of a camera, as long as I am doing what I love to do!
How would you describe yourself as an actor, and some of your techniques to bring your characters to life?
Hmm… I guess I would describe myself as more of a character actor than anything else. I love the challenge of reading a script and bringing some quirky character to life. When developing a character, in most cases I try to draw on real life experience. I try to remember how I felt or acted in a given situation and then try to recreate that feeling. If that doesn't work then I try to draw from stories that I have heard from friends or family. I love to just sit in a public place and watch people. To me that's one of the best ways to get ideas for characters. Most of the time I will come up with background story for the character. You'll be surprised at how easily you can react to a given situation as the character when you have an idea of where they come from and why they may react a certain way in a certain situation. One of my favorite techniques though, was one I learned in Mykelti Williamson's class. He taught me to take a script and initially ignore the punctuation as it is written. Reason being, there are SO many way to deliver a line, and the line could take on a whole new meaning depending the way it is delivered. If you take the time to experiment, you may come up with something spectacular.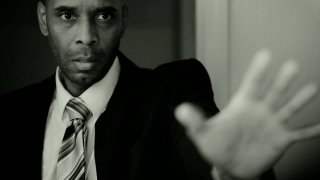 Actors (and indeed actresses) who inspire you?
Not to sound like a cliché, but truthfully, ANY actor or actress, or anyone for that matter, who is out there today grinding, working their hind end off just to make ends meet to while striving for their dreams, those are the people who inspire me. Yes, I love to watch Denzel Washington, Tom Hanks, Jodie Foster and many others on the big screen, and I hope to one day reach that level, but it is the unknowns out there, people just like myself, who are doing whatever it takes to make their dreams become reality, those are the people in which I find true inspiration.
Your favourite movies?
The Color Purple is without a doubt my all-time favorite movie. It's just a great film. On top of that, there are the usual greats, Star Wars, Jaws, Poltergeist (the original of course), Forrest Gump, Training Day, A Raisin in the Sun, In the Heat of the Night… I could go on and on and on…
... and of course, films you really deplore?

Feeling lucky ?
Want to
search
any of my partnershops yourself
for more, better results ?

The links below
will take you
just there!!!

Find David Chattam
at the amazons ...

amazon.com

amazon.co.uk

amazon.de
Looking for imports ?
Find David Chattam here ...
Something naughty ?
(Must be over 18 to go there !)

I can't say that there are really any films that I just deplore. If I don't think I'm going to like a film, then I just don't watch it. What I'm NOT a big fan of are all of these modern remakes of films and television shows. More often than not, too much of the integrity of the original is lost because someone wants to make a few dollars. Also, I am not a big fan of CGI. Many films have used CGI and done it masterfully, but it most cases, you can definitely tell it's a computer image and that totally loses me.
Your website, Facebook, whatever else?
I don't have a Facebook fan page so to speak, because I don't like the word "fan". I feel like the people who take the time to watch the films I work on are friends, not fans. My Facebook page is simply under my name, "David Chattam". I don't have a website either, but I do have an IMDb page, IMDB.ME/DAVIDCHATTAM.
Anything else you are dying to mention and I have merely forgotten to ask?
Nope. I think you pretty much covered it all.
Thanks for the interview!