Your new film I Sold My Soul to Satan - in a few phrases, what is it about?
In a nutshell, it's a commentary on our culture's lust for celebrity and immediate gratification. I live in LA and it's almost comical what people will do to become famous... Like selling their soul to the Devil ON TV!!!!
What were your main sources of inspiration for I Sold My Soul to Satan? And do you have any personal interest in occultism?
Actually, I knew nothing about the occult going into this film. My team and I were listening to the podcast Coast To Coast AM with George Noory, it's all about conspiracy theories, UFOs, ghosts and other crazy shit. One particular episode had the "sell your soul to the devil hotline". All these people called in talking about how they sold their souls for surprisingly trivial things, and I thought "what a great idea for a doc or reality TV show."
A few words about the focus point of your documentary, Kai Blackwood: How did you find him, and what kind of a guy is he off-camera?
We found Kai by placing a Craigslist ad: Sell Your Soul To The Devil ON TV. Off screen Kai is pretty much the same as onscreen. He is very likable. He has this vulnerability that is very disarming. His life is a total mess and you kind of want to take care of him.
What can you tell us about the casting process for I Sold My Soul to Satan, which is only touched upon in the film? And a few words about some of the guys who did not make the cut?
All we did was post a few Craigslist ads. That's it. That's what made it really crazy for me. I mean who in there right mind would sell their soul to a guy on Craigslist? But, if there is a Devil, in this day and age, I'm pretty sure that's how he would do it. It seems thoroughly modern. As for the guys who didn't make the cut, they fell into three categories. Desperate people, psychopaths and narcissists. The desperate people made me want to cry. There was a point where I said to Alex (my co-producer) "I can't do this anymore, it's too sad." When they told me their stories I just felt horrible inside. The narcissists got me over that though. One woman confided in us off camera that she was getting ready to leave her husband because he didn't make enough money. We almost used her instead of Kai, but she was so despicable that we felt people would hate her and not want to watch the film. The psychopaths scared us. There was this one guy who we didn't even want to interview. He frightened us. We made up an excuse to get him out of there as fast as we could. He had this vibe like he would knock over a gas station and kill the clerk for 10 bucks.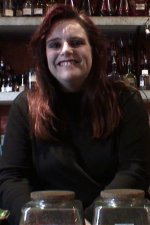 What can you tell us about your on-screen expert Jymie Darling?
She was terrific to work with. She has a good heart. The woman used to work at JPL (which are the people who design the Mars Rovers and Space Shuttles) where she was blown up in an explosion. That's when she got involved in the occult. She was actually trying to talk Kai out of selling his soul but I edited those parts out. I'm so ashamed of myself for being so manipulative... but hey, that's show business!
Selling one's soul to Satan is of course a highly speculative subject. Were there moments while filming I Sold My Soul to Satan when you decided (or were at least tempted) to ditch the documentary approach to go for the spectacle of it all instead?
Oh yea. I think it would make a great reality show! I probably would have gone down that route too but my wife Annelie kept reeling me back in. She was against me doing the project from the get go, she's a very good and spiritual person, but once I got started, she wanted me to keep it authentic.
While I Sold My Soul to Satan is just about to be released, you have already shot another documentary, Good Virus. What can you tell us about that one yet, and the philosophy behind it?
I'm glad that you asked! Good Virus - Kindness Is Contagious is the polar opposite of I Sold My Soul To Satan. My wife was giving me such a hard time for always treating such dark subject matter so I decided to do a film all about being nice. At the heart of Good Virus is the question: "What is the nicest thing that anyone has done for you?" We interviewed cutting edge scientists from top universities like Harvard and Berkeley as well as authors, theologians, roller derby girls, CEOs... the list goes on and on. The amazing conclusion is that nice guys actually finish first. They live longer, they have better jobs, better salaries and better relationships. It's quite amazing and has actually changed my life.
Let's go all the way back to your beginnings: What got you into making movies in the first place, and did you receive any formal training on the subject?
I used to make a living as a photographer and did quite well. I shot for Levi's, Kellogg's, Disney, Sony Music. Lots of high-profile companies. There came a point though where I wanted to create my own projects. Photography for the most part is very commercial (if you want to make a living at it) and as soon as I finished a fun job, I'd have to be hustling up my next client and my next gig. It got to a point once I started making money at it that I'd do this great photo but I'd have to put a shoe or a computer or a candy bar in it. I got into film because the projects can be more personal and they last longer so, rather than hustling every couple of weeks, I figured I'd only have to do it once a year or so. Boy was I wrong, but that's another story. One of the things that I really like about film is that you can tell a more involved story and reach a lot more people. I think that's what keeps me there.
As far as I know you have two patented imaging techniques to your name. Would you like to elaborate?
I would, but just briefly. I made a name for myself as a photographer by making super saturated color images when everyone else was doing tasteful black and white images. basically it was taking two exposures lit with saturated colors and sandwiching them together and playing complementary colors against one another. The reason I don't want to go further is that computers became very powerful and then everyone was doing it digitally and my patents became, basically, irrelevant. I guess I keep it on my resume because it sounds good (I really should take it off though, it's time to move on).
A few words about your career in advertising?
A guy's got to make a buck and I'm pretty good at it.
Before I Sold My Soul to Satan, you have made a handful of feature films. Why don't you talk about those for a bit?
I love feature films and I'd love it if I could do more of them. I kind of screwed up my first one though. I was a photographer and knew nothing about film-making. We went horribly over budget. Because the budget was so small to begin with I also had to be director, producer, a little bit of an editor and a composer. It was brutal. I co-directed with my wife and we fought all the way through it. All the investors got pissed off with me. The studio released the rough-cut straight to DVD (we didn't have enough money to finish it). It was a spectacular fiasco!!! When you fail, fail big! I think the idea was good though. It was a dark comedy about a machine that turns the carbon in human beings into diamond. Once the movie came out, a company even started doing it for real. The other two were low budget films with my friends. I guess I've been lucky that they all got distributed and we could make enough money from them to keep making movies.
Any future projects you'd like to talk about?
Everything on my horizon is Good Virus related right now. It really did change my outlook on things. Not what you want to hear from a soul-broker I'm sure!!! I have an eco-friendly clothing line and a book in the works based on the Kindness Is Contagious meme.
Shooting a documentary versus feature filmmaking - where are the differences (apart from the obvious), and which do you actually prefer?
I like them both equally. What I like about documentary is that you meet all these fascinating people and learn from them. I like it that the budgets are lower and they can be made without being beholding to too many people. I'm not much of a salesman, I like making things and with the docs I am able to spend more time making the film (of course it's mostly digital now, but you know what I mean). What I like about narrative features is that whatever you can think up (theoretically) you can put down on film. I don't think I will do another one though unless someone gives me a whole lot of money to make it with. I don't want to do the producer/director thing again, but I would love to do a big budget movie where I get to blow stuff up.

Feeling lucky ?
Want to
search
any of my partnershops yourself
for more, better results ?

The links below
will take you
just there!!!

Find David Gaz
at the amazons ...

amazon.com

amazon.co.uk

amazon.de
Looking for imports ?
Find David Gaz here ...
Something naughty ?
(Must be over 18 to go there !)

Filmmakers who inspire you?
Terry Gilliam and Jean-Pierre Jeunet.
Your favourite movies?
Brazil, Delicatessen, The Adventures of Baron Von Munchausen, Amelie, Time Bandits, Micmacs and City Of Lost Children.
... and of course, films you really deplore?
You know, after making a few of them myself, I respect anyone who is able to finish a film and get it seen. It is such a hard thing to do that even if I don't like a film artistically, I respect the ability of the filmmakers to get the thing done.
Your/your film's website, Facebook, whatever else?
http://www.youtube.com/watch?v=4P5Thajk7qg&feature=related - You have to read the comments, they're amazing! It's like devil worshipers vs religious extremists!!!!
Anything else you are dying to mention and I have merely forgotten to ask?
I can't think of anything. Great questions! Thanks.
Thanks for the interview!