Your new movie High Note - in a few words, what is it about?
High Note is an indie, druggie, dramedy, musical.
High Note is a wild mix of heist movie, stoner comedy, social drama and whatnot - so how did you come up with this blend, and was this intended from the get-go or did it grow naturally?
I came up with the idea of High Note in my kitchen talking with my younger brother, Jacob, and my DP, Carl Billington. I had written some scripts before. But nothing was getting picked up. So we wanted to come up with an idea for a script that we could shoot for next to nothing. I had the storyline for the movie and started talking about it. And we came up with High Note. I started writing the script right away. And I would let my wife, Lindsay, read and react as I was writing. She also plays Charlotte and was the acting coach.
Your sources of inspiration when writing High Note, and is any of this based on personal party experiences?
The music in the basement is based off a night with a friend in Reno, NV. We showed up to a friend of a friend's place. They ended up playing music for us all night. That gave me the bare bones for a story.
What can you tell us about High Note's co-writer and co-director Jacob Royce Gustafson (any relation by the way), and what was your collaboration like, both during writing and the shoot?
Jacob is my younger brother. He went to film school at UC-Santa Cruz. I couldn't have made the movie without his help. He knows just about everything about making a movie. Carl also went to film school in Washington. Before the collaboration between the 3 of us, all I had done was write scripts.
In High Note, your characters break out into song several times - so how did this come about, and do talk about the songs in the film for a bit!
I wanted to write a movie that was different, weird. Not mainstream. I didn't want to make a movie that everyone, or even the majority, like or even get. And I thought that playing music and singing live would add some authenticity. The songs... Well, we had a singer/songwriter picked out and they had about 6 months to write them before shooting. But they backed out with 3 months left. So, I took it upon myself to write some songs. I have no musical background. The rap was written by Tyler Roy Roberts, who plays Chris. My sisters, Amy and Jenny also helped write a song. As well as helped with the set, wardrobe, shoot schedule, Amy did the majority of editing for this movie and our next. The song Minnesota Lullaby is for my wife.
What can you tell us about your directorial approach to your story at hand?
This is my directorial debut. And I definitely was a bit timid at the start of filming. But luckily I had a great group of actors who could carry the script. I felt like by the end of shooting I had found a good flow working and talking indivually with each actor and actress. And our second movie, Beyond the Shadows, was much smoother in relaying to the cast what I wanted and why.
Do talk about your key cast, and why exactly these people?
Most of the cast were friends with Jacob, Carl, or my sister Jenny. We had shot a teaser 1 year prior to filming in order to raise money on a fund sharing site. And the few other actors we didn't know found us on Facebook or were friends of the cast in the Seattle area. Tyler Roy Roberts plays Chris. Tyler is just so talented. He is an amazing actor and also will come to me with ideas. And most often his ideas are better than mine and we use them. His ability and professionalism really set the tone for the entire cast. Kennedy Stinson plays Jocelyn. She found us on Facebook. She was totally committed to the role; the day before filming started I picked her up on the side of the road, hitch hiking. She was hitch hiking just to know what it was like in real life. Method actress. And just a terrific voice. She was nominated for Best Actress at a film festival in Las Vegas. Sam Olive, a first timer, plays Otis. And he dove right in. He lived with Tyler. Knew Jacob and Carl well. My wife, Lindsay, was the acting coach. She worked closely with Sam to develop that character. Erik Nash plays Cliff. Erik is great friends with Jacob. We shot the teaser at his house in the woods. Erik really did a great job with the character.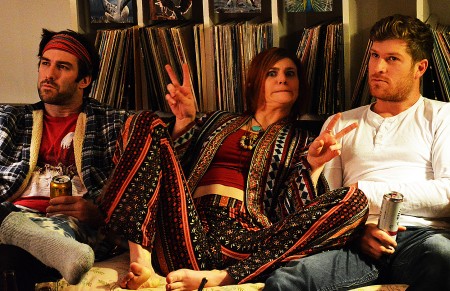 A few words about the shoot as such, and the on-set atmosphere?
The shoot was hectic and fast and just a whole lot of fun. We took over the house of a friend, who cameos as Jesus. We had a real tight shoot schedule. So we shot in the rain, wind, cold, whatever. Everyone was just excited to be a part of it and that made everything easier.
Anything you can tell us about audience and critical reception of High Note?
The reception seems pretty split. But, like I said, I didn't make a movie for the masses. We got nominated for 5 awards in Vegas and were up for Best Picture at film festivals there, and in Pennsylvania and England. And we're going to make an online list for Best Stoner movies of 2019 made by the great Steve Bloom of High Times fame.
Any future projects you'd like to share?
We are currently shopping our second movie, Beyond the Shadows, for distribution. It's a horror/ dramedy that touches on Native American genocide. We used a lot of the same actors from High Note. Including Tyler and Sam. Plus 5 of the supporting actors and actresses. We are also in the process of finding funding for the development of our 3rd and 4th scripts. Hope to shoot one of them in the Spring or next Fall.
What got you into filmmaking in the first place, and did you receive any formal training on the subject?
I just love writing. I love movies. So I started writing scripts. I had no formal training. I probably had so many small, technical errors with my early scripts. But I just wanted to tell a story.
What can you tell us about your filmwork prior to High Note?
Just scripts. 5 scripts before I wrote High Note.
How would you describe yourself as a director?
I just lucked into working with some very talented people. They are the ones that made High Note special.
Filmmakers who inspire you?
Tarantino, Scorcese, Tony Scott, tons and tons more.
Your favourite movies?
True Romance, City of God, Melancholia, Searching for Bobby Fisher.
... and of course, films you really deplore?

Feeling lucky ?
Want to
search
any of my partnershops yourself
for more, better results ?

The links below
will take you
just there!!!


Not that they are bad, but I don't go crazy for all the superhero movies.
Your/your movie's website, Facebook, whatever else?
High Note on Facebook: https://www.facebook.com/HighNoteMovie/
... and available to watch on Amazon Prime. Our company Great Gus Productions is on Facebook and Twitter.
Anything else you're dying to mention and I have merely forgotten to ask?
Just a big thank you to you for the review and to my cast and crew and family that made this dream come true.
Thanks for the interview!