Your movie The Scarlet Worm - in a few words, what is it about?
Oh man, I'm terrible at doing this. OK, here goes: The Scarlet Worm is a Western about a deeply religious assassin named Print who considers killing to be a form of artistic expression. He gets hired by a cattle baron to not only eliminate a German brothel owner who is forcing abortions on his prostitutes, but also to let a young bully tag along in order to train him in the art of killing. When Print finds out that the brothel owner is equally religious, and when the young bully falls in love with one of his prostitutes, things get... complicated. Lots of killing ensues. Killing killing killing.
Basic question: Why a Western? And do you have a special fondness for the genre, and your genre favourites?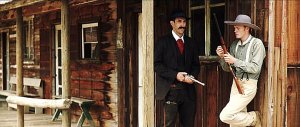 The Western is my favorite genre, easily. And that spans just about everything the genre encompasses (which ranges from silent films to Spaghetti Westerns, I even like the much-maligned Singing Cowboy sub-genre). I'm also fascinated by the actual Old West, and that's really where I get most of my inspiration from. When you read about a bandit having his skull cap sawed off and used as an ashtray and his chest skin turned into dress shoes (complete with nipples), you realize that your imagination will never compare to that of a deranged, syphilitic cowboy whose brain has been cooked by the sun. As far as favorite Westerns, well, that would have to include The Wild Bunch, McCabe and Mrs Miller, Hell's Hinges, For a Few Dollars More, Winchester '73, Shane, Pursued, The Tal T ... good God, we'd be here all day if I named them all, so I'll just focus on Pat Garrett and Billy the Kid, which is probably my biggest influence. Despite its numerous flaws, and the fact that there's no real director's cut out there, it's just the richest, saddest, strangest Western to come out of Hollywood. The meandering poetry of Rudy Wurlitzer's script is grafted to Sam Peckinpah's unmatched cinematic instincts and there's nothing else like it in the genre or anywhere else.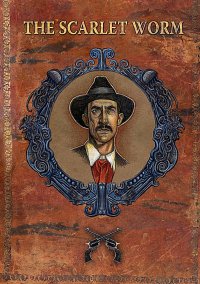 Your main character Print, the deeply religious philosopher, artist and hitman, is a rather unique figure, especially in a Western setting. Where did the inspiration for him come from?
There was a real hired assassin in the Old West named Jim Miller who was a Southern Gentleman who dressed in a nice suit and fedora, never cursed in front of females, helped in the construction of a local church, and even acted as their deacon. He was also known to "cut down anyone with a shotgun for 50 dollars" and was famous for surviving a gunfight by wearing a metal plate under his coat (not unlike The Man with No Name in A Fistful of Dollars). He had two well-known nicknames: Deacon Jim, and Killin' Jim Miller. A writer simply can't resist that kind of dichotomy. I combined him with a "stock detective" known as Pink Higgins. "Stock detective" just meant someone that was hired to kill cattle rustlers, and Pink was one of the meanest. When word came around that Pink killed a cattle rustler, stripped him nude, stuffed him into a cow and then rode into town shouting, "It's a miracle! A cow gave birth to a man!" it didn't really matter if the story was true or not. No one doubted Pink's imagination when it came to violence. Throw in a pinch of Oscar Wilde and you have Print Harris.
Other sources of inspiration for The Scarlet Worm?
The Bible. My biggest influence in every possible way. It's easily the pinnacle of literature, jumping from historical accounts to books of law to erotic poetry to census numbers to prophecy to collections of song lyrics to existential philosophy to basically any other literary genre you can name. It's also shocking, violent and hilarious, and not always at the same time.
You also play a small role in The Scarlet Worm - what can you tell us about David Lambert, the actor?
He's not much of one. I cast myself because I'm guaranteed to show up on set. That means a lot to any production. Having said that, I have the deepest respect for actors, especially everyone that had the misfortune of spouting off my old timey dialogue in The Scarlet Worm. There's only so many times you can say "Quim-licker" before you start to smell your dignity burning.
As one of the producers of The Scarlet Worm, how much of a say did you have in the film's casting and looks?
A large share. I worked with (director) Michael Fredianelli very closely on how to cast the film. Him and I specifically picked Aaron Stielstra, Kevin Giffin, and Derek Hertig (my second cousin) for their parts, and some of the smaller parts like Big Mercy, Stinkwater Smith and Caroline and Gertie (the two expository whores) were friends of mine. Fredianelli had Montgomery Ford in mind for Mr. Paul and I couldn't disagree, likewise (producer) Eric Zaldivar convinced Dan Van Husen to play Heinrich Kley, and we all immediately knew it was perfect casting.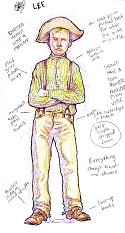 As for the look, I scouted all of the film's primary locations. Outside of a day of shooting in Pioneertown in Palm Springs, most of the film was shot on pieces of property owned by my aunt, uncle and two cousins in Nuevo, California, and on a free Western set about 3 miles from my house in Menifee known as The Wooden Nickel (complete with an emu, a pig, and a buffalo). I designed the costumes of the main characters, did most of the make-up on the film, and made sure we had some reference books of 19th century saloons on hand when the crew was building the interior of the brothel (I insisted on the 'mustache towels' dangling from the bar because that's the kind of detail you rarely see in a Western. Most saloons' primary snack foods were deviled eggs or oysters. Imagine wiping the beer foam from your mustache with the towel that a gaseous mountain man just egg-burped into. The Old West was hard living indeed).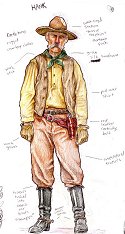 A few words about The Scarlet Worm's director Michael Fredianelli, and what was your collaboration like? And what's it like to see your vision brought to life by someone else?
The collaboration was very close. Fredianelli is nothing if not collaborative and we had numerous discussions before and during the production on how to get the script to the screen. I was on set every day of shoot, and like everyone else in the cast and crew I wore many hats. Literally and figuratively. I'm very happy with the film. About 90% of my script remains intact and I think that's pretty impressive. I just wish I could see it with fresh eyes.
You are a first-time screenwriter, right? What convinced you to write the script, and how did the whole project come into being in the first place?
If it seems more impressive that I would be a first time screenwriter, then yes. Yes I am. Anyway, years ago, I read a snippet of an article in TRUE WEST magazine about abortion in the Old West and I thought it was a fascinating topic. I'd carried the idea around for years until Fredianelli approached me about writing a Western for him. Since I knew Fredianelli was a director who didn't shy away from more extreme subject matter, I jumped at the opportunity to finally write my "abortion" Western. To give an idea about how quickly I jumped, the screenplay was finished in about a month. Fredianelli sent out the first draft to a couple different people and the project just snow-balled from there. I never got a chance to do an in-depth re-write so the movie you see is basically the first draft of the screenplay.
As far as I know, The Scarlet Worm has so far only played a few festivals. What can you tell us about audience and critical reception so far?
So far, the critical reception has been ridiculously positive. The DVD and Blu-Ray aren't coming out until April, but somehow one shipment got sent out in December, and since Christmas a new glowing review pops up every few days. It's very encouraging, because these are mostly just fans that want to let people know how much they've enjoyed the film. I mean, part of me wishes we paid these people off. That would imply we had money. It's also received really positive reviews from some of the bigger guys too. For example, Fangoria has said that it "reinvents the Western" - which is strange because in my high school yearbook I was voted "Most Likely to Reinvent the Western". I've only been able to attend one festival showing The Scarlet Worm (The Telluride Horror Show), but it was great. I sat behind Jon Davison, producer of Robocop and one of the men responsible for my lifetime long love affair with cinematic ultraviolence. Afterwards, he told me he liked it and asked about our blood squibs. This was the highest honor of all.
After The Scarlet Worm, will you ever try your hands on another movie script, and/or other future projects?
Definitely. I've just finished a script for a film that I think fans of The Scarlet Worm will enjoy. Don't really want to say too much about that just yet. I also have a couple old screenplays that I'm going to fix up, including a biopic on John Wesley Hardin, the gunfighter with the most confirmed kills in history. Hollywood has basically ignored Hardin because he was racist, and also because he once shot a man for snoring too loud (and then tried to cover it up in his autobiography by claiming that the man was killed while trying to steal Hardin's pants at knife-point). But I take writing unlikeable characters as a challenge. Can I make you like them despite the fact that you despise everything they stand for? Plus, I figure I better write these kinds of characters now before I sell out, which I'm totally planning on doing.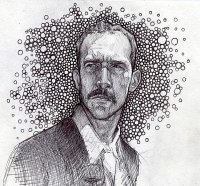 As fas as I know, when not writing screenplays you are an artist, also working in the forensic field. Now what can you tell us about your art, and how does it relate to moviemaking?
I do forensic sketches for the Riverside County Coroner, drawing unidentified victims. It's definitely strange work, I'll say that. The rest of my art mostly deals with the human figure and can be viewed at http://facebook.com/davidlambertart. I give life drawing lessons with live models in my spare time, so I guess one of the ways it relates to my moviemaking is just the naturalistic portrayal of nudity. A lot of people bring up the fact that there are a couple of involved dialogue scenes between two nude prostitutes cleaning their unmentionables and rolling cigarettes, as if the idea of naked women in a brothel is gratuitous. I viewed it more as some old 19th century genre painting (when the artists actually went out and painted real prostitutes). But who am I kidding, I could write an adaptation of The Little Prince and it would probably feature at least one scene of naked women rolling cigarettes. Beyond that, I think anyone who fancies himself a director or screenwriter would do well to acquaint himself with as many varied forms of art as possible. Painting, drawing, poetry, music, photography, pottery, gluing macaroni shells, whatever. Otherwise your work will be the result of creative inbreeding and you'll have the cinematic equivalent of Prince Charles or something.
Artists, writers, filmmakers who inspire you?
Hieronymus Bosch, Ernst Fuchs, Heinrich Kley (yes, I stole the name from a real artist), Cormac McCarthy, Richard Brautigan, Ron Hansen, Flannery O'Connor, T.S. Eliot, Terrence Malick, Sam Peckinpah, Buster Keaton [Buster Keaton bio - click here].
Your favourite movies?
The Wild Bunch, Badlands, The Passion of Joan of Arc, Pat Garrett and Billy the Kid, Barry Lyndon, Branded to Kill, Pinocchio, The Texas Chainsaw Massacre, Come and See, Death Wish 3.
... and of course, movies you really deplore?
I try my best to avoid movies I think I'm going to hate, but something I deplore in a lot of movies is when a modern perspective is imposed on a character from a different time and place in order to appease the audience. Kingdom of Heaven is a movie too mediocre to really love or hate, but I have to bring up a ridiculous scene near the climax where Orlando Bloom's character, who is a knight fighting in the Crusades, mind you, gives a speech about how everyone should get along and share the Holy Land. I think he also gives a speech about affirmative action, gay marriage, and America's reliance on oil. If you're making a historical film and you want to use that as a vehicle to comment on a modern issue, then portray the characters with the mindsets they would actually have, and the glaring differences between their antiquated perspective and our modern perspective will be a sufficient comment in and of itself. And yeah, there will be dumb people who don't get it. And that's cool too.

Feeling lucky ?
Want to
search
any of my partnershops yourself
for more, better results ?

The links below
will take you
just there!!!

Find David Lambert
at the amazons ...

amazon.com

amazon.co.uk

amazon.de
Looking for imports ?
Find David Lambert here ...
Something naughty ?
(Must be over 18 to go there !)

I think it was Bill Cosby who said, "If you try to please everyone you'll end up pleasing no one." And if he didn't say it, that's ok. He said a lot of other great things. I'm down for the Cos.
Your/your movie's website, Facebook, whatever else?
The movie website is http://www.facebook.com/scarletworm.
My art website is http://www.facebook.com/davidlambertart.
I also have some short videos on my friend's youtube account. They were either written or filmed while under the influence of something or other:
http://www.youtube.com/watch?v=-OgvSqnF7TM
http://www.youtube.com/watch?v=WOvt_7iJR6k&feature=related
http://www.youtube.com/watch?v=ydqBEDy-tBQ
Anything else you are dying to mention and I have merely forgotten to ask?
Hmmm...I guess it would be good to mention that The Scarlet Worm comes out on DVD and Blu-Ray in early April, and if you think I'm insufferable here, just wait until you hear my commentary track.
Thanks for the interview!
Thank you, Mr. Searchmytrash!