Your new movie Murder Made Easy - in a few words, what is it about?
Murder Made Easy is a throwback murder mystery in the vein of Agatha Christie. Itís the story of best pals Joan and Michael who host an elaborate dinner party for their closest friends on the anniversary of the death of Joanís husband. But as each guest arrives they find their very lives are on the menu to protect a secret that links them all.
With Murder Made Easy being a murder mystery of sorts, is that a genre at all dear to you, and some of your genre favourites?
Murder Made Easy was heavily influenced by Alfred Hitchcockís Rope (one of my favorite of his), Sleuth and Deathtrap. Those films plus the 1980ís/90ís Granada Sherlock Holmes TV series, starring the great Jeremy Brett as Holmes, are some of my favorite murder mysteries and they all were a huge inspiration for Murder Made Easy.
Do talk about Murder Made Easy's screenwriter Tim Davis, and what was your collaboration like?
I met Tim Davis on a TV show we were working on. Weíre both big fans of murder mysteries and I thought Tim would be the perfect writer for Murder Made Easy. I pitched Tim the movie and he was like ďEh, I donít know.Ē I handed him a treatment that I wrote. I told him to go home and read it. The next day he called me and said, ďOkay, letís do this.Ē Thank God for that treatment because apparently, Iím a terrible pitch man!
The challenge that Tim and I faced from the very beginning was trying balance a grim murder mystery with some humor. We knew that we wanted to infuse Murder Made Easy with clever twists and turns but also with humor as the subject matter could get pretty dark. We felt that it needed humor to lighten up the mood and give the audience a bit of a release from time to time. Pulling that off is really tricky and we knew we had a high standard to live up to with films like Rope, Deathtrap, and Sleuth. All of those films have some really clever dark humor in them. So, Tim and I spent a lot of time on the comedy thatís in Murder Made Easy.
Quite honestly, to what extent could you as a director identify with Joan and Michael, pretty much the puppeteers in your movie?
I never thought of it that way! I guess Joan and Michael are very director-like in the way they are manipulating the dinner guests and moving the pieces around. But in terms of morality, personality and world-view, Iím nothing like my two lead characters. At least I hope not!
With Murder Made Easy being restricted to just one locations, what were the challenges of keeping things visually interesting, and what can you tell us about the location to begin with?
Since Murder Made Easy is very much like a play, having one location really set the tone. It enabled the actors to use the space much like they would on a theater stage and act in real time. It also meant that we saved money in the budget because we obviously had less locations than a normal feature film usually has.
However, the challenge of having one location was, how do we make our location look cinematic? It came from Sherri Kauk, our talented cinematographer, who came up with the idea of using an anamorphic lens. This lens creates a shallow depth of field and a wider field of view that makes the space look a lot more cinematic. It took a while for Sherri to sell me on the anamorphic lens because I was a bit intimidated by it. But once I saw some camera tests, I was all in. I love the look that Sherri created for Murder Made Easy. I mean, we didnít have the budget for a full camera crew or steady cams. So, Sherri was pulling her own focus and moving the camera around doing these long, complicated takes. She never said, ďWe canít do that.Ē She always found a way even with our budget restrictions. I canít wait to work with her again!
What can you tell us about your overall directorial approach to your story at hand?
Well, Iím a hardcore planner so I pre-planned as much as I could: storyboards, recorded rehearsals on location etc. But once I got on set, my approach as a director was a bit more hands off. I trusted the actors and the crew and they repaid my trust by lifting me up and making an incredible film.
Do talk about Murder Made Easy's key cast, and why exactly these people?
The entire cast was amazing and we were lucky to have such gifted actors in our film. But specifically our two leads, Jessica Graham and Christopher Soren Kelly were also invaluable behind the camera.
I first met Christopher Soren Kelly and Jessica Graham at the Dances with Films film festival in LA. Chris directed and starred in a short film called Chasseur. It was almost like a one-man play with Chris talking to the camera. He gave a riveting performance and I was like, ďI donít know who this guy is, but I have to work with him.Ē Then I saw another short film called Monkeys that starred both Chris and Jessica and I knew right then that they were perfect to play the leads in Murder Made Easy. The rest of the actors were cast through auditions. And honestly, I couldnít be prouder to have such talented actors in our film.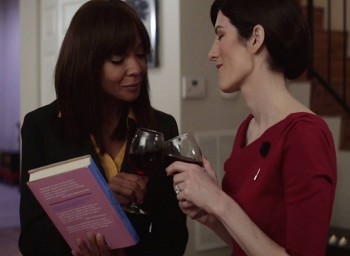 As an actress, Jessica brought passion and an incredible eye for detail to the character of Joan. As our producer, she was extremely helpful in terms of setting up auditions, finding actors, dealing with SAG, all of which she had experience with and I really didnít. When we were shooting, she was like our assistant director, making sure the schedule ran on time, that we ate our meals when we were supposed to. Even when one of our actors dropped out the day before he was to shoot his scenes because he got pneumonia, Jessica was the one saying, ďWe canít wait or push the schedule. We donít have the time or the budget. We have to recast him now.Ē Luckily, we got the talented Edmund Lupinski to come in and play the Professor role at the last minute. Jessica was invaluable and without her Murder Made Easy would not have been made.
A few words about the shoot as such, and the on-set atmosphere?
I would say the one word that describes the on-set atmosphere would be focused. Everyone, from the actors to the entire crew, were there to accomplish one goal: make the best film we could. And Iím forever grateful to my cast and crew. They lifted me up and Murder Made Easy better than I could ever have imagined!
Anything you can tell us about audience and critical reception of Murder Made Easy?
Iím extremely grateful that some horror fans have embraced our film. Because our film is really a thriller not a horror film at all. But to get support from the horror community and horror reviewers has been incredible. Itís given us a potential fan base and I really didnít expect that when we made the film. So Iím very grateful for that, and hopefully more people who see Murder Made Easy who are horror fans will also embrace it.
Any future projects you'd like to share?
Iím hoping to make The Housesitter, my horror script, into a movie in the next couple years. Looking down the road, I hope that I have a couple more feature films under my belt and I really hope Iíve improved as a director. That would be a good goal for me - improvement!
And our two lead actors, Jessica Graham and Christopher Soren Kelly, made a fantastic sci-fi noir feature film called The Tangle (that Chris directed). Itís on the festival circuit now so look out for it!
What got you into filmmaking in the first place, and did you receive any formal training on the subject?
Iím old enough that I was lucky to see the original 1977 Star Wars in the theater and it blew my mind! That was a turning point for me for sure. I didnít know what filmmaking was but I knew I wanted to do it after seeing that film. Years later, I did study filmmaking and film theory at Southern Illinois University and it was there where I was introduced to world cinema. Tarkovsky being one of the filmmakers who left a huge impression on me.
What can you tell us about your filmwork prior to Murder Made Easy?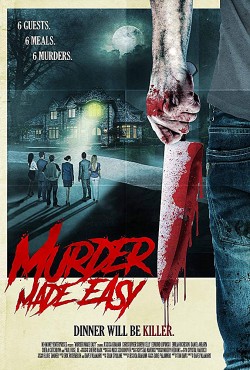 In college I directed a short documentary called Grandfather, about my grandfather not surprisingly. It was nominated for a Student Academy Award. Then I moved to LA and I naÔvely thought that being nominated for a Student Academy Award would kind of be a springboard for my directing career. But I learned very quickly that just because you are nominated for an award or whatever, you still have to get out there and do projects on your own. People have to see what you can do before they can know that you are a capable director. And it was really years later when I got involved with a music scene in Los Angeles called Kiss or Kill that inspired me to be a filmmaker again. Kiss or Kill was a really great community of supportive artists and bands. And I was inspired to pick up a camera and document it. I worked on that documentary, called In Heaven There Is No Beer, for five years and we finished it in 2012 and it was released in 2014. That kind of got me back on the the directing path.
How would you describe yourself as a director?
Hmmm. Thatís a tough one to answer. You should ask my cast and crew! I know that Iím extremely well planned and prepared at least from a visual standpoint. I know exactly what I want in terms of camerawork and blocking etc. and how to achieve it. Iíve never been the type of person, nor am I the type of director, who just arrives on set and ďwings itĒ. That would terrify me! Maybe after I directed five more films Iíll get there.
Filmmakers who inspire you?
So many! Not to hit all the obvious choices but I am a 70ís kid! So for me itís George Lucas, Spielberg, Kubrick, Ridley Scott, Coppola, Terry Gilliam, Scorsese, David Lynch. Then thereís John Carpenter, Sam Raimi, Ti West, Oz Perkins and many more in the horror genre.
Your favourite movies?
Again, thereís so many! Okay hereís a few: Brazil, Apocalypse Now, Star Wars, The Thing (1982), Alien, Aliens, Blade Runner, Clockwork Orange, Solaris (1971), Taxi Driver, Goodfellas, Blue Velvet, Rope, Rear Window. The list goes on and on!
... and of course, films you really deplore?

Feeling lucky ?
Want to
search
any of my partnershops yourself
for more, better results ?

The links below
will take you
just there!!!


Oh I donít have any films that truly hate. Iíll leave all the hating up to Twitter. Thereís enough of that already.
Your/your movie's website, Facebook, whatever else?
You can find Murder Made Easy on Twitter at @murdermadeasy and on Facebook at https://www.facebook.com/MMEmovie2017/
And you can find me on Twitter at @davepal and myself and our cast and crew are all on Facebook.
Anything else you're dying to mention and I have merely forgotten to ask?
Yes! The Murder Made Easy Blu-ray is now available through our wonderful distributor Scream Team Releasing. Itís full of extras and special features. It can be purchased here: https://screamteamreleasing.com/
Thanks for the interview!
Thank you for taking the time to talk with me. I really appreciate it!