Your new movie Cut! - in a few words, what is it about?
The apparent is never the truth as an ex-con and aspirant filmmaker set out to manufacture a horror film by scaring people for real; however, when it goes too far and someone actually dies, the pair decide that killing for real on film is the way to make a truly terrifying movie.
Since Cut! is about a couple of horror filmmakers, is any of the film based on personal experiences (apart from the killing I hope)?
To me, Cut! is more about never underestimating anyone despite what their outward perception may be. This is what drew me to the story. Many times, especially in this business, I feel that people are judged in the first few seconds, and often never given an authentic chance. Cut!, in a very twisted way, offers hope to those who may never get that chance otherwise… of course, this correlation is in a VERY twisted way.
Other sources of inspiration when writing Cut!?
Cut! originally began when a major studio was showing interest in another film David Banks and I had written. Instead of waiting to see if that film would go, Banks and I decided to just go for it and shoot this one. It proved to be a good decision as the other film ended up not moving forward at that time.
What was your collaboration with your co-writer David Banks like? And how did you two first hook up even?
David Banks and I first met in an acting class nearly 15 years ago. Before too long, we began writing scenes together to put up on stage. He mostly did comedic roles, while I was laboring through the heavy dramas. Our writing formed a nice blend of the combined genres while maintaining the un-caricaturized feeling of still be real. The more we wrote, the more we wanted to continue writing. It was an extremely fun time of unlimited creativity. Of course, some ideas were better than others.
What can you tell us about Cut!'s approach to horror (as in suspense vs sudden shocks, atmosphere vs all-out gore and the like)?
I am a big fan of letting the viewers figure out for themselves what may be happening. I think that a person can create many more terrifying images in one's own head than I could ever capture on screen, hence our thematic logline: what the eyes see and the ears hear, the mind believes. I believe strongly in setting the suspense through the music and sound design. In this capacity, we were fortunate enough to work with Emmy and Golden Reel winner Solange S. Schwalbe and Christina Horgan to ensure our "vision" of attacking the auditory senses first… and boy, does it!
Do talk about your over-all directorial approach to your story at hand for a bit!
My goal was to stay out of the way and let our amazing actors do their thing. There was so much talent on this set that I encouraged them to bring a lot of their own creative ideas to their performance, which ultimately turned our set into a giant playground of artistic work. Although they remained close to the scripted words, the subtleties that were drawn out were phenomenally captivating and make this film a great one to watch over and over. Each new time, something else can be taken from it.
You also appear in front of the camera in Cut! - so what can you tell us about your character, and what did you draw upon to bring him to life? And have you written him with yourself in mind?
The old adage is "write what you know," and my character does have a claim to being created by some actual events. The irony of making this movie in itself is a direct reference to my character trying to make a movie in the story. This gave plenty from which to draw. I do feel, however, that if someone were to fully play oneself in something, it would be one of the most difficult things imaginable. When doing a character, the thoughts and actions are always excusable, but if you are yourself, people will judge you for what you say and do. It's the same reason we feel like we really know "reality stars." We see them in their everyday environment and their actions and motivations are considered the true make-up of who they are as people, even if it is just a front.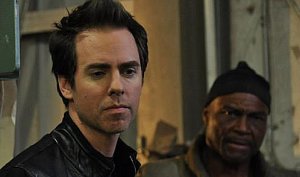 David Banks, Sam Scarber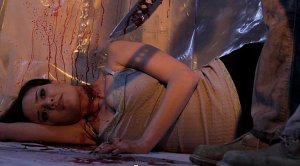 Dahlia Salem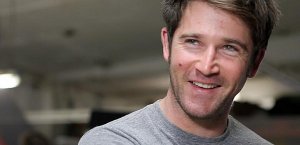 Chris Moir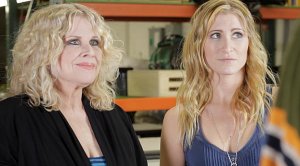 Suze Lanier-Bramlett, Gabrielle Stone
A few words about your key cast, and why exactly these people?
First, the acting in this movie is tremendous and should propel many of the cast to much more work in the future.
David Banks won Best Leading Actor for his role in Cut! as an eccentric serial killer at the 2014 Independent Film and Television Festival. His performance draws back to my earlier comments of combining his comedic undertones within the influence of a serious environment thus making his character truly unpredictable. He's fun to watch.
Sam Scarber plays a mentally-confused homeless man who is asked to do the unthinkable. I have always been a fan of Sam and finally getting to work with him was an exhilarating experience. His presence on film is tremendous.
Dahlia Salem (ER and General Hospital) was referred by a good friend, Mike Simon, who's also in the movie. After spending just a few minutes speaking with her about the role, I knew that it had to be hers. Of course, pitching that I wanted her to play a prostitute was not the easiest, but she handled the role like a rock star. I cannot even imagine anyone else doing the role as well as she did.
I've known Allen Maldonado (The Equalizer) for many years and he always ends up playing a "Jamal" in my movies. It's been a running joke for 3 films now and fun trivia. Phenomenal actor and a great friend.
Chris Moir (108 Stitches) [Chris Moir interview - click here] was another long-standing friend, who actually played the lead in the first film I ever directed back in 2004, Will To Power. Chris also wore many hats on this film and was willing to take some incredible chances as an actor. Chris was friends with Billy McNamara, which is how he was introduced into the project.
Gabrielle Stone (daughter of Dee Wallace Stone) [Gabrielle Stone interview - click here] and Suze Lanier-Bramlett (The Hills Have Eyes 1 & 2) [Suze Lanier-Bramlett interview - click here] actually play themselves and I don't want to give it away, but one of them just may die. It could be the first time someone was playing oneself in a movie and actually died as oneself.
What can you tell us about the shoot as such, and the on-set atmosphere?
We were able to secure an incredible location for our key set, which was an actual warehouse geared towards film production. Nathan Sindel, who owns Mogul, allowed us to use his facility, which played right into our story and really proved to be a central character itself. The atmosphere of the warehouse and the old metal feeling perfectly depicted the tone of what we were hoping to achieve. We shot mostly at night in Los Angeles and hope to give viewers a great tour of the many "looks" of the City of Angels.
Any future projects you'd like to share?
I am currently set to direct the paranormal thriller Garrett Manor, which we are looking to begin filming mid-March. We are currently casting, but will be at the breathtaking Ardoyne Plantation in Houma, which is owned by the wonderful Schaffer family. This was the same location where the movie Deadline was filmed, which was, unfortunately, Brittany Murphy's final film. I am also executive producing The Body Defenders, which is an incredibly fun and original sci-fi, 3D-animated feature being put together by Patrick Garcia out of South Africa.
Your first claim to fame was of course as an actor - so what can you tell us about David Rountree, the actor, and some of your techniques to bring your characters to life?
I don't think I work under a classified technique, I just try to become the best listener possible on set and react to the circumstances that are present. My goal is to just prepare for the first moment of the scene and then allow my emotions to go where they may, sometimes it works better than others.
What got you into writing, directing and producing eventually, and which do you prefer, actually?
I always enjoyed the art of story-telling, but never thought there may be an actual avenue to do so in a professional environment until I found acting. As I grew more wise in the industry, I found myself wanting to be a part of the entire process. I was fascinated by all of the steps that it took to get a completed project, and like proving a math theorem, I started evaluating the overall formula. Writing, directing, and producing are completely different, yet all necessary elements to achieve completion. I don't think I prefer one over the other, as I consider them all part of the greater team. Directing is fun because it gives life to the pieces of the outlined puzzle handed over by the writer and producer. Once those pieces are drawn, the post-production side connects them all. When I work on a film, I do my best to sit through every aspect from start to finish, even if I am just there for moral support.
What can you tell us about your filmwork prior to Cut!, in whatever position?
I started Psycho Rock Productions back in 2004 and have been fortunate enough to write and produce five feature films, while directing four of them. 108 Stitches, which was released just prior to Cut! saw a 15 major city theatrical release. The romantic baseball comedy stars Golden Globe winner Bruce Davison, Larry Thomas (Seinfeld's Soup Nazi), Erin Cahill (Red Widow), Ryan Carlberg (Van Wilder), Kate Vernon (Battlestar Galactica), Last Comic Standing winners Dat Phan and Josh Blue, Chris Moir (Cut!) [Chris Moir interview - click here] and, again, Allen Maldonado (The Equalizer). There is also a fun cameo by baseball legend Roger Clemens. It can be found everywhere on VOD.
How would you describe yourself as a director?
Coming from an acting background, I feel that I empathize with actors. To me, that is very important because as every student in school learns in different ways, every actor should be approached differently to get the best performance possible. Film is the visual art of story-telling and without being able to find a way to have chemistry within your cast, the story will be a hard sell. My goal is to have an audience caring about the characters because if they are invested in them, they will ultimately buy into the story.
Actors and filmmakers who inspire you?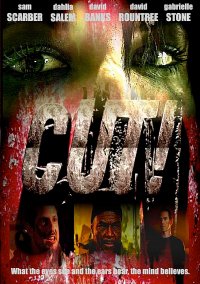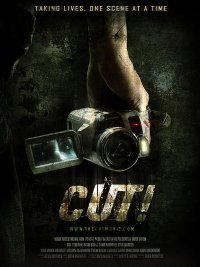 Feeling lucky ?
Want to
search
any of my partnershops yourself
for more, better results ?

The links below
will take you
just there!!!

Find David Rountree
at the amazons ...

amazon.com

amazon.co.uk

amazon.de
Looking for imports ?
Find David Rountree here ...
Something naughty ?
(Must be over 18 to go there !)

I like the paths that Kevin Costner and Ben Affleck have taken. Both remain in front of the camera, but have proven to have a talent for being on the other side, while maintaining a solid family life. I recently went to a Q&A with Kevin Costner and really appreciate his drive to do for himself, all while maintaining the time to nurture his relationship with his family. Kevin began his career rather late, but decided to be proactive in making things happen. I have a lot of respect for people who do not just sit around waiting for someone to do the work for them. He is also very appreciative of the businesses and takes nothing for granted.
Your favourite movies?
I have quite a range of movies in which I enjoy, but I think my taste may have been formulated by what was going on in my life when I first saw it. Growing up, I loved Savage Steve Holland's One Crazy Summer. That movie gives me fond memories of hanging out with my younger brother as we used to quote it all the time. The nostalgia of movies Bull Durham, Major League, and Stallone's Over the Top remind me of my best friend as we would imitate key scenes on the baseball field or arm wrestling with each other. As I got older, I began to appreciate other movies like A Few Good Men and Shawshank Redemption. Once I began writing, I enjoyed smart stories that were peppered throughout with clues like some of Alfred Hitchcock's films or Seven and 12 Monkeys. Now that I have a 3 year old daughter, I find myself watching and getting hooked into movies like Frozen, although I'm not sure if I should admit that here.
... and of course, films you really deplore?
Tricky question. After going through the struggles to achieve a completed movie, I no longer pass judgment on other films. There are too many elements and players involved to negatively critique someone else's work. I do not know the circumstances that may have been presented and feel that I have no right to speak negatively. I may personally like one film over another, but kudos to anyone who actually completes a film as that is a tremendous accomplishment in itself.
Your/your movie's website, Facebook, whatever else?
Twitter: @psychorock2
Anything else you are dying to mention and I have merely forgotten to ask?
I am very fortunate to be in a position to make movies. I feel that if I am inspired to do what I do, then there is a chance that my work will one day inspire others to also go after their passions. And instead of abandoning their dreams, I hope they may also truly believe "why not me?"
Thanks for the interview!
Thank you so much for taking the time for having me do this. It has been a privilege and an honor.