Your movie Kandahar Break - in a few words, what is it about?
A mine clearance engineer working in Afghanistan in 1999 (so before 9-11) falls foul of the Taliban government in Kandahar and must escape the country. It's an adventure movie.
According to my information, you have been to Afghanistan some years before making Kandahar Break - so to what extent did that trip inspire your movie, and what do you find so fascinating about the place to begin with?
My first trip there totally inspired the move. I loved Afghanistan when I went there in 2002, I found it to be an enthralling, epic and ancient place, and when the opportunity came up to make a low budget film in 2007, I decided to set it there and film it in Balochistan in Pakistan, which is very similar. On my 2002 trip there was some trouble in Kabul and we had to leave the city, but there were no flights out, so we had to go overland through the Khyber pass into Pakistan. This experience led me to think that a movie - "escape from Afghanistan"-type concept - might be interesting.
Other sources of inspiration when writing Kandahar Break?
Just the adventure movies I grew up watching - Raiders of the Lost Arc and such like. I also wanted to inject a political element into the film as well, having seen films like Syriana. I have a deep and burning interest in geo-political affairs and it often rubs off in my work.
As far as I know, Kandahar Break was shot on the Afghan-Pakistan border, and has the distinction of being the first western film having been shot there. So what can you tell us about the region, and why shoot a movie in what's according to all reports a rather dangerous area in the first place?
In hindsight, with the security situation being so fragile, it was not a good thing to do, and I wouldn't do it again. I'm a much more responsible, mature producer now and wouldn't go somewhere like that again to shoot a film. But I have to say the place was wonderful and the people were incredibly friendly. And it's a real mix of ethnicities and languages - you're mixing with Pashtuns and Balochi's and Hazara's (descendants of the Mongols), and I learnt a lot about the ongoing political dilemmas there. It's also a beautiful area - stark desert, mountains and very hot. But it's very dangerous and we had to have a lot of security. The danger causes an extra stress which on top of all the other stresses when making a film just adds to the pressure. Looking back it was an incredible experience, a total adventure - lots of guns, desert, adrenaline. But at the time I was also very stressed and it was a tough shoot - so mixed memories.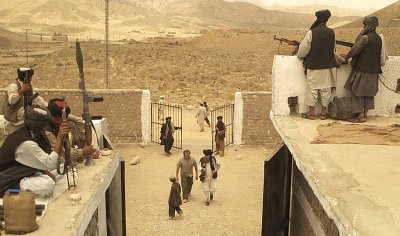 What can you tell us about the actual shoot, and the trials and tribulations of shooting in a region as unstable as yours?
Hardest thing I've ever done. Everyday was like walking through treacle - 50 degree heat and a ton of problems constantly slowing us down and putting us behind. There were guns everywhere, and at times I wondered what I'd gotten myself into. But the crew were excellent (both UK and Pakistani locals) and we gradually became a fast, efficient unit. There were constant, hourly compromises, which was frustrating, but I realised we were getting through the material and actually making a film that was working. The locals were very nice and welcoming, and the landscape and production design was great, but many of the problems we encountered were due to the heat, the sand, the time-keeping of our drivers, security, and our kit also broke down a couple of times due to the heat.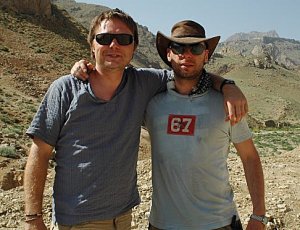 Shaun Dooley, David Whitney
You of course have to talk about your directorial approach to your subject at hand for a bit!
Storyboards are essential for me, although I sometimes deviate from them on set when the shit hits the fan and you have to improvise and change things to speed up.Then its just a case of ensuring that you grab the essence of the scene - its importance, its relevance and meaning to the story, when you shoot it.
What can you tell us about your cast, and how easy/hard was it to get actors to shoot in the Afghan-Pakistan border region?
Shaun Dooley is a well known character actor in the UK, and I sent him the script and appealed to his sense of adventure. He was fantastic, both as an actor and a captain on set. For the Afghans we cast local actors from Quetta, where there is a TV studio making drama, and they are good actors but not used to working at our pace, so we had some issues there, but overall I was very pleased with them.
What can you tell us about audience and critical reception of your movie?
It was mixed. We had some great reviews, like in the Huffington Post, but also some poor ones, which is to be expected. To be honest, after what we had gone through to get the movie made, I was just glad that we actually finished the film - that it didn't collapse, and so to actually have critics reviewing a film that had been released was quite a miracle.
As far as I know, prior to (and since, if I'm not mistaken) Kandahar Break you've worked mainly for television and on shorts - so what can you tell us about your other filmwork?
I've done a lot of TV commercials and corporate films, but shorts and drama are, I think, my forte and since the film came out I have made more short films.
Any future projects you'd like to share?
I'm currently attached to a few features - all in the financing stage, some with cast attached and part financed already. Making the next feature, it's important that there is more money and I have more time.
What got you into filmmaking to begin with, and how did you learn the trade?
I love telling stories, and being creative. I also love the film life. I've worked in factories and done mundane office jobs. I worked in a factory for months breaking up chip boards and part of a submarine, and then I worked in a sandblasting factory in Bolton, where I come from. It was boring and I was depressed, hating every minute of it and dreading going to work. Being a director is invigorating and I love going to work everyday.
How would you describe yourself as a director?
Pragmatic. That's why I want bigger budgets and more time, so I can become more demanding and get it how I want it more of the time.
Filmmakers who inspire you?
Oliver Stone, Martin Scorsese, John McTiernan, Fincher, Spielberg, Coppola, Alexander Payne, Tony Scott, Terence Malick.
I'm not just a fan of their films, I really study their films - the shots, the style, the camera movement (or lack of movement in some cases).
Your favourite movies?

Feeling lucky ?
Want to
search
any of my partnershops yourself
for more, better results ?

The links below
will take you
just there!!!

Find David Whitney
at the amazons ...

amazon.com

amazon.co.uk

amazon.de
Looking for imports ?
Find David Whitney here ...
Something naughty ?
(Must be over 18 to go there !)

These are my favourites and not necessarily films that I think are the best, but are my faves for personal reasons: Raiders of the Lost Arc and Predator. But I do have my art-house side as well, and I love going to film festivals and watching smaller independent films and European Cinema. I saw an Austrian film called Michael at the Bratislava Film Festival and it was one of the best films I'd seen that year. Bullhead, a Belgian film that I saw at a film fest last year, was a film that really inspired me. I didn't like The White Ribbon though.
... and of course, films you really deplore?
None really. I'm open to anything.
Your/your movie's website, Facebook, whatever else?
Anything else you are dying to mention and I have merely forgotten to ask?
Nope. Thanks.
Thanks for the interview!