You have recently written and produced two erotic genre comedies, Scared Topless and Shark Babes - so in a few words, what are these two about?
In Scared Topless (ScaredTopless.com), a group of college students embark on an adventure to test the limits of lost love and the boundaries of their own mental and physical confines (haha).
In Shark Babes (SharkBabes.com), super sexy marine biologists, down at the Shark Anomaly Center (SAC), battle the evil Finkelworth corporation, hellbent on destroying the environment for their own financial gain!
How did these two projects get off the ground to begin with, and what were your inspirations for writing them?
Back in 2012 I was working as an animator for Rockstar Games, specifically working on Grand Theft Auto 5. Around that same time my interest in Roger Corman [Roger Corman bio - click here] had flared up again and I started buying many of his films on DVD. A director's name I kept seeing was Jim Wynorski [Jim Wynorski interview - click here]. I had become a fan of his work also - this idea to create stories with large scopes and small budgets. I wrote Jim a few letters asking him questions about his process and we became friends. He ended up hiring me for a few of his projects, these type of late night cable erotic films. I saw that Jim was trying to cram as much story and scope into this framework as he could - with a tiny budget. I was fascinated with this. I thought it would be a good opportunity to create something like that, and get my start in producing my own content, which I had always wanted to do since a young age.
As writer and producer, how hands-on or hands-off are you on your own movie sets?
You have to give the director room to work and of course when I am working with a legend and wizard like Jim Wynorski, I make sure to follow his lead because his experience and know-how is priceless. Of course I have a specific vision for the tone and that is discussed beforehand. I take a more hands-on approach after the filming is done. Working with the editor and sound designer, exploring distribution opportunities, creating the artwork and promo material and discussing the film with fine folks like you!
What can you tell us about your director, industry veteran Jim Wynorski [Jim Wynorski interview - click here], and what was your collaboration like? And whhat made him perfect for the job in the first place?
Over the years Jim has become a good friend and mentor to me. Working with him was like attending film school and being instructed by one of the zen masters. This guy eats, breathes and sleeps movies - he knows every film and every sound track. One of the best parts of working with Jim Wynorski is just sitting around drinking coffee and asking him questions - he has so many wonderful stories of working in the industry for as long as he has. Why was he perfect? Him and Roger pretty much invented this genre of film, who better to learn from?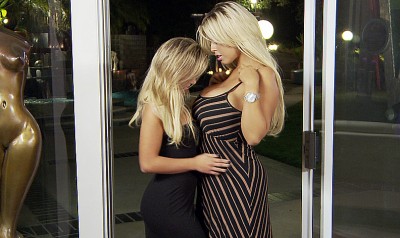 Shark Babes
A few words about the movies' brand of humour, and also the kind of erotica you're presenting?
These films are light-hearted and do not take themselves too serious. They are erotic films but within that framework I tried to create something that feels like an old school B movie, good old fashioned grindhouse. I think we achieved that to some extent and I am proud of the goofy and fun tone the films have. They also have that sex appeal, of course. I would say this type of erotica is more fun and "standard", nothing too crazy or explicit goes on in these films. It is good for adults of varying ages to have some fun while they watch - it is escapism after all.
So do talk about the two shoots for a bit?
These were true marathon shoots! Jim has really perfected the process for doing these types of films. One of the great ways to keep your budget down is to keep your shooting days to a bare minimum - and that is what we did. Each film was shot in two days. Jim's mind works like a computer, compiling info and data on how to make the most efficient use of the time and space.
Anything you can tell us about audience and critical reception of Scared Topless and Shark Babes?
I am very pleased because the vast majority of the people out there understand what Scared Topless and Shark Babes are. These films are not trying to change the world, they are fun and sexy and provide escape for people, if only for 80 minutes. You can go on adventure to a haunted house or a shark tracking expedition - all the while you are accompanied by very attractive people LOL. I am also really proud that most people can see that the filmmakers are trying to create something more here than just a nudie film, they have a little more depth than your average addition to this genre.
As far as I know, Scared Topless and Shark Babes are the first two films of your production company Old Mill Entertainment - so what's the philosophy behind the company and why did you launch it to begin with?
After Grand Theft Auto 5 was released I knew I wanted to do something different. I had a wonderful time working with Rockstar Games but my heart was always in film and doing my own productions. Old Mill was founded to do exactly that. My relationship with Jim had grown and I saw an opportunity to create what would become Scared Topless. The philosophy behind Old Mill Entertainment is to follow your dreams and that is what we are doing. I grew up on Old Mill Road in a small town in Long Island, NY. This was the first place I began making films, little clay-motion films with my dad's high-8 camera when I was about 10 or so. The dreams and aspirations that began on Old Mill Road are still alive today and that is why my company's name is a tribute to that and to the support my parents always gave me.
Any future projects you'd like to share?
Yes! I am currently developing an animated project, geared more for the mainstream. I am very proud of it, it's like a modern mythology with my own twist. I will have more to share soon. OldMillEntertainment.com will have more info soon!
What made you enter the filmworld in the first place, and did you receive any formal training on the subject?
I think from a young age it was something I was always attracted to, being creative and having that be a source of fun. My parents took me to Universal Studios, Florida when I was young, and seeing all the classic rides like Jaws and King Kong, with their wonderful animatronics - the spectacle of this got me interested in those films and so on. I have received some formal training after attending the New York Film Academy and Quinnipiac University, but I think i learned most from doing my own productions.
What can you tell us about your filmwork prior to Scared Topless and Shark Babes, in whatever position?
I have always been making little films on my own and they kept becoming more involved. I have worked as a PA on various productions, as an animator at Rockstar Games and also as an editor. Little steps is what I try to do, to keep making improvements in what I do and create.
Besides movies, you also did quite a bit of work on videogames in various positions - so do talk about that aspect of your career for a bit? And how does it influence you as a producer/filmmaker (and vice versa)?
I learned a tremendous amount about time and resource management, working with large groups of people on time sensitive projects and how to initiate user involvement in story development with working in a sandbox atmosphere!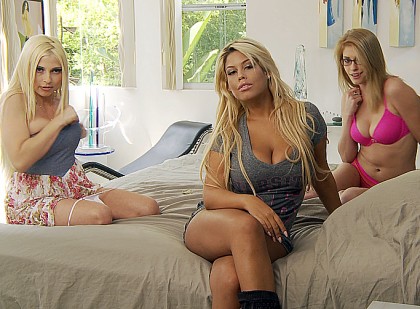 Shark Babes
Filmmakers, producers, whoever else who inspire you?
I am inspired by many other types of people and figures. I really love history, I am inspired by great generals and heroic people who stood up for what they believed in, even when the odds were stacked against them. I am inspired by explorers and specifically the Apollo program. I am inspired by people who are searching for answers and following their dreams. People who build and create things.
Your favourite movies?
My favorite films of all time (in no order): Star Wars, The Godfather Part I, Pulp Fiction, The Big Lebowski, It's a Wonderful Life, The Breakfast Club, Home Alone, Apollo 13.
... and of course, films you really deplore?
There are no films I truly deplore, I think. Who am I to say another filmmakers vision in invalid? What I am not a fan of is this modern corporate thirst to re-brand and re-boot every successful idea that already existed. It takes the fans for fools and exploits them. Humans have a pure desire to be entertained and to be inspired, It's a magical quality that should be treated with more respect - the enthusiasm people have needs to be honored better by making NEW things that are wonderful for them to enjoy. I think that the new Star Wars movies are big, clunky, corporate things. I prefer the older films with the hand-made quality, when Lucas was a young man working hard to make his vision come true, when no one believed in him. That aspect of it, Lucas's own journey, added to the film's soul. The new Star Wars movies lack that inner soul and feel empty to me. This how I feel about most, if not all, re-boots and re-brands. The magical ingredient is the passion the filmmaker has and the obstacles in their way (and how they overcome those).
Your/your company's website, Facebook, whatever else?

Feeling lucky ?
Want to
search
any of my partnershops yourself
for more, better results ?

The links below
will take you
just there!!!


Check us out! in a few places:
Twitter and Instagram: @ScaredTopless
Anything else you're trying to mention and I have merely forgotten to ask?
I think you got everything! Great set of questions, thank you so much for the support!
Thanks for the interview!
Thank you!