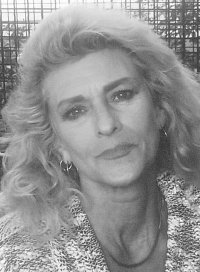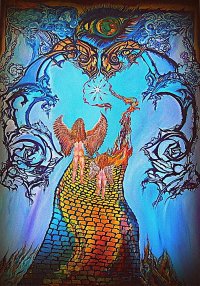 Portal of Transcendance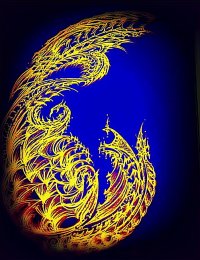 Fire Escape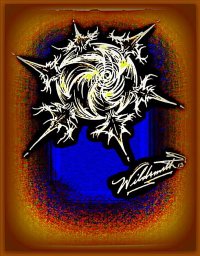 When Hell Freezes Over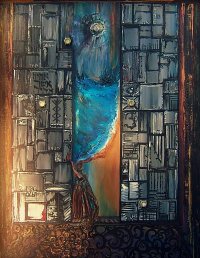 Future Door
You're making your comeback to acting with Lake of Shadows: The Legend of Avocado Lake - so what's that one about, and what can you tell us about your character in it?
I wouldn't go so far as to call it a "comeback" it's just a one day part, I have yet to see my sides and/or a script, and as far as I know I'll be portraying a doctor in a nuthouse
How did you get involved with the project in the first place? And what can you tell us about your director Michael S. Rodriguez [Michael S. Rodriguez interview - click here], and what has your collaboration been like so far?
The best part of the story is Michael just contacted via Facebook, asked if I ever did any acting anymore, my response was simply "I certainly would if anybody was interested in offering me a part, what's on yer' mind, doll face?" I have yet to meet Michael and I'm afraid I know little of him other than our brief exchange on FB a few days ago.
In your time away from the movies, you've made quite a name of yourself as a painter - so what can you tell us about Dawn Wildsmith, the painter, and your preferred styles and motives? And of course, artists who inspire you?
I 've been painting since I was 8 years old, sold my 1st painting when I was 12. In Chicago I was dubbed a "Magic Surrealist", as I utilize a lot of symbolism from many different cultures - in layman's terms, one might say that I am a Gothic artist, and as I tell everyone the inspiration is really in my hands, I don't necessarily 'think' about what I'm doing, my hands do the thinking for me. My favorite artists are Dali, Escher, Geiger, Maxfield Parrish - it would take me another 55 years to even aspire to being as masterful as they were/are. I only draw now and digitally enhance the drawings - as I haven't actually had a place to paint since mid-2012.
Let's return to your movies for a bit - how did you fall into acting back when, and what can you tell us about your training as an actress?
I never had any formal training as an artist, or in acting, until after I started acting. I hitchhiked back to LA when I was 17 and met a bunch of writers, who started writing parts for me. I had some small roles, a car commercial, a non-smoking commercial, which is utterly hysterical since I've now been smoking for 43 years, hahah. I was in a ballet company for 7 years - which is comparable to being in boot camp for 7 years. I attribute all my survival skills to this, as well as to progressing into modeling and then acting, there is a tremendous amount of acting involved in ballet, I began when I was 7.
Over the years, you've made quite a few movies with cult director Fred Olen Ray, with whom I believe you were also personally linked - so do talk about these movies for a bit, and what was it like working with Fred? And how did you two first meet even?
I met Fred thru' a writer, Michael Sonye, who had been commissioned to write Prison Ship a.k.a. Star Slammer for Fred, he took me to a party to meet Fred and told him that he had specifically written the part of the prison's head trustee for me, and that he should give me a shot. Michael's then girlfriend, Jill Conner, was the wardrobe mistress, we hit it off straight away and she did wardrobe for almost all Fred's films at that time, she became my friend and champion, even executing my designs for party dresses, etc as I was so tiny, nothing ever fit me.
Fred & I made a great working team, we married briefly and went on to form Savage Cinema Productions together. We were divorced in 1990.
You're also starring in the genre fave Surf Nazis Must Die - so do talk about this one for a bit, and your experiences on set?
Surf Nazis Must Die was fun, very low budget, shot fast, a little drama on the set. I think Troma destroyed it in the editing room after they purchased the finished product, and I actually take offense when people think that Troma 'made' the film - they did not, the original was better and I actually have some of that original footage on my now very antiquated acting demo.
What made you quit acting for more than 20 years eventually?
My last film was in '89 since then I have been a bricklayer, plasterer, soft demolition, etc. I had my own remodel company in AZ for four years. I met my second husband, a Chicago ganster, and had my daughter in '91 which was not even remotely fashionable at the time - I was just 5 years too early, it pretty much finished my career.
How would you describe yourself as an actress, and some of your techniques to bring your characters to life?
As an actor, everyone dips into their own life experience as a foundation and then you build your character on that foundation - tho' it definitely helps to have a decent script, haha, a rare commodity in the "B" business.
Your favourite movies?
My favorite film is Lawrence of Arabia, and I love all the new Marvel Comics films.
300 & Ben-Hur are also favorite films of mine, and nothing would've made me happier than to have seen Zack Snyder or Roland Emmerich direct the latest rendition of Ben-Hur - what a spectacular history that film has, I'm excited to see it as well as Suicide Squad, looks like a sugar rush!

Feeling lucky ?
Want to
search
any of my partnershops yourself
for more, better results ?

The links below
will take you
just there!!!


Anything else you're dying to mention and I have merely forgotten to ask?
I have over 300 pieces of artwork available, most of which can be viewed on my Facebook page, also a few pieces on Fine Art America. I will be posting about twenty new drawings, many of which are Angel symbols and other magic configurations, encased in my traditional Gothic scroll work.
Thanks for the interview!
All paintings courtesy of Dawn Wildsmith.