Your new movie The Fare - in a few words, what is it about?
The Fare is basically about what happens when you find love in The Twilight Zone. Weíre not actually associated, of course, but that sense of mystery and suspense is very central to our story.
How did the project come about in the first place?
An article in the Mirror or the Telegraph or something about Japanese taxi cabs picking up phantom fares near the Fukushima nuclear disaster. I read the article and sent it to Brinna Kelly [Brinna Kelly interview - click here], thinking that it could make a really creepy horror film. She took the idea and did something completely different, but a million times better, with the same basic concept.
What can you tell us about The Fare's writer/producer/star Brinna Kelly [Brinna Kelly interview - click here], and what was your collaboration like, in pre- and post-production as well as on set? And since this is not the first time you're working together, what can you tell us about your previous collaborations, and how did you two first meet even?
Good question. I can tell you that Brinna Kelly is one of the most innately talented filmmakers Iíve ever met. Her sense of story genuinely amazes me. She always puts the audience first and she knows exactly the kind of movie she has in mind when sheís writing. She is one of my closest professional collaborators and I think we work together well because we respect each otherís work, but we trust each other creatively, so we are free to engage in honest (and sometimes spirited) debate with one another.
My previous feature collaboration with her was 2016ís The Midnight Man, which came from our mutual love of the action-comedy-thrillers of Shane Black. I think we both learned a lot from that experience and that education informed The Fare every step of the way. We met a few years prior to Midnight Man through mutual friends, and I had been previously familiar with some of her workÖ an animated YouTube series she wrote and produced called Iím a Marvel, Iím a DC, and we just got talking about our mutual love of some of the same things. Fast friends, I guess you could say, and we quickly decided we wanted to work together.
The Fare takes place mostly in a very confined place, inside a taxi cab - so how limiting but maybe also liberating was this for you as a director, and what were some of your techniques to keep things interesting?
Well, people donít know that we also shot the film in six days. Filming inside the cab and keeping it visually interesting was critical, but I also feel strongly as a director that Iím not interested in just planting cameras and covering the scene to give myself choices in the edit. To me, itís much more important to use the camera and lens to forward the story or the characters, and to use the frame to tell the audience something. So, finding ways to do that within the six days of shooting was very challenging indeed. We had to shoot fast and we had to be specific. Iím a crazy storyboarder, I hand draw boards for weeks, every frame. So that helps me keep the shot-list focused.
Luckily, I have an incredible cinematographer in Joshua Harrison, and he brought in an absolutely fantastic camera, grip, and electric crew. Josh devised a plan to lay a horseshoe-shaped dolly track around the front of the cab and shoot on two Arri Alexaís with zoom lenses, so that we could quickly modify and get the camera anywhere around the car with very little down time. So, between Joshís time-saver dolly approach, and going in with a very specific idea of what shots to focus on, plus the fact that it has a time loop element, which makes the repetition of certain shots important, we were able to be clever and make our days.
In terms keeping the visuals interesting, it goes back to putting story and character first, and using the camera to focus on that. I had two incredible actors to photograph and a great cinematographer shooting them, so keeping things visually came organically.
Do talk about your overall directorial approach to your story at hand!
In the screenplay, Brinna Kelly had drawn from some of the best sci-fi television in historyÖ there was influence from The Twilight Zone, the original Star Trek, and The X-Files. For me personally, Iíve always loved Alfred Hitchcock and am fascinated by his use of staging, framing, and cutting. The one thing Hitchcock had in common with all those amazing TV shows was economy in storytelling. Owing to budget and utilizing deeply clever writing, those shows, like many of Hitchcockís films, had to create a lot using very little and really fire up the audienceís imaginations.
Audiences now are so used to seeing everythingÖ thereís literally nothing we canít create on screen anymore, so the challenge becomes, instead of trying to be something that weíre not, letís lean into those old techniques. It was important to sort of re-train the audience to feel that thereís a larger mystery out there, even when we canít show much of it. So, using sound, using light from unseen sources, using negative space or just framing something a certain wayÖ engaging the audienceís imagination to do some of the heavy lifting, that was my main focus.
What can you tell us about your key cast, and why exactly these people?
Not much I can say about the key cast other than theyíre amazing. Brinna Kelly [Brinna Kelly interview - click here] has been an actor since she was a child. Sheís tremendously gifted and has amazing technical prowess. As I mentioned earlier, I think sheís a triple-treat, a multi-talented filmmaker in all respects. Gino Anthony Pesi came to the project like a bolt of lightning and he lit up the skies for us in the process. He is a very thoughtful actor, with so much heart and soul. But heís also handsome and has this masculine presence that fits the character of Harris incredibly well, and also makes him so interesting to watch. Heís sort of a dude, but also kind of an old soul. Of course, all of that would fall flat if the two of them didnít have amazing chemistry with each other, but as soon as the two of them were in that car and riffing with one another, you could see it in the air and it makes the movie work beyond what I could have hoped for.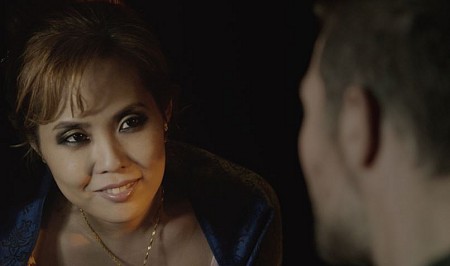 A few words about the shoot as such, and the on-set atmosphere?
The shoot went incredibly smoothly, to the point that Iím still scratching my head in disbelief. We filmed the movie in six days, made all of our days, never went over 12 hours. The atmosphere was very giving. In fact, in our last day in the studio, we wrapped early enough that we were able to re-shoot a few scenes that we felt we could make even better. There was tragically little drama behind the scenes. It was a warm, creative, and nurturing set. I wish Iíd been able to spend more time on it.
Anything you can tell us about audience and critical reception of The Fare?
The audiences and critical reception to the film have been amazing, people have been so supportive. I wonít spoil anything about the direction the story takes, but some people have approached us at film festivals or at Q&As to gush about how excited they were by the finale. Itís been absolutely wonderful and Iím just so incredibly happy that audiences seem to be so moved by Harris and Penny, and drawn in by their mystery.
Any future projects you'd like to share?
I aim to further my filmmaking collaboration with Brinna Kelly [Brinna Kelly interview - click here] on another script sheís written Ė a fantastic domestic thriller/horror film with elements of fantasy in it. Itís a brilliant screenplay and if The Fare can reach the right people and start the right kinds of conversations for us, hopefully we can get it financed. We have a great actor interested in the lead role, heís never played a role like this and people would eat it up. But The Fare needs to get people interested in talking to us first!
What got you into filmmaking in the first place, and did you receive any formal training on the subject?
My dad took me to see RoboCop when I was five years old, not realizing that it wasÖ you knowÖ freakiní Robocop. Iím pretty sure somewhere in my little developing brain, something broke and it was in that theater I became obsessed with the idea of making movies. My parents didnít have a video cameraÖ it was the 80s when they were pretty rare and expensiveÖ so every time I was near one, I picked it up and started trying to tell a story about whatever was in front of me. I went to school for it and have been very fortunate to have learned from some absolutely brilliant people along the way.
What can you tell us about your filmwork prior to The Fare?
In 2009, I wrote and co-produced an indie called My Name is Jerry which starred Doug Jones, Don Stark, Catherine Hicks, and at the timeÖ this was pre-Walking DeadÖ an unknown Steven Yeun. It became a minor festival darling and Doug gave a very sweet performance that was extra wonderful to behold, if youíve only ever known him as monsters or aliens. Then in 2016, Cinedigm released The Midnight Man. Between those, I directed a lot of shorts, and worked in different capacities across a bunch of TV shows like ER, The West Wing, Friday Night Lights, and Itís Always Sunny in Philadelphia.
How would you describe yourself as a director?
Interesting question. If Iím being honest, I suppose I would say I come in overly-prepared, carrying binders with storyboards and script-notes bursting at the seams, and then I throw all of it out and try to be present in the moment with my cast, with the camera, and with the sets. I become like a kid in a toy store and I just want to watch great or fun or unique things happen.
Filmmakers who inspire you?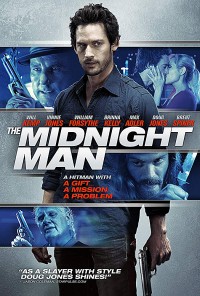 Feeling lucky ?
Want to
search
any of my partnershops yourself
for more, better results ?

The links below
will take you
just there!!!


I was a Spielberg and Cameron kid. I was a Shyamalan teen-ager. Unbreakable changed my mind about what movies could look and sound like. Please donít mention Glass. In college, Hitchcock became an obsession. I canít start going too far down this list, Iíll end up leaving off names that inspire me and Iíll beat myself up later. Sam Mendes, Rian Johnson, Justin Lin, Edgar Wright. It goes on and on and on.
Your favourite movies?
I need to be clear that I acknowledge a difference between the greatest movie and my favorite, but Jaws is my favorite movie hands down. Since I was 17 and saw it, nothing has knocked it off the podium. Beyond that, I have a massive list all tied for second. I donít think I have that kind of time.
... and of course, films you really deplore?
I donít like to call people out, because I feel like something can be said for most films. No one sets out to make a bad film. But since I already brought it up earlierÖ Glass - seriously, donít get me started.
Your/your movie's website, Facebook, whatever else?
Facebook: @LostCheckerCab
Instagram: @TheFareMovie
Twitter: @LostCheckerCab
Anything else you're dying to mention and I have merely forgotten to ask?
No, thanks for having me!
Thanks for the interview!