Your movie Massacre at Femur Creek - in a few words, what is it about, and what can you tell us about your character in it?
It's a campy, nostalgic, coming-of age comedy that also just happens to be a blood-soaked summer slasher. I play Rory, the "mature one".
What did you even draw upon to bring your character to life, and how much of yourself can we find in Rory?
I was an outdoors kid - despite being addicted to role playing games and a film geek, I grew up in the outdoors. Rory struck me as the friend who gets them there, who stays focused, who keeps things in line while the other two goof off. I guess that was always my job too (although, I'm much more hyper now as a 30 year old than I was at Rory's age, and I can be tempted to lose focus somewhat easily when it's time for fun, I think Rory has this streak in him too).
How did you get hooked up with the project in the first place, what did you find appealing about it? And since it's a slasher movie, is that a genre you can at all identify with?
I've worked with Kyle Hytonen [Kyle Hytonen interview - click here] many times, and our friendship and collaboration goes back to film school which goes back almost a decade and a half (gross). In the last few years I've starred in 3 of Kyle's films, plus a number of shorts and filmed web sketches. He's also guested on my podcast and had parts in a few of my projects.
So it was more a matter of him calling me up and saying, "here's the next one for you". I'm like the shitty DiCaprio to his indie budget Scorsese (see how I was only mean to myself there? In the comedy business we call that being self deprecating).
Being a comic first and foremost, to what extent could you identify with the film's brand of humour?
It's grossout humor for sure, but Kyle has a way of doing it SO over the top, so absurd, that you can't help but laugh and have fun with it. Because we all know it's ridiculous, and that's the point. It's old school campy fun BUT it's also a parody of the classic slasher movies Kyle grew up on, and that definitely shines through
I love the commentary too, the predictions and commentary on social media and technology, I thought it was really clever, and it's really layered in there. The audience will be able to give this thing the Arrested Development treatment and notice a new Easter egg every time, that they might have missed the first time around.
What can you tell us about your director Kyle Hytonen [Kyle Hytonen interview - click here], and what was your collaboration like?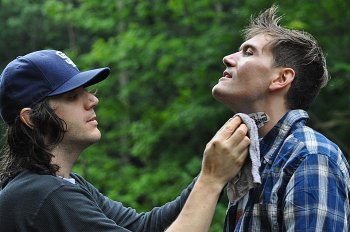 Kyle Hytonen with Dean
Kyle is a brute! During filming, to keep us in a heightened state of fear, he carried around a watering can full of gasoline which he'd occasionally douse us with, and he'd hold up a book of matches from 7/11 between takes if one of us stepped on a line.
It was method, and it worked.
Do talk about the shoot as such for a bit, and the on-set atmosphere?
Kyle's shoots are very relaxed, very collaborative. If we have an idea, something to add - he's all ears. As an actor, it makes you want to work harder, push yourself further, because you're invested in the film. We just all wanted to make the best movie we could - long late night shoots in secluded forest, covered in fake blood and soaked from a full day of rain and mud? Yup, why not. We just wanted to make something worth seeing, for horror fans and comedy fans, and we were willing to go along on the whole weird trip to get there.
It was fun for me and co-stars Barr & Grinstead (fellow standups) because Kyle created scenes in the script that were there specifically for us to riff and improvise and do our things as comics. A few references to my own standup are actually written right into some of the characters' lines (I'll let you guess which ones, or you can just watch the movie a bunch of times and come watch a bunch of my shows, that works too).
Any future projects you'd like to share?
I am busy to the point of near insanity, that's the way I likes it. But this is my 9th symphony so I'll plug this - fall 2014 (like in a few weeks!) I am launching Talkhole, Canada's new podcast network. Predominantly comedy, but the podcast programming extends beyond that, genre-wise.
Talkhole is basically Canada's answer to American comedy podcast networks like Feral, Earwolf & Nerdist. So, that's something I'm really excited about.
Your main claim to fame though is as a comedian - so what can you tell us about Dean Young, the comic, and your very own brand of comedy? And do also talk about your deep involvement with the Toronto comedy scene for a bit!
I would say my comedy is very nostalgic, and very autobiographical - I'm sort of storytelling, but there are a shitload of pop culture landmines buried in there. I'm very, very reference-heavy - I think because I started off as a comedy writer, before performing standup myself. I spent my first 4 or 5 years in radio, writing jokes & on-air bits for announcers, writing comedy for other people. If it passed the rock jocks laugh test, it got on the air. And I've always been a sponge for pop culture, music, movies, TV - so this is the arsenal I use. When I'm doing a set about something fucked up my friends did when I was 14, or my family, or the first time I got a handjob, I always fill it with these pop culture landmarks to remind the audience where we are and try to take them there, and those references spin off into something all their own.
The Toronto comedy scene is my coccoon. I don't like to leave unless someone pays me money to, or if I go back to my hometown because someone has died or gotten married. Otherwise, the Toronto comedy scene is my home, that's where I feel the most at home and the most like myself. These weird, bent, broken outcasts of society are some of the most absurdly warm & invigorating people I've ever known, and they're family - for good or ill.
So, I'm pretty entrenched in the scene. When I'm not running my own shows, or sitting behind the mic talking to comics on my podcast or on Sirius or terrestrial radio (radio studios are my other most preferred & natural habitat), or I'm not working the circuit or on the road touring, I'm writing for Toronto Is Awesome and The Scene Magazine, plugging & profiling my fellow comics. I'm trying to build a PR machine for all of us, and my own little media arsenal. This is comedy, and this is Canadian showbiz. We really do have to do it ourselves.
What made you try your hand at acting eventually, and did you receive any formal training on the subject?
I'd need a bottle of decent bourbon and some Killers Hot Fuss to dig deep into my early 20s and think about what my first real acting gig was, but it was either as a film student or at least related somehow and around that time. No training, just the school of LIFE!
What can you tell us about your filmwork prior to Massacre at Femur Creek?
I cut my teeth in film school, from there I focused on screenwriting, went to school in Ottawa (Algonquin), started freelancing as a screenwriter, script doctor - worked on crews, did lighting, sound, camera. I even worked one summer as a storyboard artist.
One time, I was writing a review of A Prairie Home Companion for an Ottawa-based film magazine, and I accidentally predicted Robert Altman's death. I said it would be a great film to him to retire on, even though other Altman fans might not like the idea. Instead, he passed away just a couple of days after it was printed
Now, as a comic, my role in making films tends to be mostly acting and/or screenwriting, but I do have a few producing credits too. IMDb can prove it!
Comedians, actors, filmmakers, whoever else who inspire you?
In the world of standup, Patton Oswalt is my guy. He's a born writer, and some might say he "plays to the back of the room" - there's nothing broad or pandering about him and I assume he's 100% good with that. I can relate to that. I want to do the kind of comedy that allows me to share my own specific voice as a writer, and not everyone is going to come along for the ride, but I want the ones who are willing to. Patton is a big influence in that area. And he takes you on a journey, his words are rich, layered, and they're weapons - he can pulverize an entire theatre to dust with a well honed piece of pure observation. It's a thing of beauty.
The Coen Brothers have been my favorite filmmakers since I was around 15 or 16, when The Big Lebowski came out. It blew me away, and I went back and watched Hudsucker Proxy, Miller's Crossing, Raising Arizona... their whole catalog right up until Fargo. Fargo melted my brain, I grew up on the Ontario/Minnesota border (same home town as our director Kyle Hytonen by the way), and I loved the way they painted that world, it was one of the funniest, darkest, most absurdly hilarious (and somehow charming?) things I had ever seen. I've been with them ever since.
Like the Coen Brothers, Bob Dylan also grew up in my backyard, and his music has been the road map for every mile of my life. He's my great hero. I see my own life in so much of what he's had to say. To me, he's the greatest poet America has ever produced, and there are very few legends in popular music who can say with a straight face that Dylan didn't teach them most of what they know about writing. Dylan is touched.
And of course, Hunter S. Thompson. The Good Doctor. I'm ordained at the same Modesto California church where Thompson got his infamous doctorate, through Rolling Stone. I have ink carved into my flesh for Dylan, and for Hunter Thompson. And when I was living in a college dorm in Ottawa, I took the news of his death like a great uncle had died. Like a profound figure in my insular world was gone. Tom Wolfe said it best, he called Thompson the 20th century equivalent to Mark Twain.
(I should also mention at this time, just last week we adopted two kittens and named them Hunter S. Tomcat, and Catton Oswalt, after two of these very same influences.)
I also like Jimmy Hoffa. He got things done, and no one told him what to do.
Your favourite movies?

Feeling lucky ?
Want to
search
any of my partnershops yourself
for more, better results ?

The links below
will take you
just there!!!

Find Dean Young
at the amazons ...

amazon.com

amazon.co.uk

amazon.de
Looking for imports ?
Find Dean Young here ...
Something naughty ?
(Must be over 18 to go there !)

Inside Lllewyn Davis, Almost Famous, Wonder Boys. There are more, but these are the ones that join me in the escape hatch when the time comes.
... and indeed, films you really deplore?
Enter the Void & Tree of Life (which is too bad, because I've always loved Terrence Malick otherwise) - but these weren't really ¨films¨ to me so much as a couple of guys masturbating, with a budget. Me and Kyle Hytonen disagree on Tree of Life, btw.
Look, I want those collected 6 hours of my life back.
Anything else you are dying to mention and I have merely forgotten to ask?
Horror movies don't scare me, the only thing in life that scares me is kidney stones.
Thanks for the interview!