Your new movie Doom Room - in a few words, what is it about, and what can you tell us about your character in it?
Doom Room is a place where our lead character, Jane Doe, is trapped. She must navigate the room itself and all the bizarre characters that inhabit it. It's a race against time so she can escape before she becomes a part of it. I play The Wife. She's not a kind wife to say the least. If I was to give a piece of advice to 'Jane' about 'The Wife' I would tell her "Never to turn your back on her." Nothing good would come of that.
What did you draw upon to bring your character to life, and how much of Debbie Rochon can we find in her? And since she's a lady with a very dark side to her, to what extent could you identify with her, actually?
I worked first with her unique movement style. This was more of a physical character to me, so once I felt I had the groove of who she was in movement I could then build from there. She is, without a doubt, an evil soul. I can't say that I relate to 'The Wife' in a literal sense, but I do love delving into the darkness of my heart/pain to play 'bad' characters, and that was a joy to do. If I am like her in any way, God help us all.
How did you get involved with the project in the first place?
I was fortunate enough to have been invited to play the character by Doom Room director Jon Keeyes [Jon Keeyes interview - click here]. We made American Nightmare together in 2000. That was such an artistically invigorating experience for me. We had always wanted to make another movie together but as things go it wasn't till Doom Room that the stars aligned and we were able to collaborate again. I love the script and the character and to make the pot even sweeter, all the actors and crew were outstanding. We shot the movie in the UK just outside of Manchester. So, all the actors, except myself and Matthew Tompkins who plays The Husband, were English. I must say it is true that there is such an incredible pool of talent in the UK. It's no wonder so many of our favorite TV shows are filled with talent from across the pond.
Given Doom Room's rather unconventional approach to storytelling, what were your first thoughts when reading the script?
I immediately knew it was something special. It was such a different read and the story was so intricately crafted, I felt really excited to start work. I can always tell when something connects with me, I immediately start seeing the character and ideas just start flying out of my brain. It's like being struck by lightening and you just come to life with excitement.
What can you tell us about your director Jon Keeyes [Jon Keeyes interview - click here], and what was your collaboration like?
Jon Keeyes is a wonderful person to collaborate with. He is very trusting and giving and his excitement about being on set is contagious. He knows very well that casting is extremely important. If you cast a show really well you can let your players go nuts. You start off on a whole different plane. Your jump-off point is already high. Then you can improvise when it's time to, you can play and have fun because the desired degree of competence is there. Most everything you're working from there is gravy.
You of course have to talk about this intentionally bizarre and slightly fetishistic outfit you are wearing during most of the film for a bit, and what was it like wearing it?
Well, being 'The Wife' of course I'm going to be in a wedding dress for symbolism. Funny story, the seamstress who designed the dress asked me if she could cut a couple of holes on the side in the bust area. I said sure! Somehow, the holes ended up being exactly where my nipples are. She did not intend that. She was mortified but I told her that is actually perfect. My character does have a lusty nature. So I had the dress on and called over Jon Keeyes and actor Matthew Tompkins to get their opinion. I wish I had a camera rolling on them. They looked at the 'holes' then immediately looked away very quickly. Jon said "If you don't mind it, I'm ok with it." So I said hell yes, this is a perfect extension of the character's eccentric taste!
What can you tell us about the shoot as such, and the on-set atmosphere?
Even with the heavy subject matter, the set atmosphere was joyful. There wasn't a person in front of the camera or behind it that didn't want to be there more than anywhere else on the planet. When you have that rare experience on a movie, enjoy it! It felt really magical to me. American Nightmare's set was also like that. They were very different shoots and are very different films but Jon has a real sense of joy about him that makes the work even more enjoyable.
Any future projects you'd like to share?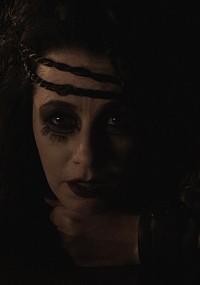 Feeling lucky ?
Want to
search
any of my partnershops yourself
for more, better results ?

The links below
will take you
just there!!!


Yes! There's a few projects shooting soon, I can't announce them quite yet but trust me they are SWEET, but I can mention - Torment Road, my sophomore film as director, will be shot this year. Acting appearances include Shakespeare's Sh*tstorm directed by Lloyd Kaufman will be out by end of year (yes I know, very fast turn around for a Troma movie), My Uncle John is a Zombie directed by John Russo will be coming out via Danger After Dark distributors in 2019.
Your website, Facebook, whatever else?
Easiest to go directly to my web site, all news and social media links are there!
Anything else you're dying to mention and I have merely forgotten to ask?
Folks should check out the new Italian magazine Asylum. It's a beautiful, full color, glorious layout! The first issue hit December 2018. My column is called Debbie Rochon's Bloody Underground and I'll be writing about my film experiences as well as insane life experiences, a wild ride and fun read.
Thanks for the interview!
Thank you Michael! Your support of indie movies is very much appreciated!